Photographs by Peter Bennetts/Earl Carter.
This article originally appeared in AR145 – available now through newsstands and digitally through Zinio.
The future of public space is playful. Dealing on a large scale, the art of landscape architecture is to resist the bird's-eye approach. Access and flow are a primary concern, which make functional thoroughfares of open space – structures formed to manage traffic rather than speak to the individual. Where urban design truly prospers is in the places in which we are encouraged to pause, sit and interact.
With green spaces bound by timber seats and decking, and stepped topographical structures, HASSELL's Medibank landscape brings an organic textural diversity to an area laden with concrete. It offers respite from the offices, makes a destination out of a hitherto neglected precinct and contributes immensely to the quality of the award-winning buildings it meets.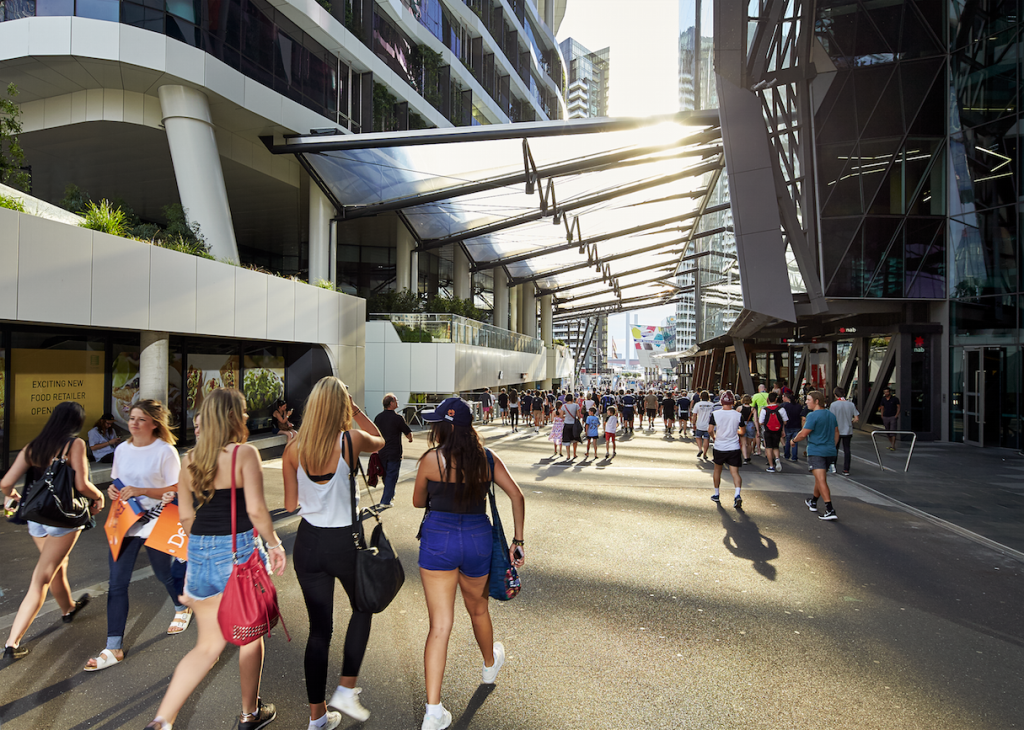 As we continue to build bigger, denser cities, how do we provide green spaces to support our growing population? On the southern edge of Docklands stadium, Medibank Place and the NAB building illustrate the value of large commercial developments in providing opportunities to repair the urban fabric and the role of landscape architects in integrating vibrant, connected and green public spaces that improve our life in the city.
"These projects demonstrate an exciting shift toward creative, interdisciplinary approaches to designing great places that serve a multitude of uses," says Matt Mackay, senior associate at HASSELL.
Repairing and reconnecting Docklands' urban fabric 
HASSELL has been involved in the development since the South East Stadium Precinct Master Plan, designing Medibank Place, as well as the landscape and public spaces of the neighbouring NAB building at 700 Bourke Street (Woods Bagot). The success of these projects is in early planning and an integrated design approach.
"As the landscape architect throughout the project's development – from precinct master plan to completion – we've been able to create a far better public experience in a part of the CBD that was previously accused of being lifeless and lacking identity," says Mackay.
The existing concourse was narrowed (from 22 to 13 metres wide) to become a livelier, pedestrian-friendly street with cafés, shops and lobbies along both sides and weather protection from the clear canopy overhead. Stair and laneway-style connections cut through both Medibank Place and the NAB building to provide the ground plane permeability.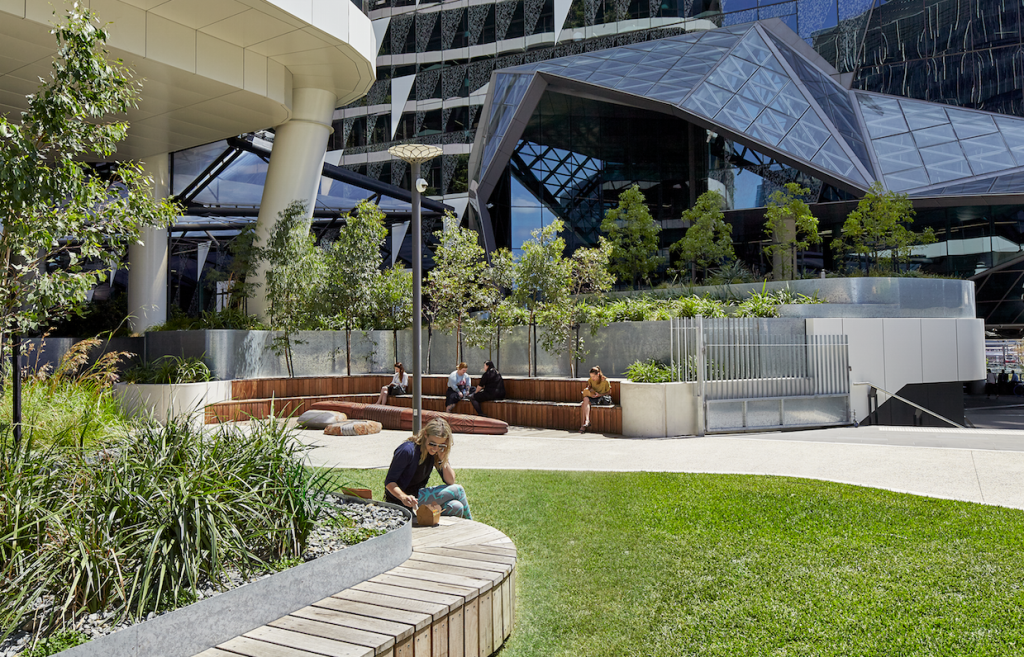 A living, breathing workplace building transforms its surrounds 
The new workplace for Australia's largest health insurer, located at 720 Bourke Street, was inspired by its purpose: to create better health for members and employees. The design is focused on giving back to the community, through the incorporation of an urban park, interior planting, façade greening and green walls. All opportunities were taken to fill spaces with green life and improve the health and well-being of the workforce.
The Medibank Place podium has been designed as a 'park', with a series of connections back to the concourse. The city end of the park is lush and green with lounging lawns, shade trees and informal timber terraces. At the west we engage the stadium, providing a large timber amphitheatre addressing the sports arena and a multipurpose sports court for the Medibank workforce.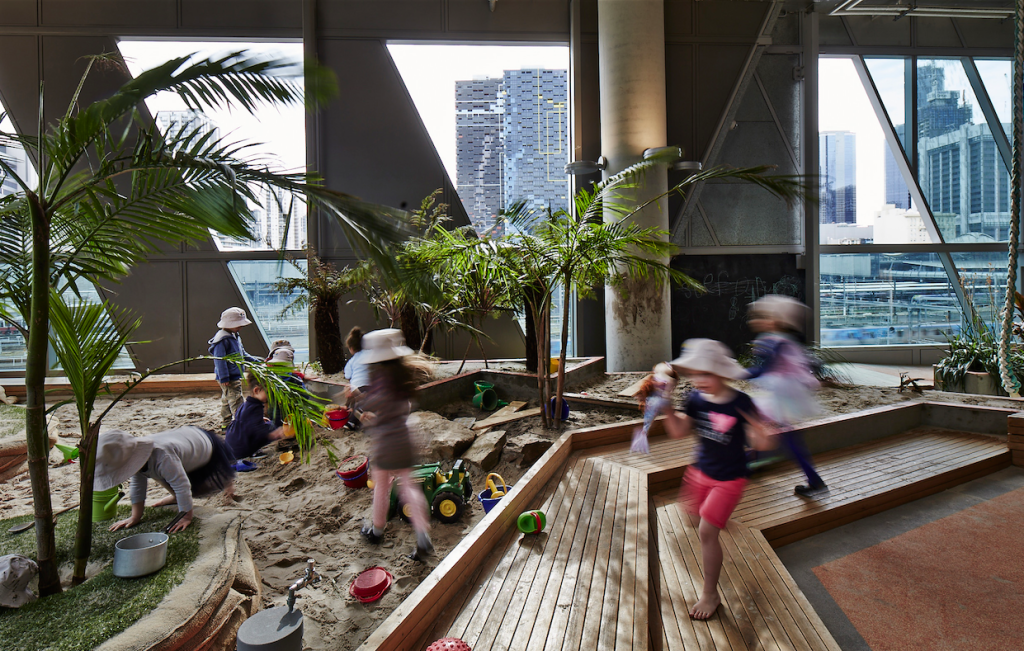 Integrated design creates sustainable workplaces and cities
In NAB Docklands, a series of green spaces were inserted along the eastern edge of the building, taking advantage of the natural light from over the railyards and views back toward Melbourne's CBD. On the ground floor a densely planted indoor area provides an informal meeting and flexible working space.
Further up the building a childcare centre, with partial natural ventilation, occupies a generous double-height volume, bringing a jungle of play, plants, soil and sand up into the third floor of the building. On the top floor, a large roof terrace spills out from the communal dining area to take in stunning views of the city. Here, a sweeping timber deck and amphitheatre sit above a native grassland roof, providing for social events and an alternative to air-conditioned working.
The integrated design approach allowed the landscape architects to be engaged very early in the building design process, which has led to ambitious explorations and hybridisations of both landscape and architecture at Medibank Place and NAB.
This article originally appeared in AR145 – available now through newsstands and digitally through Zinio.