Across Australia school building is on the rise, offering great rewards for practices that get involved. Despite previously specialising in the residential typology, EHDO architecture's biggest – and longest – project to date is the beehive Montessori school, which took shape over nine years.
Today, the Fremantle-based architecture practice EHDO is working on the first Nightingale Housing project outside of Melbourne and is drawing on the many lessons it learned while designing and delivering the Beehive Montessori School project.
The firm was founded by rammed earth pioneer and artist Giles Hohnen in the 1970s, but is now owned and run by co-directors Dimitri Kapetas and Dave Delahunty. Rhonda Sheehan is the principal of Beehive, which is based in the outer Perth suburb of Mosman Park.
She approached the practice after experiencing one of Hohnen's earlier projects. "I saw a beautiful rammed earth winery in Margaret River and I felt a sense of peace and a connection to the earth," Sheehan recalls.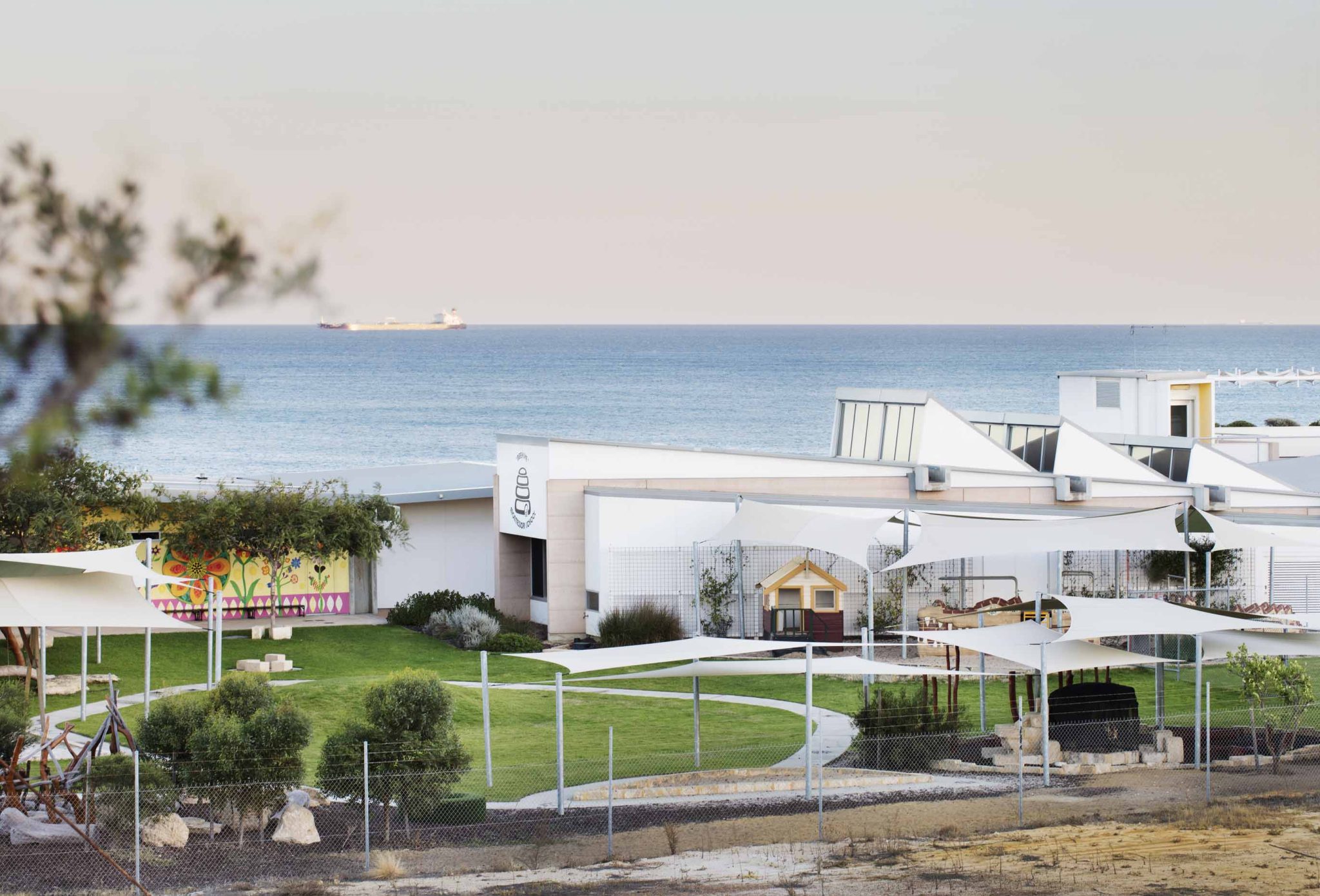 "I wanted our school to feel like that too. I immediately asked who had designed it, and was told Giles Hohnen. "Before long, he was sitting across the desk from me asking me what Montessori was all about, asking for books, asking if he could watch the children at work," she adds. "Questions I didn't expect. I liked him immediately."
Sheehan explained to Hohnen that she wanted a place where the community could come together, to support each other, chat and become part of the Beehive family. It was an approach that clearly aligned with EHDO's practice philosophy, but it wasn't all plain sailing to win the job, design principal Dave Delahunty says.
"There was no hard sell needed for our approach because the Montessori pedagogy – which focuses on nature, and responsibility to the environment, and community – was exactly what we have strived to create from the very beginning of our practice," he says. "So proving our design philosophy wasn't needed, but proving our capability was.
"We were focused mainly on residential work, both new houses and additions, with the odd commercial project," he explains. "They were our bread-and-butter. This school opportunity was a great surprise." Delahunty recalls that EHDO approached the issue of capability from two main angles. "There was already longevity in our practice; we had a track history of delivering many projects, and several years earlier we had collaborated with vittinoAshe on the Environmental Technology Centre at Murdoch University," he explains.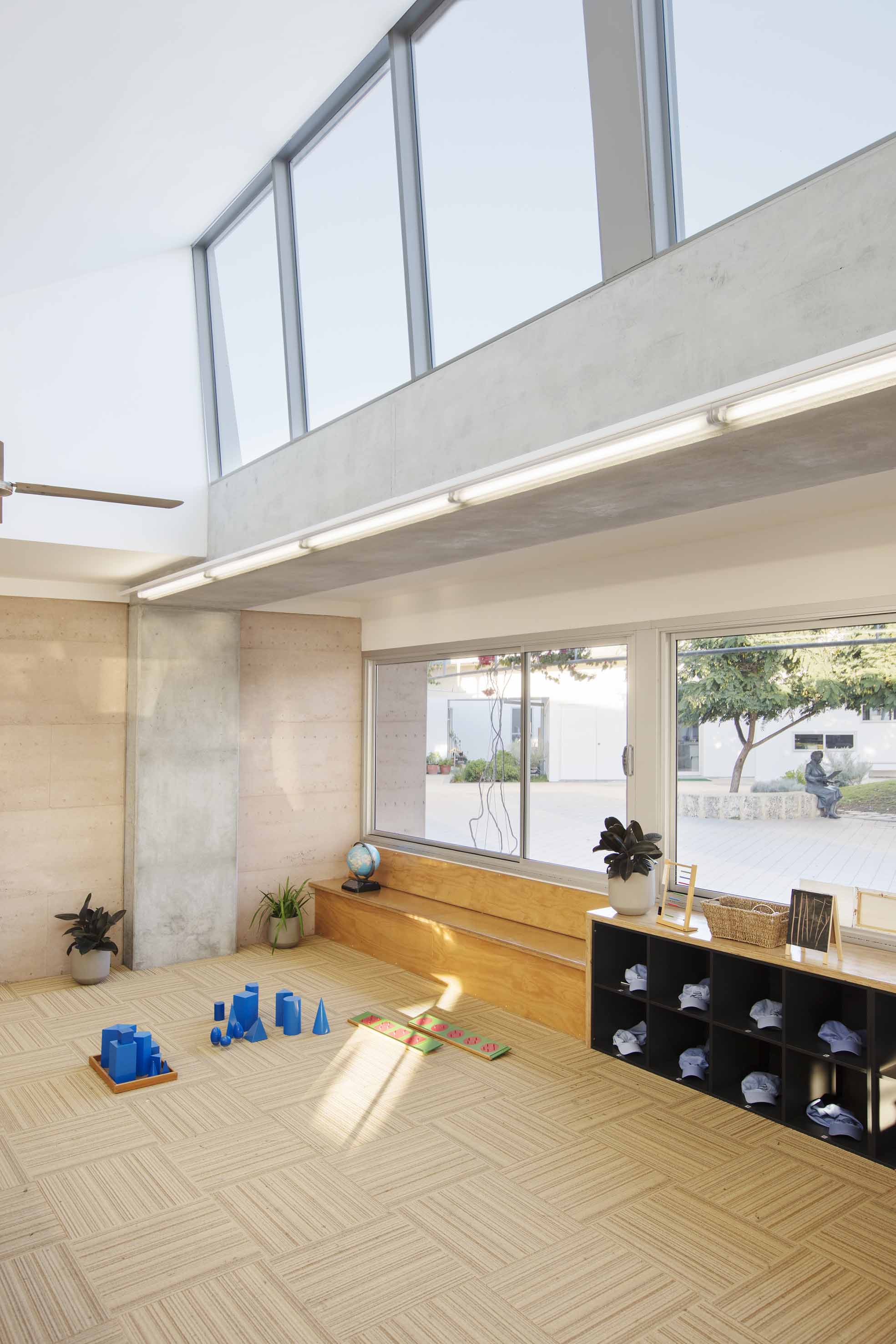 "Also, Rhonda wanted to be very involved in the process and had felt ignored by previous practices, so I think our open-minded and engaging approach gave her the confidence that she and the school would be heard." The transition of the firm's ownership added another layer of complexity to this project, but Hohnen continued to consult on the school after he'd officially left the practice.
"That transition began just after the School project started," he says. "Dimitri and I had been working for Giles, so we had his design philosophy of buildable, sustainable and energy efficient design embedded in our DNA."
The masterplans (there were two!)
When EHDO won the project in 2009, the school operated from a lightweight two-storey building situated between railway tracks and the Indian Ocean. It was surrounded by productive gardens with beehives, ponds, chicken coops and raised vegetable beds. The building was about 20 years old and displayed the negative effects of ad hoc additions and coastal exposure, so the initial plan involved knocking it down to rebuild on the same footprint.
"Then two things happened simultaneously," Delahunty says. "The Building the Education Revolution (BER) school funding program was initiated by the Federal Government, and the opportunity arose for the school to renegotiate a larger land lease, which it needed desperately."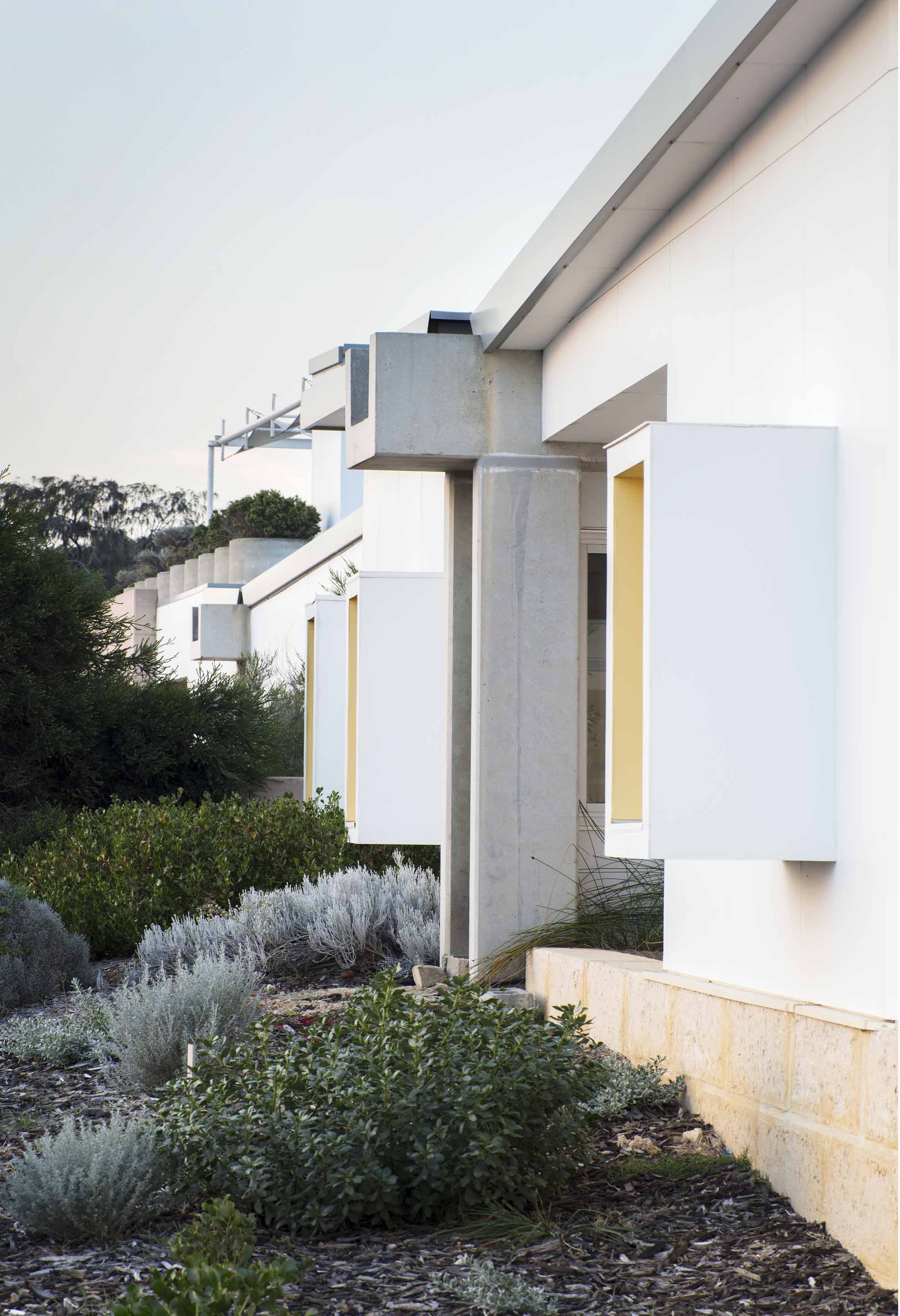 EHDO helped its client finalise the new lease, which doubled the school's site. "We quickly reworked the masterplan to accommodate these scenarios, and construction commenced on the hall and library in 2010," he says. "We deliberately designed a series of stand-alone buildings, to enable the school to progressively move in as the funding for each particular building was raised, without disturbance to the ongoing operation of the school, which was critical.
"Of course, that meant some students had great new facilities and others had old ones, but we let the school talk that through with parents!" The first two new buildings set the tone for subsequent works. Sheehan's preferred material – rammed earth – was used along with in situ poured concrete. A custom mix of crushed red brick and crushed limestone produced warm, rammed earth walls of a beautiful, gentle pink hue. It's an ideal material for this harsh seaside climate – the location is just 50 metres from breaking waves – and for a school, where an extra level of robustness is required, Delahunty says. The library and hall form the northern and southern edges of a central 'piazza', an irregular outdoor space that serves as the school's main entry point.
The library, an adjacent administration block and the junior primary classrooms form the school's western edge – a solid boundary alongside the busy road, which also provides a welcome buffer from the afternoon sun and the breeze known as the 'Fremantle Doctor'. Punctuating this western wall are carefully placed windows – both at children's and adults' eye heights – which frame views of the sea and allow breezes to be directed into the classrooms for passive cooling on warm days. The piazza intersects with a series of small-scale laneways that lead to teaching and learning spaces, and different types of outdoor spaces and playgrounds.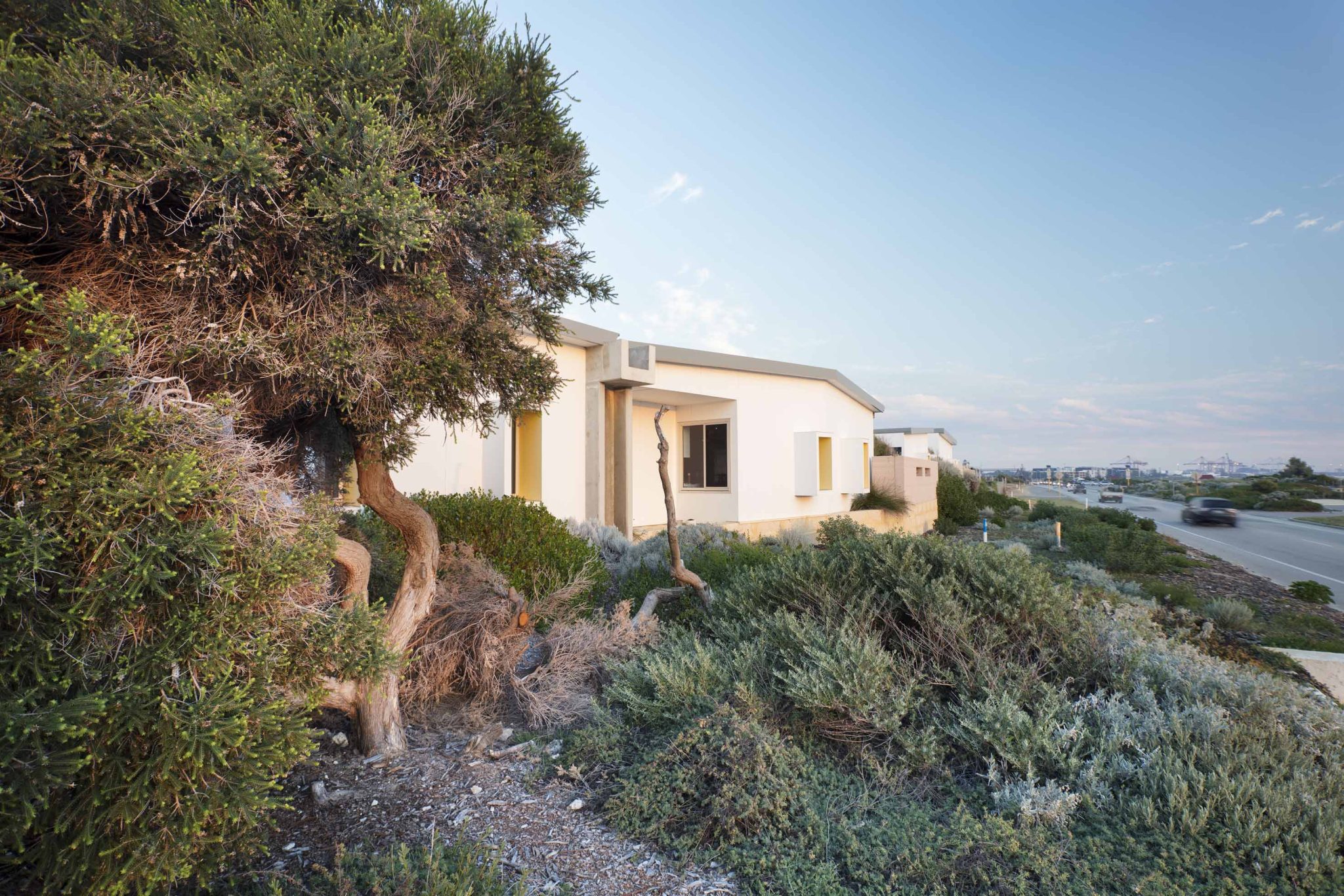 The classrooms are larger than usual, and, in line with Montessori pedagogy, serve cohorts of various age levels. With saw-tooth glazing overhead, they provide light-filled indoor spaces and each opens to a dedicated courtyard.
Every classroom contains a full kitchen where teachers and students prepare and eat lunch together. "Part of the Montessori way is allowing students to make choices, take responsibility and have a level of self- direction, so classroom spaces are not overly prescriptive," Delahunty explains. "Areas are a 'loose' fit, not strictly defined by activities.
By providing areas that have different light, views and thermal comfort levels, students tend to move into spots where a particular activity can happen, whether it's quiet reading or a project laid out to work on." On the day AR visits, at afternoon pick-up time, the new buildings and outdoor areas are performing exactly as Sheehan envisaged.
Parents arrive through the main gate into the piazza, where they are greeted by their children. Adults and children converse, or line up to buy Thai meals from the weekly stall run by a member of the school community. Throughout the playgrounds and classrooms, children play with their friends or carry on discussions with their teachers. No one seems in a hurry to leave, which seems a clear indication that Rhonda Sheehan's vision of the design fostering a strong sense of community has been successfully delivered.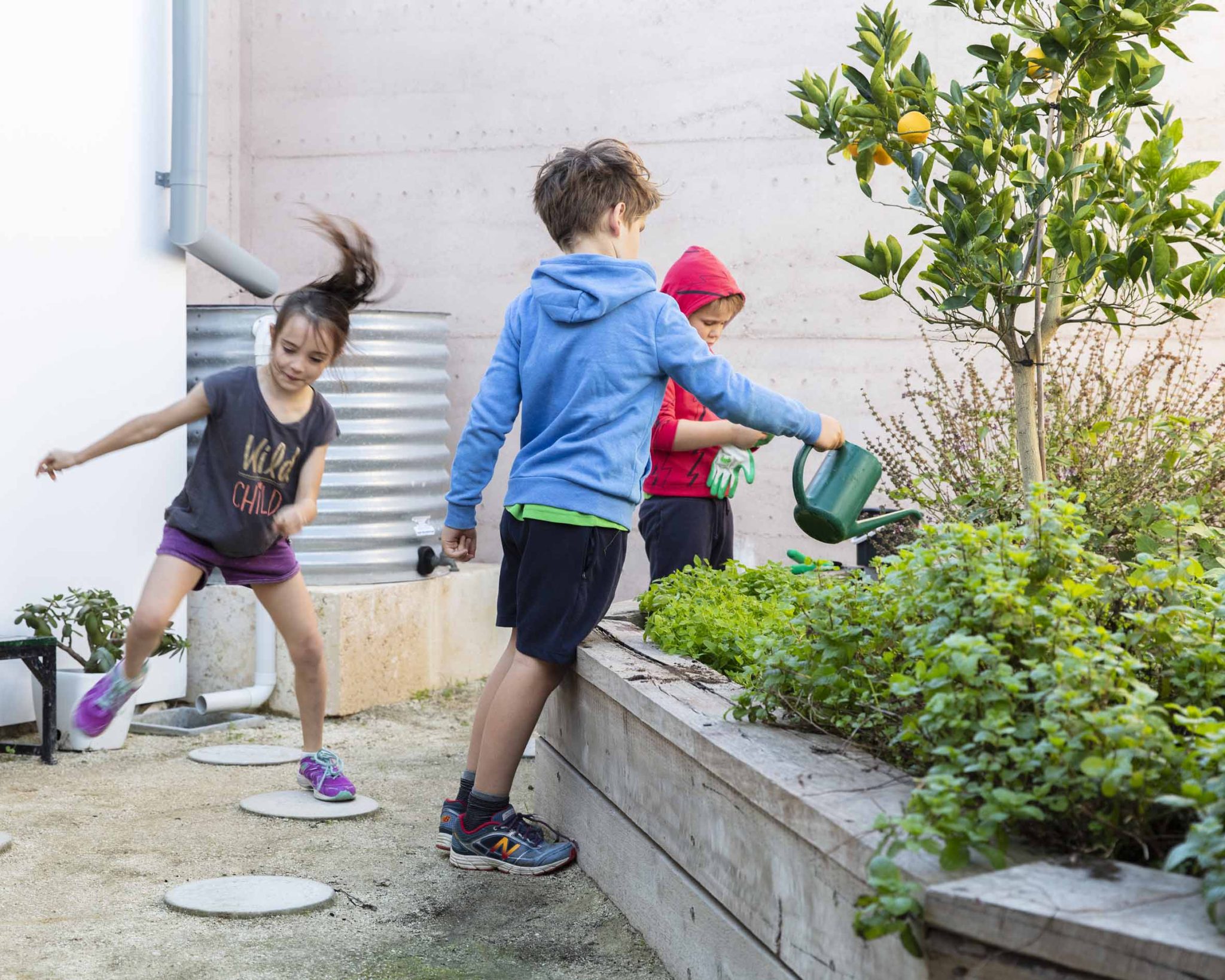 The lessons learned
As EHDO's first ever school project, and a particularly long one at that, there have been many challenges including design and site constraints, budget and funding issues, obtaining stakeholder agreements, and practice planning and management. "We faced soil contamination rehabilitation, the severity of the wind and salt on the building, the future noise levels of a realigned major road, no access to sufficient power and water supplies as it was 'the end of the line', and recently introduced bushfire attack levels for urban areas," Delahunty says. He adds that it's hard to believe how many stakeholders have been involved, and how many meetings conducted over the past nine years.
When he meets AR at the school office, he doesn't sign in as a visitor. It's apparent that, after nearly a decade on this job, he's basically a trusted member of the school community now. "Stakeholders included the school board, teachers, administration, students, parents, the State Government lease holders (Perth Transport Authority and the Department of Community Services), the Western Australian Planning Commission, the Town of Mosman Park, the Association of Independent Schools WA, the Leighton Beach community coalition, funding bodies and banks," he reels off. "That's 13, and there were more.
"At all times, we as architects supported the school by attending their negotiations and community meetings, and providing presentation panels and models," he says. "I visited many new government departments throughout the course of this project!"
But he's not complaining; this has been a very positive experience for both architect and client. "It was the biggest project we had undertaken, it certainly had the highest profile, so we didn't want to mess it up," he says.
"We were confident that our design philosophy and skills would translate effectively into a larger scale project, it was a matter of getting the resourcing right." Delahunty credits the entire project team – the school, its visionary principal and the lead contractor Mojo Building – for delivering the first four stages in a emarkably smooth way. (There are plans for a fifth stage, which will go ahead once funding is secured.) "I'd rate the degree of difficulty on this project as 9.5 out of 10 but, all in all, we have finished it with a much deeper understanding of architecture, construction, education, politics and people," he says.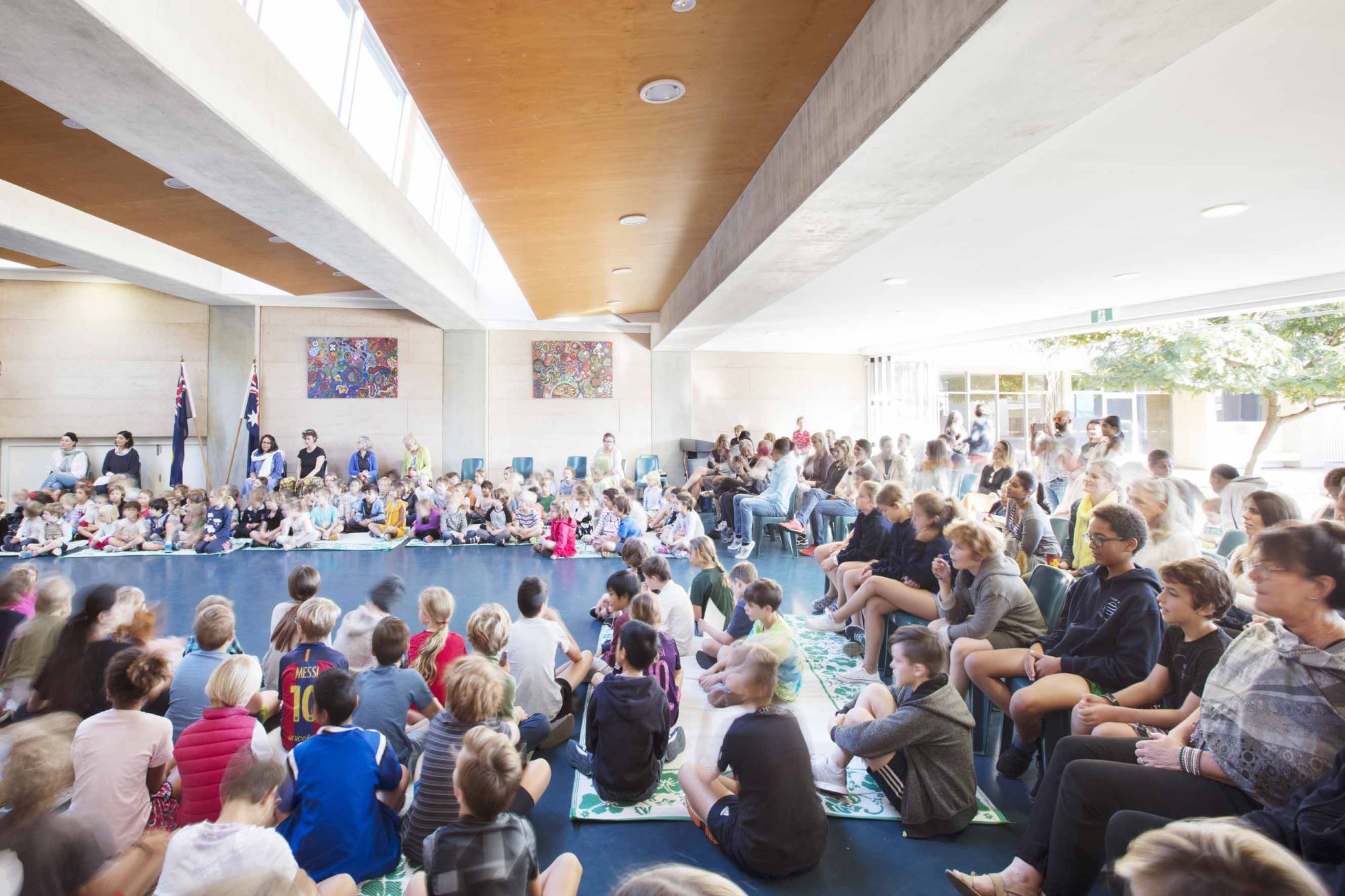 "From a business perspective, I think we are still coming to terms with its impact on our work moving forward," Delahunty concedes. "We love the project and want to do another school, but they just don't appear. We have never been ones to market ourselves and this project has challenged us to understand the importance of having a brand, a clear story and the fortitude to go out and meet people.
It's not easy for us, but we are trying. "No matter what our next school project is, it will be different to this, because the needs of the school community and the site will be different," he says. "However, we learned that no matter what the design problem is, it is always best resolved by staying true to our beliefs. So, the fundamental architectural principles we believe in will always be embedded in the buildings."
And what are those, in a nutshell? "That for a building to be beautiful it must embrace the environment, reflect the values of the client, respect its context and do so in a spirit of generosity." And Montessori Beehive School does all of that, very eloquently.
Photography by Bo Wong
This article originally appeared in AR158 – available online and digitally through Zinio.