Hames Sharley's South Australian Studio Leader and Director, Leon Gouws has partnered with Professor Ning Gu from UniSA's Australian Research Centre for Interactive and Virtual Environments (IVE) to explore innovative ways to integrate VR and AR into both practice and education.
The pair are exploring the application of a new VR infrastructure recently acquired at IVE called Hyve-3D; a room-sized large-scale immersive design and visualisation system which will allow the creation and viewing of 3D models and sketches both co-located and remotely.
This cutting-edge technology is a major breakthrough in 3D design as removes the need to wear VR goggles, enabling everyone in the room to immerse in the virtual environment and directly interact through 3D sketching.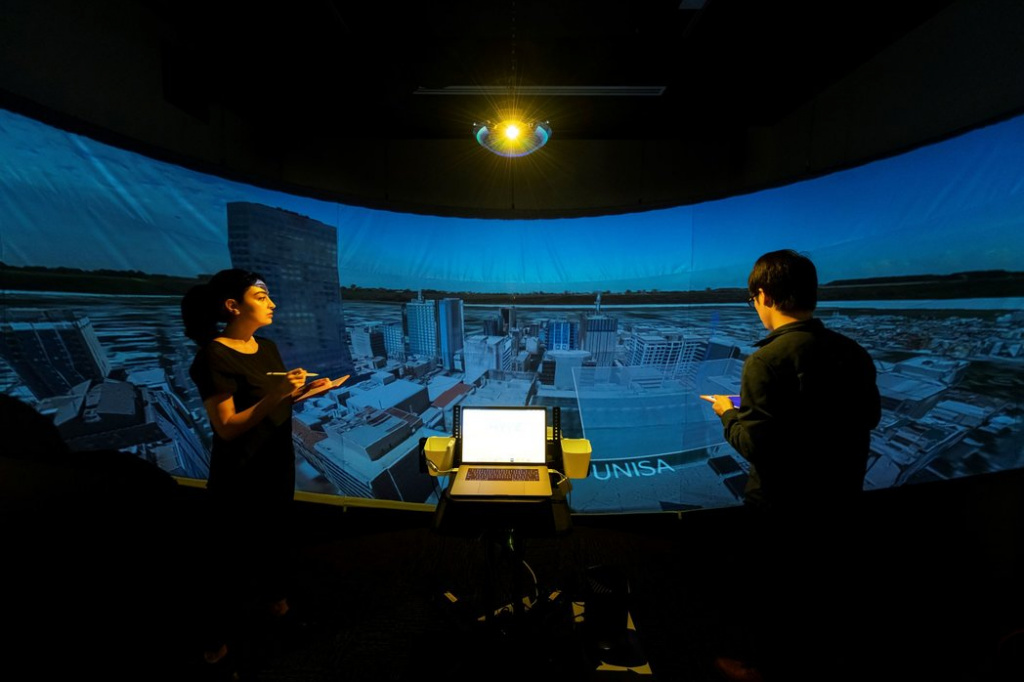 Architects are already very familiar with Computer-Aided Design (CAD) tools such as Building Information Modelling (BIM), parametric design, and various specialist simulation, analysis and management tools.
These are typical VR technologies as they allow architectural design to be virtually represented and realised before construction. But augmented reality takes things to the next level.
"AR goes one step further to allow these visualisations which are virtual to be inserted into the physical reality, hence, it is augmented," Professor Ning explained.
"For example, we can now conduct a design review meeting on the actual development site where designs can be examined and experienced in real scale."
"We can also virtually see through the wall surfaces to reveal the services behind for clash detection, or live-feed data of indoor environmental indicators to be provided to the physical space when testing different layout plans. It's extremely beneficial and can significantly improve design quality and efficiency in the long term."
IVE works on a range of projects focusing on the built environment sector, generously supported by various government and industry funding.
"Our projects range from augmenting BIM model visualisation and analytics, to enhancing digital collaborative practices in the housing sector, to visualising big data for supporting planning and designdecision making, and to digitisation and virtual story-telling of aboriginal built heritage," said Professor Gu.
"The advanced research conducted at IVE will provide valuable resources and market advantages for architectural practices to continue to innovate and grow."
UniSA has a long history of collaboration with Hames Sharley, as Professor Gu elaborated, "In my other role as Professor in Architecture, I am acutely aware of the generous support from Hames Sharley to our Architecture Program and our graduates through the annual design prizes, reviews/exhibitions and design crits, of which I am deeply appreciative. And now, I couldn't be more excited that our collaboration is extending into research."
Professor Gu believes AR and VR will evolve from being simply a visualisation and simulation technology into a new and more powerful technology for design, decision making and for communication and engagement.
"The communication and engagement aspects are especially impactful, not only for the design professionals but for the broader community, which will keep us connected and communicate more effectively beyond many physical constraints."
These future developments of AR and VR will have significant impacts on improving the design of the built environment.
The merged or mixed realities will require us to re-consider the definition of the "environment" we live in. As Professor Gu said, "This is a challenge and opportunity for us all.
Hyve-3D joins digital twinning tools as a recently forecasted tech disruptor to architectural practice.