Text: Sara Anne Best
Images courtesy of Dorte Hermann, Henning Larsen Architects
Milestone birthdays are a momentous occasion, haunted by reflections and inspired by anticipation. For the Sydney Opera House, there is much to ponder as it celebrates its fourth decade; a difficult genesis has borne an icon of considerable cultural and economic value to the Australian people. It remains a seminal work of late modern architecture, having liberated architects from formal constraints with its expressive shells and championed a 'global building culture'. Dubbed at once a 'masterpiece of human creative genius' and 'the nation's most valuable piece of cultural and tourism infrastructure', the Sydney Opera House has a significant and complex legacy upon which to construct a consequential future.
In the words of the then premier Joseph Cahill, the proposed opera house would "develop and mould a more enlightened community" and it is only too fitting that the series of events commemorating the 40th anniversary would further support creative potential in the Arts sector. Of the extensive program of events, the Opera House's Multidisciplinary Australian Danish Exchange program, popularly called MADE, has perhaps the greatest potential to enlighten the design community. The program engages students at an impressionable stage in their career, exposing them to the possibilities of multidisciplinary collaboration and cross-cultural exchange, which is exemplified by the Sydney Opera House at Bennelong Point.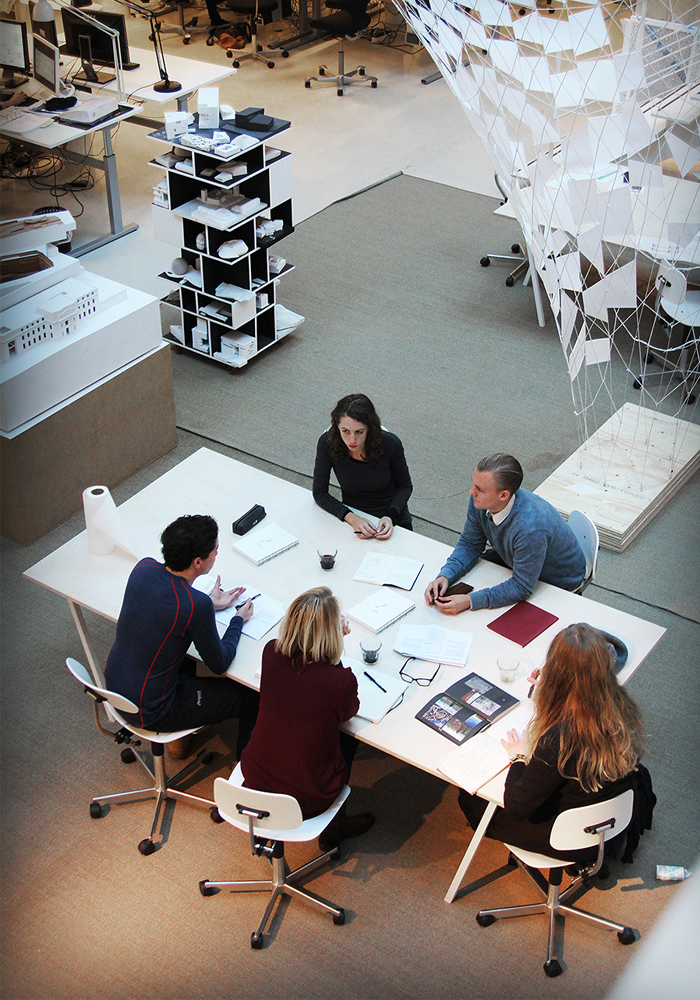 MADE supports one Australian and one Danish exchange per year, for the next decade. Each exchange sees five promising students from various disciplines travel the globe and work collaboratively on an autonomous project. The team is hosted by an operational firm (in this case Henning Larsen Architects) and mentored by practicing architects, engineers, planners and designers. By the time the Opera House celebrates its 50th anniversary, there will be a MADE by the Opera House alumni of a hundred internationally networked professionals.
Laura Craft (Civil Engineering and Architecture), Jennifer McMaster (Architecture), Robert Martin (Architecture), Olivia Savio-Matev (Interior and Spatial Design) and Matthew Wells (Civil Engineering and Commerce) – the five inaugural recipients – have just completed their exchange to Copenhagen. ADR asks what the value of their experience has been and how it will inform their entry to the workforce.
It is a reunion of sorts, as the students and program coordinator Caroline Grandjean-Thomsen reminisce about their experiences. Sitting in the boardroom of Steensen Varming's Sydney office, it seems the program is already causing an effect for this engaging group. A relationship is growing between the students and professionals in the industry: "there will definitely be a pool tournament next time," she comments.
Laura's experience was so valuable that she joined Caroline at the Sydney Opera House in facilitating the program and future exchanges. Matthew has returned to work, noting the increased contribution he can make to the design process. Jennifer and Olivia are back at university, inspired, having visited such influential buildings as Alvar Aalto's Kunsten and Utzon's own home in Majorca, which they described as 'beyond a highlight'. Robert is on the big screen, signing in from Riyadh, Saudi Arabia, where he is working with Henning Larsen Architects, an opportunity that arose from their working relationship during the program.
The conversation flows with ease as if the room was full of old friends. Their mutual respect is evident as we traverse the issues of Copenhagen's transport ticketing system to the value of context in 'brand' architecture. It's not something you develop at university, the 'soft qualities' that help make good buildings. Clear communication and being able to adapt to a given audience is essential in design, it's about being 'a good architect and a good person'.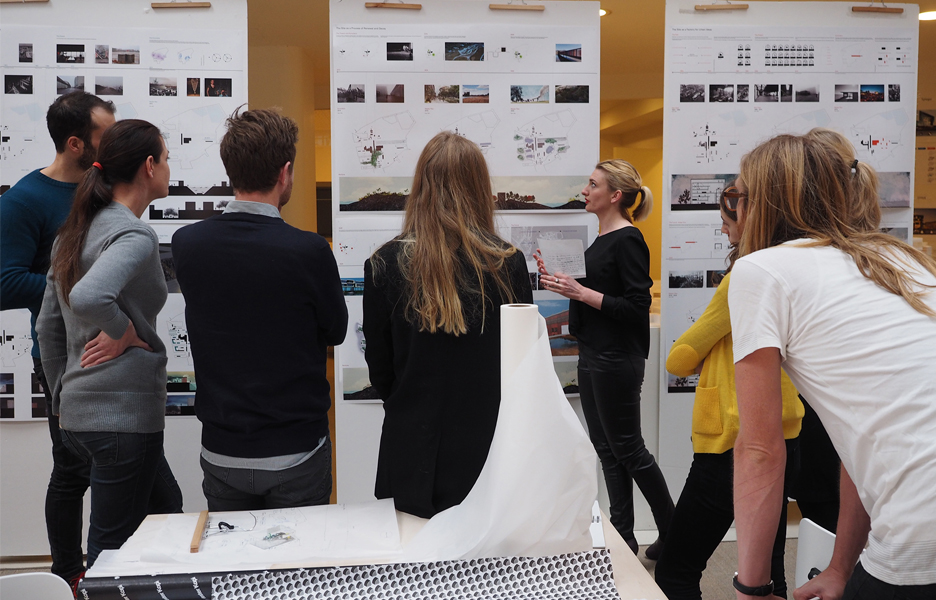 The group observed a tolerance in the way the Danes interact, which is 'respectful and receptive to other professions and viewpoints'. It informed their collaboration as they catalogued ideas for the Refshaleøen site on the harbour in Copenhagen. It is the location of the 2014 Eurovision contest and the group questioned whether Eurovision could generate the development of a city? At these early design stages, when you have a spatial designer, talking to a civil engineer and an architect, a diagram is the most effective way to make sure everyone is on the same page. It's that old dictum that a picture conveys a thousand words. But it's also about choosing the right medium in each situation. Matthew, a structural engineer and commerce student, talks about the value of model making even though it's not something he was exposed to during his studies.
Being flexible and maintaining an open mindset are important qualities, as well as equality across the table. Having such diverse input as the design is in its genesis before any one party is set on a given outcome, is of great value. But there must be a design driver, or there comes a 'too many cooks' situation. It's a key difficulty that a singular 'architectural vision is antithetical to multidisciplinary design' in a lot of ways. But for these young professionals, it's about embracing design as a collaborative field, rather than an autonomous artistic field as they embark on their careers.
The global industry had immediately benchmarked the Sydney Opera House as a ground-breaking project in all aspects – mechanical, structural and architectural.
Steensen Varming harvested harbour water to provide cool air and ARUP utilised computers for structural analysis in the design of the pre-cast concrete shells. Both were pioneering solutions at the time and the built work extols the virtues of multidisciplinary, cross-cultural design.
Yet, forty years on, the industry still struggles with collaborative design processes. This is partly to do with an education system that perpetuates the traditional conception of the architect as the sole author of a building when the industry is departmentalising into an ever-expanding cohort of specialists. There has been intense technical development in specialist fields that strains communication since professionals understand less and less of the detail of other disciplines. Combined with increasingly time and fee pressured projects, it is little wonder that truly collaborative design is difficult to achieve.
The MADE alumni will bring to the industry a commitment to progressive dialogue, an international multidisciplinary network and global awareness. They will be indebted to Utzon, whose 'work shows us that the marvellous and seemingly 'impossible' in architecture depend still on genial minds and able hands' (the words of Pritzker Architecture Prize juror Jorge Silvetti).
The program is made possible by the cooperation and support of Sydney Opera House, Arup, Steensen Varming, NSW Architects Registration Board, The Bikuben Foundation, The Dreyer Foundation, The Obel Family Foundation and The Royal Danish Academy of Fine Arts, Schools of Architecture, Design and Conservation.