If you're a regular on the Melbourne foodie scene, chances are you're familiar with the work of local practice, Figureground. Though not yet a household name, the small practice is rapidly garnering attention in design circles for its swag of notable and award-winning hospitality projects dotted across inner-city Melbourne.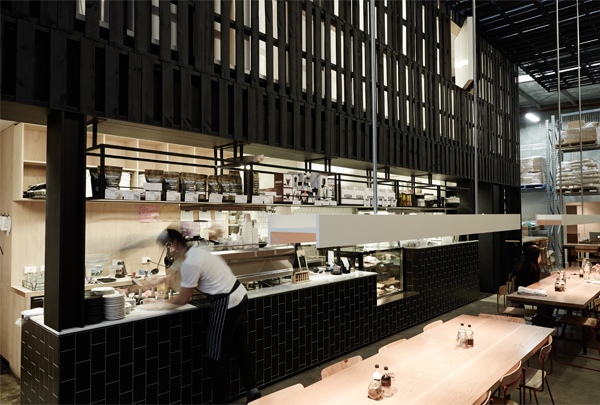 Figureground's principal architect and founder, Matt Rawlins, worked at O'Connor and Houle, Bent Architecture and Jackson Clements Burrows Architects, before setting up his own practice four years ago.
"Funnily enough I had a qualification in urban design, experience in residential design and then all of our first projects were hospitality," Rawlins says. "It was a pretty steep learning curve, but I found myself fascinated by how people use social spaces and how our designs could affect social behaviour."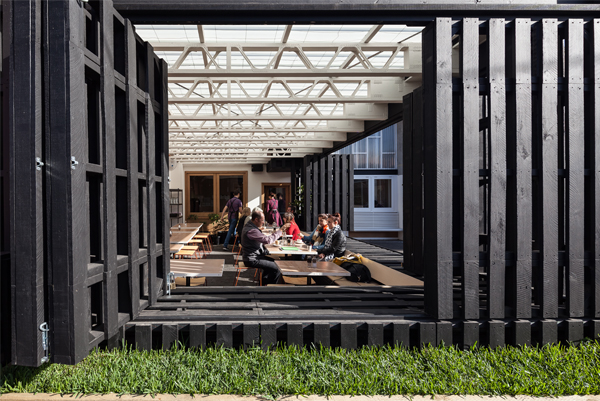 One such project by Figureground that fosters a genuine sense of community is the bar at much-loved Brunswick East café and restaurant, Pope Joan. Designed for co-owners, Ben Foster and chef Matt Wilkinson, the bar occupies the original café's neighbouring building, unifying the two across a central laneway. The understated yet robust interior draws on the site's industrial urban setting, featuring exposed brick and concrete block alongside timber benchtops and seating. Unexpected moments within the spatial plan, including decking that transitions into bench seating, encourage a relaxed ambience. Figureground's handiwork continues next door at Pope Joan's boutique providore, Hams & Bacon. At only 30 square metres, the playful fitout packs a punch with a counter clad in exuberant yellow tiles, taking a cue from the store's vintage-inspired branding.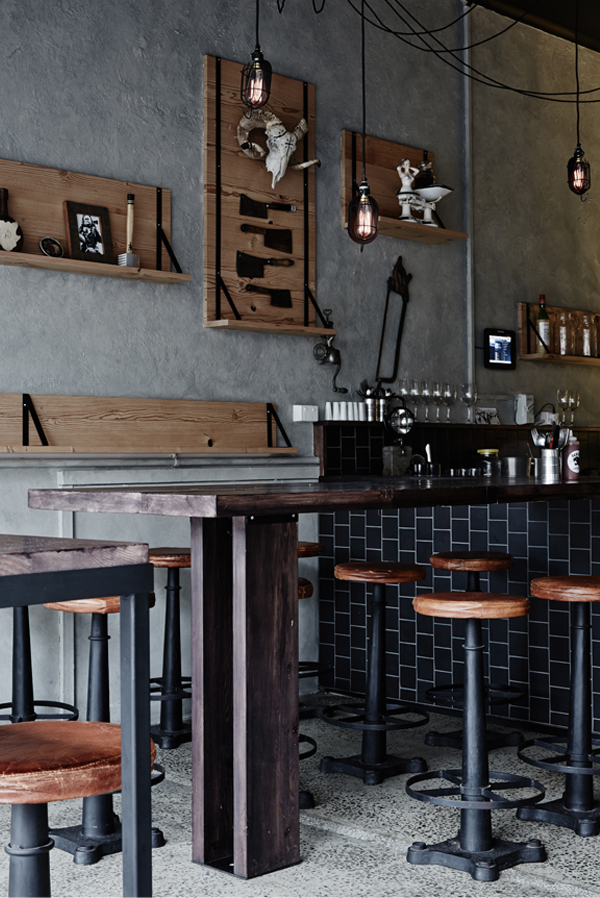 Figureground's range of hospitality work demonstrates the practice's versatility in creating distinct and expressive built identities for each client. At Meatmother in Richmond, sombre hues and moody lighting teamed with heavy utilitarian surfaces make for an atmospheric dining experience. The space features artistically macabre prints by local artists, Urchin, which splice cuts of meat with anatomical diagrams – a fitting gesture in a carnivorous establishment dedicated to the art of butchery.
Boasting a similarly dramatic palette is Industry Beans, a café and coffee roaster within a former factory in Fitzroy. The expansive double-height volume is clad in black timber, a high-impact wall treatment over black-tiled counters and ply joinery. Panels open at ground level, with an aes- thetic that exudes sophisticated streetside grunge.
Last year proved to be a pivotal one for the practice, with Industry Beans shortlisted for an IDEA Hospitality Design Award and winning AIDA's Best of State Award for Commercial Design, as well as receiving recognition beyond our shores to be named Best International Café at the Restaurant and Bar Design Awards. "It was a big year and really the first time that people who weren't friends or family started calling us for new projects," Rawlins says.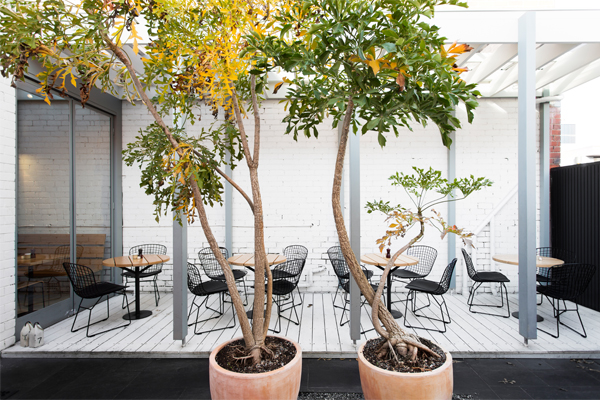 However, with the influx of new work comes the challenge of ensuring the practice's characteristic standard across a growing portfolio. Part of this is in maintaining a constructive relationship with clients, who each have differing expectations of their role during the development of a project. "Some clients are really involved and some aren't at all. The best are those that are somewhere in the middle," Rawlins muses, explaining that, "if clients are too prescriptive then it can have a negative impact on the design process." A main concern for the practice is a recent trend that they term 'design by Pinterest', where the pursuit of original solutions can be undermined by a client's preconceived ideas for the project. "We hope that new clients are familiar with our work and have some trust that we will provide a design that they will love," says Rawlins. "We try and encourage the client to focus on the functional aspects of the brief and then allow us to interpret and respond to that creatively."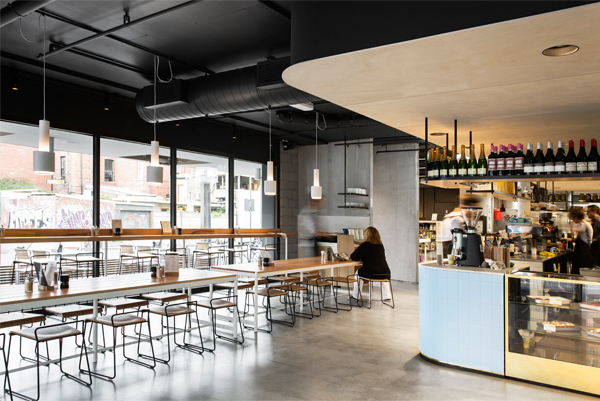 The team of four operates from their Fitzroy headquarters, a 1930s warehouse building off Gertrude Street. Working within such a small team gives Rawlins the valuable opportunity to oversee most design decisions, though he anticipates this will change as Figureground's work- load increases. "I work closely with a staff member on every project, but there will probably come a time when I have to start letting go!"
With a number of new projects in the wings, including a diverse mix of residential work, it would seem that that day is fast approaching for Figureground. Currently entering the construction phase on a waffle café in Fitzroy, as well as expanding beyond Melbourne with hospitality projects planned for both Perth and Sydney, it is an exciting time for the practice.
Led by Marcus Piper and the Architectural team at Niche Media, issue 2 of Mezzanine is now available on newsstands for only $7.95. You can subscribe to Mezzanine here for only $29 a year (4 issues).