Above image of Nipa Doshi and Jonathan Levien by Kate and Camilla. Article by Sandra Tan.
Nipa Doshi and Jonathan Levien have built a career as partners in life and creative practice, producing distinctive work through Doshi Levien alongside some of the world's highest profile brands.
Their work artfully broaches a myriad of creative disciplines, featuring a nuanced application of handcraftsmanship as well as industrial design, technology and storytelling, visual culture and three-dimensional realisation.
ADR caught up with the talented duo during their recent trip to Perth for the 2015 Design Circus, showing off two new tables for major Australian furniture group Schiavello, the Doshi Levien Parley and Goodwood tables.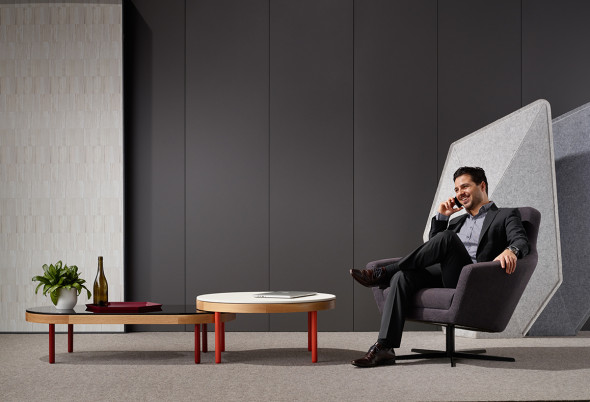 Welcome to Australia! Do you come here often for work?
We have been working with Schiavello recently, so in the last five years I would say we have travelled here maybe three times? Not a lot, but I'm hoping that will change.
As far as your working partnership with Jonathan goes, what attracted you to each other's work?
We met at the Royal College of Arts, and after graduating; we decided we really needed some experience first. And I think after three years of having worked with other people, we wanted to work together. We literally quit our jobs, got married, and started our own practice. But it happened very naturally.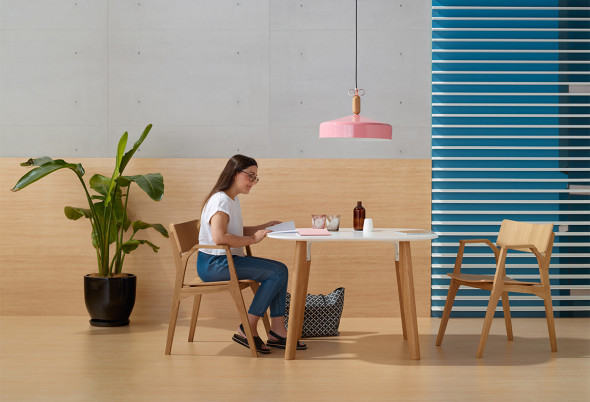 Your work has been described as a union of opposites – do you agree with that?
I don't know – I think that we clearly come from such different backgrounds and skillsets, and definitely our skills are complimentary to each other, but I wouldn't say it was a coming together of opposites. It's more that we are two people who have different ways of looking at our material environments. I paint, Jonathan sculpts.
Do you find that your design process requires a lot of negotiation between you, or is it common for you to arrive at a similar resolution?
You know, I think at the end we always arrive at the same conclusion, but there's a very long way until it happens! It's a long journey that we have to take, and I think it's all about communication – maybe we want the same thing but it's only through the process of design that we realise we do.
Often we come together very briefly in trying to find the spirit of the project, to get down to the essence of what we want to do. It generally comes together in a very natural way, perhaps through Jonathan's sculptural interpretation of my sketch, or my feedback on a model that he's made. Often my references could be from film, or theatre or fashion, so there needs to be a consistent dialogue.
And the process is not all good, you know? It's not all 'nice'. There is an inherent conflict in just being creative, because you're searching for something. We always tell each other how rubbish the other person's idea is! It's a normal process when you're working with family, we're not polite to each other – but that's also an advantage because you can say what you think about a project. I always say I'm right at the end, but projects are a product of a dialogue, looking at things and challenging them.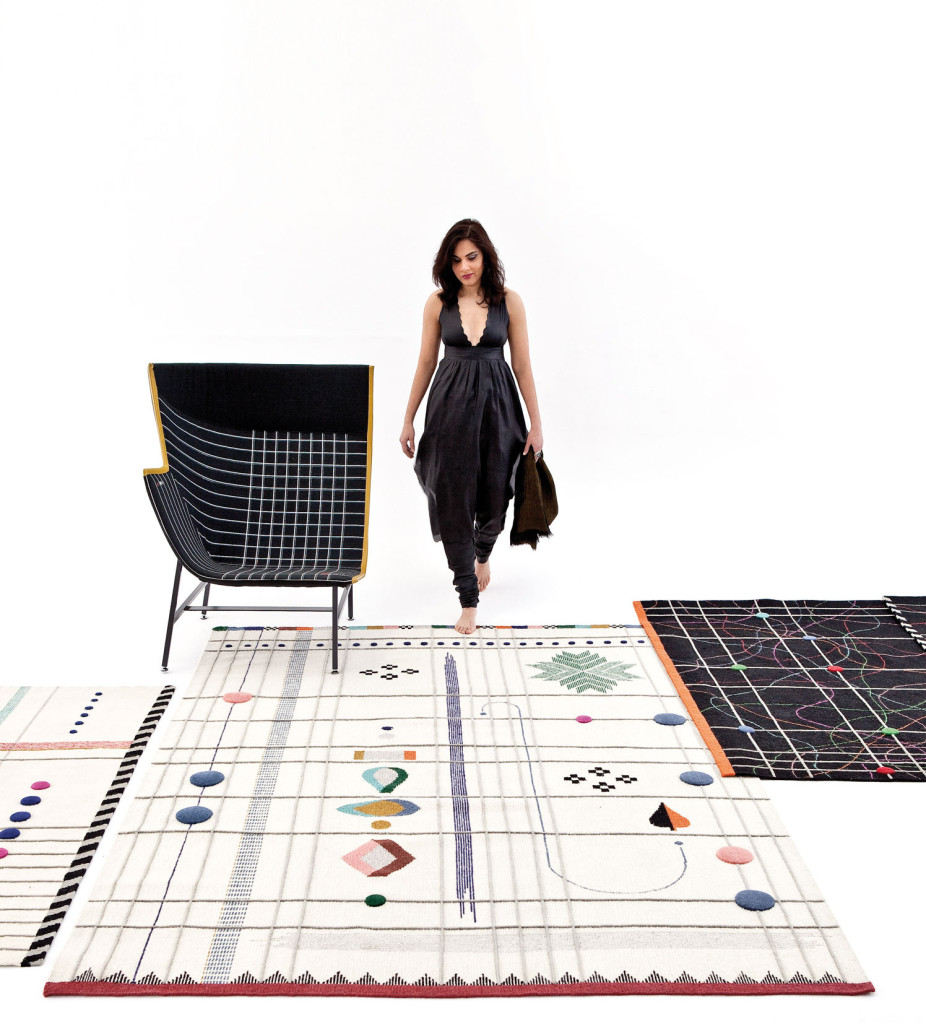 In your time you've worked with some of the world's biggest brands, what have been some of your most fulfilling projects to date?
I think that all our projects have been satisfying in different ways. For example the Rabari rug that we did for Nani Marquina, which is going to be shown at the Design Circus, was very satisfying as a composition. It's a rug that's a space to live on rather than something that you just put on the floor. Just the level of detail and craftsmanship – it's a rug that we actually have in our house, and everyone who has it says that the longer you have that piece, the more you discover.
We also did a chair for B&B Italia called Almora, which was really complex in terms of manufacturing. It has six moulds to make one piece, yet it looks like it is just magically held together. It's very sculptural and very comfortable, and I think quite iconic but understated, and that took two years to develop. So did the rug, but the chair is something we're very proud of because it is a real piece of industrial design.
And then of course there are pieces that we've done for BD Barcelona – the Shanty cabinet references the kind of makeshift architecture you find all over the world, using corrugated sheets of steel. For me, there's a great story in there about finding beauty in even humble architecture, in what people might call slums.
Every time I make a piece I think 'how will I make something better than that?' but somehow we do!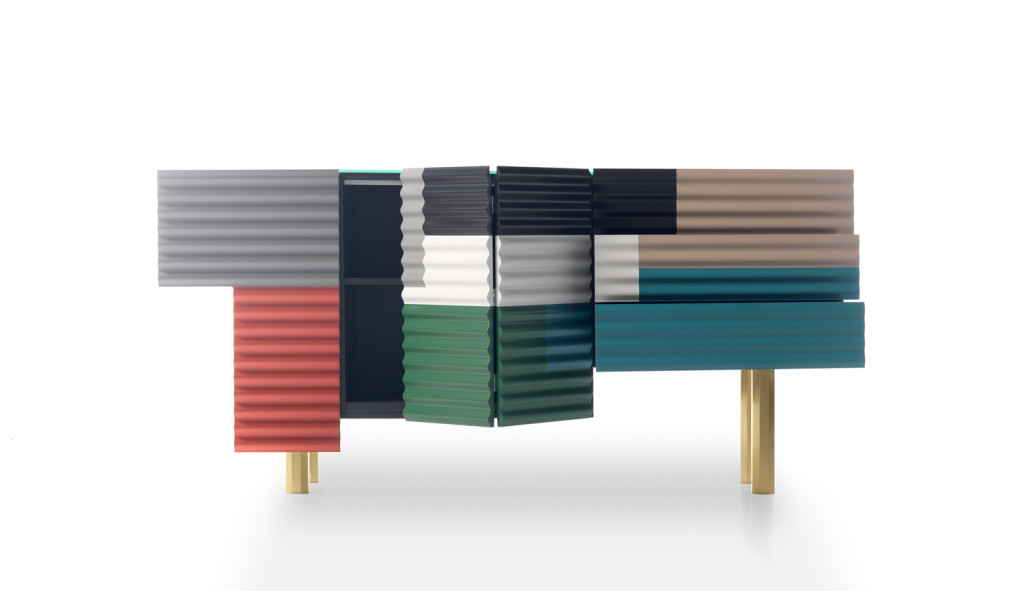 It's a very diverse portfolio that you've got. I'm curious to know, what's your impression of Australian design? 
Some of the biggest icons of design are from Australia, Marc Newson for example – what I've found is that there's a lot of interesting architecture, even though we are in Perth, I can see that architecture is where Australia has really come into its own. There is a definite sense of easy living here in Australia.
Are there any exciting collaborations you're working on currently?
We're working on a colletion for Kvadrat in Denmark which will be launched next year, so looking forward to that!