Location: Sydney, Australia
Architect: Christopher Polly Architect
Review: Eoghan Lewis
Photography: Brett Boardman
The Cosgriff House by Christopher Polly Architect is an unassuming little gem in the back streets of Annandale in Sydney's inner-west. A mere twenty square metres were added to the existing building footprint, the majority of the work reclaiming space from underneath the existing house. The clients, a couple with one, soon to be three young children, had seen some of Polly's published work and invited him round for a chat. They recall that Polly was the only architect they met that considered the possibility of finding space under the existing house a viable option and got enthused by what was possible rather than what was not.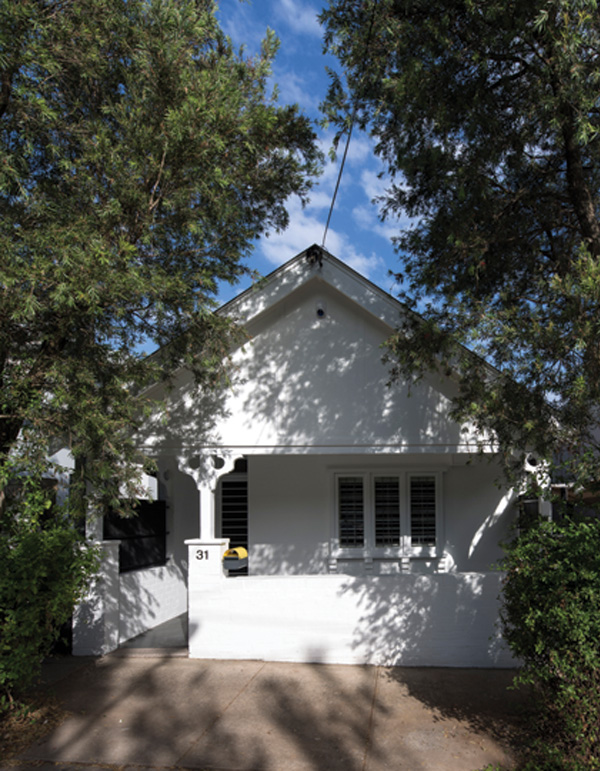 This can-do attitude serves Polly well. Taking advantage of the site's fall to the rear, a large living/dining/kitchen volume is inserted under the house, such that the floor level is on grade with the backyard. The presence of a mature jacaranda tree coupled with Leichhardt Council's complicated set-back requirements resulted in the modest increase in the building's footprint and, while simple enough diagrammatically, much work had to be done to achieve this relationship.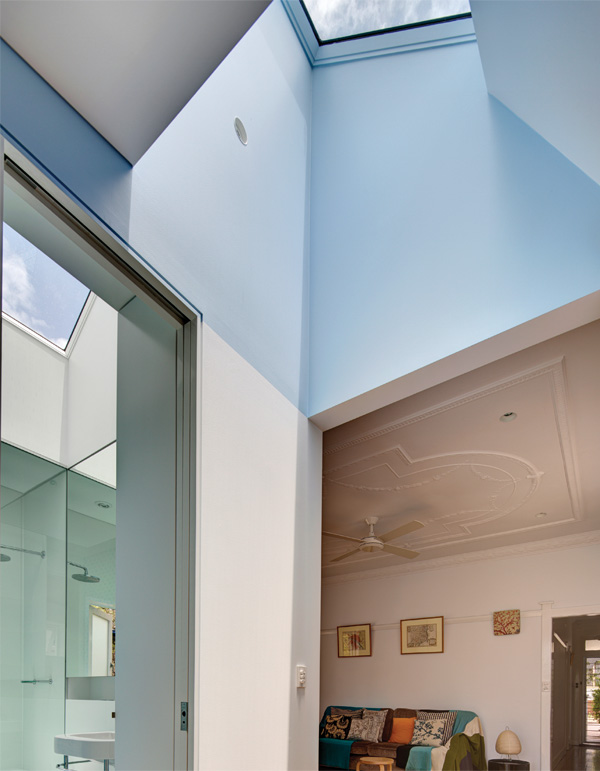 The existing house is treated sensitively, new works stitching seamlessly into old. A sky-blue skylight, chiselled sculpturally through the existing roof, announces the threshold between old and new and coincides with a widening of the corridor to reveal a gun barrel view of the jacaranda – the corridor extends out into a double-height space. The overwhelming impression as one descends and spaces unfold is of refined elegance and simplicity. A lightweight first floor addition houses the stair and main bedroom, its roof kicking sharply up to the north and to the east to maximise light. The lower floor is reassuringly heavy, cut as it is into the slope, giving the additions above their springing point and opening out onto an informal garden.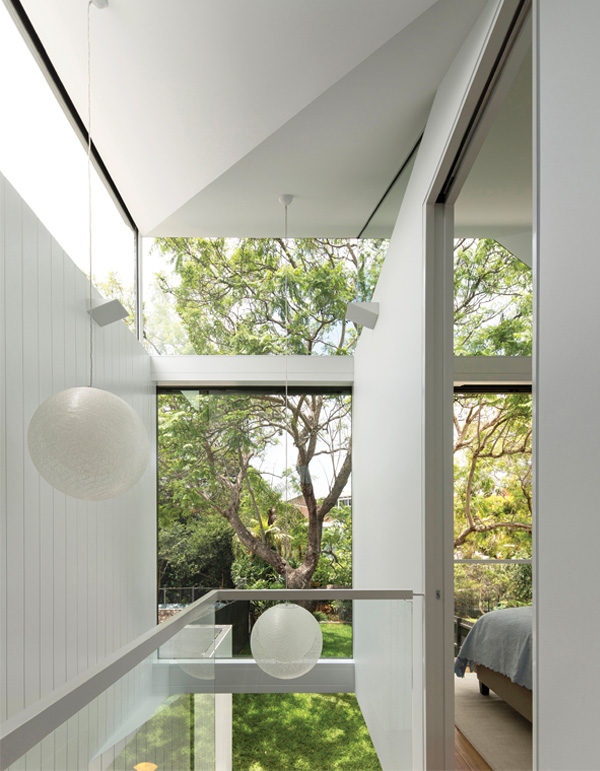 Polly displays real economy when it comes to detailing, which is clean and highly refined throughout, each element and its connection considered carefully with the aim of avoiding unnecessary moves.
The resolution of the glass and steel balustrades for example is particularly elegant, with the architect working hard to keep the structure to a minimum so it is as transparent as possible. In contrast, the lightweight pavilion is clad in inexpensive Scyon fibre cement and painted the same colour as the Colorbond metal roofing and facade; off -the-shelf concrete pavers are used for pathways, a strategy of keeping things cheap and cheerful at times and highly refined at others – a canny way of controlling budgets and resources in order to maximise outcome.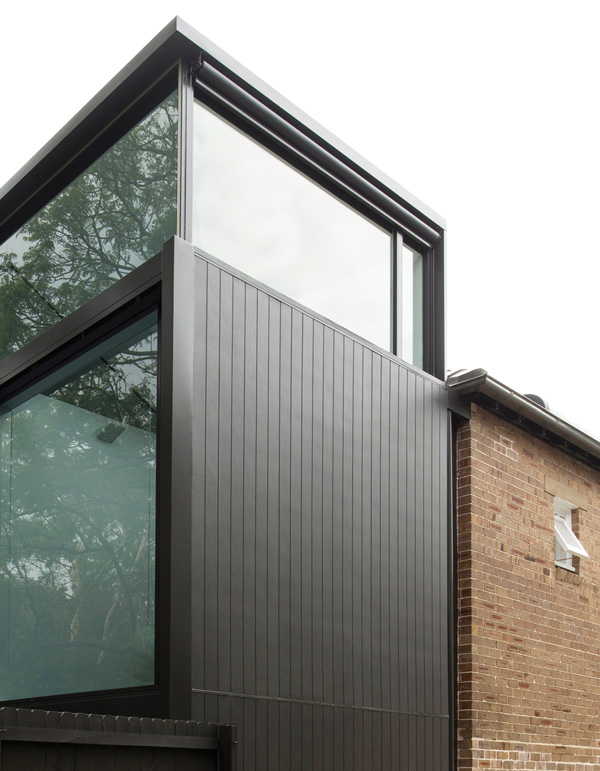 Since late 2005, Christopher Polly has worked alone from his office in Newtown. Inspired by the detailing of architects the likes of Francisco Mangado, Eduardo Souto de Moura, Takaharu Tezuka and Richard Neutra, Polly is an architect with a strict code and clear methodology. Working primarily with balsa cardboard models and two-dimensional CAD drawings, Polly approaches architecture with an urban sensibility. That is, design strategies are derived after careful consideration of each project's context, site and political constraints. Functional relationships, the position of openings and roof forms become a logical consequence of that thinking and once a clear strategy has been established, only then does he allow himself to play and begin the process of refinement.
Like the man himself, there is an awkwardness to the way the work looks, but at the same time an effortlessness to how it feels. Herzog & de Meuron in Natural History coined the phrase 'difficult beauty', implying a beauty earned or a beauty learned, or more, an aesthetic that feels 'right' as it is based on an evolutionary and rational exploration of relationships implicit in program and context.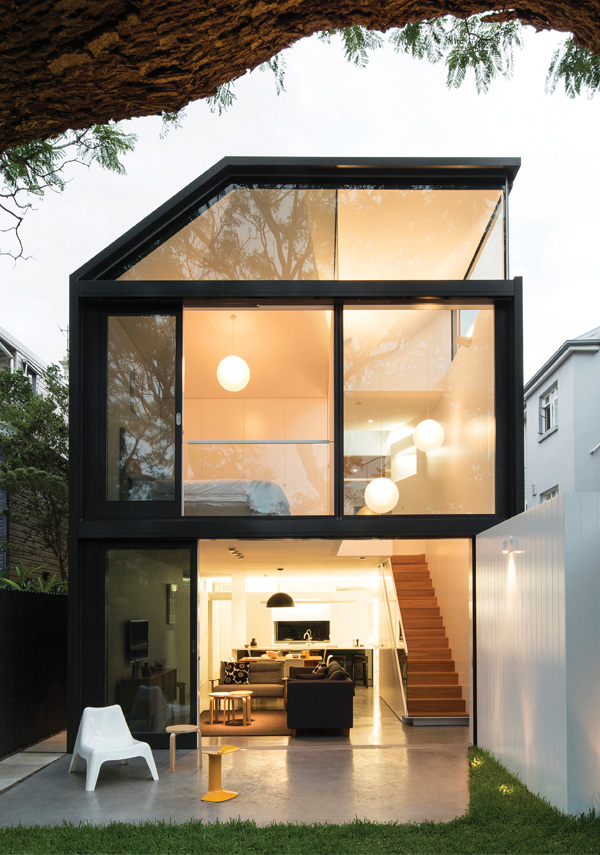 The Cosgriff House is clearly a house designed from the inside out, its form, materiality and the design of its openings a rational response to its conditions. The desire for northern and eastern light drives the roof volume; the roof kicking back down and aligning with existing gutters to the south to reduce overshadowing of the neighbour. Walls thicken up to house water tanks and condenser units and then fold in to heighten relationships between spaces. So roof forms and openings take care of themselves and opportunities are found in the functional requirements. It comes across as uncompromising, particularly the rear elevation, but at the same time it's enveloping, warm and inclusive.
Project Details
LOCATION: Annandale, Sydney
ARCHITECT: Christopher Polly Architect
LAND SIZE: 370sqm
FLOOR AREA: 167sqm
COMPLETION: December 2012
INTERIORS: Christopher Polly Architect
STRUCTURAL ENGINEER: SDA Structures
HYDRAULIC ENGINEER: ACOR Consultants
BUILDER: R.G.Gregson Constructions
This story originally featured in AR 137 – Residential. For detailed architectural insights on projects in Australia and throughout Asia, subscribe to Architectural Review Asia Pacific.