Christopher Polly Architect has carefully connected an extension to the back of a 1960's yellow brick house on a tight budget. ADR chats to Christopher Polly about the project, which is located in southern Sydney.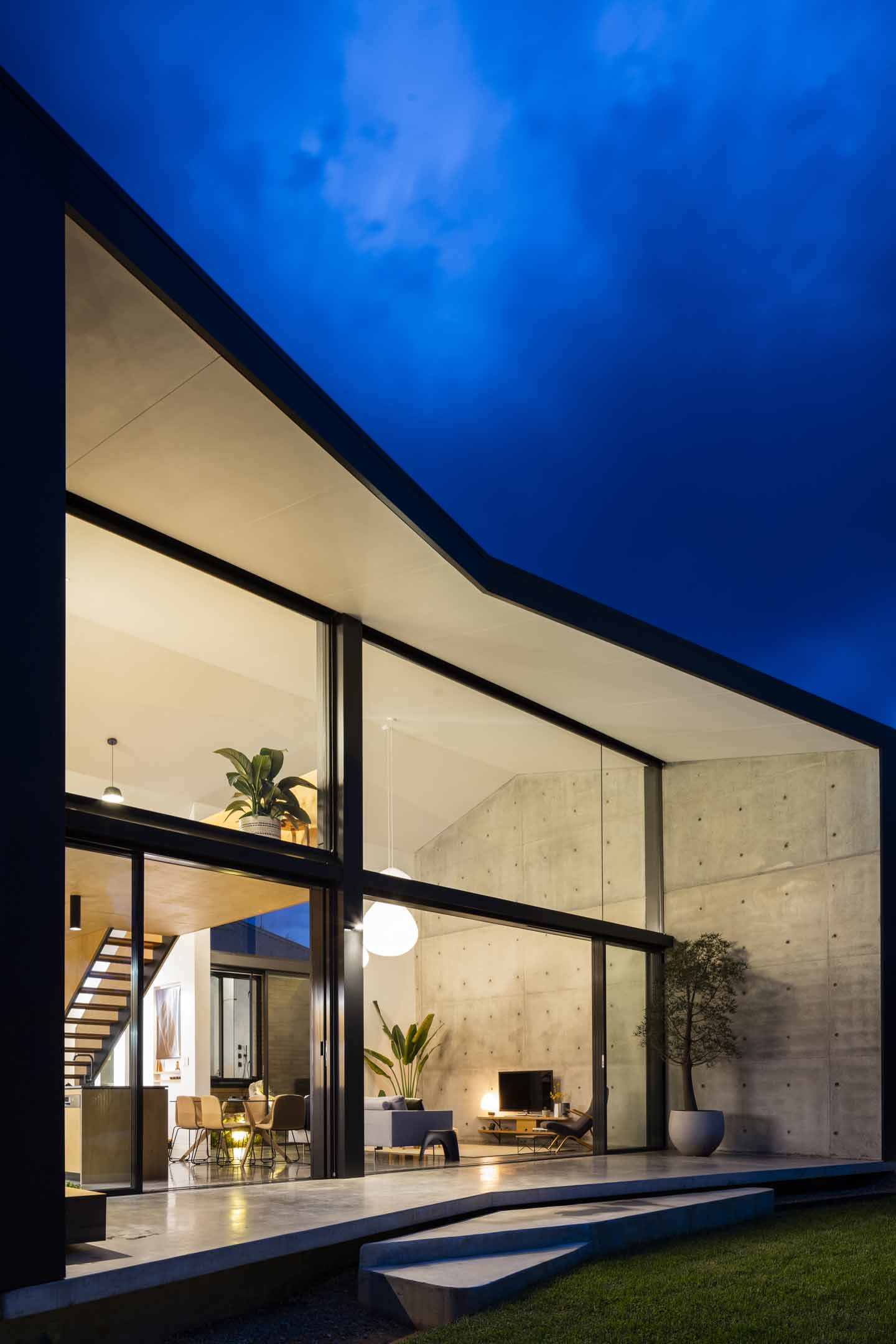 How did the Binary house project come to you and how did it evolve?
The clients are architecture and design enthusiasts and came to me after seeing publications of my prior projects. To me, it felt like a good rapport quickly developed during our first meeting on site and it became clear that we shared a like-mindedness to exploring sustainable materials and contemporary design vocabularies to achieve a well resolved and highly crafted outcome.
Tell us about the brief and what it involved.
The brief was to refurbish and transform a small three bedroom dwelling with a tiny living space and no dining area into a four bedroom dwelling with expansive living and dining spaces, with a desire for strong connections to its external environment. It also included improving the streetscape appearance of the original dwelling and new landscaping to the significant rear and front outdoor areas of the site.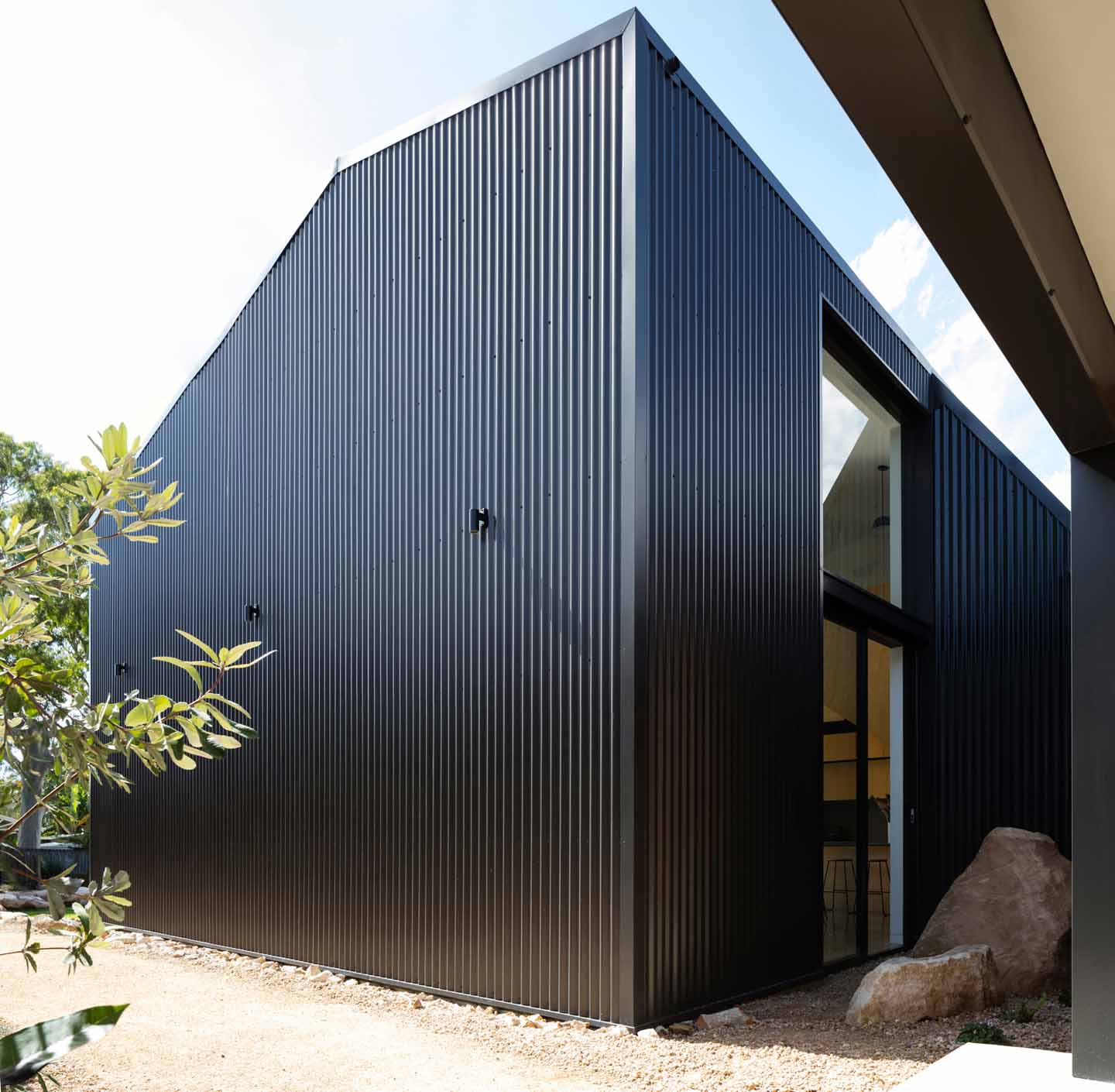 What was the inspiration for this project?
There was no direct inspiration per se, yet I recall at the time that I was looking at the recent of work architects like Adamo Faiden and Francisco Mangado. It developed from a continuation of an exploration of ideas from parts of my prior projects that worked well. Ultimately, cues were drawn from its setting, the neighbouring landscape and importantly, the original dwelling, which signalled an approach to the planning strategy of the project and the compositional articulation of its final form.
How did you make your material choices?
Many options were put forth early on and the client also had suggestions in their brief. The final predominant selections of steel, plywood and concrete were made for their utilitarian qualities to provide the new built work with a restrained, pre-finished and robust low maintenance palette for a long term outcome.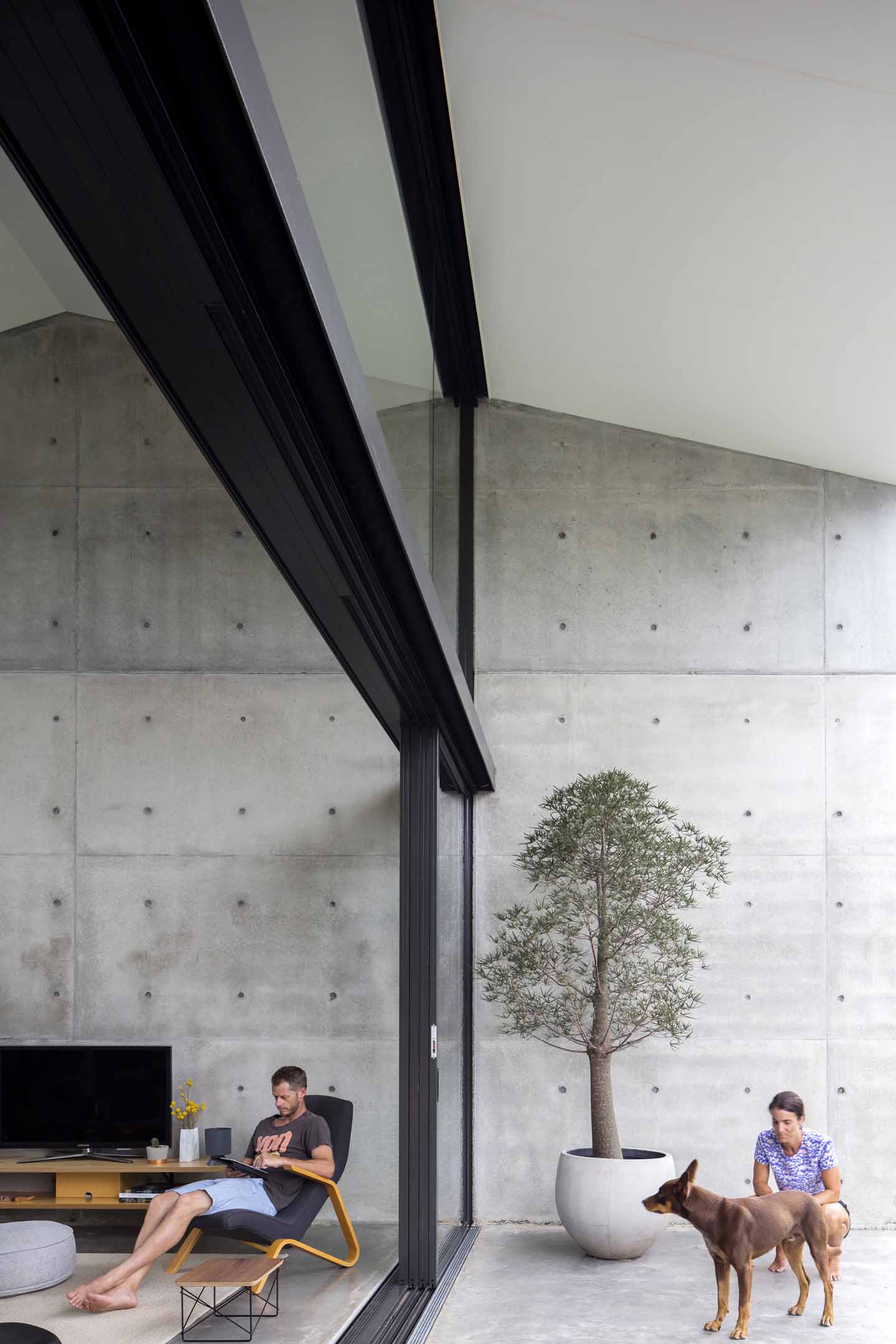 How involved was the client throughout the design process?
There was a lot of consultation of ideas with the client during the development of design options to establish how open they were to testing new ideas and to tease out how receptive they were to achieving a bold vision.
Were there any specific requests or things you had to take into account during the design process?
Balancing council's planning controls, the immediate neighbouring context and the many requirements in the client brief were paramount, yet fundamentally, the new work needed to be directly connected to its setting and be expansive and voluminous within a fairly compact footprint.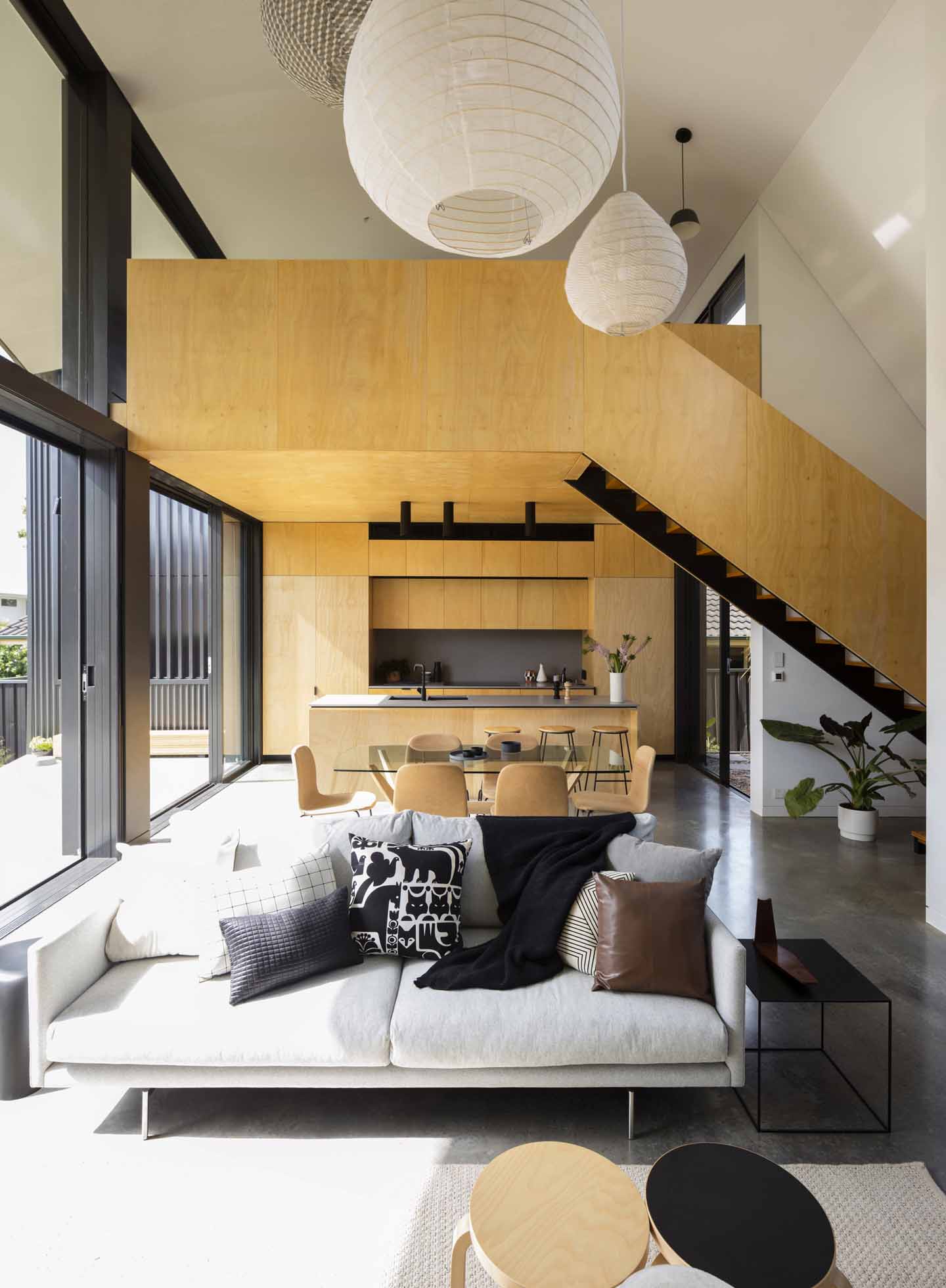 What were the biggest challenges and how were they resolved?
The overriding challenge was in achieving the client's entire brief in a highly inventive manner within an overall compact footprint. Also challenging was alleviating poor ventilation and light to the original house and expanding relationships to the rear yard while mitigating compromised privacy from adjoining neighbours.
The decision to retain the original front house quickly established a direction that the entire 'private' program could be organised within its available envelope. A reworking of its plan with new vaulted skylights and windows now vastly improve access to light and ventilation. The 'public' program was then freed to be composed within the modest footprint of a 'new build' pavilion at the rear. It significantly improves privacy via an opaque southern face and northern blade screen, while concurrently providing desired transparency for unfettered spatial relationships within its volume and across its two parts for strengthened connections to its setting.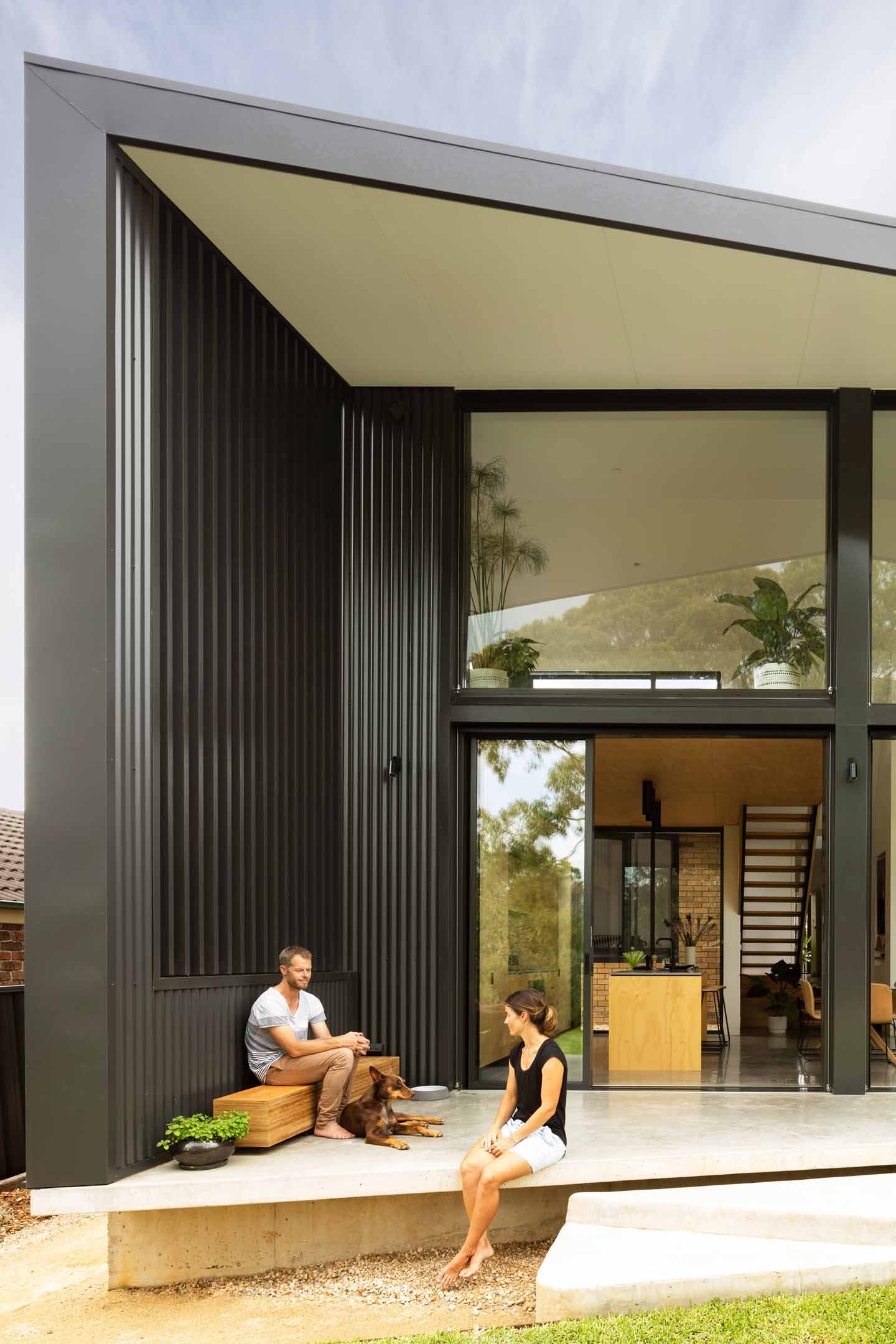 What is your favourite element of Binary house?
The manner in which the new pavilion creates a dichotomy of two differing material characters at either end of its volume, and how its binary play of considered interior honey and grey tones strongly reference the exterior yellow brick and grey metal of the two distinct structures.
Also gratifying is how the asymmetric pinched-in rear profile enables greater solar access onto the generous thermal mass of a concrete wall and ground floor slab in the cooler months – and the manner in which the cantilevered concrete terrace edge and sculpted concrete step element double as seats for enjoyment of the garden.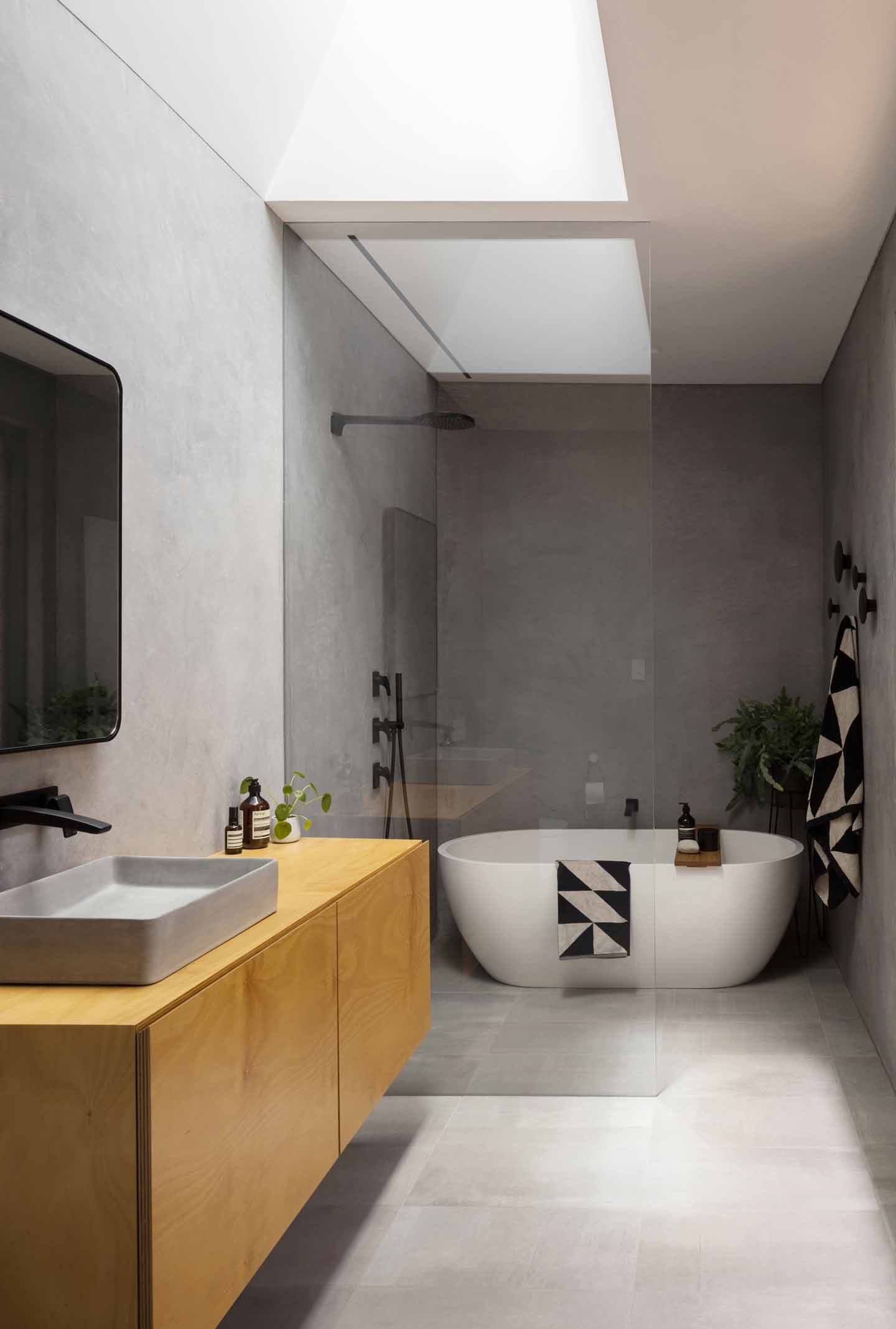 How do you feel about the completed project?
It's a cogent response in how the new strengthens the reading of the old and the old distinguishes the new work 58 years apart. The original dwelling and garden pavilion are spatial and material opposites. The front house is one storey, cellular and private with an extant yellow brick character, while the new pavilion is two storey, voluminous and public, with an intentionally singular grey metal expression in counterpoint.
The project responsibly preserves and refurbishes a mid-century housing type which may have otherwise been demolished to enable the embodied energy of its original footprint to be significantly retained. While it creatively accommodates the owner's spatial requirements, the pavilion enables multiple sight lines across interior spaces to its setting, makes numerous connections to light and sky, and provides generous access to previously poorly connected exterior areas.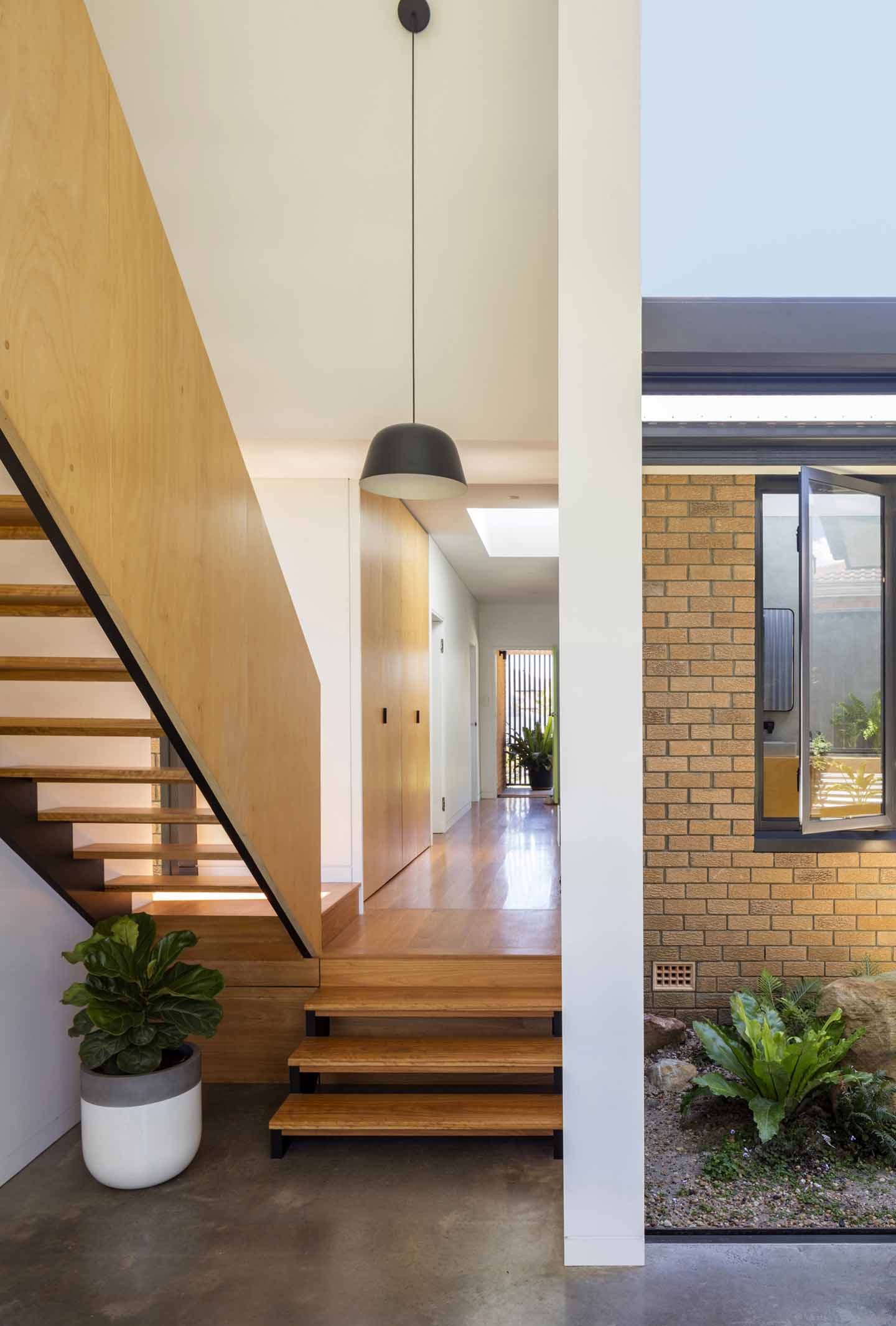 Photography by Brett Boardman