Melbourne-based BAR Studio's design for the luxury hotel was inspired by the warmth of alpine lodges, Japanese craftsmanship and the welcoming nature of a mountain village.
Located on the northeastern side of Mount Niseko Annupuri, the Park Hyatt Niseko Hanazono has a strong connection to nature, with the design responding to the landscape by terracing around the natural amphitheatre of the site.
Designed in collaboration with Japanese architecture practice Nikken Sekkei, the eight-storey hotel comprises two accommodation types – 100 guest rooms and 113 branded residences, which are housed in four separate buildings.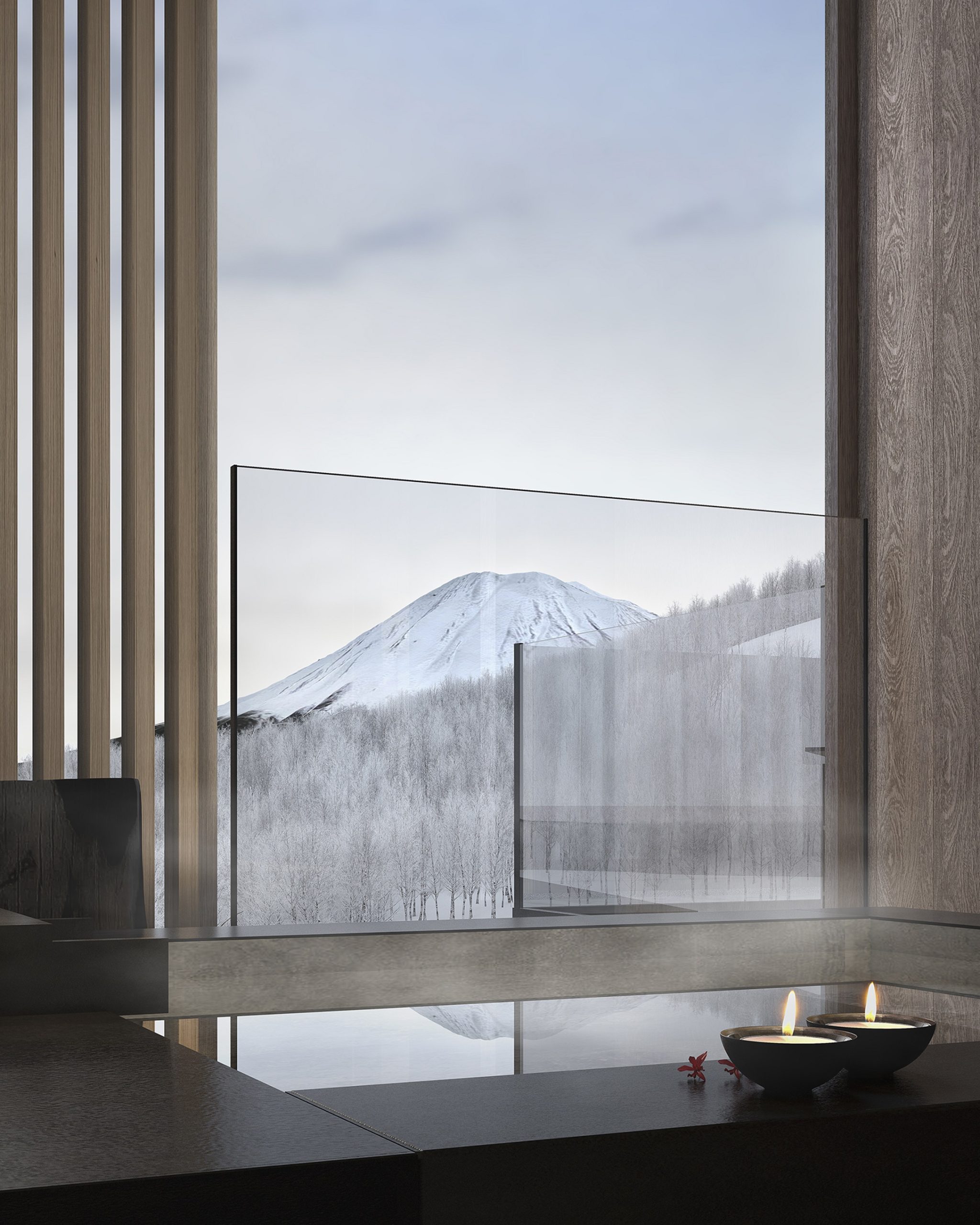 The buildings nestle into the forest on the site's western edge, bordered by a mountain stream. Views and natural light underpin the design and include vistas to Mount Yotei as well as the ski hills to south and mountain forests of Hokkaido to the north.
A key part of BAR Studio's design philosophy is art, which the practice believes creates "an atmospheric link" to culture and space. Bold local art curated in collaboration with The Art Foundation, a Tokyo-based philanthropic organisation, features throughout the public areas, with original pieces by Akira Minagawa and Nobuyoshi Araki.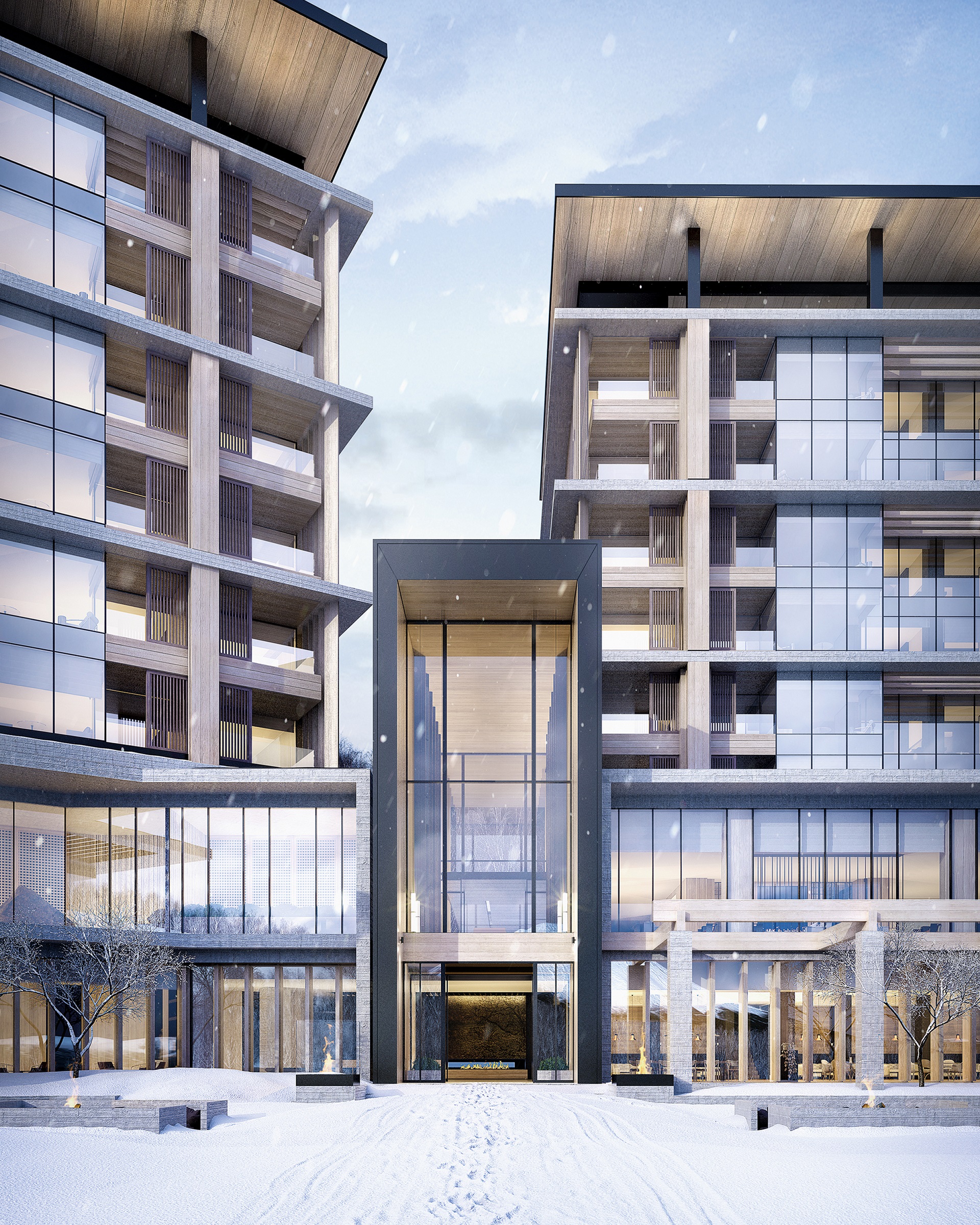 Large-scale artworks by local Japanese artists Studio Sawada signal each arrival area, and Australian interdisciplinary paper artist Geoff Nees has designed a light installation that features in the hotel's elevator cars.
Guest rooms have a residential feel with a loft-like aesthetic. Each room has a living area that includes a multi-use table that serves as a dining table or work desk. The bedroom is separated from this space with a glass and timber screen inspired by paper shoji screens.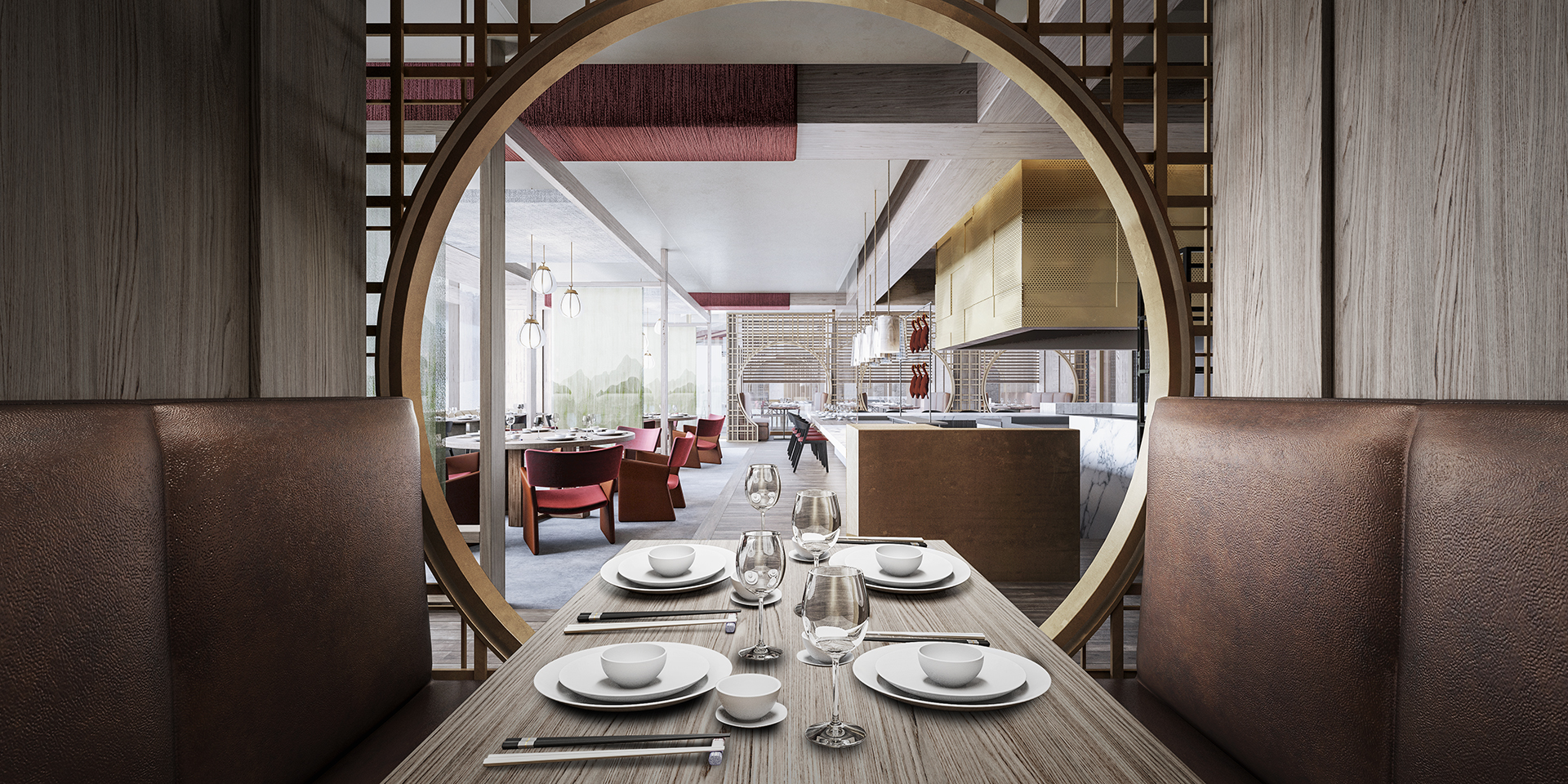 The carpet is derived from traditional Japanese boro (patched textile) designs and an inky-coloured artwork of mountains conceals a wardrobe and speaks to classic Japanese prints. Materials are simple and tactile, referencing the colours of light weathered timber and grey stone, accented with touches of tan leather, deep blue and olive green.
Residences follow a similar look to guestrooms, but with added kitchen facilities. Most have a private natural onsen, or hot spring, on the balcony with views of Mount Yotei. Select ski-in/ski-out duplexes add to the experience.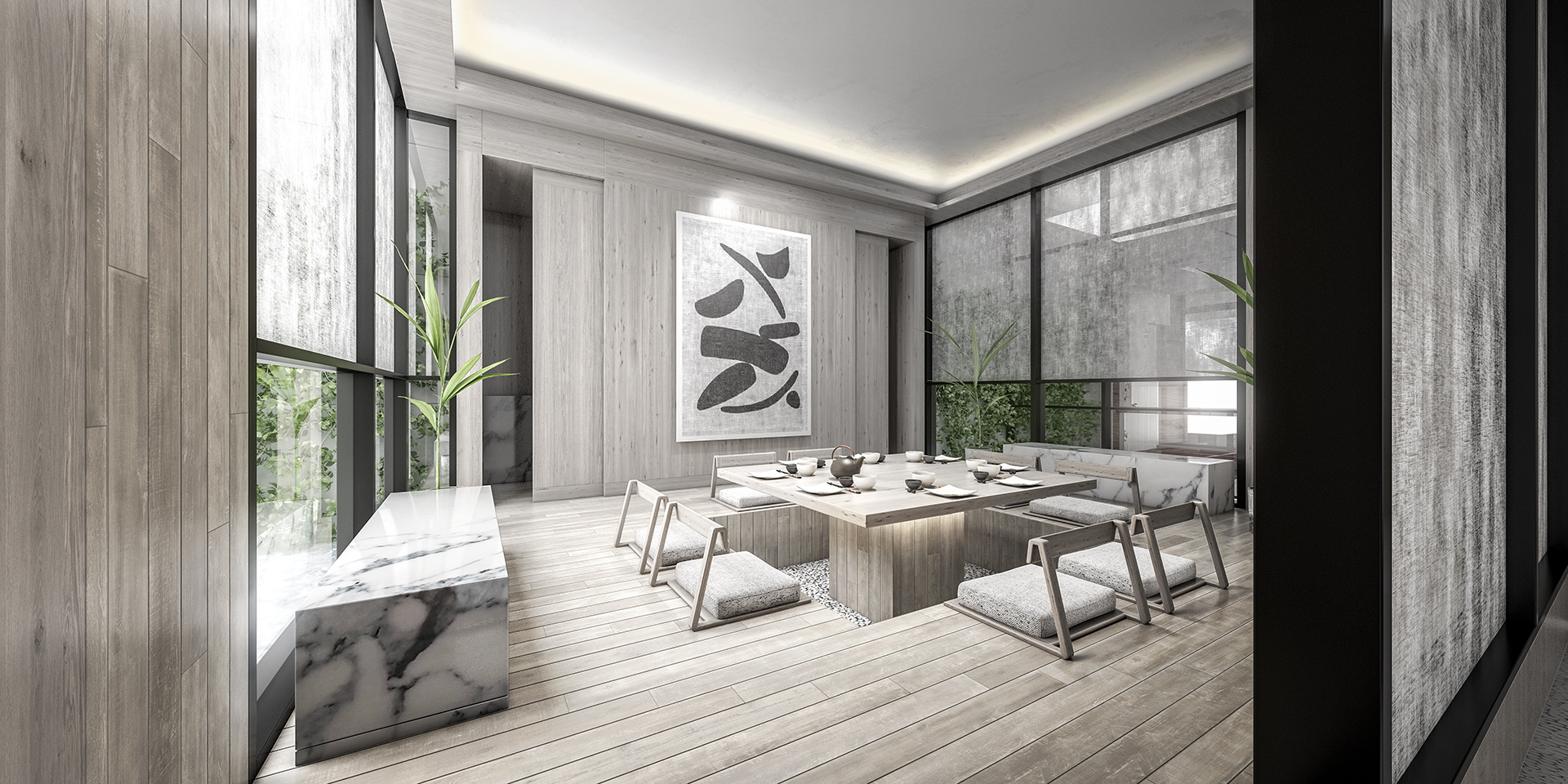 In keeping with the hotel's village-like atmosphere, restaurants and bars deliver diverse environments. Adjacent to the ski slopes is The Living, offering comfortable furniture and a central fireplace. It hosts all-day dining, a chef's kitchen, and a stand-alone champagne and dessert bar, whiskey bar and cigar lounge.
A series of three pavilions houses a more intimate scale of dining. On the ground floor, dining options include a Japanese grill, Michelin-starred sushi restaurant, Chinese and Italian restaurants.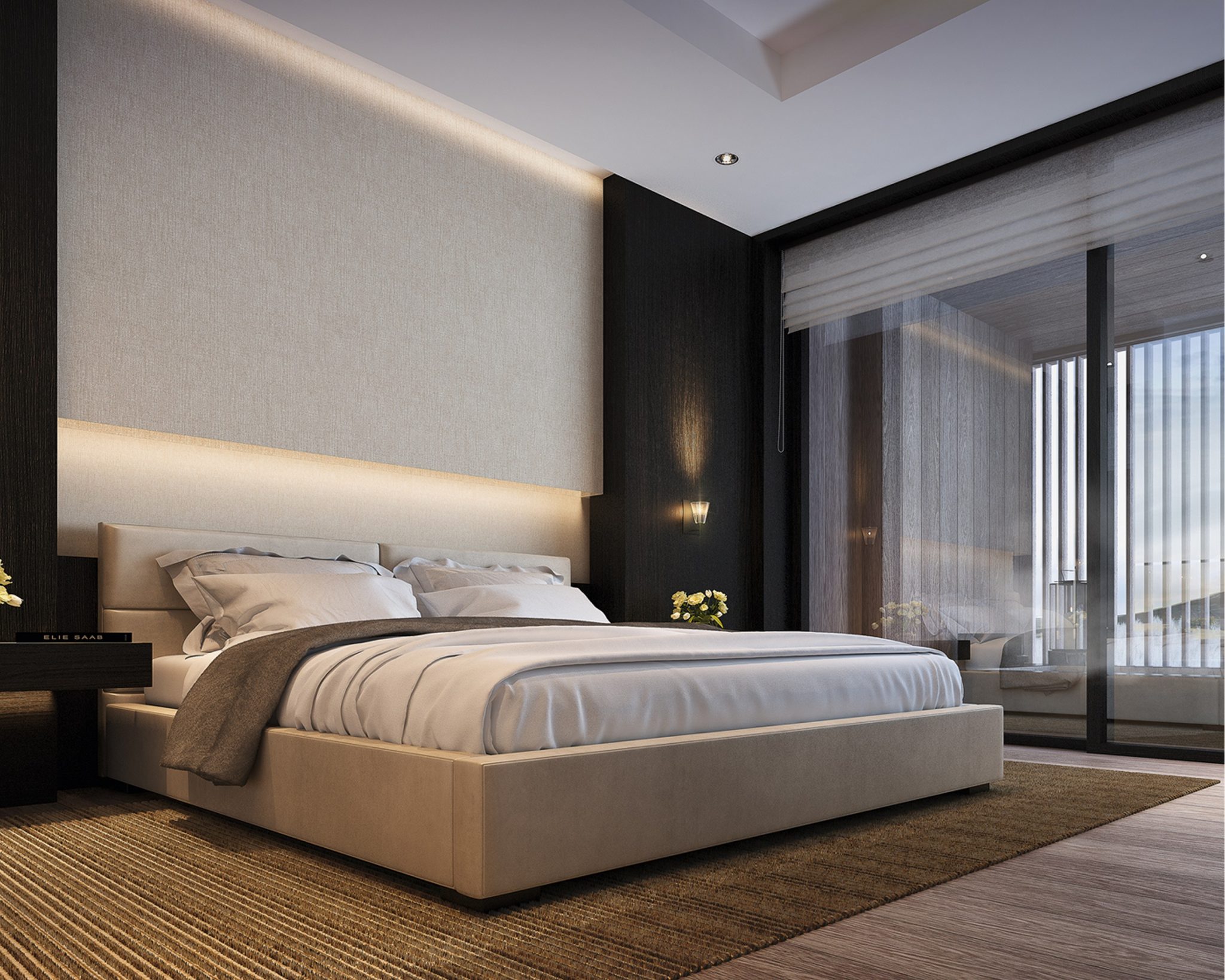 A 'delicatessen street' links the different spaces and connects to a French restaurant. Above, the loft levels house a tappanyaki restaurant, teppan lounge and private Chinese dining room. Each dining zone is designed to resonate with the particular cuisine.
For example, reds and golds underscore the Chinese restaurant, blackened timber frames the Japanese grill and a contemporary bistro aesthetic underpins the Italian restaurant.