The Herman Miller 2021 Design Challenge winner has been announced, with Melbourne design studio SLAB taking the home top prize for its community-based and socially adaptable design approach.
For its latest investigation into the future of the office, Herman Miller invited architects and interior designers in Australia and New Zealand to take part in Work, Redefined – the Design Challenge.
As part of an open dialogue between designers and industry stakeholders, practices were asked to conceptualise the workplace of the future and submit their concepts to a panel of expert judges.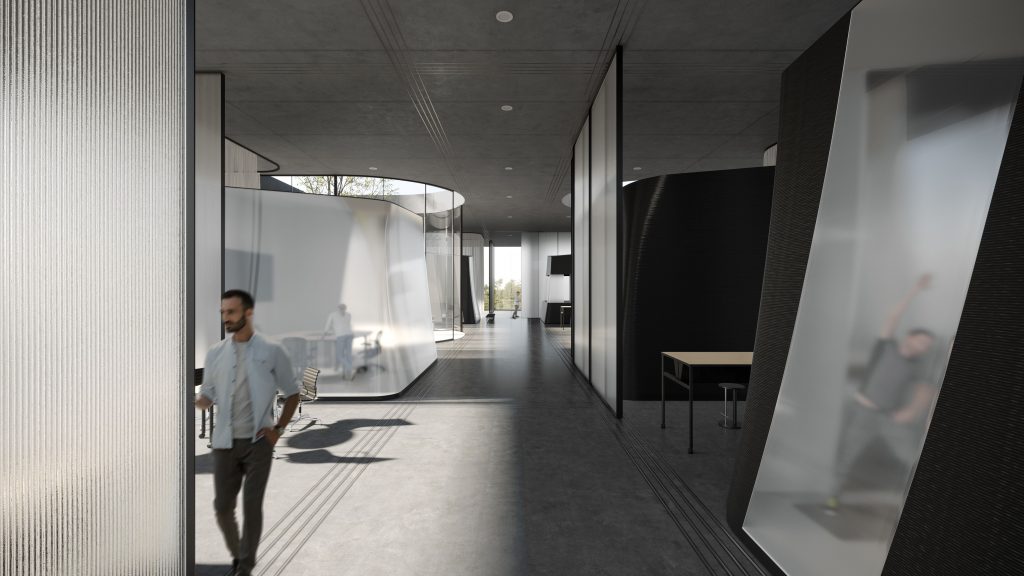 The panel included Indesign editor Alice Blackwood, ERA-co global director James Calder, Veldhoen + Company managing partner Martijn Joosten and Herman Miller workplace consultant Tatiana Gomez.
Designers were presented with an empty digital space and certain parameters. They were then tasked with filling their virtual office with a curated selection of Herman Miller products.
For its design-winning submission, SLAB said farewell to a workplace model based on formal work and productivity in favour of one that emphasised "social opportunity, human connection and collaboration."
With remote work an ongoing prospect, the studio presented the office as a social experience that was adaptable to shifting density numbers without compromising on its "vibe".
The Strategy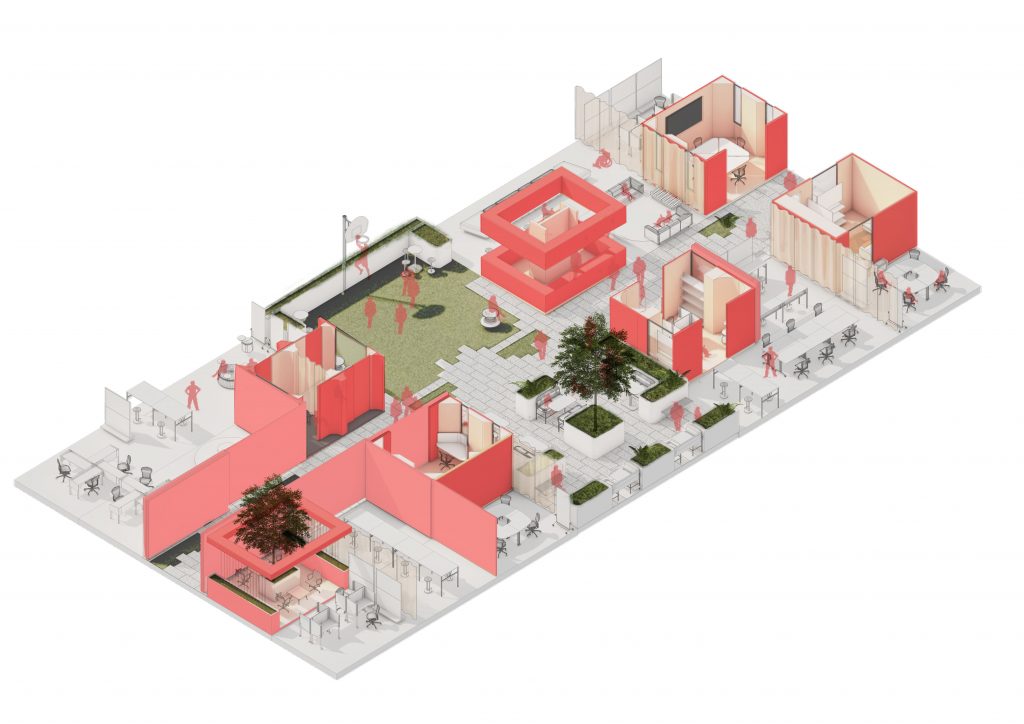 SLAB designers began by asking themselves a series of questions about the pre-COVID workplace experience and what opportunities had since arisen to improve the future workplace typology.
In answering these questions, SLAB came to the conclusion that the workplace must "pivot into a community office."
It then factored this into its plan for a fictional tech services company that was very similar to the ones it works alongside in real life.
Working in the office for three days and at home for two, these tech companies offered a real-time look at the success of hybrid strategies.
The Grid
Taking a community masterplan approach to the office, SLAB put collaborative space and focus space on a grid that can be expanded and contracted to suit density needs.
Geared towards collaboration, relaxation, focus time, video conferencing and presentations, these spaces flank either side of what is known as the 'high street' – modeled on a traditional suburban main street.
Within the collaborative spaces, the desk ratio is 1.3 square metres, while in the focus ones, it's 1.5. Completing the grid are additional centralised gardens that could be home to small-scale horticultural projects.
The Kit of Pods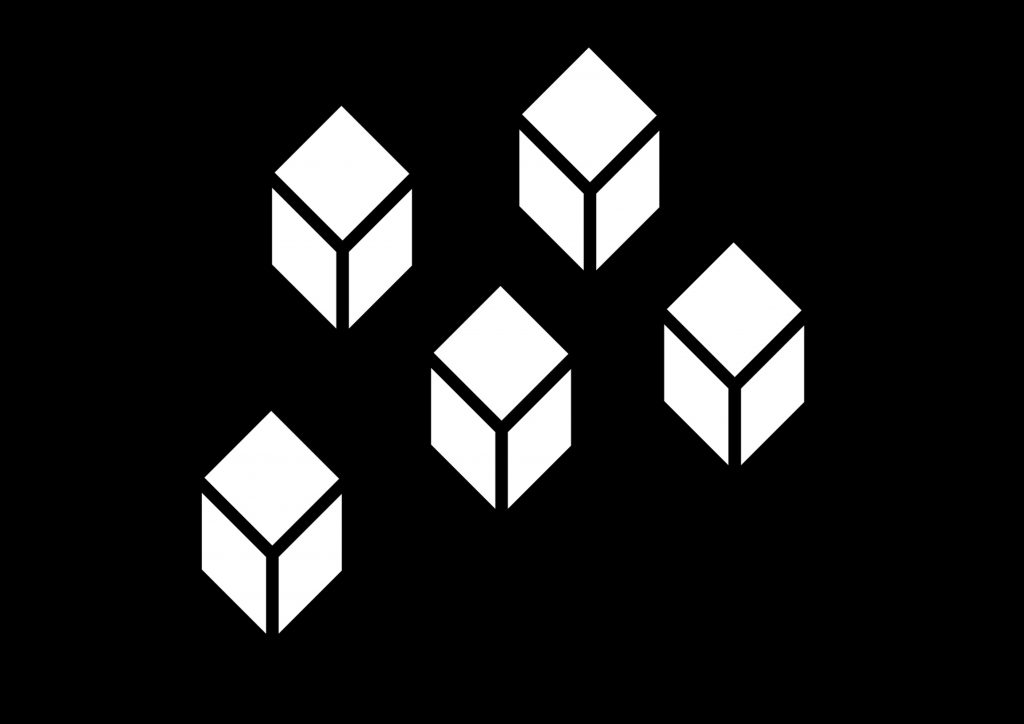 SLAB's winning project also features a series of pods – each of which responds to one or more of the principles behind its plan for the future office.
For example, there's the Tech pod, which functions as an acoustically minded space, or the Home pod, which offers comfortable, laidback settings with space for the employees' family to hang out while they're at work.
SLAB envisages each pod to be ordered online directly from Herman Miller in a range of sizes, with different components and configurations to meet individual organisation's needs.
Made of recycled and recyclable materials, the pods are designed to be 3D-printed for speedy delivery.
The Wall & Curtain
One standout design feature of SLAB's presentation was The Wall & Curtain.
Featuring fluted glass sliding walls and white cotton curtains on tracks, The Wall & Curtain allows organisations and their users to turn a larger meeting space into several smaller spaces geared towards collaboration and/or focus work or simply to close off sections of the office when fewer people are working onsite.
By bringing people together rather than spreading them out, this feature works towards maintaining the "vibe" SLAB believes is essential to the future workspace.
The Solution
While SLAB's plan was designed with a tech company in mind, the studio believes its approach is universally applicable.

Modular and highly flexible thanks to prefabricated pods, this system allows companies to adjust the elements to suit their requirements at any given moment.

For example, design studios and creative agencies could incorporate more collaborative space, curating additional furniture to encourage interaction and less space for video conferencing, while financial institutions could build in more solo space and favour pods geared at focus work.

A huge part of this adaptable approach was also SLAB's specific 'kit of parts' – used not only to give people ownership of their space but also foster the right atmosphere at all times regardless of how many people are on site at any given time.

It's this flexibility, alongside the concept's universal appeal and innovative outlook, that saw SLAB win the 2021 Redefined – the Design Challenge.

Learn more about the project on the Herman Miller website.
Images supplied by Herman Miller.