Images courtesy Corian.
Our homes and offices are inundated with electronic devices; they facilitate our daily lives, both professional and personal. Unfortunately, however, with these devices comes cords – a lot of them. It can be hard to find a powerpoint at home that isn't already occupied by chargers and power cords. Work computers often have ports filled with phone chargers, iPad chargers, kindle chargers, the laptop charger itself. We dream of the day when everything charges without the need for cumbersome cords everywhere. Well, that future is here.
The Corian Charging Surface looks like a regular bench surface, but underneath is an incognito transmitter that wirelessly charges electronic devices – mobile phones, tablets, and much more.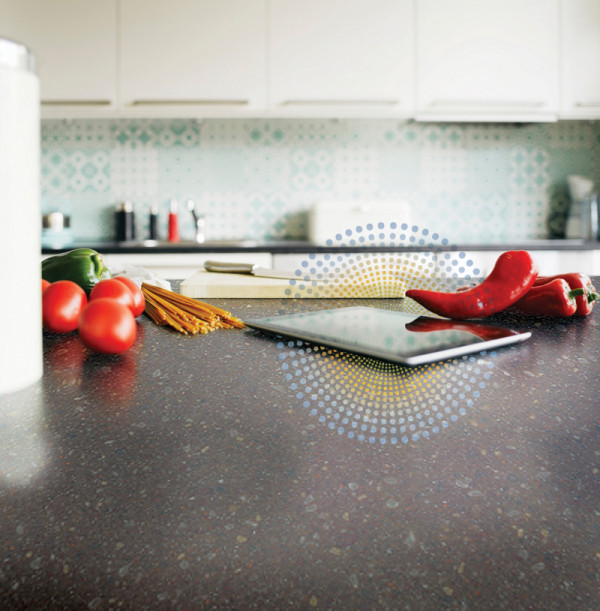 To charge, plug a small ring-shaped receiver into the base of your phone and place it on the surface. The smart technology will stop charging once your device is full. While wireless charging is a godsend for anyone who uses a mobile phone, it also presents a new range of possibilities for designers and architects.
The Charging Surface offers visually appealing and functional technology that can be incorporated into any environment that includes a solid surface – the home, offices, airports, bars. In businesses and public areas such as airports, the availability of device charging is extremely valuable in an age where we depend on our phones to get around and to get things done. The inclusion of such creates a new positive customer experience, simultaneously encouraging customers to stay longer as they wait for their device to charge up.
In a home design, the practicality of a charging surface is unparalleled, removing the need for cords everywhere and the ability for multiple people to charge their devices at once. The Corian Charging Surface is available in over 100 hues, making it easy to integrate the technology into any aesthetic or environment.
Find more information at http://www.casf.com.au/corianpowerup/