Images appear courtesy of Samantha Heather Photography and Pete Daly.
Kiwi couple Ben and Kiri Wahrlich made waves at DEN Fair with their original lighting and furniture pieces, taking out the prize for Best Independent Designer despite some fierce competition. We chatted with them about their views on the current state of furniture design, and what their plans for the future are.
ADR: You launched Anaesthetic in 2011. What were you both doing for work before you started the company?
ANAESTHETIC: Kiri was a full time freelance graphic designer while Ben was working as a senior industrial designer for Axolotl.
You moved to Sydney from New Zealand. What makes New Zealand design distinct from Australian design?
There are many similarities as the culture and upbringing can be so alike in both countries, however we would like to think that New Zealand design is more humble and relaxed in its approach. Being so detached from the rest of the world there is a also a deep connection to the natural environment.
Do you still keep up-to-date with design and architecture trends in New Zealand?
We're avid Instagrammers, so yes, we stay up to date with some of the best architecture and design studios in New Zealand. The architecture in particular is very exciting, including studio Fearon Hay who do such beautiful work.
We recently saw your exhibit at DEN Fair, where you won an award for Best Independent Designer. How did it feel to be crowned a winner alongside big names such as Cult and Chris Connell?
It was very humbling and completely unexpected! We work hard to create designs that we love and it's great to be officially recognised for the efforts we put in.
We observed an overwhelming response to your Constellation Light at DEN. Can you explain what the vision was behind this piece?
We wanted to create a pendant light that people can connect with on an emotional level. The idea to illustrate star patterns in an abstract way was a winner for us, as it enables limitless combinations of lights. It also has a distinct sense of place, with the 'hero' piece being the Southern Cross, which is something that is personal for both Australia and New Zealand.
Where do you turn for inspiration, and which designers have had the biggest influence on your work?
It's easy to get caught up in the overwhelming amount of good design there is out there if you know where to look, so we try and turn away from that, instead looking at natural world for inspiration. For example, Ben was at the library the other day researching seed varieties.
Can you give a little insight into the challenges and highlights of running your own brand?
It's always a challenge to create things that are truly unique to what's already out there – to stay ahead of the pack and forgo market trends. Instead we try and focus on what is really valuable. There are no rules either, so we can make whatever we want, which sounds fun but is really a challenge in itself, as we're forced to invest our time and money into a product that's never been seen before. The reward comes when someone else appreciates what you are doing and is willing to spend their money (or someone else's!) on something you have created.
What excites or frustrates you about the current state of Australian architecture and design?
The country is consumed by the fake/replica furniture trade and it's ignorant of interior designers to specify fake products. I'm sure the designers that do it would be extremely frustrated if everything they did was also copied. The government need to follow trend of the UK and outlaw it. It's insulting to the original designer and we're embarrassed for Australia, as it's one of the biggest consumers per capita of fakes in the world. ADR examines the issue of intellectual property in Real vs Replica: Herman Miller reaches settlement with Matt Blatt and Copy this lamp: preserving Australian design integrity.
Aside from any awards or accolades, what has been the proudest achievement in your career?
Being able to become financially self-sufficient from our own ideas is a huge achievement. We have a little boy who we get to spend time with – to watch him grow and learn from us is incredibly rewarding.
What is your favourite project from your own body of work and why?
The Constellation Light is the favourite, it is the culmination of many sleepless nights – and over a year in the making. But it's about perfection, and its construction is perfectly executed. All the parts are made to an exacting precision and the piece is made to last generations.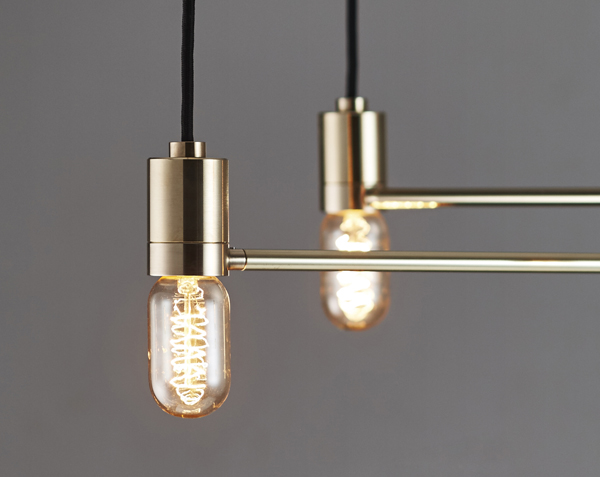 What is your favourite space/place in Melbourne or Sydney – is there a spot you wish your products had been featured in?
Our favourite place in Sydney is the Rose Seidler house that Harry Seidler designed for his mum. Its a timewarp to the 1960s and a cornerstone of Australian architecture. But I think we missed spec on that by a few decades! More recently, the Kettle Black in Melbourne by Studio You Me is getting a lot of press and it's easy to see why – it would have been great to see our lights there.
What are you working on currently?
We have a few new exciting furniture pieces to add to our range that should see the light of day soon. Hopefully within the next few months. One piece in particular that we're hoping will cause a stir!
Read more about ANAESTHETIC here.