American artist Phillip K. Smith III has teamed with fashion brand COS to create Open Sky, a large-scale sculptural installation at Milan's Palazzo Isimbardi.
It marks COS's seventh consecutive installation during Salone del Mobile and this year's offering transforms the overhead square of sky of Palazzo Isimbardi's courtyard into a physical ring of reflected sky.
With an open brief to create the space, Smith says it was the architecture of the location that inspired his design.
"My work is inspired by the constant shifts in light, colour, and form that are presented in the natural and built environment," he says. "It was exciting to work with COS on an open brief within the inspiring architectural landscape of Milan. The specific site conditions of Palazzo Isimbardi afforded me an opportunity to reframe the historic architecture while meshing it with the enveloping beauty of the Milanese sky.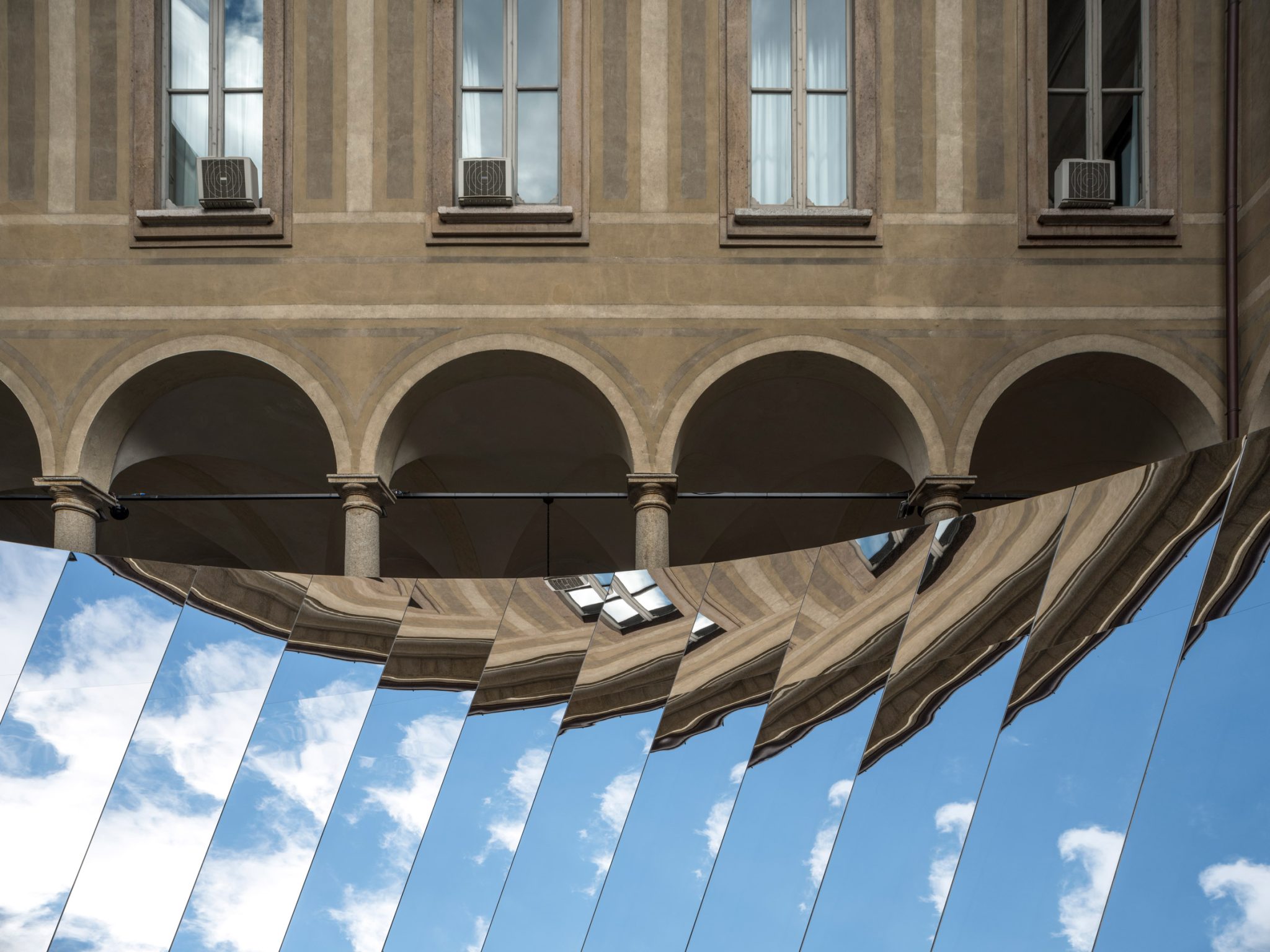 "While the installation will certainly create an overall shared group experience, each person will also leave the Palazzo with their own unique experience… unique to the time of day, to the specifics of the sky at that moment, and dependent entirely on their path of experience. Each participant is in control of how the sky and architecture merge across the nearly 14-metre diameter surface. I am truly looking forward to witnessing how the work is encountered throughout the week."
Moving through the courtyard and into the Palazzo's adjoining English garden, visitors will also find five free-standing sculptures with both horizontally and vertically folded reflective skins that use the greenery and trees of the garden, the surrounding architecture and the sky overhead as visible material.
Inspired by the garden works, Smith has created a series of smaller scale window displays at select COS stores that shift the world of reflection to the streetscape. Variably sized, angled, and composed, the experience of these works at each store location is unique to the city they are placed in.
Open Sky will be open to the public from 17– 22 April 2018.