Above image: Apex range by Hunting & Narud
Clerkenwell Design Week: OKAY Studio features at SCIN Gallery
Clerkenwell Design Week is a three-day annual festival that showcases design innovations from the UK and from the international design industry. For the fifth instalment of the event, the American Hardwood Export Council (AHEC) has collaborated with five teams from design collective OKAY Studio to produce an eclectic mix of new designs.
The project demonstrates the versatility of five American hardwood species. The pieces are part of a joint exhibition, entitled FIVE, which is currently on display at the SCIN Gallery, London.
In February this year, the design teams were asked to present a design inspired by five timbers – American ash, cherry, hard maple, red oak and tulipwood – and the number five. The result is a unique collection of designs rooted in one common idea. The five teams: Mathias Hahn, Liliana Ovalle, Ed Swan, Andrew Haythornthwaite and Peter Marigold (collaborating for this project); and partnership Hunting & Narud have each created innovative designs through sculptures, furniture and tableware.
The design of the exhibition is courtesy of Andrew Haythornthwaite.
Tulou screen by Peter Marigold and Andrew Haythornthwaite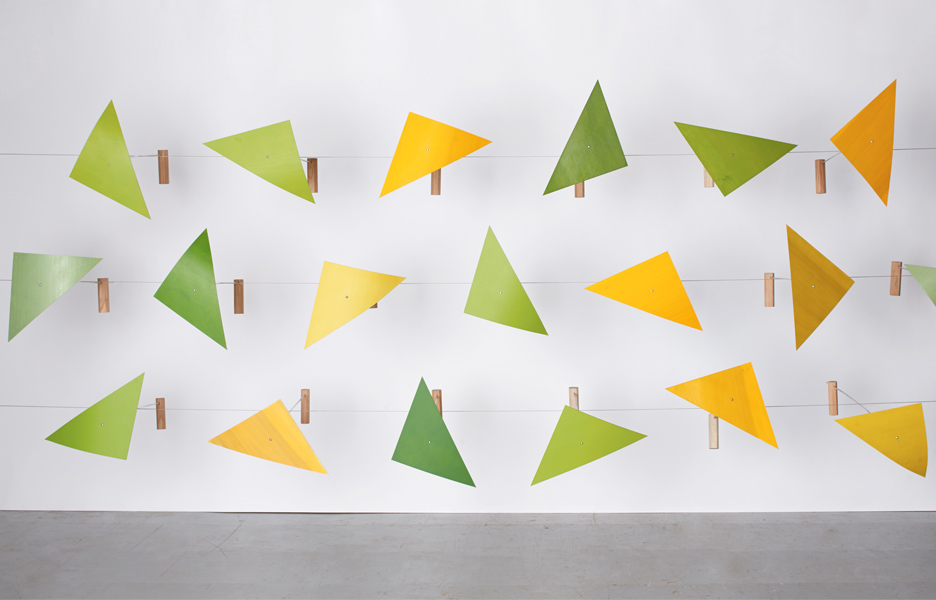 Species: American tulipwood and red oak
The Tulou screen is composed of undulating tulipwood triangles that sit within the screen. Each tulipwood triangle sits perched on a tensile wire and is held in place with a red oak counter balance.  The wall of triangles sways and bobs gently in the breeze.
Apex tables by Hunting & Narud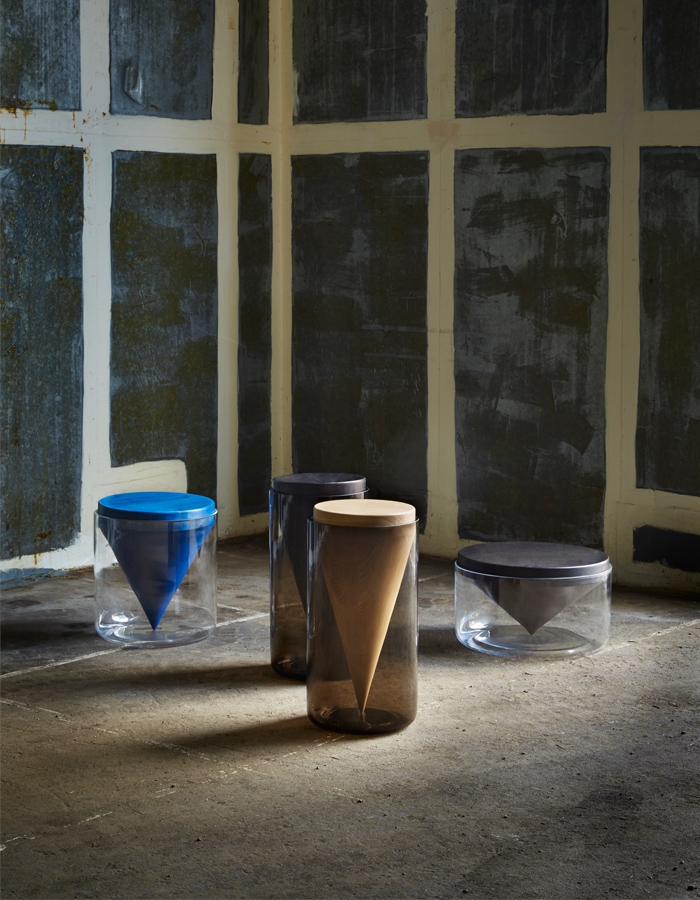 Species: American ash, cherry, hard maple, red oak and tulipwood
Apex is a series of side tables in glass and wood by London-based designers Amy Hunting and Oscar Narud. With minimal contact between the two materials, the apex of the cone which is a small 5mm point, is the only part of the wood in direct contact with the glass creating a sharp visual contrast while encapsulating and highlighting the beauty of the hardwood cones.
Runcible by Mathias Hahn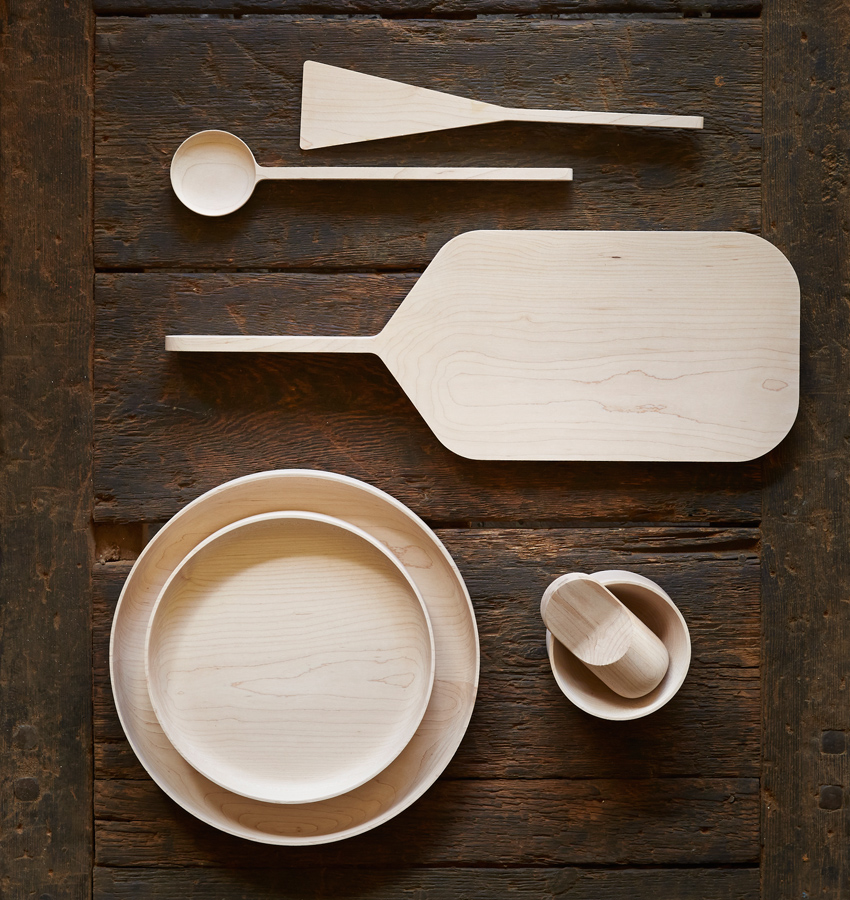 Species: American hard maple
Runcible is a family of essential and versatile utensils for preparing and serving food. These utensils are made from solid hard maple, a material traditionally used for this kind of high quality kitchenware because of its smooth grain and hardwearing properties.
Shift Series by Ed Swan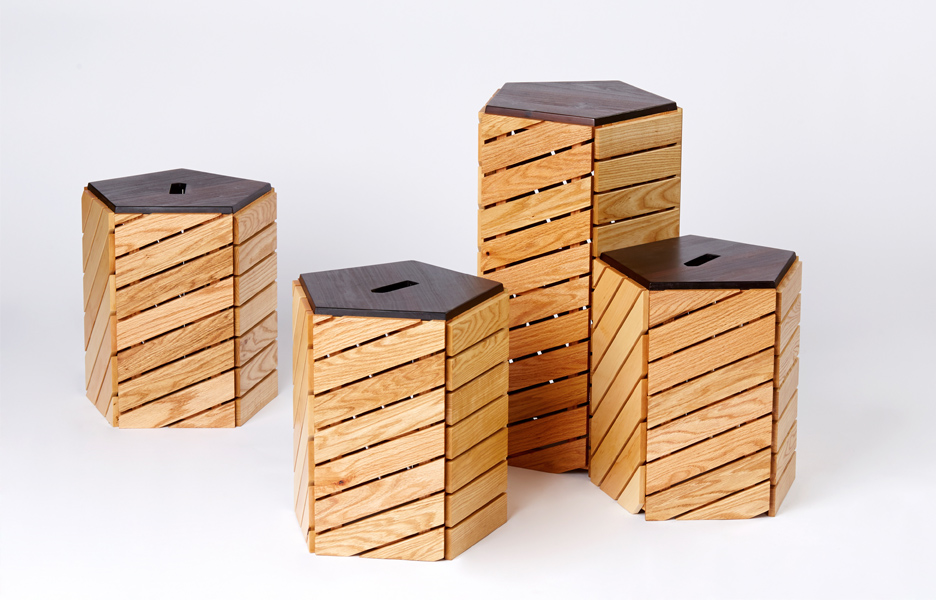 Species: American ash, cherry, hard maple, red oak, tulipwood and thermally modified tulipwood
The Shift series includes stacking pentagonal seating in five American hardwoods. When stacked, these frames are an adjustable patchwork of wood grains and colour, with hundreds of combinations. When used in clusters, they become a table and stools which nest together playing with their panelling geometry once again. The top of each unit is thermally modified tulipwood.
Claroscuro by Lilliana Ovalle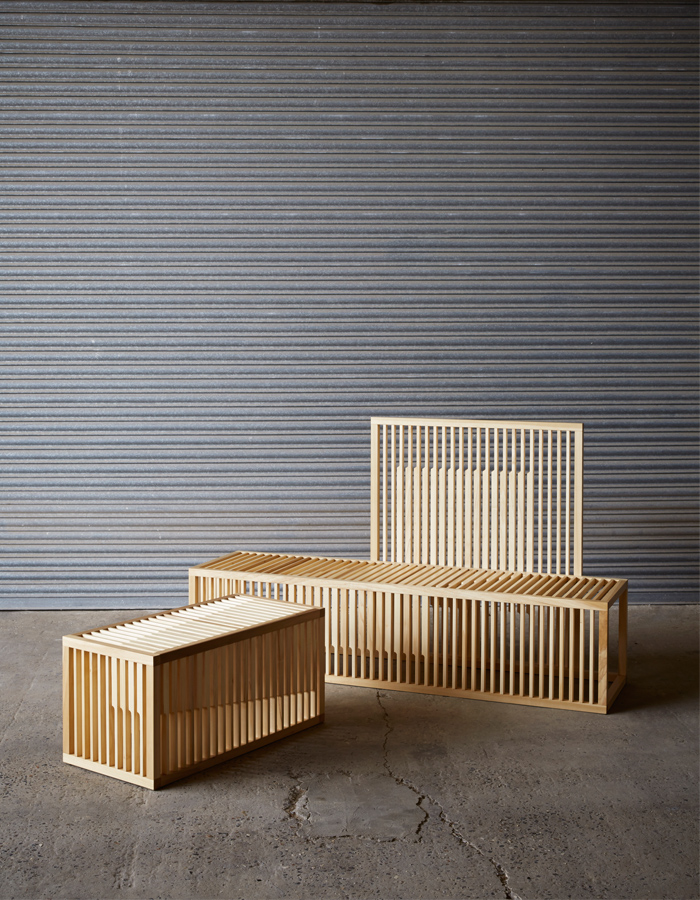 Species: American tulipwood
The Claroscuro range consists of two benches assembled from linear arrangements of tulipwood battens to explore the contrast between shade, light and form. The battens are machined in different thicknesses along their length to create a visual effect of changing density and perception. As the benches are viewed from certain angles various forms, emerge and fade providing a sense of movement and ambiguity to the objects.