Over 350,000 design pilgrims flock annually to the fair, also known as Milan Design Week, in order to catch a glimpse of the latest home furnishing designs from Italy and around the globe.
This year saw a refreshing attitude towards newly launch products, according to Christina Caredes, group CEO, Asia Pacific at Space Furniture. "Clever brands are releasing resolved collections based on research, technology and innovation, rather than a relentless need to find something new," said Caredes.
In terms of colour palettes, Milan was awash with "shades of pink, from light to dark and bold green and blue," observed Tony Russell, brand director Stylecraft. "Overall, the warmer spring weather and a more buoyant European economy made for a vibrant and successful Salone."
Richard Munao, founder and managing director of CULT reflects that "2015 Milan Design Week has proven to be another great year for the design industry. The fair itself this year covers residential, workplace and Euroluce and I have been inspired by many of the exhibitions. What a great industry we work in."
The main exhibition event of the Salone is the tradeshow at the Milan Fairground in Rho, while other satellite shows, exhibitions and events are also held concurrently across the city during the week of the fair.
Here is ADR's pick of this year's most exciting products and exhibits:
Objets Nomades, Louis Vuitton x Patricia Urquiola
Objets Nomades is a new 16-piece collection of portable travel objects from Louis Vuitton, inspired by the brand's deep-rooted affiliation with globetrotting.
Nine talented designers have contributed to this handcrafted collection, including Patricia Urquiola, Atelier Oï, Barber & Osgerby, Nendo, Campana Brothers, Gwenaël Nicolas, Raw Edges, Damien Langlois-Meurinne and Maarten Baas.
The new collection features eclectic pieces such as a hanging Maracatu cabinet, solar-powered lamps, a sycamore travel desk, a hammock, stools, and a foldable bed.
Moooi Carpets, Moooi x Marcel Wanders
Dutch brand Moooi has launched a new company called Moooi Carpets, with a collection of 48 photo-realisatic designs by Maison Christian Lacroix, Studio Job, Ross Lovegrove, Neri&Hu, and others.
The carpets are produced using a giant Chromojet printing machine measuring 100 metres across. The machine allows Moooi to print designs directly onto carpet at extremely high definition, in an unlimited range of colours.
Butterfly Sofa, B&B Italia x Patricia Urquiola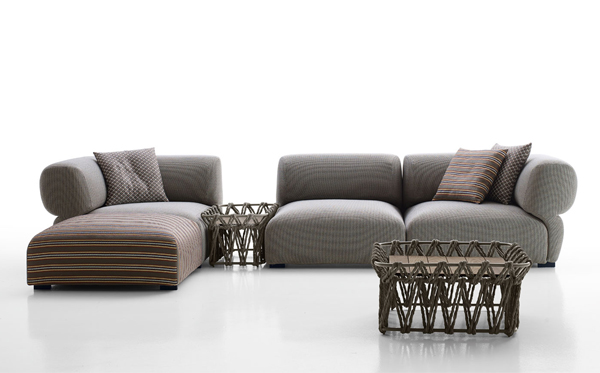 B&B Italia's new Butterfly sofa derives its name from the butterfly shape created by the outer corner of the sofa that joins the armrest and the backrest. It is a modular seating system that allows for free and informal usage.
The Butterfly is the first textile sofa in B&B Italia outdoor collection, and is characterised by soft and sinuous shapes.
The Butterfly collection also consists of a series of low tables, featuring a large weave pattern made of tortora coloured twisted polyethylene fibres that wrap around a grey painted aluminium frame.
Mirror 6 Collection, Vivienne Westwood x Tiipoi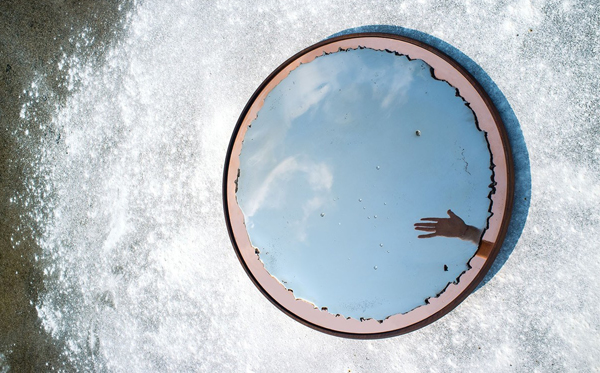 The Mirror 6 collection is a collaboration between Vivienne Westwood and design studio Tiipoi. The collection looks at how raw materials can be transformed into beautiful objects. To produce the mirrors, studio Tiipoi and Vivienne Westwood work with a Keralan family that has been casting mirrors since the 15th century, to polish metal allows under the surface becomes reflective.
COS x Snarkitecture Retail Space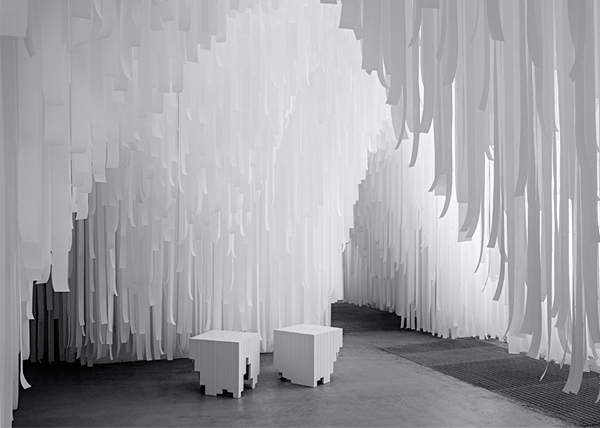 Designers Daniel Arsham and Alex Mustonen from Snarkitecture have used lengths of synthetic non-woven textile to create a retail space for COS at Spazio Erbe in Milan's Brera district.
The designers chose the fabric for its translucent quality. Visitors walk through a curtain of strips to enter the space, and can choose to follow the path created by the shorter lengths or pull aside the longer sections to cut through the spaces.
Maison Margiela Flagship Store by Wood-Skin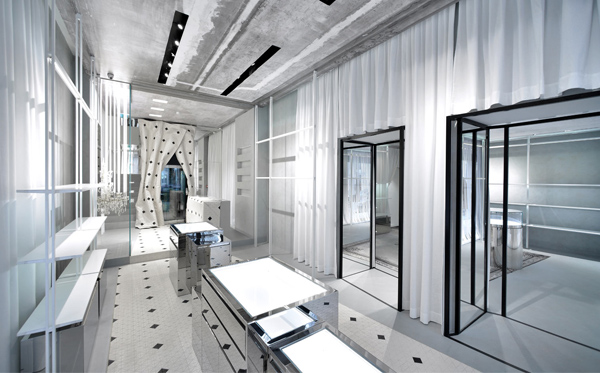 Maison Margiela has opened its flagship Italian store on Via Sant' Andrea, coinciding with Salone del Mobile 2015. The store is designed in collaboration with Wood-Skin, a Milan-based design studio.
The store's Haussmannian ceilings and moulded cornices are contrasted with rough concrete surfaces, mirrored walls and tiled floors. These details allude to the deconstructed shapes and silhouettes than Maison Margiela is known for.
Future Flowers Pavilion by Daniel Libeskind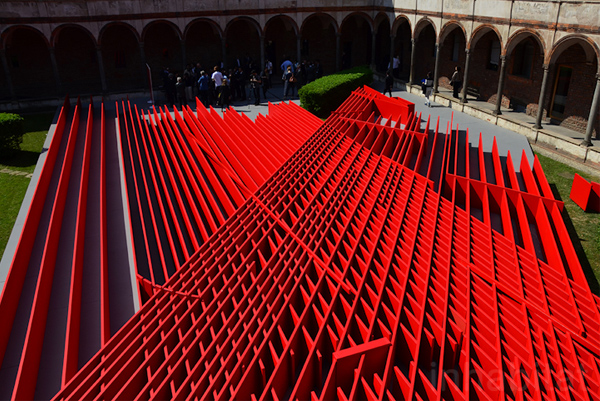 Polish-American architect Daniel Libeskind has created a stunning 3-dimensional geometric installation at the University of Milan. The work, made up of 2km of steel panels, was created in collaboration with Oikos, who developed a special pigment called "Libeskind's Red" for the installation.
Unlike many modern architects and designers who opt for more neutral colours in their work, Future Flowers celebrates the use of colour. Libeskind believes that colour is an essential element – the soul of good design and architecture.