Pictured above: From the Left Corner by Robbie Rowlands. Image by Greta Costello. 
On Saturday 22 February, Melbourne will come alive from 7pm until 7am as White Night Melbourne again takes over the city. On offer are some 150 events, performances, art and film happenings, food and music spread over 11 precincts.
One must-see installation is Fractured, by Robbie Rowlands and, true to form, Rowlands' handiwork will astound and delight. Known for his transformation of everyday objects, Rowlands has taken three pieces of furniture – a wardrobe, bedside table and a set of drawers – and reassembled them into a paradigm of complexity.
His style is to slice and saw, deconstruct and then amass objects into a new reality. With Fractured, Rowland has again reconstituted form, but this time the furniture has been fashioned into two stacked, three-metre high towers, where angle meets angle and curved strips of wood have been 'peeled' away to reveal the objects through a different dimension.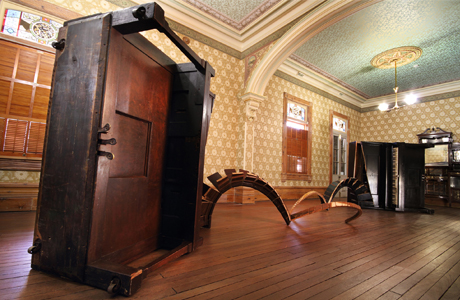 Rowlands' intention is to reinvigorate the objects he uses and, through the ambiguity of the shapes, express something more than the original built form.
Fractured will be installed under the Flinders Street Station clocks in the Wonderland precinct from 7pm until 7am, 22 and 23 February.