Glenn Murcutt is Australia's most lauded and internationally renowned architect – he remains the only Pritzker prize-winner the country has produced to date (2002).
Among his many other awards and honours are the Order of Australia in 1996 and the Gold Medal of the American Institute of Architects in 2009.
At the age of 83, you may think he'd be long past retirement age, but his latest offering for the Australian landscape was the 2019 MPavilion in Melbourne. Commissioned as always by businesswoman and philanthropist Naomi Milgrom, the annual pavilion was for Murcutt a small project perhaps, but one that he approached with his customary care and thoughtfulness. It's an approach that is also mirrored by his equally modest business model.
The first important detail for this most considered of architects is that he is given enough time to plan any project properly. "My type of practice is a sole operation where I do everything in the practice, when I'm doing a project by myself," he says. "Naomi was aware of this and recognised that she needed to give me a good lead-in period. We didn't have to do it in three months.
"I've never been able to do a project when a client comes and says, 'Yes, can I start immediately?' There's always been from six months up to a three-year waiting list."
The presence of a long lead-time is vitally important for the way he works, says Murcutt. "It gives the gestation period."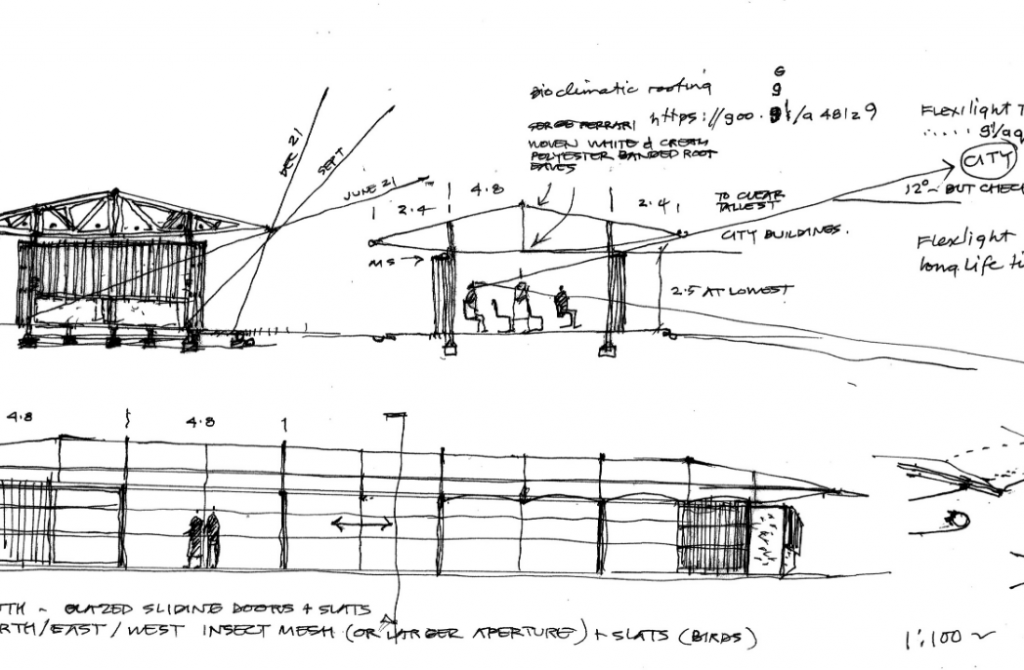 Sole practice
Gestation in design is one thing, but it is customary for the actual business of architecture to see a practice's early days lead to consolidation and expansion. Yet one of the most unusual aspects of Murcutt's practice is that throughout his success and acclaim he has remained a sole practitioner. How has he managed to maintain this model and why does he prefer it?
To answer that we can go right back to Murcutt's earliest years, which were, he says, where he learned all about self-reliance. "My childhood discipline was phenomenal, together with my other siblings. In the summertime we were up at five o'clock in the morning and then we would run to the beach for a half-mile swim."
The whole family were swimmers, he explains, with one brother a national champion, selected for the Olympic water polo team. "We were a sporting family and exercise was very important. We also had to do half an hour of music practice before walking two kilometres to [Manly Boys' High] school." In the afternoons, the regimen continued, with more swimming, more music practice and homework before bed.
This disciplined approach continued during his architecture studies, as he worked while studying. His course at Sydney Technical College was four nights a week, Thursday afternoons and all day on Saturday. At the same time he was at the coalface, gaining invaluable experience with "very good architects like Russell Jack, John Allen, Neville Gruzman, Bill Lucas and Stanley Baker".
"By the time I graduated in 1961 I had had six years of working in an architect's office – doing everything from models right through to working drawings and details and specifications," he says.
He followed that with a couple of years of travel, something he strongly recommends for every young architect, before returning to Australia and joining Ancher, Mortlock, Murray and Woolley, "one of the finest practices in the country and I was there for five years in a very senior position," he says.
Leaving there to set up on his own in 1969 was an almost inevitable decision. "I was an associate and I got to the point where I could see myself becoming unemployable," he explains.
"I respected the office greatly and I respected the people in that office enormously, but I didn't necessarily agree with what I saw."
The disagreements were ideological. "The clinker brick and gumtree school was not something I was raised with," says Murcutt. "My father was a builder and a joiner. Before I started university I had built racing boats, windows, box-frame windows, casement windows, staircases and kitchens.
"So I was reasonably skilled by the time I graduated. And certainly after five years, you get out and do it yourself if you don't agree with the approach. It's their practice not mine, so why rock the boat?"
The practice didn't want him to leave, he says, and offered him the possibility of a partnership to stay, adding that if his initiative didn't work out he'd be welcomed back. He was ready to take set out on his own, though, feeling very well-prepared technically. "I did everything in offices from talking to clients to doing the designs, doing the documentation and the job administration. I did it all," he recalls. "I had enormous experience going into practice. I knew what buildings cost because we were costing them. And when I didn't know I engaged a quantity surveyor."
At the same time, establishing his own practice in Mosman, he couldn't help but feel nervous to begin with. "I went into practice with no work. It was a silly thing to do in a way, but I was extremely disciplined. It was a worry, but I had done an alteration on my little house and I had won the major award in New South Wales for alterations and additions – there were no national awards in those days."
He spent the first nine months informing himself by calling up producers of metal extrusions and other materials to fully understand what was available and to ensure that he used only the best components in his practice.
"It was important to me that the work was only going to go out when I was happy with it," he says. "A very important aspect for an architect is to have the ability to be highly critical of, not oneself personally, but the work. To stand back from it, look at it and say 'this is not yet good enough' and not let go until it is."
And it is this devotion to detail and rigour that saw his practice thrive, he says. "From having basically no work, I had 30 clients, from which I could only take a small number and I put them in order three months apart, which put the last one at a year and a half before I could do [the project] and that's what established my small practice."
It has been this way ever since. "I never wanted to expand the practice with stuff, I expanded it with time," he says.
"So clients were prepared to wait and what is so marvellous is that with any client prepared to wait a year or more, they really want you to do the work. They don't just want your name; they're serious about doing the work."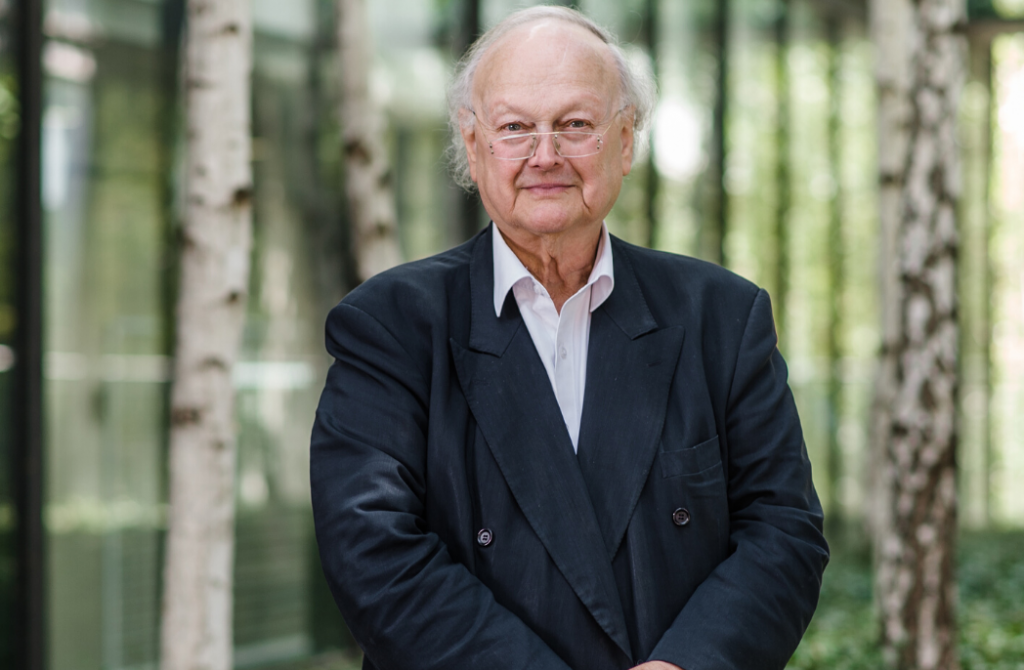 Industry issues
While costings were not an issue for Murcutt starting out, he says, it's much more complicated today, because "we're not giving the price", he says.
"A building that should cost $6000 a square metre in Sydney today is costing $10,000 a square metre. Now that is just too much for anybody and it's too much for me to be working on because the people that have that money are not necessarily the people that you want to work with."
His solution and yet another reason small remains best for Murcutt: "I just seek clients that don't have too much money."
As for all the other sides of running a business – the administration, compliance and day to day minutiae of operations, it's not something that he really relishes, but he sees it as a necessary part of the process to get to the most important part of the process.
"You have to do that to get to what you love," he concludes. "The greatest joy in the whole process is when the final certificate is being issued, people are moved in and you're looking at them living in what was designed to be, in a sense, a flexible glove. That's the joyous part…"
Glen Murcutt on…
Site inspections
Doing the site inspections is very important; that's when the building is properly realised. That's when you can actually be like a conductor and bring the orchestra to fulfilment.
Working with anxiety
As Mies van der Rohe said, I cannot come up with a new recipe every Monday morning. I believe architecture takes maturity, takes a much older mind to be able to look back and build upon. Each project must advance, but it doesn't have to be a whole new thing.
What he has learned
Consistency in the quality of work is extremely important and you cannot produce a building that is less than you are capable of. My father said, you must remember to start off the way you would like to finish. A compromise when built represents the quality of your next client.
Advice to fledgling practices
Never rush to be a success. If success should come, handle it with kid gloves. Forget about solving the problems of the world and do everything you do with the utmost integrity.
Young architects
They should travel and see the very best of architecture, which includes travel in Australia as there is some fine stuff here. And make sure there is decent judgement as there is also a lot of very silly architecture going on today.
Hopes for architecture
We're taught to design individual buildings; we are not taught to design in relation to one another. So we've lost the street. If you can have public rooms within a couple of metres of the street, they can open up and you get community – and people get to know one another and talk to their neighbours. Unless government makes it compulsory and regulates to change this, we will end up training architects to do one-off buildings.
Portraits of Glenn Murcutt © Samara Clifford
This profile first appeared in AR163