Angela Ferguson is heralded for her design intelligence, and every Futurespace project is a reflection of her clear and future-ready approach. At Home, the approach is tempered to a mid-century aesthetic, where the residence she shares with Stephen Minnett puts the thinking behind the design epoch of modernism into practice. Co-editor of inside Gillian Serisier visits Angela At Home to see what makes this dynamic woman tick all the boxes.
inside: How long have you lived here and what drew you to the property?
Angela Ferguson: My husband and I bought this place in October 2003 and loved it from the moment we saw it. It was hideously decorated, with peach carpet, bright pink and bright yellow walls and ceilings, and metallic chandeliers decorated with bunches of grapes. It also had the original 1970s bathrooms, kitchen and floor tiles with avocado bathroom fittings and gold taps. It didn't get sold at auction – it was so ugly that nobody wanted it! Fortunately, we could see beyond the décor and appreciate the beauty of this place. It has amazing natural light, modernist details, is really well-planned and has big spacious rooms. I love the connection to the outdoors – with big sliding doors in the main living and dining spaces, which we have open most of the year. It is naturally ventilated too, so there is no need for air-conditioning, which I loathe as it's so bad for the environment.
When did you produce this design?
I designed this place progressively (as we could afford it!) over the last 15 years. Before moving in we painted, recarpeted and replaced all the light fittings to classic iGuzzini Le Perroquet light fittings for the surface mounted areas, with Ism pendants in other rooms. All of the pink and yellow got covered up in the perfect shade of Stowe white.
Before our son was born in 2006 I designed the bookshelves and overheads in the study and the built-in robe joinery in all the bedrooms.
We lived with our classic timber, orange and green 1970s kitchen and floor tiles and our avocado toilet, sink and baths until December 2010 when we moved out and completely demolished the kitchen, laundry and bathrooms and put in 'brand new' everything. We had two guys jack hammering for three days straight to complete the demolition – and we weren't very popular with the neighbours.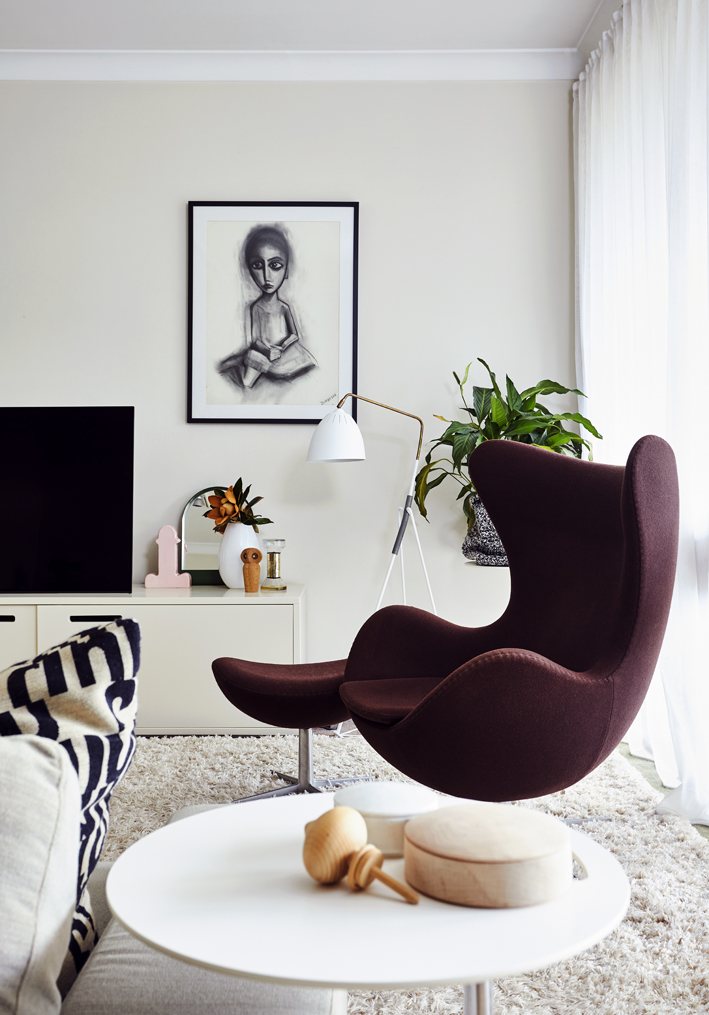 What was the thinking behind the design?
The main thinking behind the design was to make the most of the beautiful features this place already has – the natural light, the spacious rooms and the clean modernist lines. I used a really simple palette of materials, with classic timber, concrete and stone being the main features. We put in large-format floor tiles to accentuate the spaciousness in the dining room and bathrooms. There is no fussy detailing – everything is very simple, practical, durable and refined.
I didn't want to make this place try and be something it isn't – it's about authenticity and simplicity. I wanted to use quality materials and build something that would last. This is our home – we have four children and a dog, and both my husband and I work from here a lot – so the place really needs to perform!
We love to have friends and family over for Sunday lunch and other festive occasions like Easter and Christmas; being able to have the people we love feel comfortable here was also important. I have always had an affinity for Danish design, so creating a place that had hygge (Danish for cosiness) was a big goal as well. I wanted to design a place that feels like home for everyone who spends time here.
Are you a good client?
Of course! I spent a lot of time agonising over the details, especially in the kitchen and bathrooms and I'm really glad I did. One of my favourite stories to tell (only to my designer friends though, as my non-designer friends think I am crazy) is about the Vola heated towel rails. They are one of the most expensive items we bought, but they are so beautiful when compared to everything else on the market. The big attraction for me was that each bar is an individual piece, with the support fitting chased into the wall. You specify the spacing of the bars yourself, so that you can line up the towel rail bars with the tile joints on the bathroom wall. I look at these every day and the symmetry makes me very happy. So, the details are important! Other people may not consciously notice these details, but they will notice the overall affect, and they will notice how it makes them feel.
Which is your favourite room and what makes it special?
It's hard to choose, as different rooms suit different moods and activities. I love how the kitchen and dining connect, and how when we have people over we can all hang out in the space together and even open it right up to the courtyard.
I love the bookshelves in our study (this is another detail I agonised over; i.e. making sure that we didn't end up with double carcase widths on all the verticals). Looking at all of our books is like a combined history of mine and my husband's lives, from my art school years, to his obsession with cars, to our combined love of architecture, design and travel. The study is cosy and warm and always a lovely retreat. We spend a lot of time here – it's not the biggest room in the house, but it's interesting to me how often there are four or five people in here, just talking and hanging out. The Bourrellec brothers' Slow lounge from Living Edge really helps that feeling of relaxation and contemplation in this room.
Then there's the living room, which is where we spend most of our time. My favourite part of this room is watching the sky change throughout the day and into the evening. We watch thunderstorms over the valley, have kookaburras land on the railings and, because it's so light and open, we feel really connected to the outdoors all throughout the year.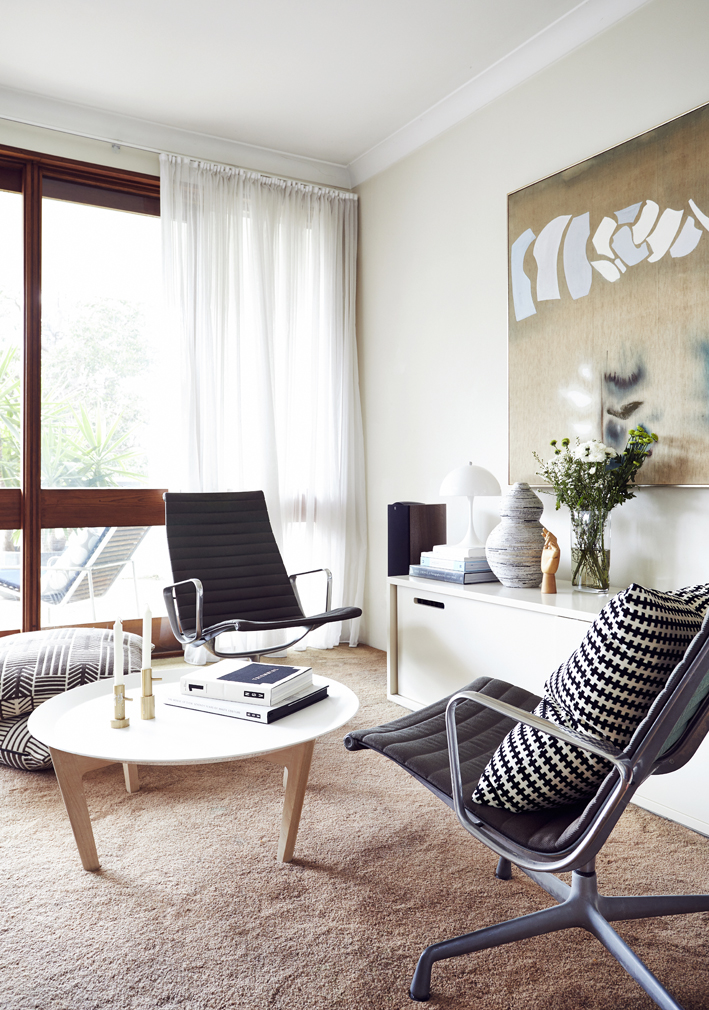 Tell us a bit about working with your art collection?
Our art collection mostly consists of a wish list right now – favourites include Troy Emery, Bill Henson, Peter Bonde, Paul Davies, Fabian Muir, Dion Horstmans, Dani Marti and Marion Borgelt.
Although we do have a few pieces of our own that all have special meanings for us:
I have a small print from my printmaking teacher at art school that she gave me for my 21st. Howard Arkley and Tony Clark were also two of my teachers at art school in the 90s – I wish I had invited them to my 21st too!
I sat for Stewart MacFarlane in the 90s for one of his large portraits of a woman climbing up a building – he paid me in diet coke and gave me the head study.
Guy Warren was a friend of my husband's parents – he won the Archibald Prize in 1985. He's now 98 years old and, as far as I know, still painting. I'd love one of his more recent landscapes as a friend for this one – I love this painting and I think it really suits our home and both mine and my husband's style.
The Robert Dickerson sketch also belonged to my husband's parents.
 Which is your favourite piece of furniture and why?
It would have to be my Egg chair by Arne Jacobsen.
I have always adored this chair, ever since I first became aware of it as a young designer. Sitting in it feels like a warm embrace; its proportions are perfect and it is both regal and comforting. My husband and I got to see these being made when we visited the Fritz Hansen factory in Denmark for the first time in 2002. Since 1958 they've been made by hand using the original moulds, and there are only a handful of craftspeople in the world who can make them.
In 2006, when our baby was born, the day after I came home from hospital, my husband led me into our study and presented me with my very own Egg chair and footstool! I had no idea he'd arranged this (they take about three months to get to Australia) and I cannot tell you how thrilled I was. This is the chair I fed our baby in, it's the chair I now read, meditate and dream in. Our baby is now 11 and he loves sitting in this chair because he can be near us, but also 'hidden' a little. It will be handed down to him when we both die, and he can tell his own children the story of this chair. To me this piece of furniture is more than simply a chair – it is an heirloom – and it's probably the first piece of heirloom furniture we could ever afford too!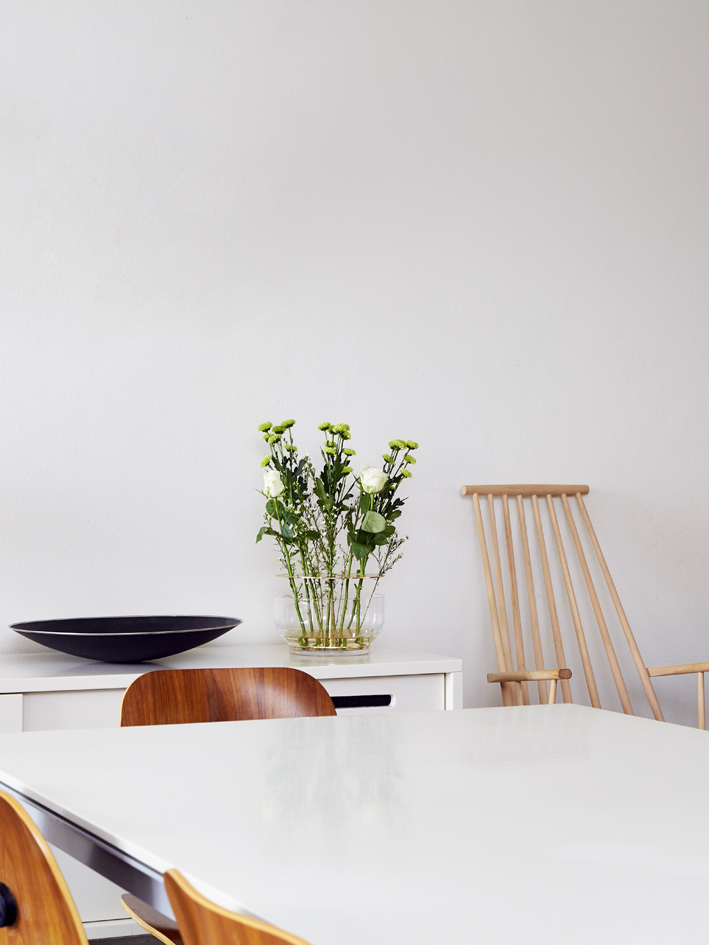 Does being in the design industry, where you're constantly looking at new design, make it difficult to choose products for your own home?
Yes! There are only so many chairs and designer accessories that can fit in one home. At one point I had a fantasy about buying a number of apartments all around the world, then doing each one up in a particular style and renting them out Airbnb style – just so I could indulge my addiction to furniture, design and beautiful things… and travel. Because then of course I'd have to travel to design and maintain them all. Unfortunately though, that was just a pipe dream, and being able to design beautiful spaces for other people does go some way to getting that desire satisfied.
At home though I like everything we own – whether it's furniture, art or accessories – to have a story behind it. I feel like that makes our day-to-day lives richer, because we are surrounded by not just objects, but by the memories and stories of our lives. The Eames chairs in the living room were salvaged by my husband over 25 years ago from a bank's fitout, the Egg chair I told you about. The dining table we bought 15 years ago because we wanted something that fit 10 people without any legs getting in the way, and the Hay chair in the kitchen used to be in my son's room when he was a baby. The Urquiola Slow chair reminds me of being in Italy last year when Patricia's husband Alberto gave me and a handful of others a tour of Il Sereno, the hotel on Lake Como. The Extremis sun lounge on the terrace was a birthday gift, and we saw the prototype of the Ice chairs being made at Fritz Hansen in Denmark on one of our visits there. Everything has a story in our home… and it's the story of our lives.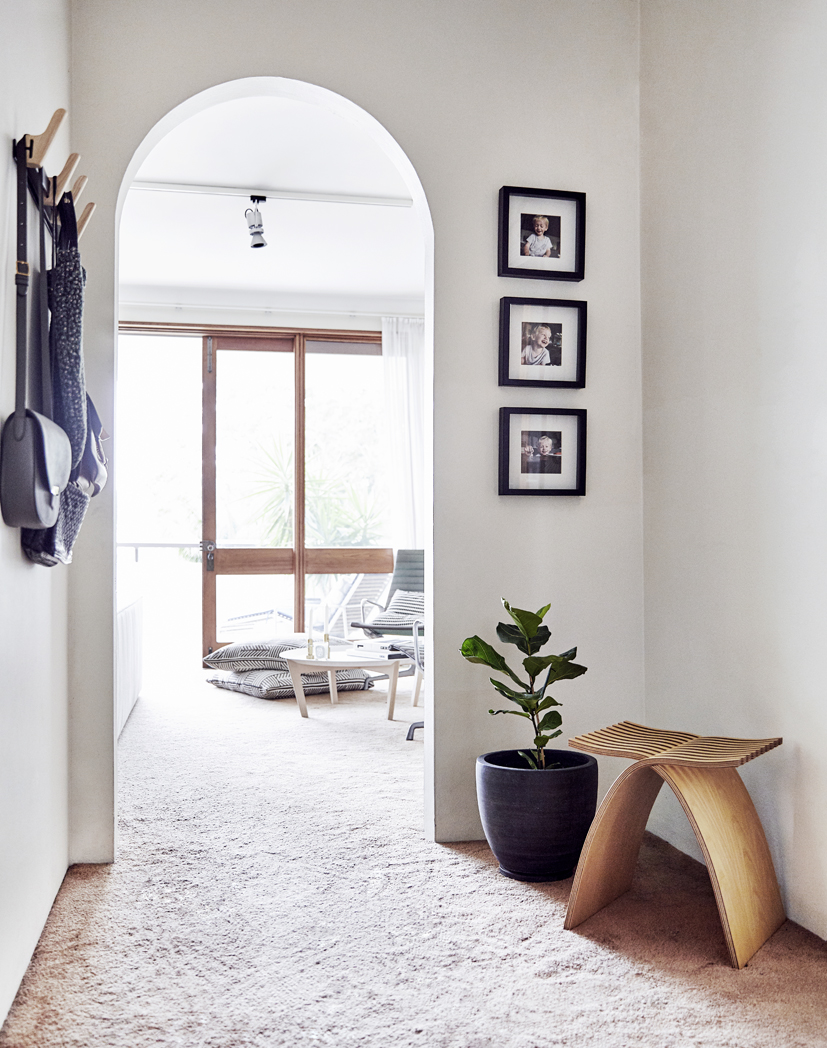 Are there any loose elements that you change frequently and, if so, what are they?
We do move things around quite often. Smaller things I move around every few months, larger things every few years. Usually it's as we get something new, we reassess how it fits into the whole. Our lives change all the time and our home needs to keep up with that. Change keeps things interesting, and I find it quite stimulating – for me change is about reassessing, reinventing, recreating.
Stephen likes to do major overhauls whenever I go away! Last year I went to London, and when I came back he'd bought a huge new television and rearranged the living room to suit. We did discuss it before I left though, and I didn't mind not having to do all the heaving lifting.
Photography by Toby Peet.
This article originally appeared in inside 101.