Images appear courtesy of Mark Duffus.
In the heart of Brisbane's CBD lies TooBirds, a bar and eatery located on the ground floor of a Creek Street office tower. WMK Architecture took on the task of refurbishing the entire lower level of the floor, bringing a sophisticated yet playful aesthetic to an otherwise corporate setting.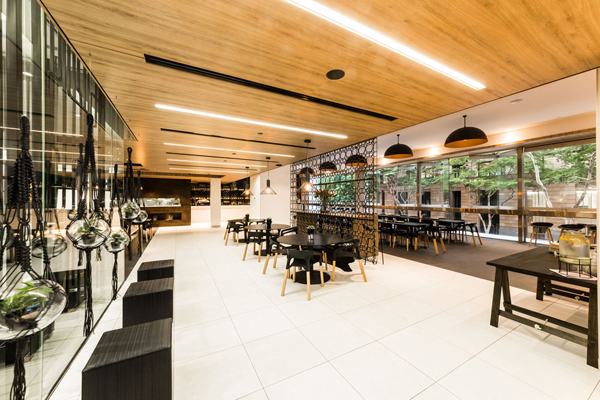 TooBirds incorporates two spaces: the TooBirds Bistro and Bar, which is licensed and can host up to 120 diners; and TooBirds Espresso and Eats, a space that offers a quick bite to eat and a coffee on the run for the workers housed within the office tower. The bistro area provides a perfect opportunity for both business meetings and socialising. Its relaxed atmosphere is almost hotel-like in nature, with the design of the foyer integrating seamlessly into the bistro.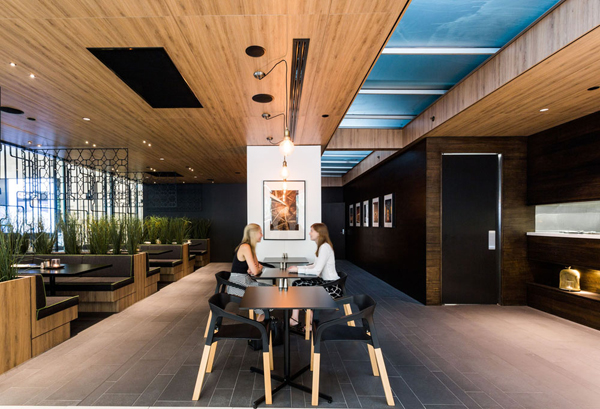 The brief was to design a space that encourages work, entertainment, dining and socialising, and WMK has achieved just that, providing a space that complements its surrounds. Not only has the practice met the brief, but its captivating design has drawn in patrons not only from within the building, but from the busy street outside.
The design utilises a classic colour palette, with the use of timber contrasted against black furnishings.