Written by Joe Rollo for MEZZANINE #1. Above image: Sean Godsell's Green House.
Small spaces in architecture are an opportunity to make a difference in the way we inhabit space – in the way we live and work. Successful architecture need not be large to impress. Sometimes, it is small spaces – studios, lakeside retreats, personal libraries, small retail spaces, a backyard pavilion, a house on a carpark-sized lot, a tiny apartment – that make the most interesting and inventive architecture.
Here, we look at two clever examples in residential architecture: one, by Sean Godsell Architects, is an addition to a single-room cottage in Carlton, close to the University of Melbourne; and the other, by Clare Cousins Architects, is the reimagining of a tiny apartment for a young family in Flinders Lane, right in the heart of the Melbourne CBD.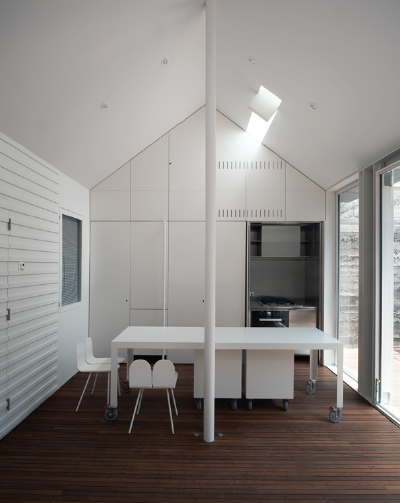 In both instances it is the quality of the design and the management of space that stands out, for both are tiny spaces indeed – Green House is just 78 square metres in Carlton and Flinders Lane Apartment is 75 square metres in Melbourne's CBD.
The Carlton project, for a mature couple scaling down from a large house in an inner northern suburb, is an exercise in how to maximise the use of a restricted space for sophisticated living. The original 1870s cottage was stripped back to a single space for living and dining, integrating a concealed kitchen behind a bank of folding doors at one end and a full-height library at the other. Monastic in its simplicity, the remodelled cottage finds common ground with the new addition, which stands separate across a narrow courtyard. Constructed of concrete and glass, the addition is a dynamic mechanised bunker with no aspect but the sky. Built to the site's perimeter, the roof is made of glass, with a remote-controlled sunscreen of automated aluminium panels configured to open in a number of ways to control and tailor summer sun and draw in winter light.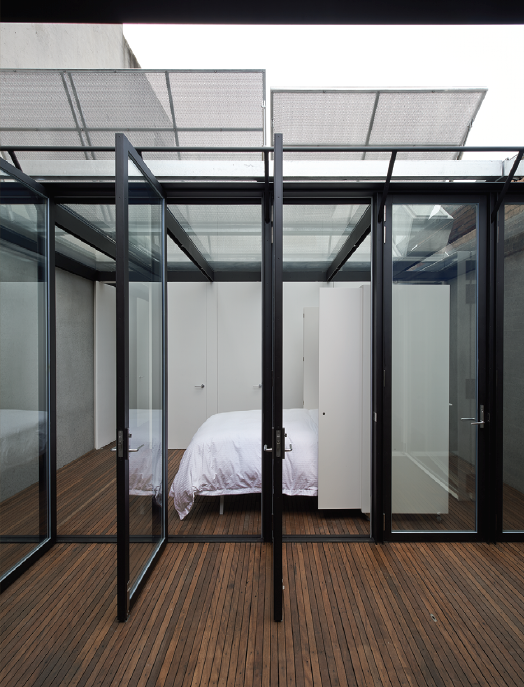 A centrally placed bathroom acts as the space generator about which are located two small bedrooms. Both are lined with banks of built-in storage, with independent mobile units concealing drop-down beds and a concealed study area placed almost like stage props, providing great flexibility in the way you use each space. There's a kind of rigour here you seldom see in small projects of this kind. Like a fine piece of jewellery, all is crafted, all is exquisitely detailed.
The Flinders Lane Apartment is about a determination by its owners, who were expecting their first child, to continue living and working in the city and making space where previously there was almost none.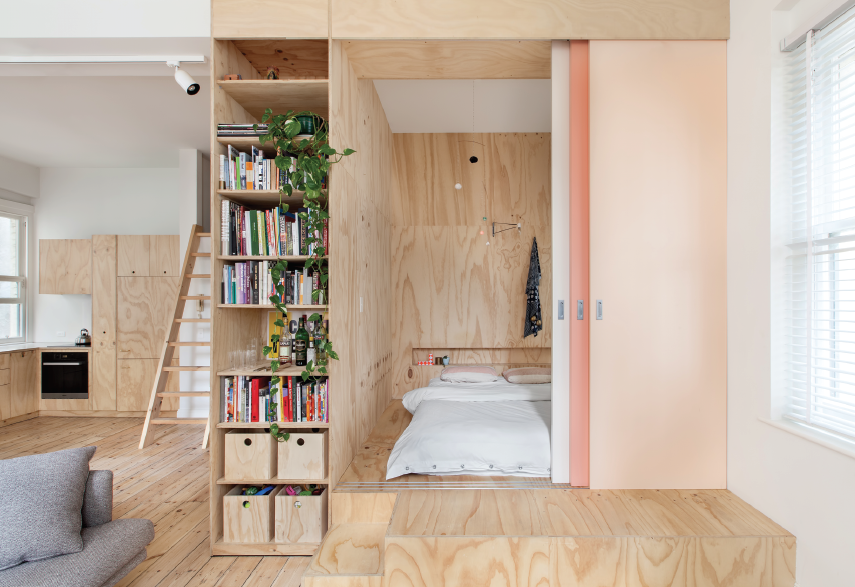 The couple made a conscious decision to expand the possibilities of their existing space rather than expand the space required to suit their growing family. Inspired by Shigeru Ban's Furniture House, the size of the first bedroom, just two metres wide, was determined by the length of a single bed, with the second, a raised platform to support a mattress-only bed, is cocooned by plywood. Sliding screens permit the room to be visually open and, like its Japanese inspiration, it can be transformed into a private zone by sliding the screens closed.
Full-height joinery, accessible from both sides, separates the micro rooms. A mezzanine loft provides a sleeping platform for guests and access to more storage. A compact workstation is integrated in the nook below. With a footprint of just 25 square metres per person, the design minimises the sleeping areas and maximises the living and social spaces.
Proximity to public transport also makes possible the family's decision to live without a car. High density living achieves numerous social, environmental and economic benefits, while Melbourne's city parks, gardens and other public spaces replace the need for a traditional suburban backyard.