Image above: Stack Panel, timber feature module.
Few things age as well as timber. Wine, perhaps, or some robust cheeses – but neither accrues that beautiful patina in the way a timber surface can. Hand-me-down furniture often carries with it the scuffs and habits of a previous life, while timber floors proudly display the footfalls of generations past.
While the warmth, durability and availability that has made timber such a popular construction material persist, advances in materials technology have seen some savvy suppliers exploring new ways of using timber in contemporary interiors.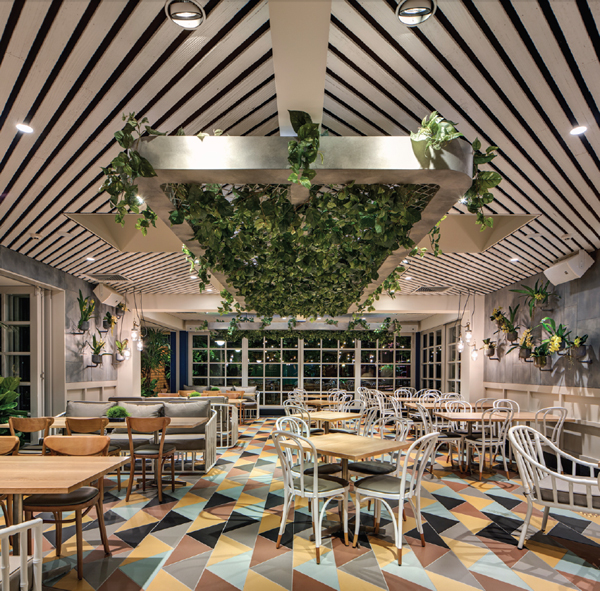 Craft, tactility & texture
"The obvious benefit of working with wood is its warmth and tactility, the way it entices human contact," says furniture designer Bryan Cush, of Melbourne's Sawdust Bureau. "With furniture, the scale is such that you can view the piece from all angles and observe how light reflects off it or how it's absorbed into the grain, revealing a depth of hues and colours."
Timber is central to the studio's work. Committed to avoiding exotic hardwoods in their projects, the team has come to specialise in Australian native species. When the opportunity arises, they love to repurpose timber from salvage yards into crisp, angular designs. "In concrete and steel, slight defects are viewed as a weakness, but, with wood, the natural imperfections are considered features. Knots and sap holes tell the story of the composition and growth of the tree. In salvaged timber, the carbon leaching from old nail holes offers up a story for later application as beams and joists."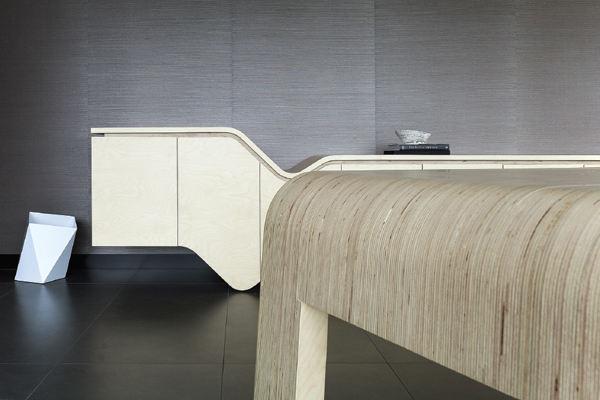 Sawdust Bureau's pieces are inventive and versatile. The Østberg and Pinch benches easily combine seating and storage – the long lean forms showing off the delicate grain of the timber. In contrast, the Ply Parasite side table is crafted from offcuts, its almost pixellated edge revealing the end grain of the ply.
It's the versatility of timber that appeals to furniture designer Earl, director of Earl Pinto. "Timber grain provides uniformity and myriad surface patterning, which draws the eye, alluding to the fundamental forces that shaped the tree during its life," he says. They are only revealed by cutting, sculpting, sanding and finishing the timber." Earl cites the Simon coat rack as one of his favourite pieces – its sinuous curves and angled legs appear almost grown rather than constructed. Sustainability underpins the team at Earl Pinto's approach to design and materials.
"We source our timber products through local companies that have Forest Stewardship Council (FSC) 'chain of custody' certification, whether the product be solid timber, plywood or even bamboo plywood. We try to minimise wastage wherever possible, and we recycle a lot of our sawdust," says Earl.
Ply is a favourite material of the team. They recently completed an office fitout in Abbotsford, sculpting birch plywood into expansive desks, wall treatments and a seven-metre long storage unit. "The resulting pieces have the warmth and variation of timber, as well as clean, organic curves," Earl explains.
Reuse & recycling
Research from Australia's National Timber Product Stewardship Group estimates that over 530,000 tonnes of post-consumer timber is salvaged and reused each year. This ready supply of quality reusable timber opens a range of possibilities for entrepreneurial suppliers.
Sydney supplier Stack Panel rescues variously sized offcuts of western red cedar and fashions them into beautifully textured panels. Almost like a wooden version of ashlar stone, the panels have a variegated surface with timber profiles extending and receding. Beyond their visual appeal, the panels benefit from the timber's impressive environmental credentials, durability and GreenTag eco certification. The panels can be supplied with a raw or coated finish, or black japan, walnut and teak stains.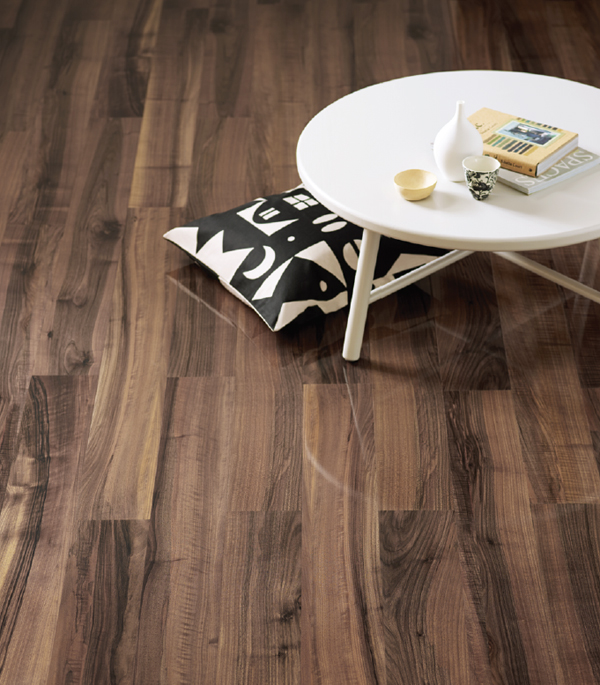 Like Stack Panel, Formica's flooring repurposes discarded timber products into something new and useful. Sourced from a European manufacturer, Formica's latest timber floors are made from pre-consumer recycled fibres and reclaimed wood waste. These recycled materials are bonded under high pressure without the use of chlorine or dangerous solvents. The benefit of such engineered products is their versatility – Formica flooring is available in a range of finishes that replicate whitewashed oak, Queensland walnut and other timber colours and grains.
Creating lasting designs is fundamental to sustainable design, says Sawdust Bureau's Cush. "Sustainability is about more than where timber is sourced from," he says. "We are not naive enough to think that every piece we design is going to be timeless, heirloom furniture; however, we think the most important thing is about respecting the material, the slow growth process involved in hardwoods, minimising waste and creating a quality product, which has the potential to be recycled at the end of its life cycle."
New directions
While timber's natural qualities undoubtedly make it a popular choice – not just currently, but for thousands of years of architectural invention – a crop of innovative suppliers are exploring new directions in bespoke engineered timber products.
Bathurst-based Supawood crafts timber panels that fulfil decorative and acoustic objectives. The striking auditorium at the Glasshouse, designed by Tonkin Zulaikha Greer, is wrapped by folding panels of honey-hued Supacoustic custom panels. Located in Port Macquarie, this regional arts facility balances openness and enclosure – while the foyers and public spaces are bright and airy, capturing views of the Pacific Ocean, the theatre interior is warm and tactile. The architects worked with Supawood to design the folded panels, finished in a mismatched spotted gum natural timber veneer. An intricate pattern of Morse-like dots and lines traces across the surfaces, a clever graphic reinterpretation of a musical score.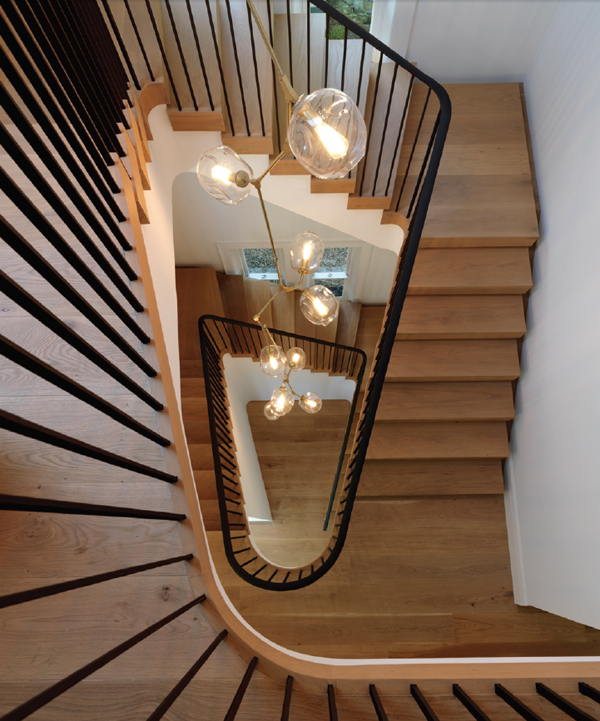 Another Supawood timber product stars in the Oaks Pavilion in Neutral Bay, by Paul Kelly Design. Within an elegant conservatory, an array of seemingly rough-hewn slats angle across the ceiling. The slats are Driftwood rustic timber lining boards, which use a neat etching process to emphasise the grain, knots and textures of natural weathered timber. The Driftwood timber is available as ceiling tiles, panels and loose slats.
Tongue n Groove has pioneered a new approach to floorboards. The company's boards are crafted from three layers of European oak. Rather than using ply solely for the inner layer, the same material is used throughout, increasing the product's stability, and allowing it to expand and contract at the same rate.
In a recent project, Sydney architect Luigi Rosselli specified Graupa Grande Eterno floorboards for the elegant Woollahra House. The wide boards add a subtle tactility to the refined Heritage spaces. Tongue n Groove boards are suitable for floors, walls, stairs and ceilings, and are crafted using only timber certified by the FSC.
What is the future of timber design? These examples show that the beautiful sense of history embodied by salvaged wood continues to be a popular material for furniture and interiors. Concurrently, there are some dynamic new applications that leverage the qualities of timber and transform it into a material for the 21st century.
Written by Peter Davies. This article appears in (inside) issue 86.
(inside) issue 88 will be on sale on 27 August and is available in newsagents and via Google Play and Zinio.