Above image: The End of Sitting experiment by RAAAF and Barbara Visser poses intriguing concepts for the future of office design. Photography by Jan Kempenaers.
ADR is back in the office for 2015, and as many of us return to work this week, it's an appropriate time of year to examine a realm often woefully lacking in design inspiration for the average desk-bound employee: the workplace interior.
Recent global movements in office design emphasise the importance of firms establishing a healthy workplace for employees, investing in the wellbeing of staff, with a view to optimizing productivity. Overall, more employers are paying attention to studies reporting the detriments of a stale working environment, the effects of which inevitably manifest in diminishing staff morale.
On the privileged end of the scale, initiatives to blur the line between work and play have led to a variety of eccentric solutions, from the installation of hammocks and racetracks within the office, to the popularity of Google's much-publicised workplace slide.
Activity-Based Working is the contemporary catchphrase in modern office design, with more interactive, experimental workplace models becoming a popular strategy within white-collar industries as well as in creative circles. Static desks are no longer de rigueur, with the rise of hotdesking and shared collaborative spaces introducing an element of dynamism to the office.
The current ubiquity of portable laptop and tablets afford a degree of flexibility, with many able to work outside the office as well as set up anywhere within the workplace – in contrast to the traditional model of pre-assigned desks. Indeed, many small new businesses eschew the often-exorbitant rental fees of having a designated office space by using services such as HUB Australia to share office space with a diverse collective of professionals across a range of industries.
Convertible spatial elements also effectively combat monotony in the workplace, with some offices dissolving completely at close of business, revealing usable floorspace. Heldergroen design studio in Amsterdam is experimenting with the concept of 'the disappearing office', where desks are lifted and stored in the ceiling via a system of key-operated steel cables. The otherwise disused space has been used after hours for functions and even yoga sessions, while enforcing the importance of employee work-life balance – after 6pm, it is physically impossible to put in overtime at your desk.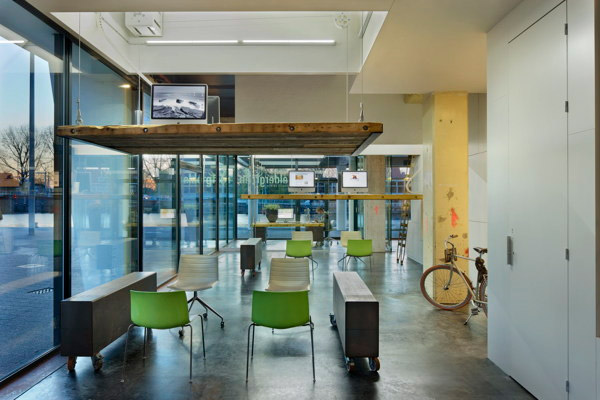 If disappearing desks seem a world apart from your own workplace reality, perhaps you are fortunate enough to be part of a chairless office. According to an armada of ergonomic health experts, 'sitting is the new smoking,' with the inevitably negative impact of sitting for 8 hours, 5 days a week leading to serious heath issues, all too common amongst office employees. Standing desks are one solution relieving back strain caused by bad posture and old chairs, with more lavish offices springing for treadmill desks, allowing people to remain physically active while working. Sydney Morning Herald journalist Amanda Hooton details her positive month-long experience of a treadmill desk in this absorbing article.
Exploring the concept of a truly chairless (and effectively deskless) workplace, an experimental office space titled 'The End of Sitting' by Dutch studio Rietveld Architecture Art Affordances (RAAAF) and artist Barbara Visser is being exhibited and tested in Amsterdam. Rather than prescribe seated areas for working, the project comprises abstract geometric forms, which invite the user to perch, nestle, recline or lean in to their work in ways that feel natural to the individual. Though perhaps an unrealistic response to the traditional sitting office model, 'The End of Sitting' addresses a legitimate, urgent concern affecting offices everywhere; the idea that merely sitting at your workplace may be damaging to your health.
As seen in recent years, offices in 2015 will continue to become greener, both in terms of maximising eco-efficiency in the workplace and through the addition of living greenery throughout. The influential CH2 building in Melbourne was the first purpose-built office to achieve the Green Building Council of Australia's maximum six star rating on completion in 2006, with architects DesignInc providing an important benchmark for subsequent local projects. Completed in 2014, HASSELL Architects' recent addition to Melbourne's Docklands has also gained a six star Green Star rating, with a 230,000 litre recycled water storage tank and a solar roof contributing to its ESD credentials.
Aesthetically, vertical gardens have become a seemingly omnipresent concession to the idea of bringing the outdoors in, with more conceptual offices integrating live plant installations on a larger scale. Employees at the Origin Energy head office in Melbourne are fortunate enough to be housed with the tallest green wall in Australia. Spanning 22 floors within the building, the installation certainly puts those half-dead pot plants in the corner of more modest offices to shame.
A 2014 study assessing the long-term effects of plants in the office by the University of Queensland found a direct correlation between a green office and productivity. The study was co-authored by Professor Alex Haslam from UQ's School of Psychology, who observed that, "Employees were more satisfied with their workplace and reported increased concentration levels and better perceived air quality in an office with plants".
Professor Haslam added that, "The findings suggest that investing in landscaping an office will pay off through an increase in office workers' quality of life and productivity".
Whether it's the introduction of green space, the eradication of chairs, or installing play equipment for adults, it seems evident that businesses worldwide have the infinite potential to benefit from implementing innovative design solutions in the workplace. Apart from the projected improvement in staff productivity, a healthy office can support personal wellbeing and facilitate a greater work-life balance. At a time brimming with healthy new goals and resolutions, perhaps it's our neglected workplaces that need to shape up.