Article by Gillian Serisier
Above image courtesy: Halliday + Baillie
Photography: Andrew Worssam and Halliday + Baillie
Practice: Halliday & Baillie
How a company comes into being says a lot about the people involved. It also speaks volumes for how that practice evolves. For Halliday & Baillie (H+B) the impetus was one of necessity.
Indeed, some 19 years ago in Auckland, Marcus Halliday, in finance, and Gillian Baillie, in fashion design, could not find the door hardware they wanted when renovating villas and an importing partnership was born. While Baillie is no longer a partner, Halliday is adamant that the company thrives on partnership, particularly the current model with managing partner Tanya Rive.
Importing from Germany to New Zealand allowed the emerging H+B an offering of exemplar quality in terms of both aesthetics and functionality. The transition to designer and manufacturer was instigated through need, rather than a deliberate market push, as Halliday explains: "If you imagine the northern hemisphere, their joinery and climate are quite different to ours. There were parts of the market where there wasn't a product suitable, so we thought we would make some."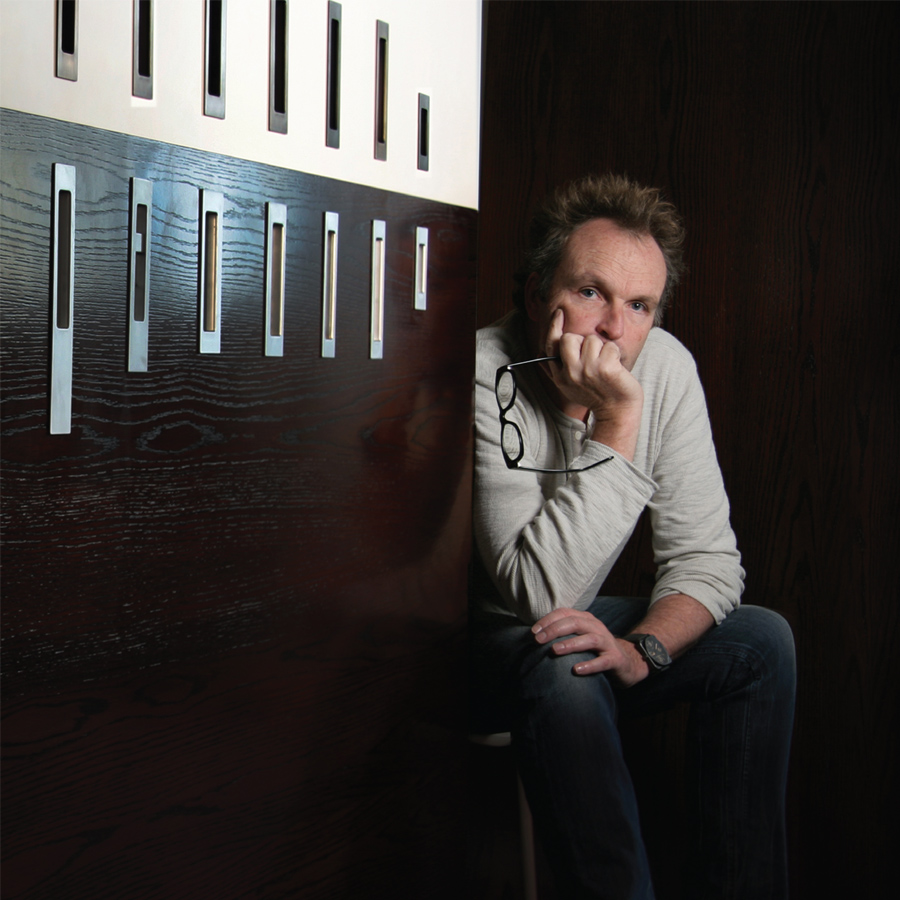 The first of the H+B range was hardware for sliding doors, which the company developed as an extension of the quality products it was importing: "The Germans were our education; they were the inspiration and motivation," says Halliday, who has seen this gap in the New Zealand market translate to a range of international needs. "I used to say half-heartedly that we'd like to be the Denmark of the South Pacific, but it is very gratifying when we get a call from Florida asking if we can scale a sliding fitting for some very large doors."
Rive joined the organisation in 2000 to head sales and marketing. Within five years she was offered a partnership and then, shortly after, the opportunity to set up in Australia. And while she saw a move to Australia as a natural progression, she conducted extensive research into the market before moving. "Eighty percent of New Zealand companies that come across to Australia fail in the first two years. It's a lot higher than you would expect, considering our lives and tastes are very similar," says Rive, who attributes the failure to an assumption that success in New Zealand can be easily transferred to Australia where the market is, in fact, very different. Overcoming these obstacles for Rive has been about understanding specific needs and "…listening to the clients: architects are quite different here," she says.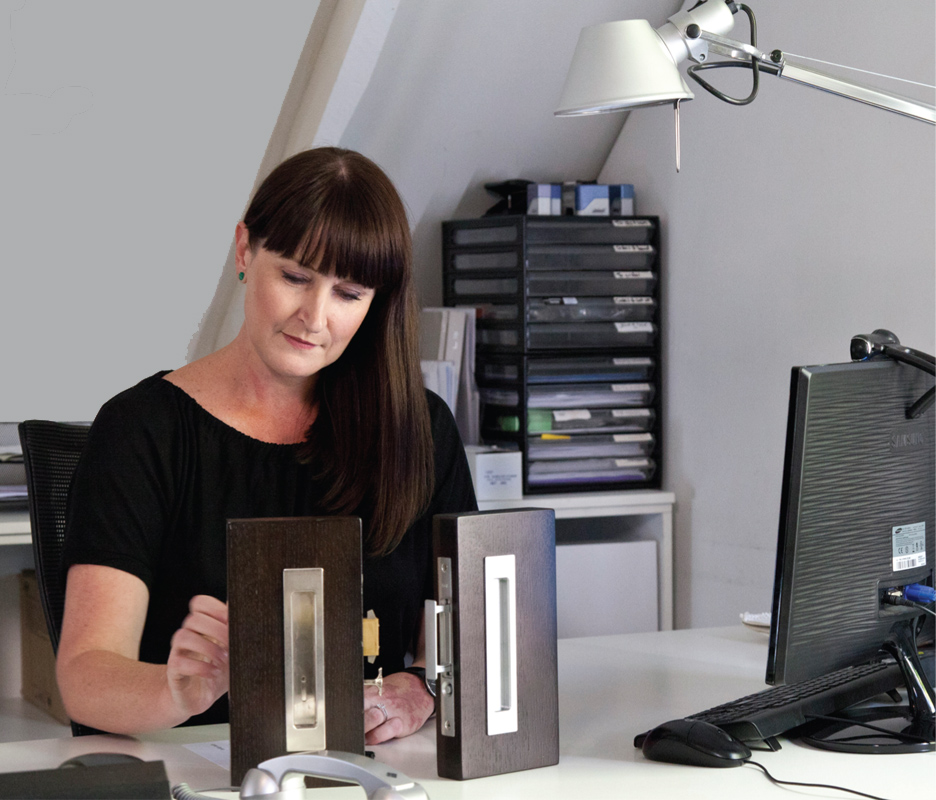 With a background in the industry and some interior design courses, but no formal design education, Rive's role has evolved to include design through a natural process of exploring ideas with Marcus Halliday. "I have a really keen interest and have dealt with so many designers over the years; it's something that is in my blood."
With Halliday based in New Zealand and Rive based in Sydney, the process of design is necessarily one of fluidity, as Rive explains: "It is a very harmonious relationship, even though we are so, so different, but it works." To facilitate designing across time and distance, communication is immediate and elastic, with text (including the excited 2am texts of much younger practices), email, Skype and meetings all used to explore and extend ideas.
The immediacy of communication has also allowed the small scale of the company to be an asset, as Halliday explains: "The luxury of being small is you can innovate quickly and go to market – drive new markets forward. If we ask the Germans to make us something, it might take five years and by then the market has changed."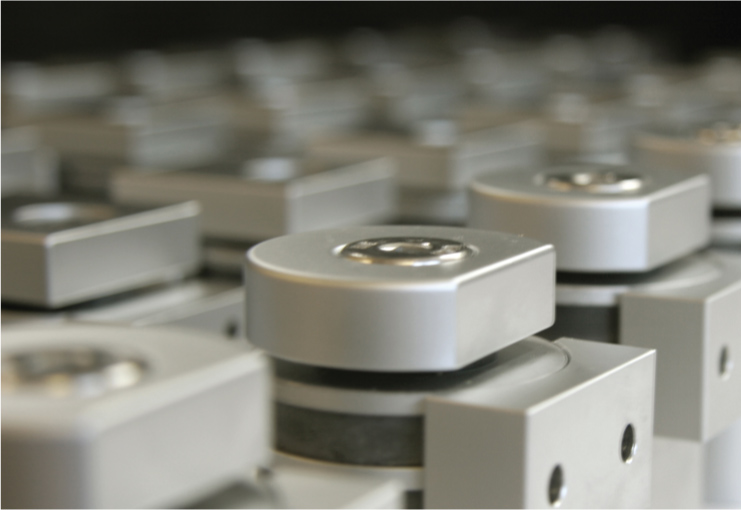 Moreover, the scale of the organisation is deliberate. "I think a lot have made the mistake of growing too quickly. We are working smarter. We don't ever think we need to double or triple the size of the business to be successful. The important thing is to not lose sight of the fact that we are in that elite area of design… We would rather do more products and have fewer overheads and really drive it creatively," says Rive. That said, the H+B product has recently emerged in the European market in what Halliday describes as a "coals to Newcastle story".
The elasticity of the design process also allows H+B to rethink existing ideas within their aesthetic frame: "…products that may be there, but are not that great, such as a stair rail fitting, the actual bracket that goes down the wall and you put a rail on top. That beautiful detail. Well it should be a beautiful detail, like a piece of art. You have to have it for regulations, so why not make it beautiful?" asks Rive, who argues that quality needs to be at the core of every product designed and manufactured by H+B.
"Being made on this side of the world, it is very pricey compared to Asia; therefore, we need to back up everything we are doing with quality, longevity and function going all the way through. We want to be here for a long time, not a short time." Using steel, aluminium and zinc with finishes ranging from polished bronze to powder coated (non-articulated) and electroplated, each design is manufactured in small runs by artisans. "We don't have our own factory and that is one of the things we are very proud of. When the recession hit New Zealand it hit really badly compared to here [Australia] and the fallout is still happening now. Several of these companies said, without us they wouldn't be here now. We are so proud of that," says Rive.
The artisan quality of the H+B range equates to a niche differentiator. Where others in the market are matching price to quantity, H+B is looking to the exclusive end of the market. "As an architect, I am interested in the design and production of objects. The best of these objects are those that don't follow a trend – their character is generated from thoughtful regard, without feeling the need to shout. Halliday and Baillie's products embody this commitment to quality and seamless expression and for SJB they become some of the most influential components of our buildings," says SJB associate Nigel Morris.
Attention to detail and quality is matched by a project management service whereby the architect can hand the process to H+B for specification and to work with the builder through to completion. At present around 75 percent of its market is residential, a figure only likely to grow with a more buoyant real estate economy and the emergence of very high-end multi-residential developments.
It is difficult to not be seduced by the gusto both Halliday and Rive express when speaking about their design process. Halliday, who started the business pre-internet, still thinks of opening his morning emails with pleasure: "You wake up to orders from Finland and America and Scotland and no day is the same. You have clients all over the world and from that there is nothing like building a new product, photographing it and putting it on the web and seeing what happens from there. There is a lot of instant gratification."
That this joy is genuinely backed up by a considered and sustainable manufacturing ideology with equal concern for quality, employment and the continuance of craft knowledge adds exponentially. That the products are excellent seals the deal.