From creating an interactive flagship retail space for Telstra to a road safety project for children at Melbourne Museum, innovation and design company Downstream is fusing design and technology to transform the way we experience corporate environments and public spaces.
Technology has radically changed and is continuing to change our lives. With smarter than ever phones in our pockets and connected devices in our homes and cars, our behaviours and expectations are also shifting.
It's not surprising then, that companies are turning to immersive digital design to create spaces that deliver engaging experiences for customers.
PwC Australia and Suncorp are two such companies that are redefining the spaces they work in. For PwC, Downstream created various connected technologies that are integrated in to the architecture of the building.
This included Media Fountains, which act as smart way-finding totems while also broadcasting event information and interactive data visualisations.
In the Sydney and Brisbane offices, a Welcome Wall acts as a digital concierge, providing fast check-in for clients who prefer this option. And when in low-power mode the Welcome Wall comes to life as series of digital totems that playback artful, rich media content.
The idea is that people are encouraged to respond and react to information that would traditionally be represented in a less accessible and more static fashion.
"The value that technology brings to a space really comes from understanding people and their behaviours, their connection to the brand and their connection to the space," Jason Culverwell design director at Downstream tells ADR.
"So it's kind of this three-point idea of people technology and spaces. The value is understanding all of those entities and for us the challenge is to bring them together in a cohesive and meaningful way."
For the Suncorp Discovery Store in Sydney's Pitt Street Mall, the company approached Downstream to create a space that was "ambiently beautiful", but with a playful and interactive feel.
The space itself, designed by Geyer, is built around a central amphitheatre and a range of flexible spaces, so the solution was to install a 7×2 metre interactive wall and smart information kiosks that enable staff to walk customers through Suncorp products and services.
"They had a vision to do something really daring and different for their category and to add a sense of theatre – sort of set and stage design – with technology playing an important part," says Culverwell.
Downstream developed design principles that keyed in with Suncorp's brand platform, as well as around setting conversations and making sure that playfulness was part of the dialogue with its customers.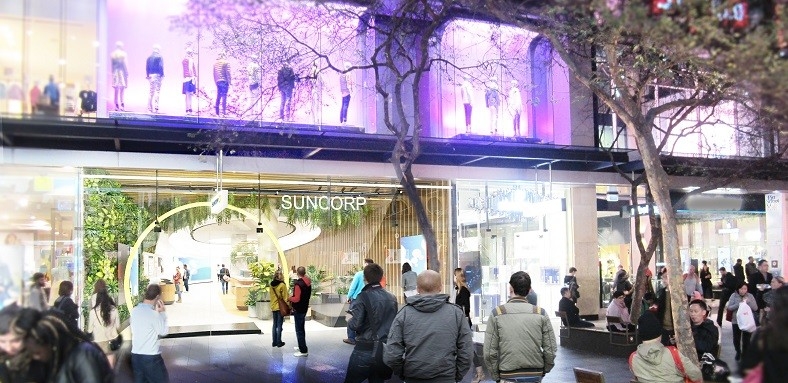 "We created what's known as the Showcase. It's a large wall and simply just by walking past it, it comes to life. It's that surprise and delight moment; it's just one part of that experience, but they were adamant that they wanted to do something that was ambiently beautiful, so there is a digital art aspect to it but it's also playful and interactive."
As for the future design of our public spaces and corporate environments, it's people and technology, says Culverwell, that will drive change.
"It's hard to forecast what the future of the office will be, but there will be layers of technology alongside an obsession with design thinking that clients are really catching on to. More broadly, it is going to be informed by the response to emerging technology."