Written by Fiona Gruber for inside Interior Design Review, available now on newsstands and through Zinio. Above: Flock by Elliat Rich in collaboration with UAP, photo by Timothy Parish.
A walk or drive around any of our cities will yield a multitude of public art, but the statue in the town or city square – often referred to by urban designers as 'plonk art' – is far less likely to get commissioned these days. A look at recent and upcoming projects across the country yields myriad works that interact with the environment and the pubic in far more subtle and multi-stranded ways.
Public art is everywhere, from the aforementioned statue to a pattern on the pavement, a soundscape on a riverbank or a freeway assemblage best appreciated at 100 kilometres an hour. Public art can be carved, cast, painted, knitted, assembled or recorded; it can be minute or monumental, permanent or ephemeral, solid or liquid, abstract or figurative, politically charged or carefully anodyne.
The one thing that distinguishes public art is its location in a shared domain and the community values that are being expressed.
It enlivens our environment, posing questions, making connections, giving us a sense of place and time, and these days it's far more likely to have been factored in from the beginning of an urban project, rather than added as an afterthought. The emphasis is also on inclusivity and casting the net as wide as possible, to include all communities and histories.
Whether the commissioning body is a corporation, local or state government body or community group, there is frequently a liaison body between the artist or artists and the commissioner.
Brisbane-based Urban Art Projects was founded 23 years ago by twin brothers Daniel and Matthew Tobin. It collaborates with artists, architects and designers to deliver creative outcomes for the public realm. With over 80 staff it also has offices in Shanghai and New York.
Owen Craven, a member of UAP's curatorial team says that the company's service involves finding the right artist for a tendered commission and then supporting them in all stages of the project, from studio to factory to installation.
Recent projects include Turbulent Line (2012) a collaboration with US artist Ned Kahn at Brisbane Airport. The work, on a car park at the domestic terminal, comprises 250,000 hinged aluminium panels that cover the entire 5000-square metre façade and move with the breeze to create a rippling curtain of watery light. The photographic image on the panels depicts a sailing ship mast and the meandering river.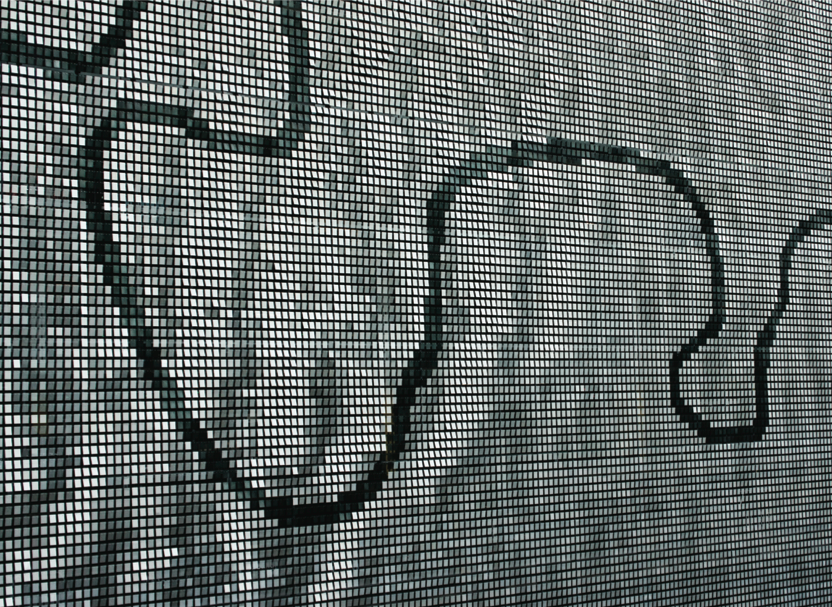 Another is a collaboration with prominent Chinese-Australian artist Lindy Lee alongside Jane Irwin Landscape Architecture (JILA) to create a new pedestrianised precinct in Sydney's China Town.
Craven says that as contemporary life gets increasingly individualised, we need places of connection. "Socially, as the world becomes more digitised and our lives are consumed by online, cities want to create public places and define them through art," he says.
Over in Perth, artist Penelope Forlano reflects on her first public art commission, From the Skies, an acoustic wall sculpture utilising Western Australian blackbutt veneer, aluminium and LED lighting, for Perth Airport. "There's such a diverse group through this space – six million people, so many different cultures and I wanted to make a something that could speak to this diverse audience," she says.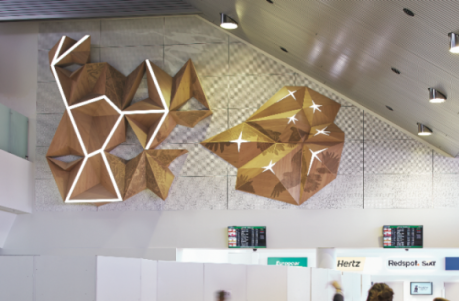 Forlano's work was shortlisted by Perth-based consultancy FORM, a non-profit membership-based arts organisation that focuses on multi-artform programming tailored to specific communities. Perth Airport Pty's commission is in a partnership agreement with the Nyungah community, the traditional custodians of the land. Forlano, who specialises in furniture and sculptural works incorporating the digital and the handmade, has created a work showcasing Indigenous stories about stars and the cosmos that are shared with other cultures. The work also references the endangered or extinct wildlife of the region. "I'm looking at public art as 'community heirlooms'," she says.
It's a philosophy shared by artist Elliat Rich. She made public art the focus of her practice when she moved to Alice Springs in 2004 and, alongside a design and furniture practice, has public art works throughout the Northern Territory. Major works include Flock (2011), an aerial sculpture of twirling metal forms on Darwin's waterfront, which references Charles Darwin's theories about adaptation to environment, A Story Read by Rain (2014) an Alice-based work, which incorporates an interactive footpath design on the way to the library, one that only really comes alive when it rains, and The Melody Fence (2012) an interactive metal musical fence at Ross Park Primary School, Alice Springs.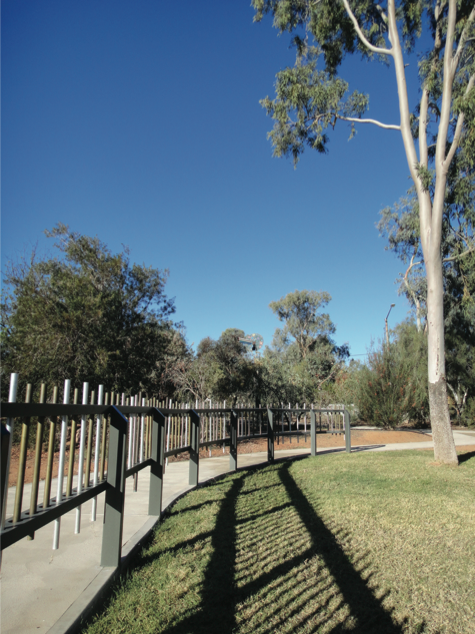 Rich is interested in incorporating time in the design process, both as a philosophical concept and as a marker of a work's changing state over months and years. The artistic experience also depends a lot on scale, she says, counteracting a lack of interaction in public places. "Public art can bring back intimacy", she says.