Photography by Renee Stamatis.
Burger restaurant 8bit has duplicated its original Footscray store in a radiant and pixelated fit-out right in the heart of Melbourne's CBD.
Nostalgia abounds the restaurant, the wallpaper dotted by question boxes and 8-bit clouds from Super Mario, artwork that will have your mind fondly casting back to Saturday mornings occupied by Super Nintendo and cartoons.
Designed by Architects Eat, who are also behind Tetsujin in Melbourne's Emporium, 8bit is nothing short of bright and bold. Edged by floor-to-ceiling windows, the eatery is bathed in light, enhancing the soft pastel blues and purples that make up much of the restaurant's colour scheme. Synonymous with the straight edges and square composition of 8-bit artwork, the burger joint's interior is composed of square, firm lines in the mixed-height bar seating that lines the window, as well as in the grand timber corner pieces which reach up from the floor and make their way across the ceiling.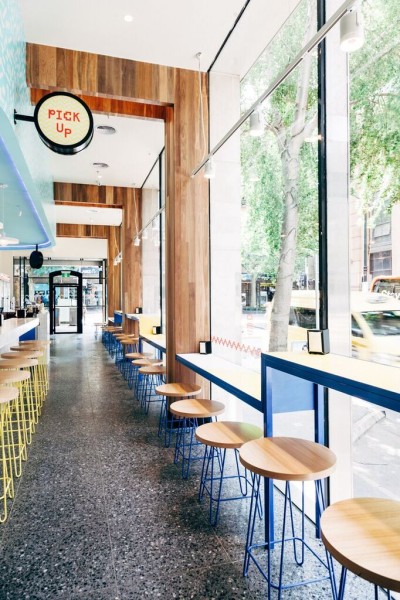 Timber is also featured in the accompanying bar stools, cut with contrastingly soft, round edges. These curved lines are mirrored in the opposite counter, a sweeping design which occupies space both above and below the patron. Blue neon lights up the counter, in collaboration with bright white hanging light fixtures.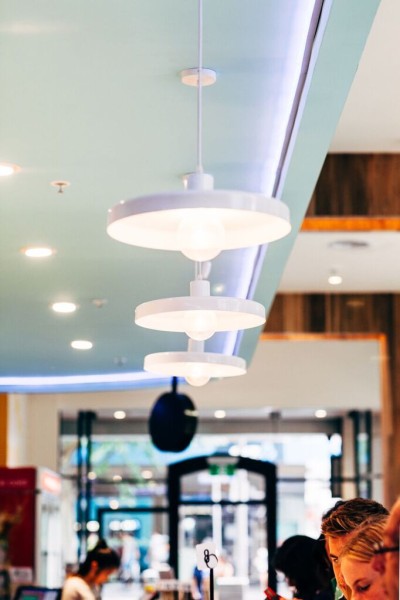 Filled with a bright, youthful palette, bold lighting, and hints of the iconic arcade game era, the Swanston Street store's retro-pop fit-out exudes 8bit's playful character, and makes for a joyful place to chow down on a burger and fries.