A retrofuturist slant articulated through bold curves in the vein of Stanley Kubrick's 1968 film 2001: A Space Odyssey is at the heart of the Sydney Tower redesign by loopcreative.
The newly unveiled Bar 83 is at the centre of the multi-million refurbishment, which saw the Sydney practice overhaul three floors of one of the city's most iconic landmarks.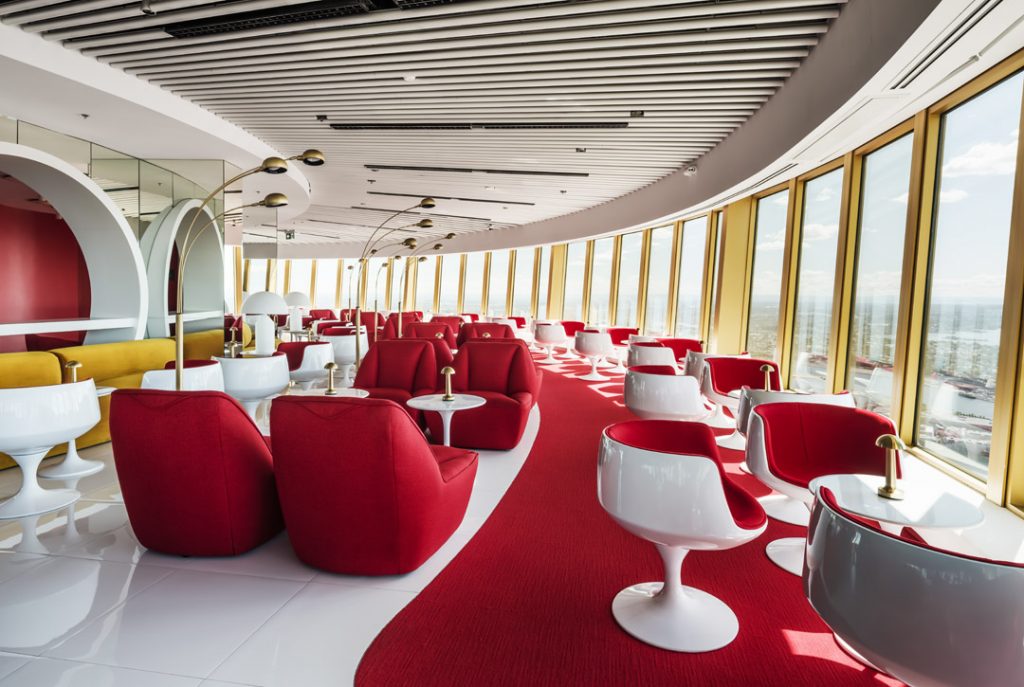 Its director Rod Faucheux describes the project as a effort to regift Sydney Tower to the locals, a gesture that's all the more important given the current COVID-19 travel restrictions.
"So everyone's got a story like yours and mine where they went to Sydney Tower once as a tourist and never returned," he tells ADR.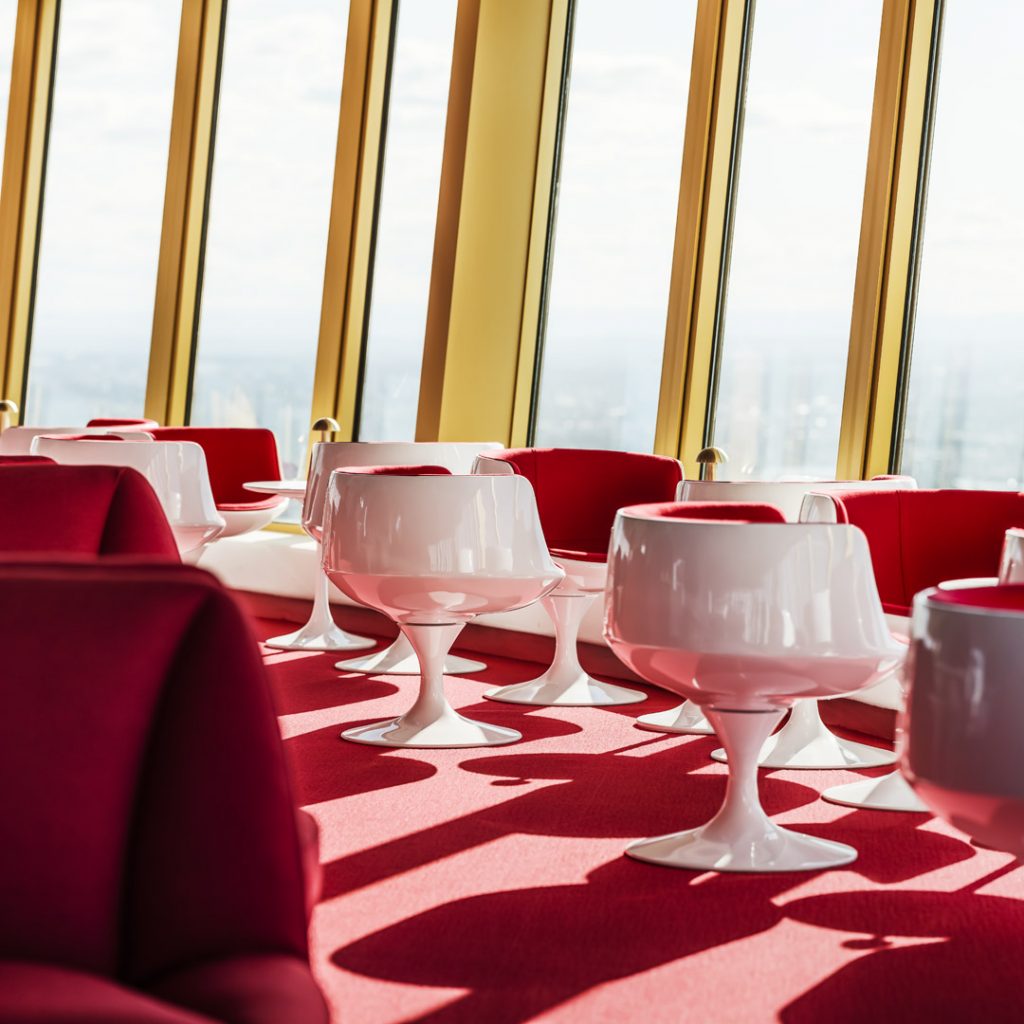 "But the locals have always stayed away."
Bar 83 in particular has been redesigned with Sydneysiders in mind.
"The idea is that more locals are going to make this part of their Friday or Saturday night, their special occasions and that sort of thing, and keep coming back," explains Faucheaux.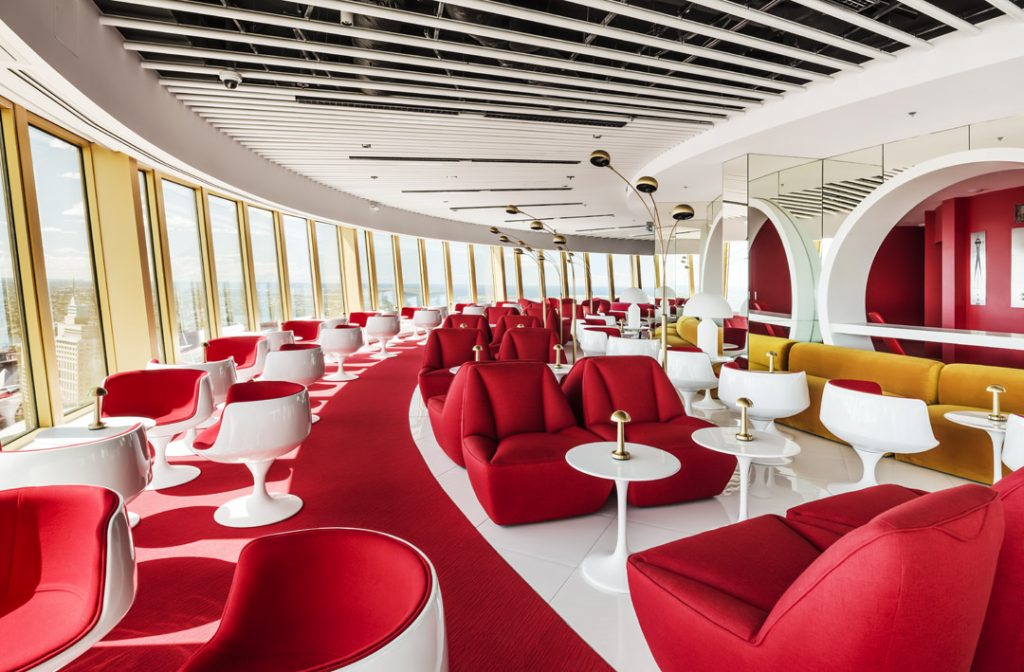 Originally an office and storeroom, the third floor of Sydney Tower provided loopcreative with a blank slate.
"We asked ourselves, 'If you could open the door, what would you expect to see up there?'," says Faucheaux.
"After some discussion, we decided that we wanted the bar to feel like it could justifiably have been there throughout the life of the building, but in some sense cut off from the rest of the world."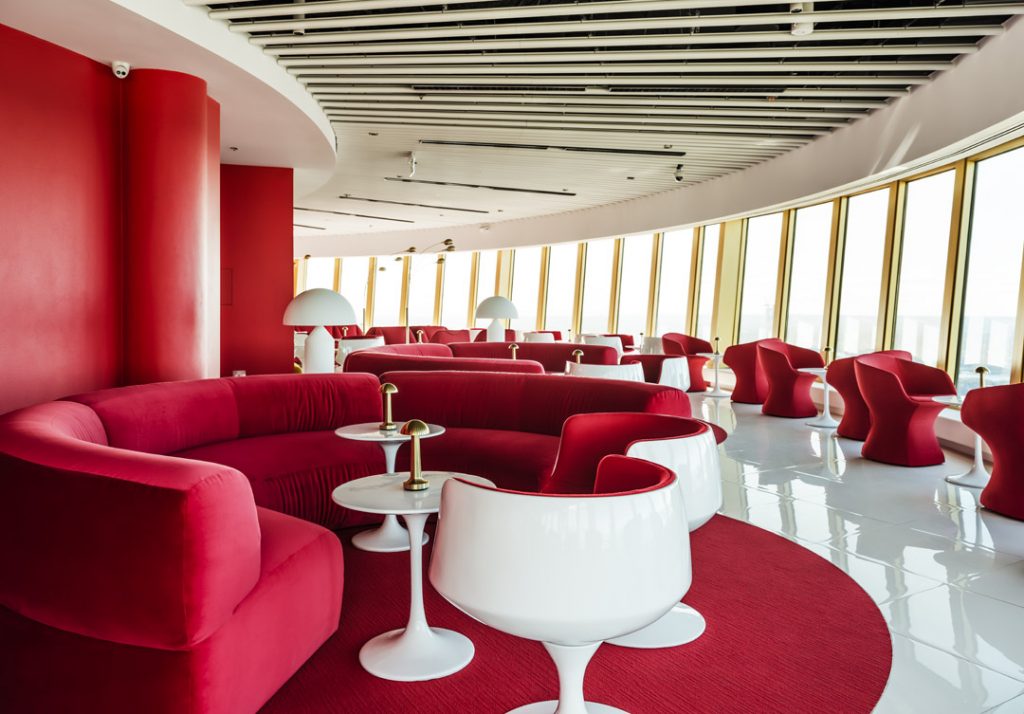 For Faucheaux, who is 50, this meant combining the futuristic aesthetic of his childhood and the history of the Sydney Tower, which was built throughout the 1970s, with a luxury sky-high airport lounge.
The bold curves and circular portals of Bar 83 exaggerate the round, radial form of the tower itself, while the palette of hyper-saturated red hues and luxe gold details speak of the "glorious, hedonistic excess" of the 1960s and '70s.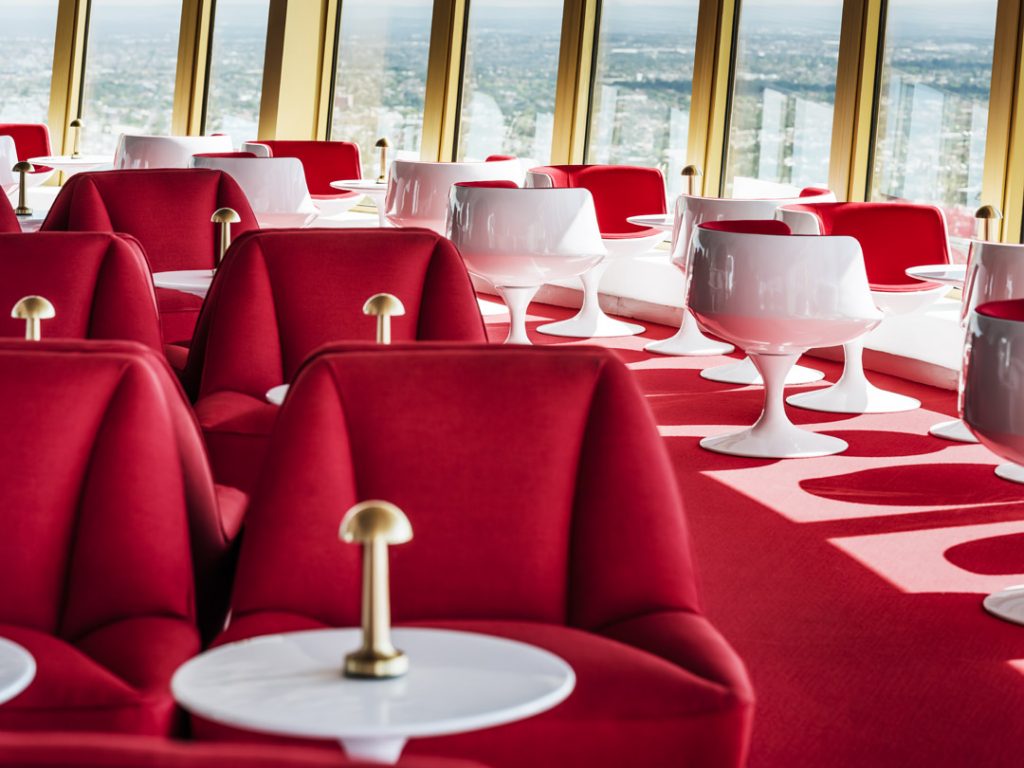 "There's a scene in 2001: A Space Odyssey where they're sitting in a white circular room that rotates vertically and there's red furniture in that. So that's where the concept first developed."
The dominant red lounges are custom reimaginings of the Puffallo sofa by Ross Didier. They're accessorised by Bellhop and Attollo lights from Euroluce and "red-as-sin" carpets from Shaw Contract.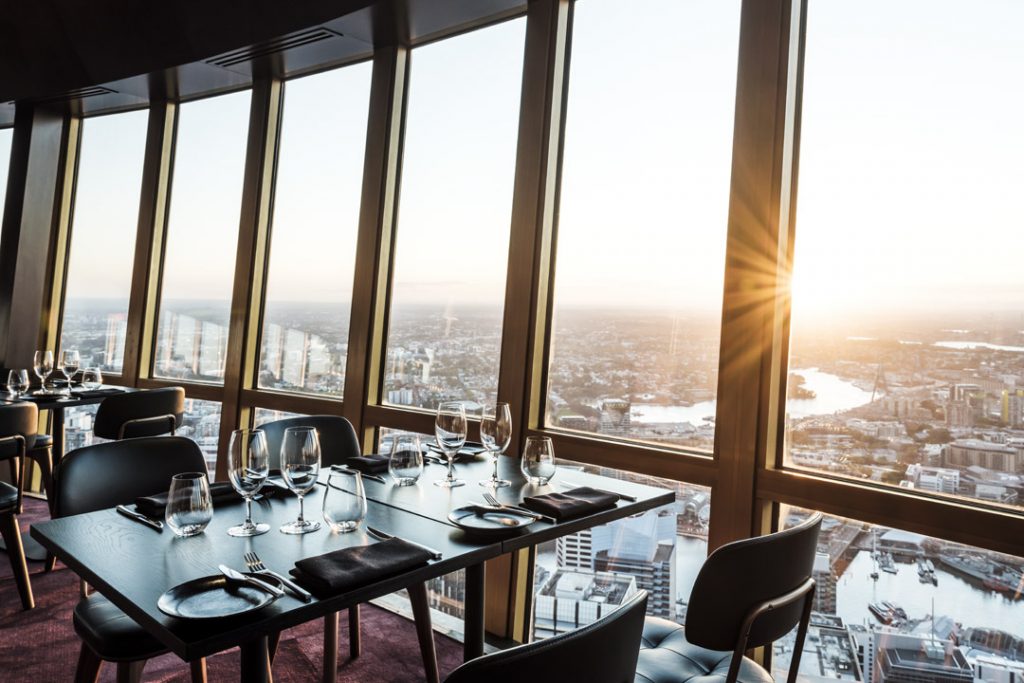 Bar 83 sits above Sydney Tower's other hospitality venues, both of which rotate and were also recently refurbished by loopcreative.
On the first floor, Infinity is a "sophisticated setting for discerning, worldly gourmands" based locally and abroad.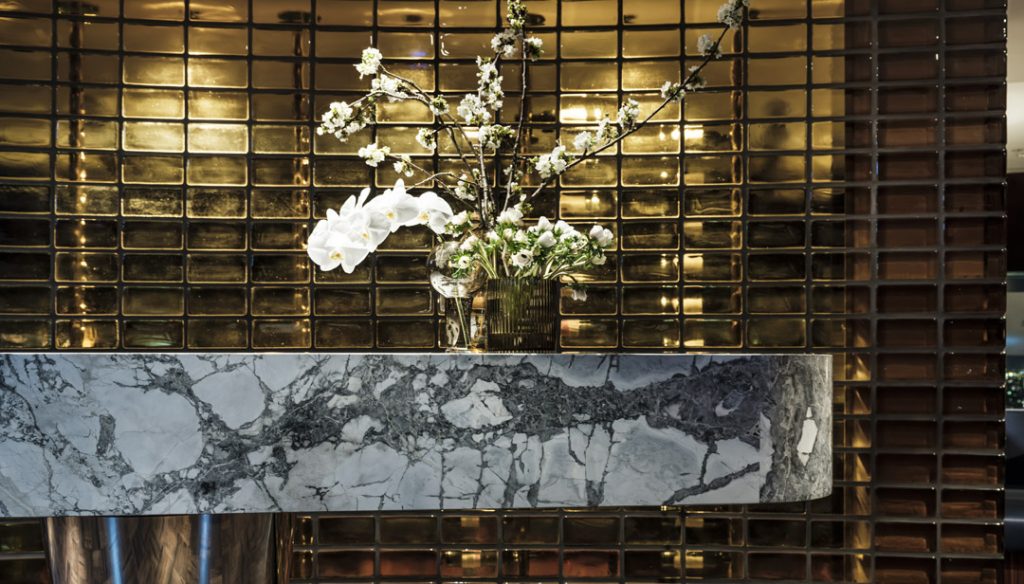 The fine dining restaurant is separated from the elevators by a wall of smokey quartz-tinted glass blocks by Obeco. The polished concierge desk in Concordia stone by Artedomus precedes space, which is divided across two levels.
The lower terrace provides a semi-private dining space to host up to 16 guests, while smaller groups of between two and eight are seated above.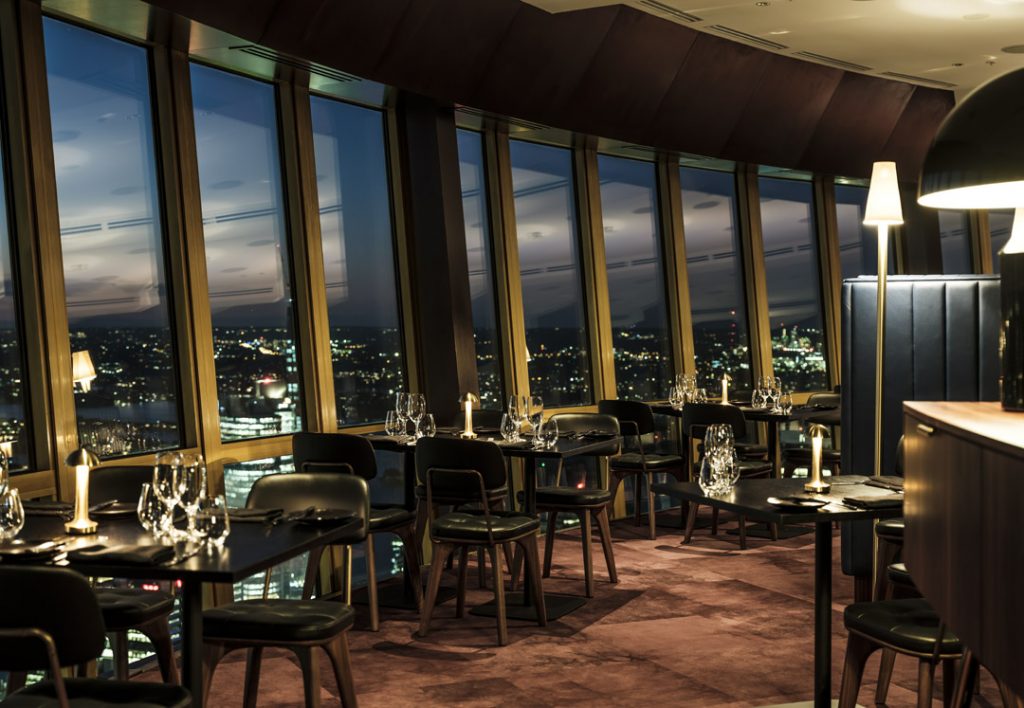 "We wanted this level to feel elegant and refined," explains Faucheaux.
"Even the selection of furniture is more luxurious here than anywhere else. We custom-designed all the furniture, over 200 pieces, working closely with Ross [Didier] out of Melbourne."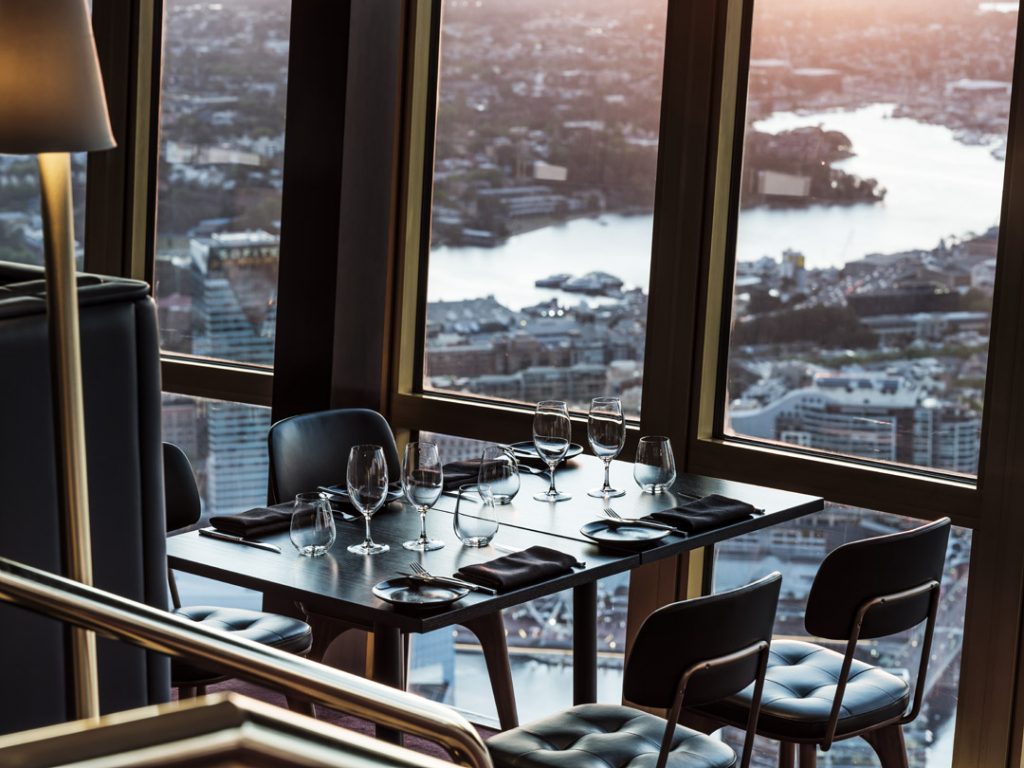 A palette of deep royal purple carpeting, white marble table tops, dark-stained timber and rich leather banquettes define Infinity.
Gold metal accents echo the "warm lustre" of the building's anodized exterior and are paired with brass and timber chairs.
Low key lighting design, featuring Euroluce's Atollo and custom pieces by Darkon, imbues the space with a "glamour and a sense of theatricality".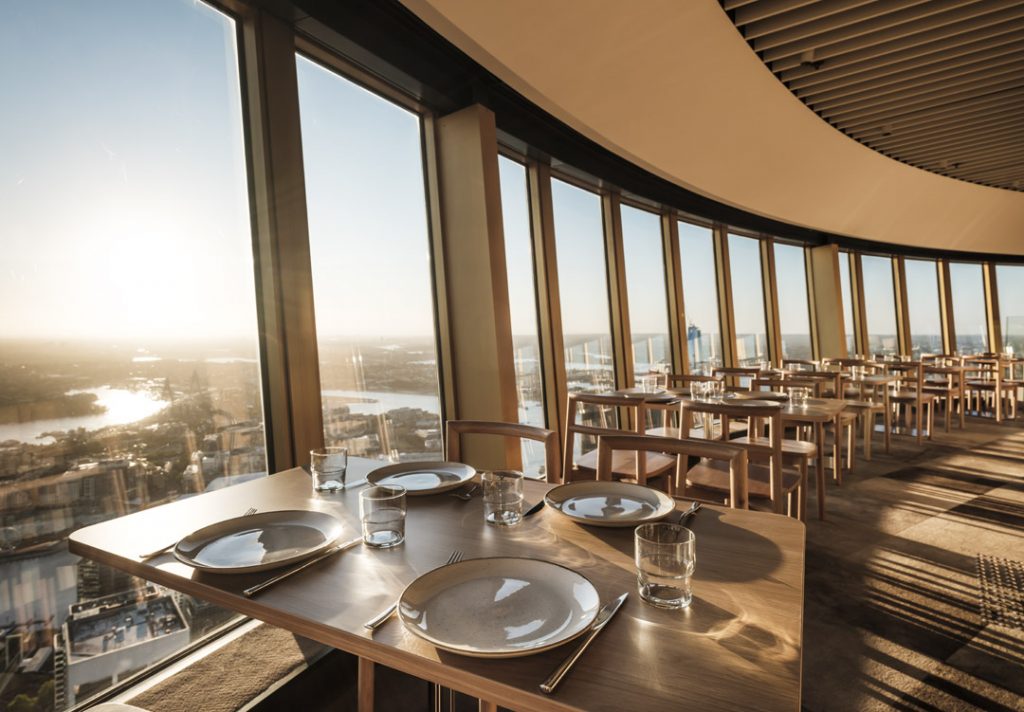 Sandwiched between Infinity and Bar 83 is SkyFeast – a casual eatery that is designed with a "distinctly Australian vernacular" at its core.
From the arrival area, clad in pebblecrete evocative of the "nostalgic texture of Aussie backyard pools", the dining space has a "crisp white" palette mottled with earthy ochres and tactile finishes.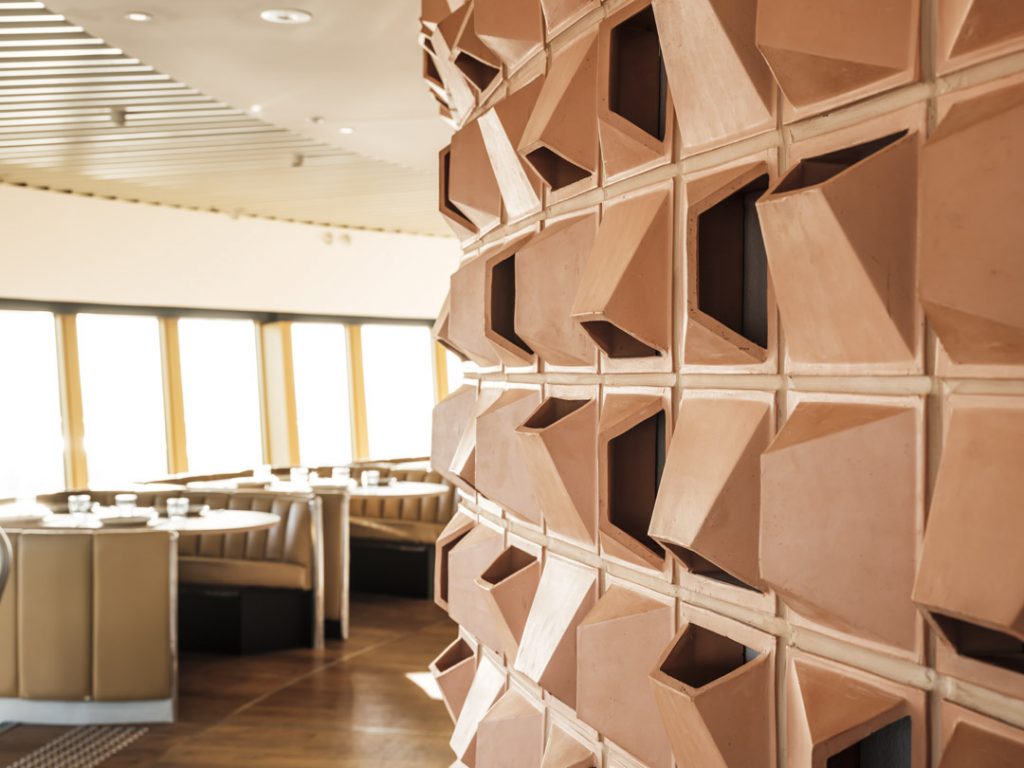 A custom terracotta breezeblock internal wall harks back to "suburbia", while tan leather banquettes, solid oak Fable chairs and bespoke tables, again designed by Didier, are "steeped with laconic local character.
"Traditionally, this is the floor that most appeals to tourists, but we wanted to design a venue that would also stand up independently and not rely on tourism," says Faucheaux.
"That's why we went with something that had a local vernacular to it, but in a subtle way that doesn't detract from the main event.
"In fact, if the design on this floor dominates to some degree, then we've not met the brief. People are there for the view. It's an amazing advertisement for Sydney, so our design very much plays second fiddle to it and to the food."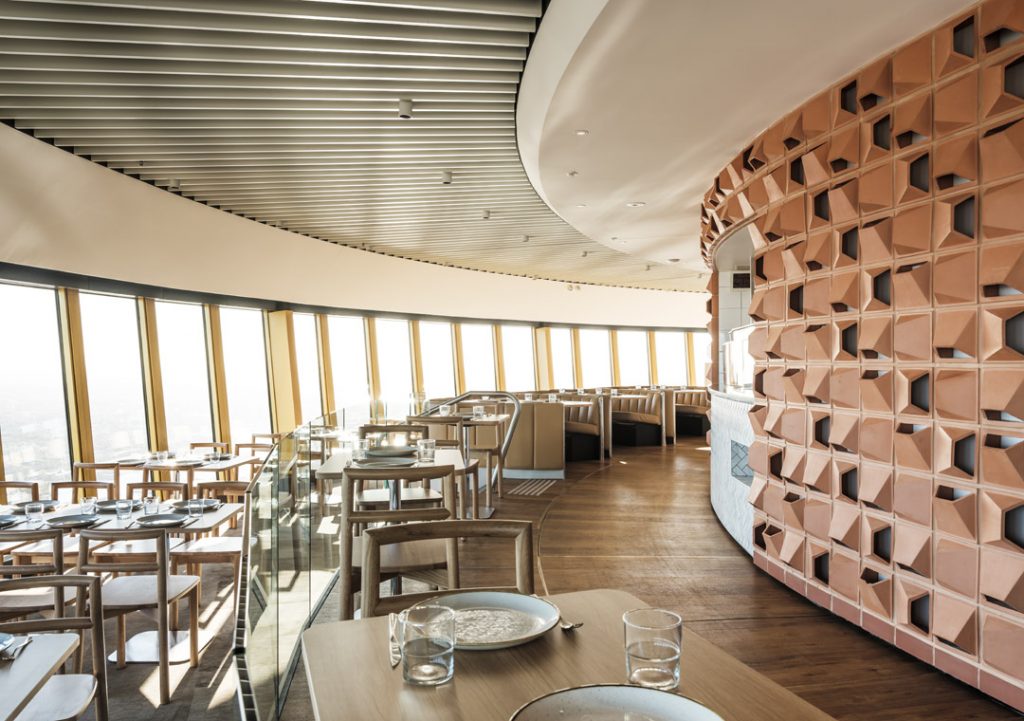 Photography: Robert Walsh.
loopcreative is an interior design studio based in Sydney, which specialises in residential, hospitality and retail design. The studio was also behind the 250sqm fitout for Melbourne's Long Shot in 2017.