David Jones and Country Road Group's new corporate headquarters makes its mark at the Shaw Contract Design Awards.
Gray Puksand's work for the first stage of the new David Jones and Country Road corporate headquarters has recently been announced as a final winner in the 2018 Shaw Contract Design Awards, chosen from a pool of over 500 total entries submitted from 36 countries around the world.
The Shaw Contract Design Awards recognise the creative vision of the architects and designers who inspire new ways of living, working, learning and healing.
The Awards place a spotlight on a diverse range of talents from across the globe, celebrating design in action and purposefully rewarding the innovative and truly inspiring work being done by the architecture and design community.
Gray Puksand has delivered the first stage of this exciting workspace project creating the new home for Australian fashion retail icons David Jones and Country Road Group – comprising Country Road, Mimco, Politix, Trenery and Witchery.
With a significant investment by parent company Woolworths Holdings Limited (WHL), this new home for Australian fashion retail icons needed to celebrate the unity of David Jones and the Country Road Group, while also showcasing each brand's individual identity.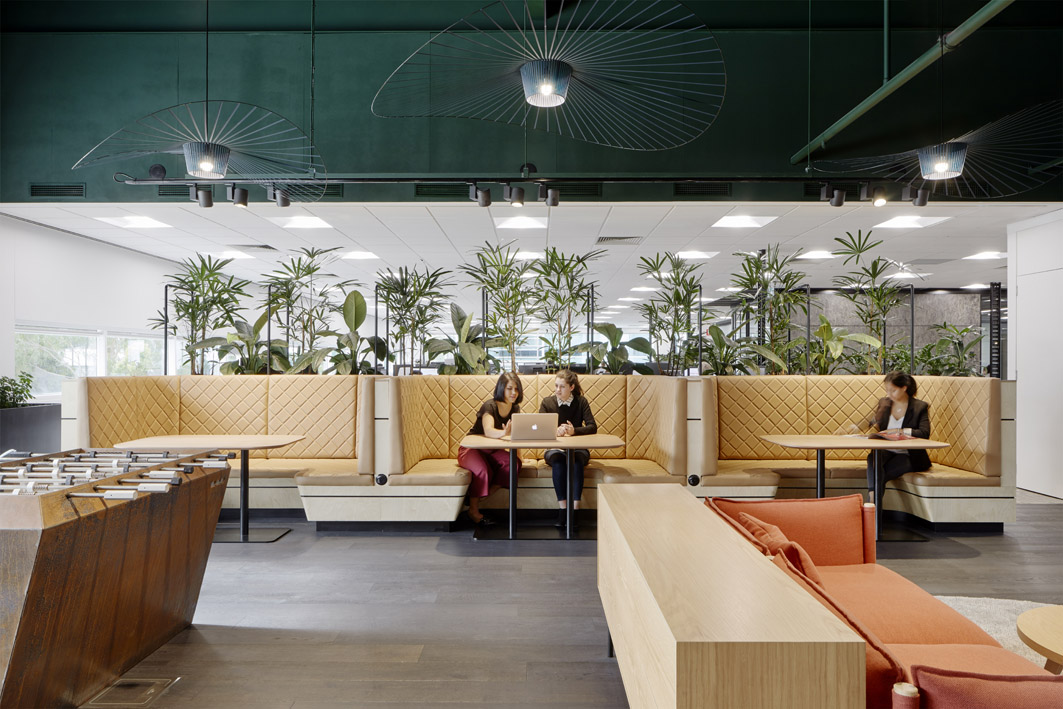 Imperative to the brief for the project was that the new headquarters embraced the Group's Good Business Journey plan to become one of the world's most environmentally and socially responsible retailers.
Asserting David Jones and Country Road Group's status as an employer of choice, it was also important to create an enticing and attractive work environment for their employees, many of whom where relocating to their new home in numerous stages.
Inspired by the company's premium quality brands, Gray Puksand's interior designers Charnay Mouldey and Renee Maranta responded to the brief by creating a sophisticated design concept and palette.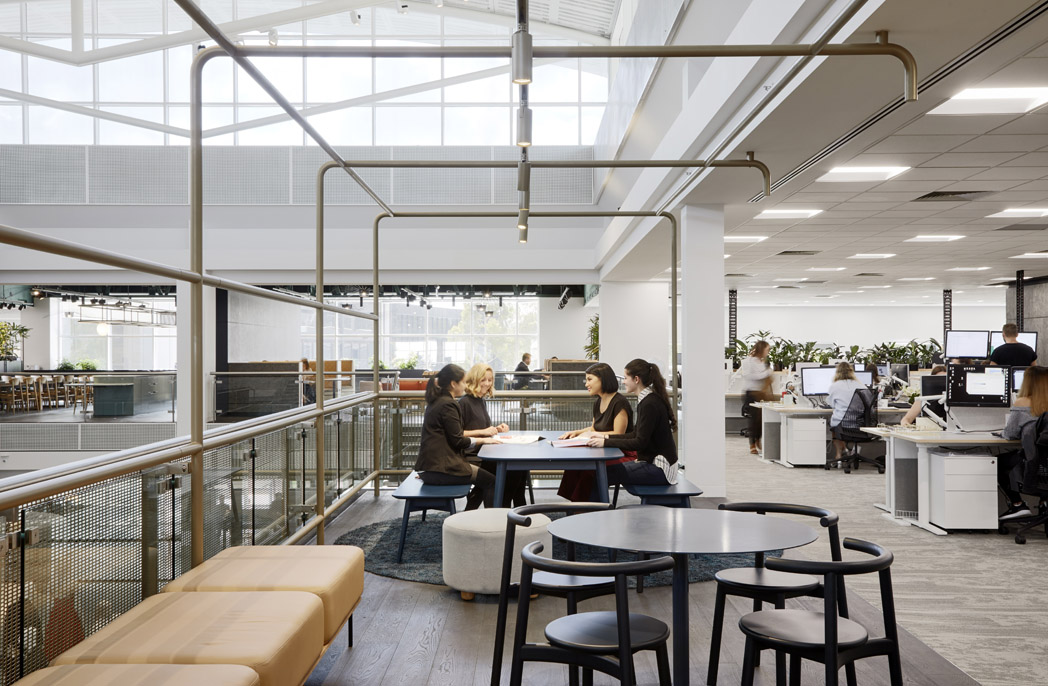 Focused on locally designed and manufactured furniture and materials, the design concept is reminiscent of contemporary Australia's diverse landscapes and natural features, reflecting nature with sophisticated neutrals such as greys and taupes, and highlighting in soft pinks, greens and yellows.
"At its core, the design reflects these well-known brands and speaks to the organisation's diverse, authentic and luxury offering," explains Gray Puksand partner, Heidi Smith.
"Through its carefully considered design, the project aspires to delight, innovate, and respond to the changing face of retail."
The WHL Group's Good Business Journey plan is to design and produce fashion more sustainably and make a positive environmental and social impact on the world. In support
of this and the Australian design story, this project proudly embraces local, ethically sourced products alongside eco- friendly finishes that promote end of life recyclability.
In spatial planning, the large 4000-square metre floorplates required careful attention to ensure that the employees have a level of natural daylight with physical and visual connection across the workspace.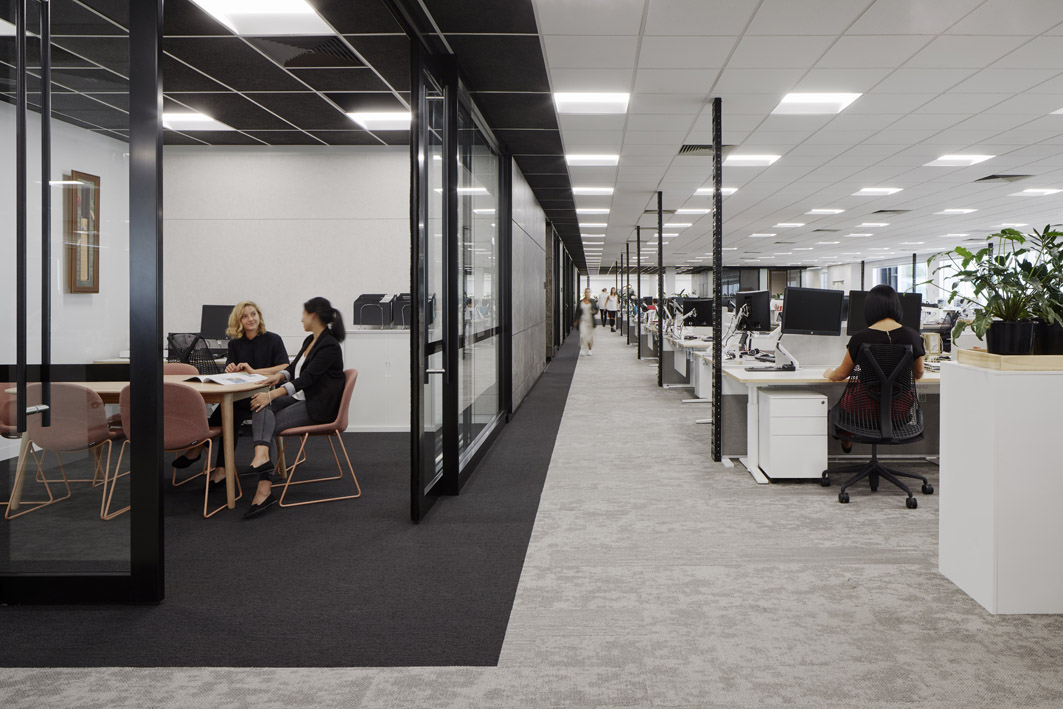 Collaborative areas and amenities that exist at the centre of each workspace neighbourhood were treated as 'pavilions' to ensure that they emphasises line of sight, physically and visually connecting the large floorplate. As a design solution and a play on the concept of 'pavilion', the dark ceiling and flooring create juxtaposed, bold black planes that clearly communicate a different type of work environment.
Aesthetically, the Vertical Layers and Extraordinary collections from Shaw Contract embraced the materiality palette perfectly. Challenged by large dark floorplates, Gray Puksand selected warm and vibrant textile grey carpet tiles to lift the environment and create a sense of light filled space.
Shaw Contract carpet tiles were also used to visually create the grounding of the 'pavilion' built forms as well as subtle wayfinding connections, leading staff and guests through the space to destination points across the floorplate.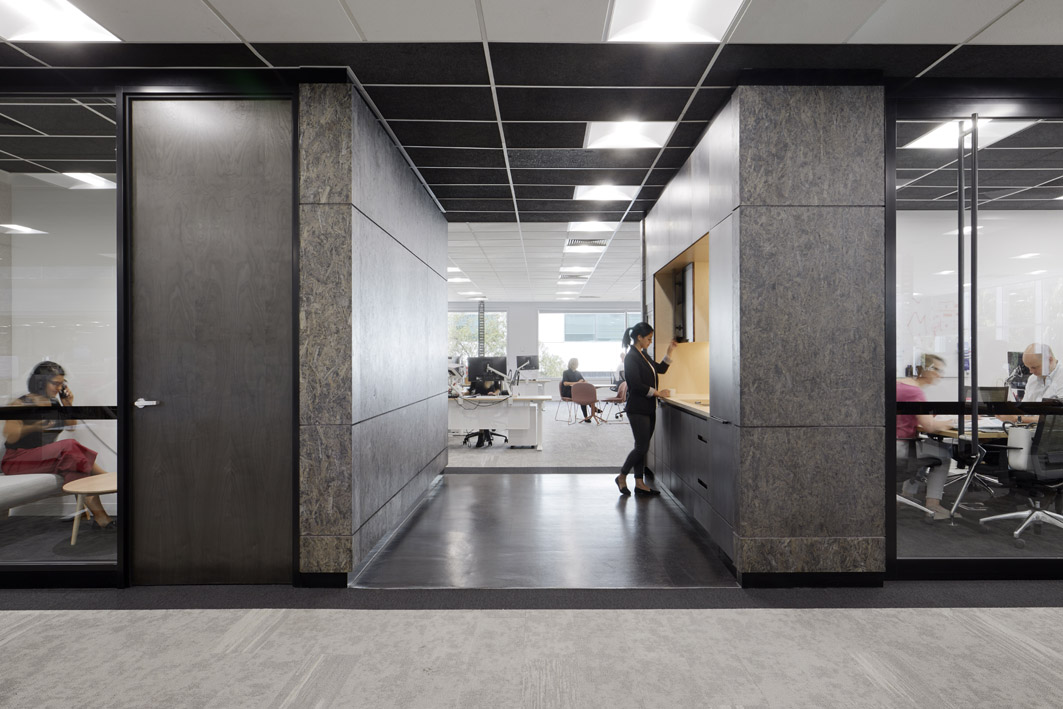 Shaw Contract's sustainability credentials significantly contributed to WHL Group's Good Business Journey requirements with its Cradle to Cradle certification and its take-back of 80 percent of the existing carpet tiles.
Gray Puksand has delivered the first stage of this exciting workspace project, creating a fashion hub that is both welcoming and innovative.
"While we're still working through delivering the remaining stages of this huge project, we couldn't be happier with the  outcome so far," says Matt Heathcote, general manager of the project for David Jones and The Country Road Group.
"Our employees are really enjoying their experience in Building One. We've used our atrium for some great events and the neighbourhoods are providing creative environments that encourage collaboration across our various brands".
Shaw Contract is an ADR content partner.