Photography by John Gollings. Written by inside co-editor Gillian Serisier for inside Interior Design Review, available now on newsstands and through Zinio. 
Monumental, grand, imposing and absolutely present, the Abedian School of Architecture is startlingly impressive. That it opens to a grand entrance and even grander volumes reads beautifully as a continuation of scale and impressive form. Where CRAB Studio has excelled, however, is in the human details that posit nooks and pockets of respite and comfort to generate an intimacy of idiosyncratic moments that support and foster the human condition in all its iterations.
Chief to CRAB Studio's realisation of the project was a first-hand understanding of the necessary shifts innate to pedagogical thinking as a society evolves. (Both CRAB Studio principals Sir Peter Cook and Gavin Robotham have long experience as teachers of architecture and a working knowledge of The Bartlett [University College London], AA [Architectural Association School of Architecture], Harvard, SCI-ARC [Southern California Institute of Architecture], Columbia, Frankfurt and UCLA [University of California, Los Angeles]). As such it was imperative that, as a form of future-proofing, the design be able to accept and shift to adopt itself to new formats.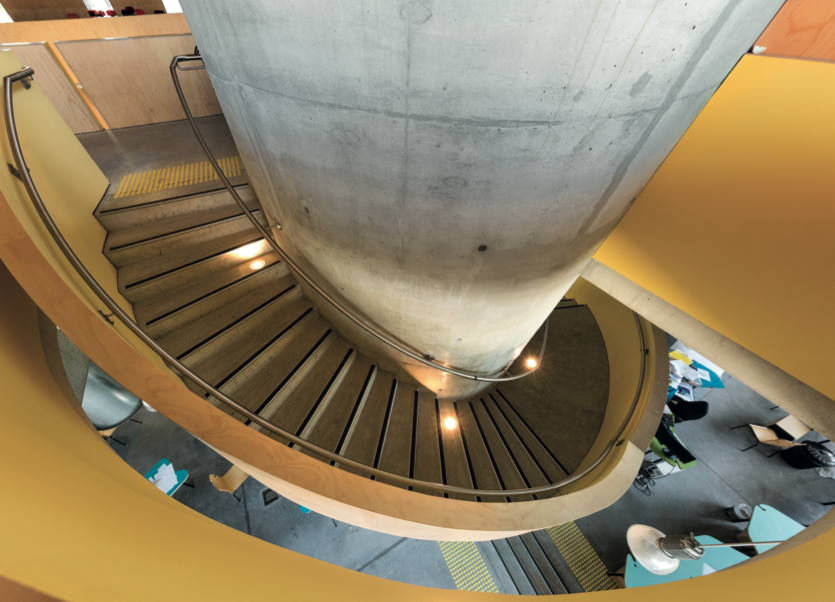 That said, the architecture needed to provide far more than the pragmatics of shelter: "…the material disposition of elements, spaces and mechanisms must be devised in such a way that future visions are not inhibited. A big, bland shed that could be subdivided by screens might be a response to such a view, but we believed strongly in the responsibility of architecture to identify – and by this identification – to stimulate," they say. The resultant architectural language presents, on the one hand, a series of rooms that answer functional needs. On the other, it's embedded with just as many moments of wonder, intrigue and cocooned quiet. Additionally, the harsh Queensland climate makes position and climate control essential, a task they undertook with dramatic and interesting solutions such as the series of metallic 'eyebrows' that act as a shield.
Designed to withstand the climate concerns (arguably multiplied by positioning the site on the crest of a hill), the school is sheltered and closed to the north and open and airy to the south. Read from the street, the series of pods comprising the building are spread out as a run of 'tectonic rafts' that follow existent topography, including a reverse stack of cantilevered elements. The whole is softened, however, by a terraced deck, which in turn, blurs into the revegetated hillside.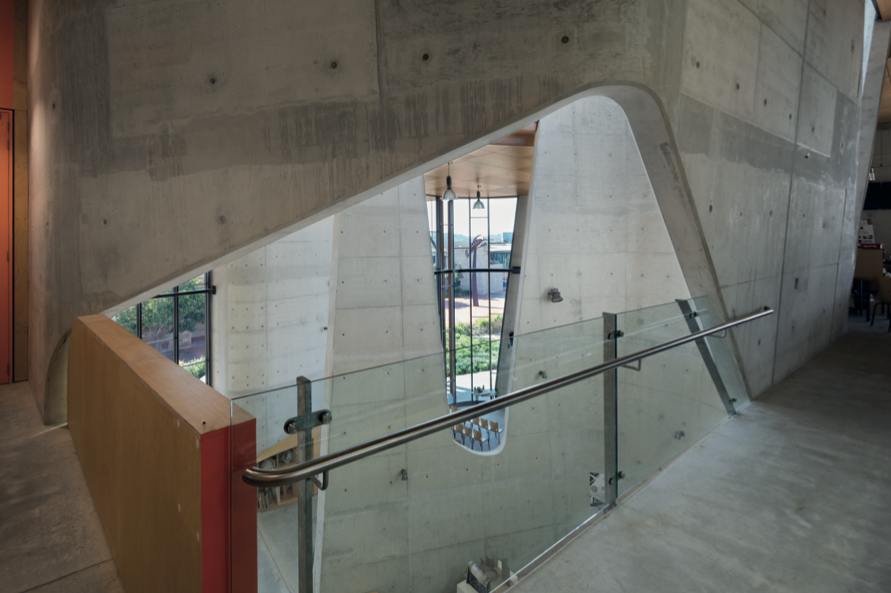 Baulking the trend for discrete shading solutions, CRAB Studio has made a feature of sunhoods (MJX Engineering) and columns that act as a forest to mitigate solar penetration, while orientation and solar protection offer further augmentation. Thermal mass, thermal buffers (causing hot air to push out of the building) and the thermal mass of the concrete scoop walls (PERI), provide both inertia and redirection for cooler conditions (meaning the need for air-conditioning has been significantly reduced).
Internally, the school is defined by vaulted spaces that fold and scoop to create airflow and lightness, with soaring expanses of concrete adding to the lofty effect of size alone (all form work – PERI). The walls openly reveal the action of spatial manipulation via cut and curved expanses reminiscent of ship bulkheads or stylised buttresses. But they are also quirky, with apertures and sightlines created by the line, fold or occasional cut-out. In keeping with this shift from the regular, the internal space meanders spirally, offering plenty of options for intimate gatherings, formal moments, 'student happenings' and impromptu learnings to suit myriad personality types. Even the underside of the magnificent form-built staircase provides an impromptu learning nook.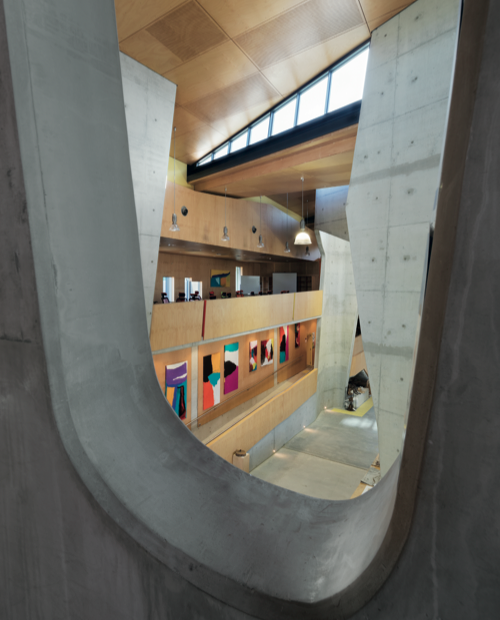 Lighting contrasts these juxtapositions with the large open areas enjoying a bright natural and artificial illumination, while the intimate areas are crepuscular, warmly glowing spaces and far more personal, as the designers intended. "We play out our belief that, as well as identifiable 'teaching', the experience of a good school is made up of friendship, atmosphere, nuance, intrigued-ness and inspiration. So we devised a series of stages upon which this can all be played out, which result in 'platforms', 'pockets', 'corners', 'eyries' and 'escape runs'."
The material palette is minimal in the extreme with concrete, glass, steel and ply providing the foundation and much of the detail. For the most part it is the concrete formwork and floors that provide the scale and lofty volumes, while a ply ceiling, cabinetry and balustrades add warmth. A metal balustrade and the vast expanses of glass used in the façade bring a metaphoric as well as an actual lightness to the whole, while good sized swathes of yellow paint (on doors and for way-finding) soften the potential brutalism of concrete at this scale.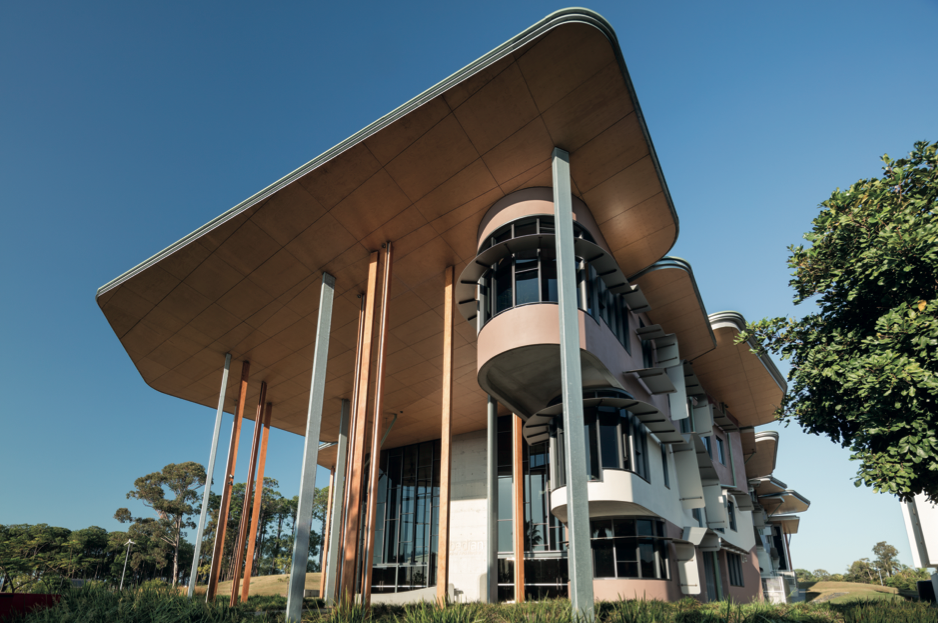 Embodying these extremes of architectural volume and intimate space is the loose furniture by Déjà vu Creation Hong Kong (Wong Ming-wai and Tang Wai-ling). Better known for their sustainable reimagining of vinyl banners into bags, the pair have more recently moved into furniture, making use of old teak floorboards being discarded as Hong Kong renovates. The result is a handcrafted and unique set of furniture with layers of history and use subtly evident in each piece. As a parallel to the campus where the Abedian School of Architecture sits within the Faculty of Architecture and Sustainable Design, the pairing of architecture and sustainable design could not be more apt. More importantly, in creating this pairing the designers have reinforced the human element and provided a genuinely personal environment in which to learn.