Written by Stephen Todd. Above: BassamFellows daybed and leather accessories, image courtesy BassamFellows.
The renewed enthusiasm for makers and their craft has revived interest in that most primeval of materials, leather. Developed in tandem with animal husbandry, leather tanning dates back to Neolithic times. Today, leather still brings out our inner caveman – no matter how sophisticated its application, there's something primitive, or essential, in its allure. We love the feel of it, the smell of it, the very animality of it.
This sophisticated primitivism is at the heart of the work of Amsterdam-based studio, Formafantasma, aka Simone Farresin and Andrea Trimarchi. The duo, who designed Craftica for Fendi in 2012, describe the collection as "a visual and tactile investigation into leather" – a material that they feel "more than any other represents the complex relationship between humans and nature. Leather as a material has the ability to evoke almost ancestral memories of hunting nature to obtain food, tools and protection for the body." The collection includes a table created from a long roll of tanned leather draped over a brass rack, similar to a parchment, anchored by a heavy cylinder of white Carrara marble at each end. A leather slab suspended from man-size gallows is the collection's room divider. An acquired taste, to be sure.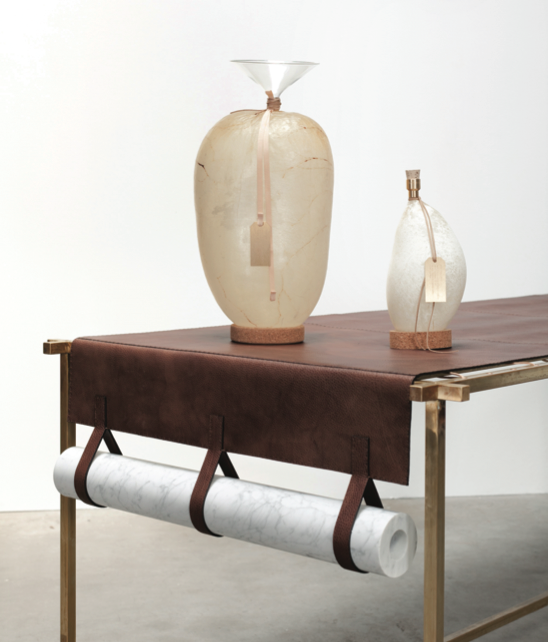 Slightly subtler is the interior of Melbourne's new bar, Smalls, designed by Fiona Lynch. At only 30 square metres in size, every centimetre counts. Lynch uses leather to give the space a sense of handmade luxe, with large rolls of deep green hide used for wall treatments, heavily stitched for added structure. "It looks expensive," says Lynch, "but in fact a roll of leather is an economical way to cover an entire wall." The slender banquette cushions are also in leather, upholstered by Melbourne artisan studio, MadeMeasure, with the edges left raw to highlight the hide's unique texture. Lynch even uses a hand-ruched fine leather to cover a light pendant, which, she laughs, is "an ode to the scrunchy".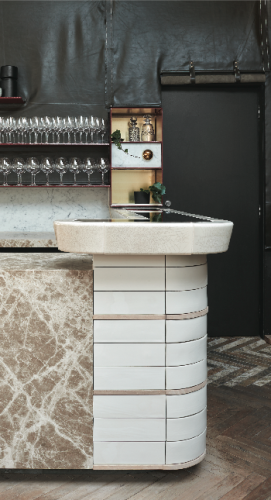 Michael Fotis, sales director of Domo, notes "a rise in interest in leather in parallel with a rise in interest in all natural materials". Leather, he says, "is a luxury product, like golf or diamonds. No matter what the technology comes up with, no matter what incredible synthetic we manage to invent, nothing matches the touch, the feel, the smell, the elasticity of leather."
"If you use a great aniline leather, you have a piece for life, something that will age gracefully and naturally," says Richard Munao, founder and director of Cult. "Aniline leather is the highest grade and, ironically, that to which the least has been done – no topcoat, paint or insoluble dye. And it is the leather that ages the most gracefully. In fact, it begins to take on a patina almost immediately. "With good quality aniline leather," says Munao, "if you put a finger on it, it retains the nail scratch, but over time it works itself out. Europeans understand that it's in the nature of leather to age, beautifully. In Australia, we have this idea about things being pristine – and when it comes to leather it means people often opt for corrected grain, leather that has had the imperfections sanded or buffed to an even surface. It's still leather and still beautiful," says Munao, "but it won't age as wonderfully as aniline."
Cult uses aniline to upholster Adam Goodrum's Aran range of armchair, sofa and bed, its inbuilt saddle-stitched bolster an ode to the beauty of handcrafting. "Because of the engineering of the bolster, the leather really makes the Aran pieces sing in a way that fabric just can't," says Goodrum. It's aniline leather, too, that Fritz Hansen uses to cover Arne Jacobsen's signature Egg and Swan chairs.
Charles and Ray Eames wanted to create a modern version of the club chair when they designed the iconic Eames lounge chair and ottoman in 1956 – a piece that would age to develop "the warm, receptive look of a well-used first baseman's mitt".
British designer Simon Hasan is similarly drawn to the allure of aged leather – in fact, leather that dates back to the 15th century. Hasan boils leather as was done in the Middle Ages to create armour, a technique that allows him to wrap it around stool or chair frames and, as it cools, lacquer and varnish it into a deceptively solid shape.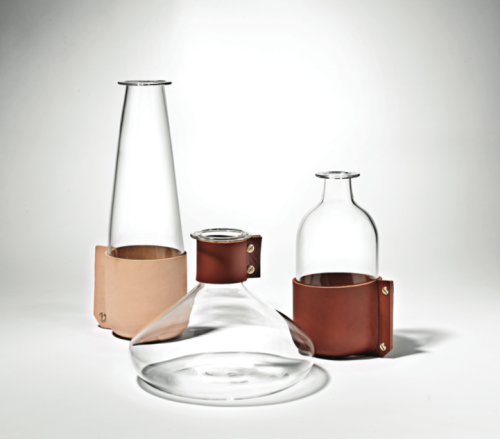 His Bermondsey stool (2011) features a deeply drawn leather seat that has literally been cooked into shape, with the caramel-coloured saddle contrasting with highly polished legs. The Geno chair (2011) is con-structed from a cold-formed brass tube and resin-laminated boiled leather. A tad more conventional is his Wrap glassware (2012) series of laboratory-grade vessels with leather bases and grips secured by shiny brass studs (available at the NGV Design Store in Melbourne). "I may be fascinated by medieval techniques," Hasan says, "but I am still a young man living and working in London in the 21st century." His fascination with leather too is very much of our times.