Image above by Toby Scott.
This article originally appeared in MEZZANINE issue 5 – available now through newsstands and digitally through Zinio.
The design of this home aims to continue and develop our ideas of making architecture that is proudly Australian.
The origin of a suburban ideology is founded in ideas of landscape. In making this project, we were as much thinking about its suburban landscape as the building itself. We aimed to create the early beginnings of a meadow and a field that stitch into the suburban terrain and to make a building that belongs.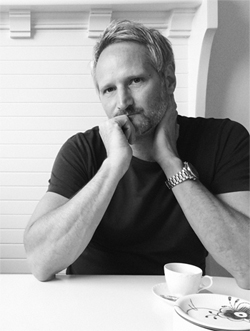 The client brief was for a robust and relaxed family home. Our clients' decisions always defaulted to simple family-based needs, such as sharing spaces with children.
Decisions about room planning and materials were derived from utilitarian needs, including budget, and are inspired by beauty in the ordinary things we find in our suburban field.
Key design elements of Rosalie House 
1. The grey concrete floor paint extends up the walls to create a datum line, making the floor feel like part of the external terrain.
2. The roof datum in this room extends very low to create a sunken room quality.
3. Finishes such as brass and marble are used next to concrete and brick for contrast, and to honour both refined and robust materials.
4. The entire fireplace is made from refractory bricks, not just the fire box, creating the feeling of a giant hearth.