Text – Jan Henderson. Photography – Jim Stephenson
This article originally appeared in inside 91 – available now on newsstands, or digitally through Zinio.
Over the last decade many Australian architecture and design practices large and small have spread their wings and established offices in some of the world's major cities. HASSELL is one such practice.
With an impressive portfolio of national projects under its belt and a plethora of commissions on the drawing board at home, the firm's managing director Rob Backhouse has steered his company beyond Australian shores moving into northern markets. Asia is one thing (after all, Australia is really an integral part of this region); however, moving further afield to Europe, to Cardiff and London, in particular, is a bold step for any practice. In this vast metropolis where history dominates, hierarchy is entrenched and connections matter, establishing a branch office would seem almost foolhardy… or is it?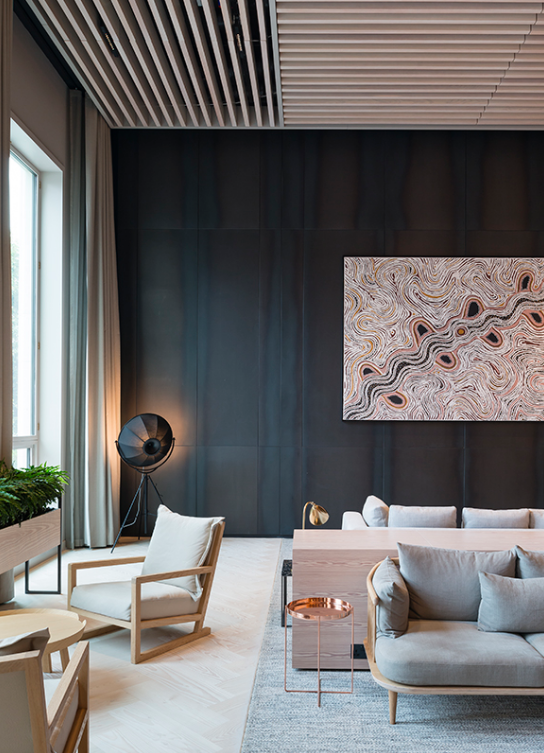 Felicity Roocke joined the HASSELL London studio, shortly after it was established in 2011 and has been central to building the practice's reputation through interior design, winning exciting commissions and making a decidedly large impression on clients and peers alike.
The latest project completed by Roocke and the London-based team is the flagship headquarters for a global mining and resources company. The offices are located in the heart of Westminster and situated in a Georgian building within a beautiful square that overlooks a small park – the perfect London setting. The company required a total renovation of its offices and chose HASSELL to implement a design that was to be a sophisticated interpretation of its brand, culture and needs. Set over eight levels, the interior is comfortable and modern, more akin to a private residence than a workplace.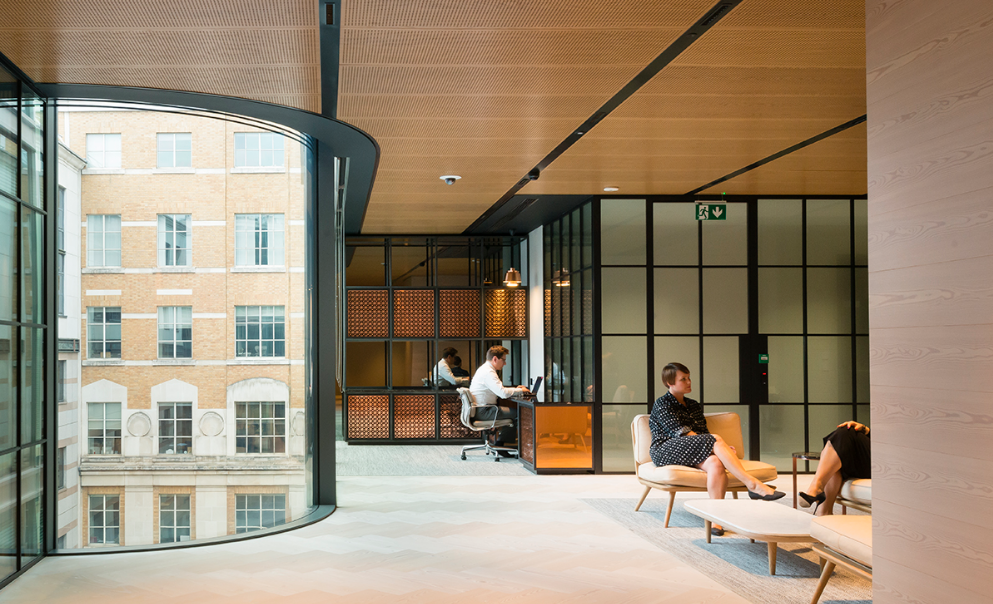 The colour palette is reserved, soft with honey and cream and highlights of black, while the base materials of steel, concrete and copper balance the whole and add weight and substance to the design. The choice of furniture is classic – modern with timeless pieces that will only improve with age.
The plan of each level is, of course, tailored to the needs of the particular department; however, each floor has been provided with an open kitchen with large dining tables for collaborative gatherings. To add choice and provide privacy, there are multiple telebooths and small, private acoustic rooms for quiet and confidential work.
Level four is the executive area where the day-to-day business of administering a global business is conducted. Here the atmosphere is discreet and quiet with some open plan work areas, offices, large meeting rooms, executive anterooms, client lunchroom and the boardroom. Again the ubiquitous colour palette and the quality choices of the furniture and fabrics is continued and further enhanced with the inclusion of Eames soft pad high-backrest chairs in sand-coloured leather and limed oak tables in the meeting rooms and formal dining room, Wishbone chairs in the client lunchroom and fully upholstered Charles sofas in the anterooms.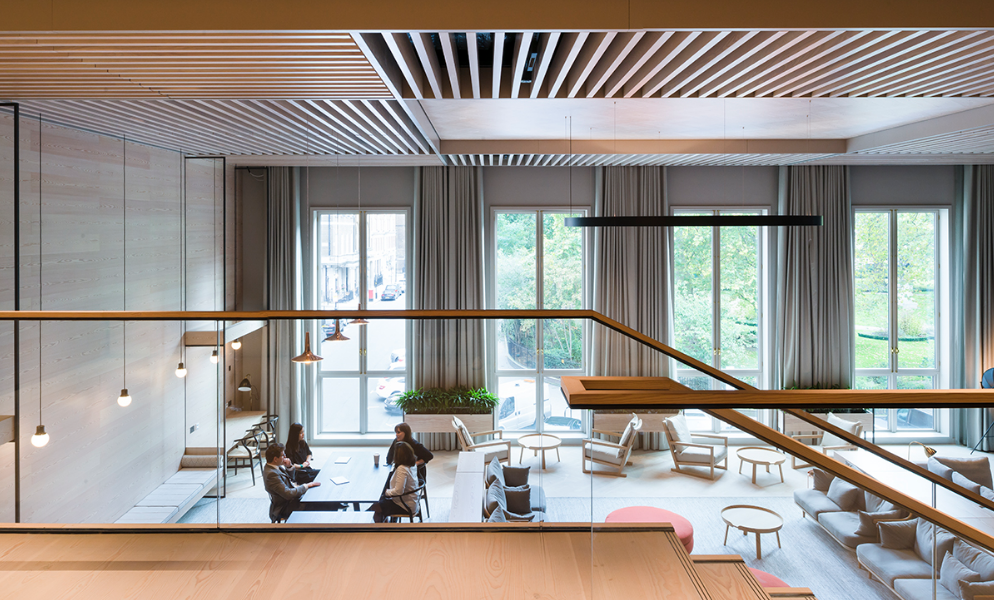 Throughout, the meeting rooms have been delineated by partitions, black powder-coated frames with double- glazed insets that provide privacy, but allow light to penetrate and visual interaction with the outside. To the back of the floor is an outdoor terrace where employees can take advantage of those balmy London summers or relax after a hard day's work.
The floor above and those below reflect the same choices of furniture and attention to design detail and each have that bespoke touch that Roocke has employed throughout this commission. This workplace is the pinnacle of restrained luxury, quiet good taste and authenticity. The sensitivity of the layout and quality of the décor coupled with the practical requirements of the client has been distilled into an excellent design that is an outstanding success. HASSELL is making its design mark in one of the world's iconic cities and they are doing it in style.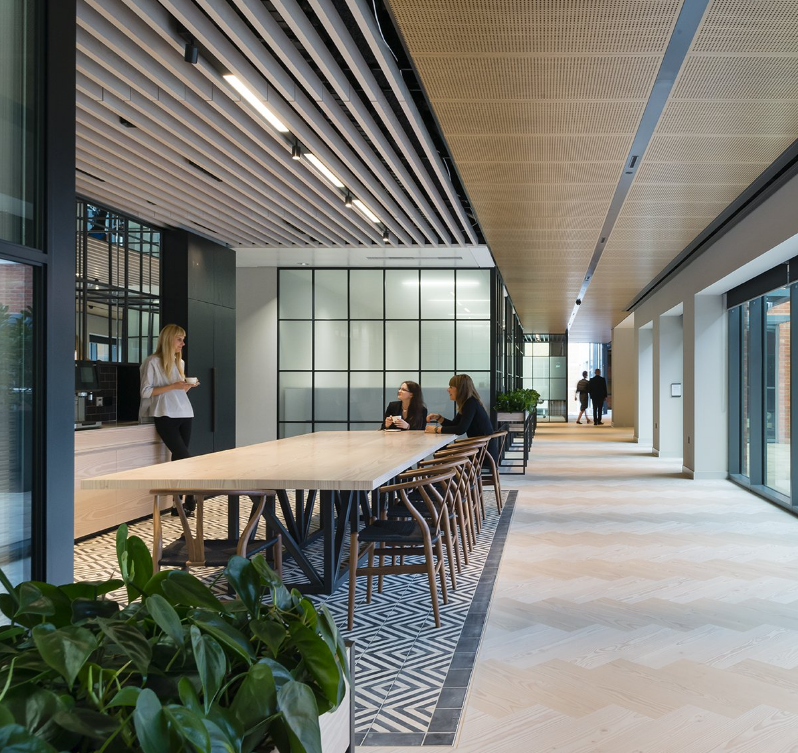 The reception area on the ground floor is spacious, with Clio lounge chairs (B&B Italia) and a large bench seat affixed to the length of the sidewall. Two fully upholstered Charles sofas (B&B Italia) sit beside a Mera coffee table and Lithos side tables of black marble and copper (B&B Italia) with brass table lamps (Bestlite, GUBI) and the aesthetic is all comfort and good taste. The floor here and throughout all the offices is timber, wide format plank Douglas Fir veneer finished in white oil and lye, and laid in a herringbone design. Credenzas of the same finish bookend the back of the sofas and appear to float above the floor. The inclusion of an overhead bespoke pendant light fitting made of fluted glass panels with black metal frame (HASSELL, Into lighting & LSE ) is on scale, substantial but not dominant and the materiality echoes the black powder-coated metal and glass frame of the screen at the entrance doorway.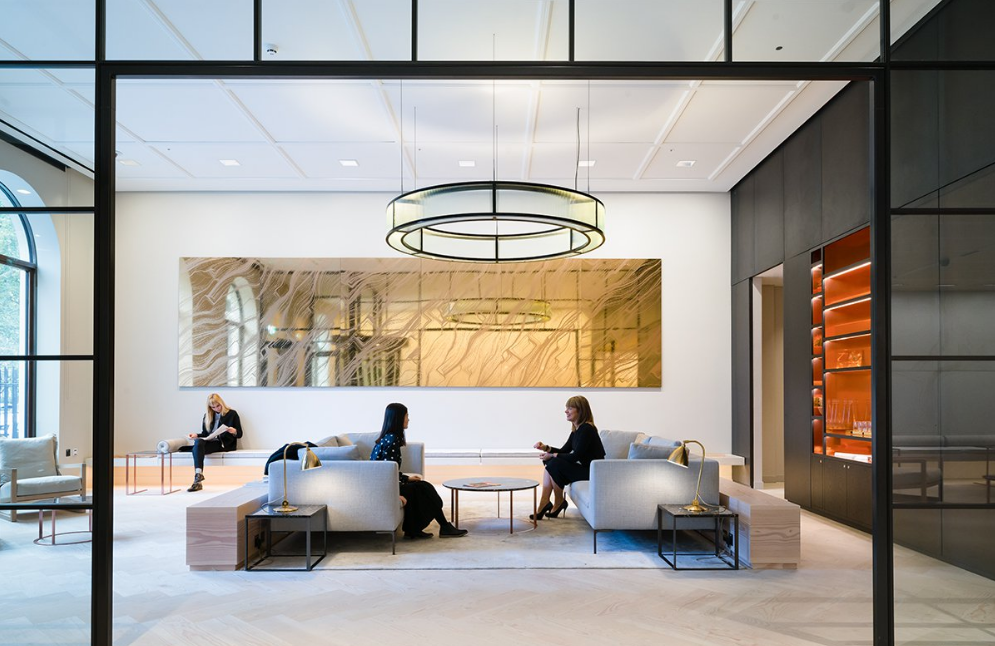 The acts of business are conducted on the floors above; however, this workplace is all about community and collaboration, and on the second floor Roocke has created a grand double-storey meeting area 'outlook' or 'piano nobile' for just such purposes. A bespoke staircase (HASSELL designed) leads down into the space where floor-to-ceiling windows provide sweeping views across the square outside. Various furniture installations arranged for one or two people, or larger groups, have been carefully curated within the area. The slatted timber oak veneer ceiling has been whitewashed and complements the floor and limed wood of the furniture.
The furniture chosen is traditional, but with a modern edge. Clio lounge chairs (B&B Italia) have been placed by the windows to take advantage of the view outside and Fly sofas (&tradition), large ottomans (Denny Pouf, Minotti) and coffee tables (Around table, Muuto and Habibi table, e15) are unified through the inclusion of a bespoke inset rug (Goose Eye Icon collection, Chelsea 850, design by Gunilla Lagerhem Ullberg for Kasthall). Black lacquer chairs (Wishbone, Carl Hansen) have been placed along the workbench area to the side and there is a small copper-clad barista coffee bar serving beverages and snacks. This is a wonderful communal area in which to sit, relax and chat, and a luxurious addition to this splendid workplace.