Above image: Cai Guo-Qiang. China b. 1957. Head On 2006. 99 life-sized replicas of wolves and glass wall. Dimensions variable

Text: Adrienne Hughes
Photography: Natasha Harth
One of the most extraordinary installation artists of our time, Cai Guo-Qiang creates work that is at once cinematic, exciting and immersive. Born in Quanzhou City, China in 1957, Cai initially trained as a stage designer with the Shanghai Theatre Company before moving to a career in installation and performance.
In 1986, while living in Japan, Cai introduced gunpowder to his mediums and started exploring three-dimensionality in both its performative capacity and means to create drawings. Gunpowder has since played a pivotal role with One Night Stand a Nuit Blanche, Paris, October 2013 highlight.
In 1995, Cai was awarded the Japan Cultural Design Prize, followed by the Golden Lion at the 48th Venice Biennale, 1999. In 2005, he curated the inaugural China Pavilion in Venice and was the director of Special Effects for the 2008 Summer Olympics, Beijing. Awarded the Laureates title, Praemium Imperiale in 2012, Cai was also the recipient of the US Department of State – Medal of Arts. He has exhibited as a solo artist in all but a handful of the world's most prestigious museums including both the MET (Metropolitan Museum of Art) and Guggenheim in New York.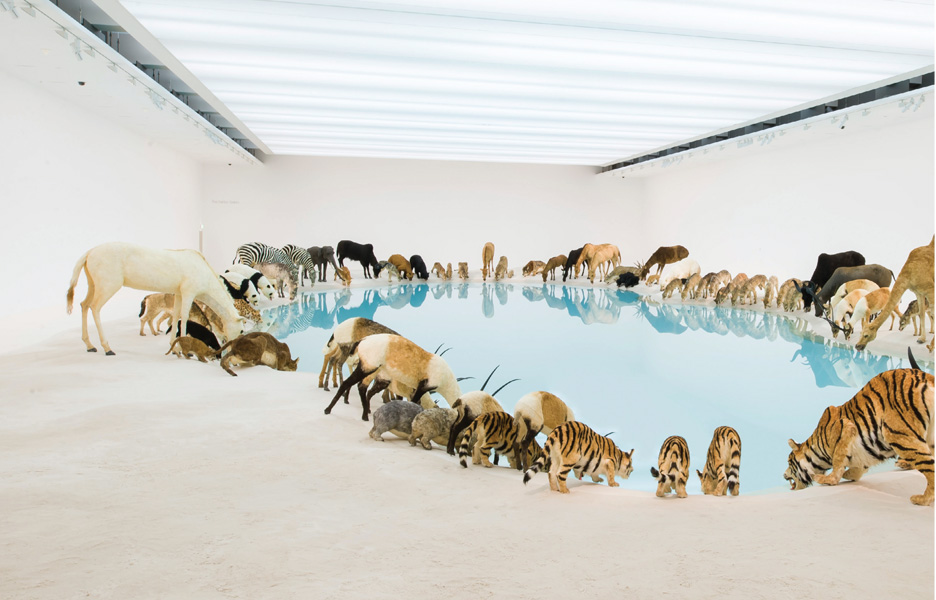 Conceptually-based, Cai's work draws reference from Eastern philosophy and contemporary social issues, whereby the audience is drawn into an exchange that questions universal truths. For the most part, the work aligns with cultural references specific to the exhibition site; however, works such as Head On, address such universal themes of existence that the wolves, while not a native animal to Australia, are firmly within our collective psyche.
Commissioned by Deutsche Bank in 2006, and comprising one of the three major works in this exhibition, Head On suspends a pack of 99 snarling wolves in mid-flight as they hurl themselves at a wall of glass. On impact, they roll and tumble to the floor before chasing back to the pack in a self-perpetuating loop. Rather than presenting examples of taxidermy or CAD, the wolves are each handmade and wholly artificial creations. The fact that they are so obviously artifice softens the engagement and allows the audience to be gently amused. Having charmed, the work's several meanings present themselves.
On the one hand, Head On comments on the vulnerability of the wilder species and our experience of nature. The question of right to survival is also raised. These are not the sleek handsome creatures of True Blood and its cohorts, but snarling scruffy predators. Conversely, we are also shown a metaphor for the single-minded pack mentality of corporate thinking.
Accompanying this work is Heritage, 2013, a work of equal drama and the central piece of the exhibition. In this work, Cai again raises ecological and social concerns via the 99 animals feeding simultaneously from a blue pool surrounded by glossy white sand reminiscent of the islands of Brisbane's Morton Bay.
"Seemingly a peaceful gathering of predator and prey, the menagerie of Heritage conveys an almost reverential solemnity, in a lyrical utopian vision loaded with uncertainty," says exhibition curator Russell Storer. "It embodies Cai's image of a 'last paradise' and his awareness of a sense of crisis in contemporary societies across the world."
Filling the entire 1100-square metre lower gallery and containing 170 tonnes of water, the work is expansively spectacular. It is also strangely imbued with the unnatural calm of remove, which being viewed from a surrounding walkway underlines.
Completing the main exhibition is Eucalyptus, 2013 – comprising a 31-metre tree suspended within the museum's corridor gallery. The tree itself was sourced from a plantation being cleared for development and again raises issues of man and nature co-existing: "The work was inspired by the ancient trees of [Queensland's] Lamington National Park, and creates a meditative, immersive experience for visitors," says Storer.
In keeping with Cai's desire for the work to be an engagement with the audience, Eucalyptus is presented as an unfinished work requiring visitors to add comments, drawings and thought.
As an ongoing GOMA initiative, exhibiting artists are asked to create a project for the Children's Art Centre. For this interactive exhibit, Cai has created portals that allow children access to the software tools he uses to design explosive exhibitions. As such, each child can sit at a workstation with a computer screen, while the result of their interaction with the program is displayed on a wall of screens for optimal effect.
By using a virtual medium, Cai is leveraging the highly developed relationship children have with computer generated imagery to create a high tech arts initiative that is increasingly valid for today's children. It also offers an insight into the artist's practice and to some extent demystifies the role of explosives as art.
Exhibitions by artists such as Cai, Spencer Finch and Santiago Sierra are coalescing with GOMA's key exhibition, the Asia Pacific Triennial of Contemporary Art, to place GOMA firmly on the international art map. The recent appointment of Russell Storer as gallery director bodes well for a continued program of excellence and increased rigour in both curatorial decisions and long-term strategy.
Cai Guo-Qiang: Falling Back to Earth will be on show at the QAGOMA, Brisbane until 11 May