Image above Entrecôte by Flack Studio, photography Brooke Holm.
Entrecôte by Flack Studio is a playful take on a typical Parisian bistro, serving sumptuous steaks against a backdrop of vibrant colour, contemporary art, and stately old-world charm.
Located in the leafy suburb of South Yarra, Entrecôte occupies a two-storey stand-alone Victorian terrace overlooking the Royal Botanic Gardens. Inspired by the iconic Paris institution L'Entrecôte Porte-Maillot, this is the latest offering by restaurateur Jason M Jones from Prix Fixe and business partner Adam North from premium beef producer Hopkins River Beef.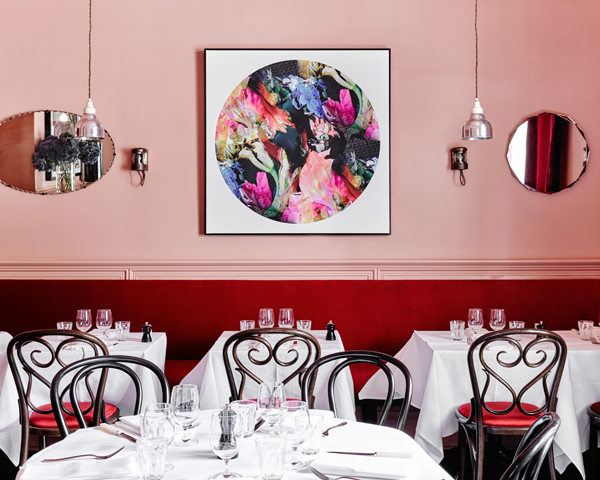 In their design, David Flack of Flack Studio and Brahman Perera of Hecker Guthrie have paid homage to the building's roots; for over 30 years, the building was home to Lynch's, a French inspired fine dining establishment.  According to the designers: "The venue's perfect bone structure was a canvas ready to be realised with a new, spontaneous and bold joie de vivre."
Part of the redesign involved restoring the building's period features.  The original marble fireplaces were carefully refurbished, vintage light fittings added, and Lynch's old banquette seating reupholstered in vermillion velvet.
Opened in January this year, Entrecôte's interior takes a tongue-in-cheek approach to colour, as seen in the painted sage green walls of the upstairs dining area and the blocks of pink and red in the front room.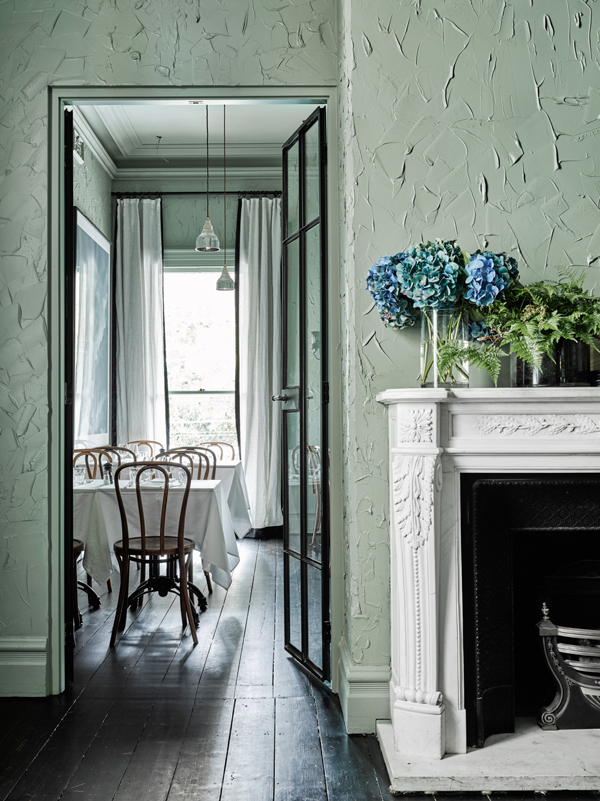 Thonet dining chairs, and black and white interior accents, give the bistro a sense of classic French sophistication, while a papier-mâché chandelier in the private dining, sourced from France, adds a touch of humour to the space.  Potted palms and large-scale abstract artworks by Trevor Mein and rene Twiggs, from Otomys gallery in Melbourne complete the interior.
Entrecôte's was a finalist in the Commercial Interior Public Space and Hospitality category of the Dulux Colour Awards 2015.