As Australia's ageing population increases, Chantelle Balliro, head of Interior Design for CHT Interiors, and Joshua McAlister, associate director of CHT Architects, talk to inside about the changes and challenges for design in the sector.
inside: CHT Interiors is very involved with designing aged care and seniors living accommodation. What changes have you seen over the last years?
Joshua McAlister: The language around seniors living has changed in the last 10 years in this sector. For example, it is no longer discussed in terms of high or low care. Today, residential aged care facilities (RACF) cater for residents with high care needs, while retirement living or independent living apartments (ILAs) default as the low care option.
A common thread for all levels of ageing has also been a shift away from institutional models of care (traditionally based on a nursing hierarchy) to a more person-centred care set in a home environment.
We have also witnessed cross-pollination between our experience in multi-residential accommodation and aged care and retirement living. Similar to how a traditional residential apartment project would be marketed with a specific concept as the driver for the design intent, this is also being used by seniors living providers to create a point of difference and identity to their market offerings. Lastly, providers are changing who they are marketing to.
Traditionally, when entering care the decision was largely left to sons and daughters. As such, the design process tended to include them as key stakeholders. Today with Baby Boomers on the cusp of entering care in significant numbers, there has been a definite shift as to who we are designing for. We are currently seeing their impact in the market with the increased demand for both luxury and affordable accommodation for older people.
This sector of design is becoming more important as Australia's population ages. What are the challenges with this genre of design?
Chantelle Balliro: The initial challenge for design for this sector is finding sites that are suitable to accommodate a successful design that is based on the provider's business model and model of care. The desire to be located in inner suburbs and a response to planning constraints has led to designs for vertical aged care and retirement communities becoming more prevalent.
Another challenge specific to this sector is designing for dementia. This is specifically an interior challenge to design a built environment that is responsive and inclusive of the needs of residents with cognitive impairments. Understanding simple requirements such as contrast around doorways, circulation and furniture selection, avoiding heavily patterned floors and walls, but providing a clear delineation between them and providing landmarks to assist way-finding are just a few strategies that we have combined into contemporary interior design palettes.
The interior design strategy needs to promote safety and mobility, and specifically assist with the prevention of falls, which can greatly reduce a resident's confidence and limit their motivation to remain active.
The greatest challenge in designing these enabling environments is to maintain a resident's independence and create a warm, non-clinical and residential feel, while accommodating aids such as handrails or sturdy furniture that is appropriate to assist movement around their home.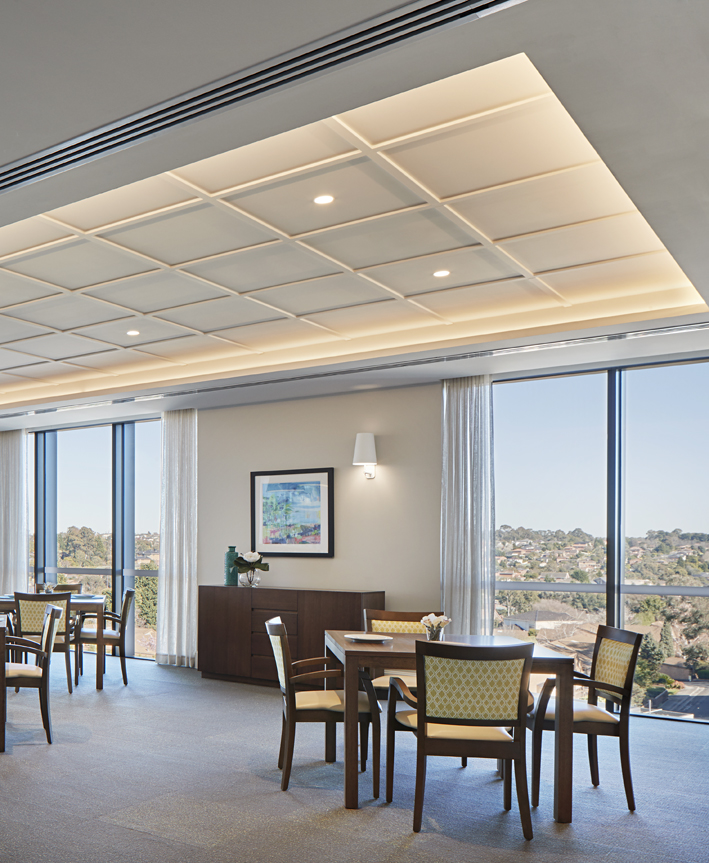 Tell inside about projects that incorporate the small house and neighbourhood design model that you have created.
JM: The small house model is a model of care that has grown out of the green house model developed in the US. It's a household model with a small number of residents, which includes kitchen, dining and living with individual bedrooms. The small house is staffed by carers who are dedicated to a specific house. These small houses can be grouped together or stacked vertically to form larger communities.
The whole aim of the small house model is to de-institutionalise seniors living. Residents have always lived their lives in small family homes, so when the time comes, why should they move to a large institution that is foreign to their lifestyle? Providing a sense of normality and home contributes to a decrease in disruptive behaviours that manifest in residents living with dementia.
When the small house model is either not achievable on the site or is too much of a shift in the model of care for an aged care provider, there is the option to create smaller communities within the larger development. This is the idea behind the neighbourhood model – residents have their own dining and living areas zoned and dedicated to them and, as with the small house, each neighbourhood can have a varied design to reinforce its individual identity.
You have designed aged care for specific demographics such as LGBTI seniors; tell me about these projects?
JM: We were commissioned by an aged care provider to design a residential aged care and retirement development specifically for the LGBTI community. This community was underrepresented within the industry, which generally has had a homogenous view on ageing that was mostly straight and non-inclusive of specific LGBTI needs. We found that existing examples catering for this demographic were not readily available for us to refer to locally, so CHT Architects commissioned a survey of current examples of aged care and seniors living projects specifically targeting the LGBTI demographic internationally. The conclusions from our research came to have a significant effect on the building planning and the design brief for the project. The main conclusions were that design needs to feature shared communal spaces and an interaction between public and private realms to combat social isolation and encourage a sense of community. Affordability and access to the larger LGBTI community is also important.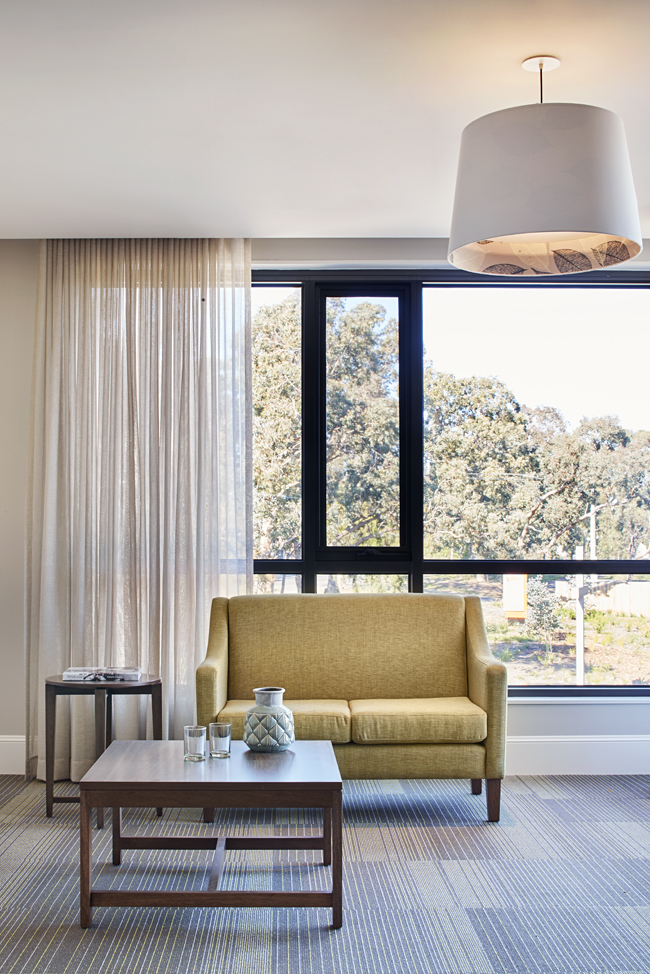 How do you see aged care design in the future?
CB: With an increasing ageing population we see tremendous opportunity for change within aged care design in Australia. The Baby Boomer generation will demand choice and, with choice, a variation in the service offerings will develop in the market. This demand for choice will develop niche markets to cater for specific demographics with specific interests. There will be an increased focus on retirement and independent living apartments being able to provide low care options with a greater need for affordable accommodation for the elderly, who will demand to be a greater part of the community.
We will see the rise of intergenerational living with the provision of accommodation that allows different generations to live together as a community with shared spaces promoting social interaction. This will need to manage the personal health and safety of the increasing frailty of the elders, which means innovation in design will continue to reshape aged care and retirement going forward – an exciting prospect for all of us working with in the sector.
Images by Shannon McGrath
The full interview with CHT Interior and CHT Architects appeared in inside issue #99 – available online.