The notion of an 'Australian design aesthetic' has been fuelling debates for decades, but ask Sydney designer Emma Elizabeth for her impression and it seems beyond dispute, writes Susan Muldowney.
"It's about risk taking," she says. "Years ago, it was all about using wood and trying to look a bit Scandi, but today it's about pushing form, pushing materiality, pushing colour."
Elizabeth has this on good authority. As curator and director of this year's Local Milan No 3 exhibition presented by Local Design at Milan Design Fair, she has brought together 26 Australian designers whose works appear to perfectly exemplify this concise definition. There's the swirling form of Korban/Flaubert's raw black steel sculpture, which marks a reinterpretation of a classic nude.
A shapely modular armchair from Ross Gardam is upholstered in a remarkable combination of Kvadrat textiles and Maharam leathers. Daniel Emma's playful second interpretation of the studio's Bling Bling Dynasty collection is full of candy colour and Sagitine's luxury storage box collection is showcased in an eye-popping gradient of Pantone shades.
This year marks the third edition of Local Milan and is staged in a charmingly weathered (or "derelict chic" as Elizabeth describes it) palazzo in Milan's historic 5 Vie district. "I've always had my eye on this space," says Elizabeth, who studied 'Scenografia' (a fusion course between interior design, industrial design and set design) at Milan's Istituto Europeo di Design from 2004 to 2006. "It has a lot of character – there are bits of paint chipping off the walls and it's beautiful how the light in here changes throughout the day."
Elizabeth's curation is inspired by the palazzo's warren of rooms, each with walls painted a different colour, such as blue, yellow and magenta. "I asked each designer to react to the colour when I could – or where they would let me!" she says.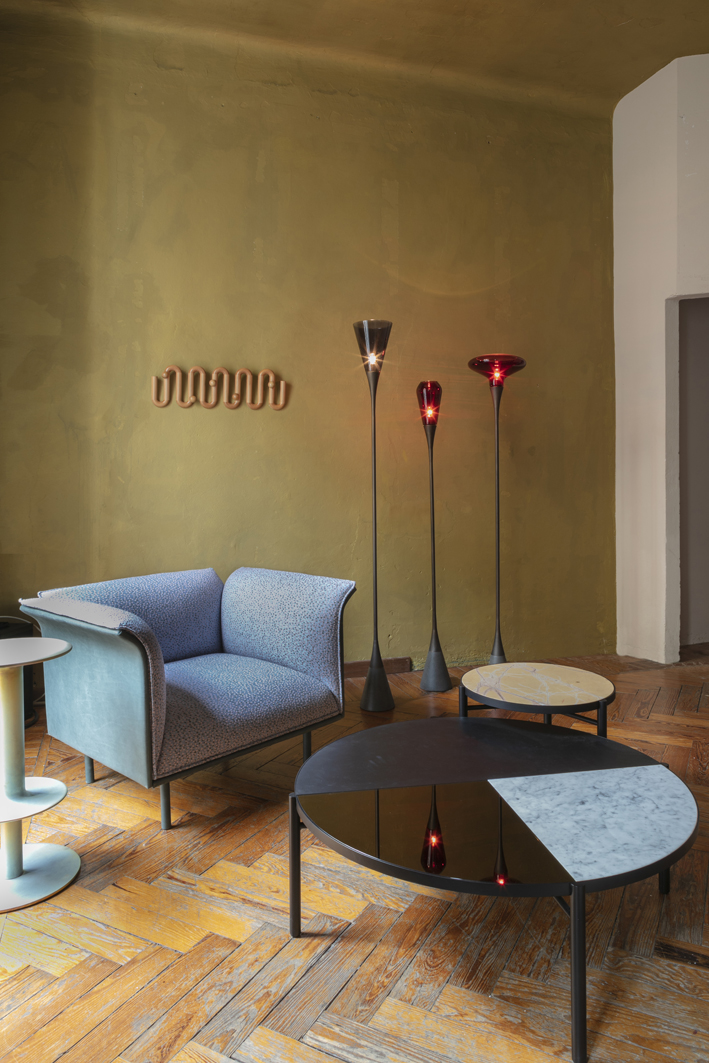 The Bloom cabinet, by industrial designer Adam Goodrum and marquetry artisan Arthur Seigneur, is among the striking interpretations of the blue room. Inspired by the form of a lotus in full bloom, it is described as a kind of 'post-Pop mandala' and is made of 1400 sections of imported and hand-tinted French rye straw. Each section is inlaid in timber to develop the mesmerising pattern, texture and hue.
Elizabeth's own design contribution forms an entry prop to the exhibition – a hall runner featuring a peacock fish montage that guides visitors into the space. A development of her Natural Progressions range for Sydney retailer Designer Rugs, it picks up on the colours in the palazzo's blue and gold stained-glass windows.
For a designer so clear on the Australian design aesthetic, Elizabeth says the exhibition's Local Milan title is purposefully ambiguous. "It's great when people come to see the designs without a preconceived idea of what Australian design is," she says. "When they come to the show and they ask which country we're from, they nod in recognition when they hear 'Australia' – like it makes sense in relation to the designs. People tend to look to Australia for tourism, food and fashion, but I see design as another bracket of this – or at least it should be."