Photography: Fraser Marden
The brief was to plan the work spaces and breakout spaces for a medium sized advertising firm. The budget was extremely limited so key common areas were prioritised to achieve the budget. Workstations and storage were reused from their previous tenancy so that the money available could be invested in new meeting, reception, kitchen/dining and lounge areas.
The large warehouse space was punctuated with a central void. Work spaces surround the void on the 1st floor, with the main ground floor becoming a central breakout area for all departments to come together, as well as serving as the public face of the company to their clients.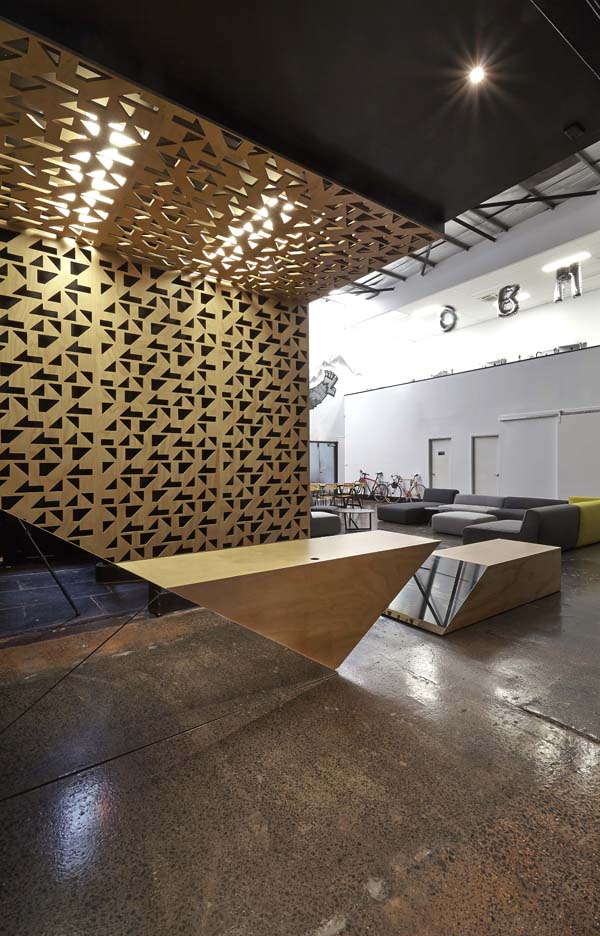 The concept of non-verbal communication became the key design driver. A graphic semaphore code was developed and applied reiterated in all the new architectural elements, reinforcing the client's work as masters of communication, both in-house and for their clients.
The reception desk and waiting seat form was generated from the semaphore graphic, with the firms initials spelt in semaphore letters (OBM). This is then repeated in a smaller scale on the perforated plywood and glazing film to the meeting rooms.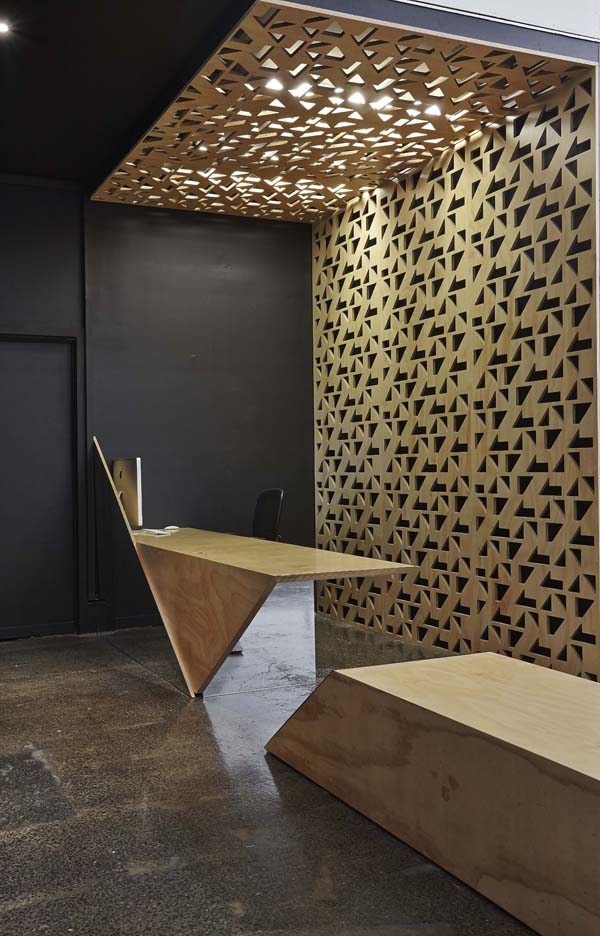 The client wanted to ensure that each space was treated differently and that the individual characteristics of the staff were celebrated. The briefing and design process allowed for individuals contributions, which ensured a flexible design which could accommodate future personal interventions. Not only in the common and work spaces but even the areas that are generally not considered as designed spaces, such is the server room were addressed in this design approach.
Large scale graffiti art was another personal intervention in the void, which connects the spaces visually as well as tying varying the scale of the spaces together. The result is a series of spaces that present a cohesive face to their clients but also offer unique, flexible and constantly changing spaces, as the individual staff members personalise their environment.