Photography by Matt Montgomery.
An elegant and refined colour palette and customised material finishes give The Refectory at Werribee Mansion a new lease of life.
Doherty Design Studio was tasked with restoring The Refectory ballroom to its former glory. The hall stairwell and bridal styling room upstairs were also in need of an upgrade. It was important the refurbishment meld the buildings gracious 1870s heritage and a thoroughly contemporary aesthetic.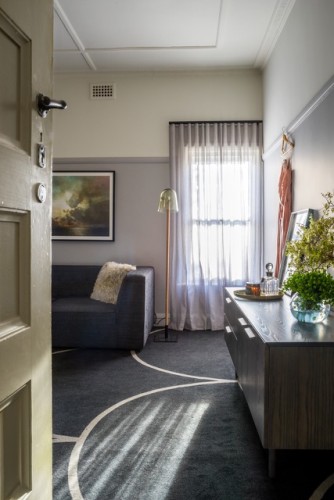 Accentuating the room's windows, doors, and decorative pillars in a soft white has reinforced the symmetry of the space. This contrasting palette brings the original plasterwork and classic architectural elements to life – they become standout features of the room, all the while reinforcing the building's 1870s architecture and grand Italianate features. The stairs leading to the bridal room were given a contemporary upgrade using a dark paint finish.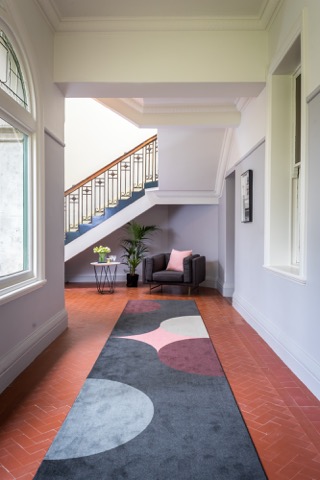 The newly decorated function centre features a bespoke rug in the hallway and a grey custom-made wool carpet in the main ballroom. The carpet was designed first and informed the rest of the colour scheme. The grey base colour of the carpet and soft white sweeping semi-circular pattern mimics the original arch windows and leadlight glass panes, bringing balance and proportion to the room.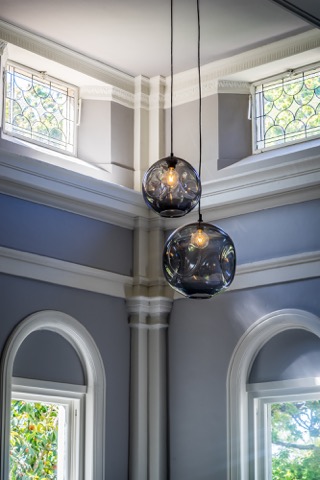 Sheer grey linen curtains add texture and softness while hand-blown glass pendant lights, designed by Mark Douglas, introduce a contemporary artisan touch and further emphasise the refined palette and glamour of the room.