Article by Thomas Coward
Photography by
All images courtesy Peter Clarke Photography
The new Artedomus showroom in Richmond is a gallery like experience of curated zones, centred around Italian Bathware company Agape, featuring Japanese ceramics, European porcelain and exclusive stones.
The dramatic transformation was the result of a collaboration between designers Studio You Me and Thomas Coward. The creative women of Studio You Me, Hana Hakim and Kestie Lane have worked together with Thomas Coward on previous design projects, but with this project in particular they enjoyed taking the client on a journey of inspiration and exploration.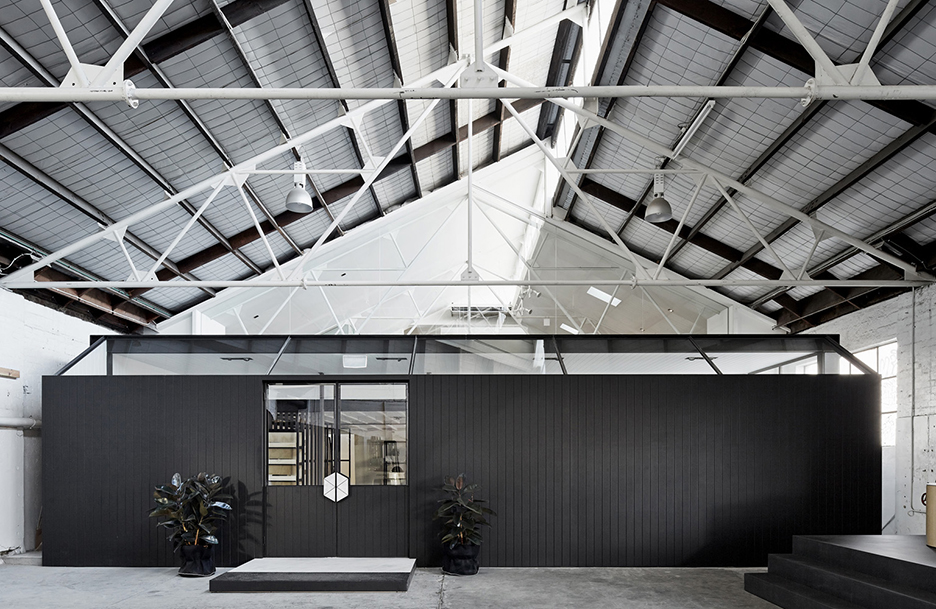 They were able to bring the client's brief to life by taking the once cavernous and dark basement showroom of Arte Domus and transforming it into a light filled gallery, showcasing the best of Italian bathroom design, beautiful Italian stone and unique Japanese ceramics.
The functional requirement of the project was to undergo a massive edit from hundreds of existing typologies of showroom and warehouse stock and then showcase it in a minimal and sculptural way. It was a monumental undertaking which required a ruthless process of elimination and selection.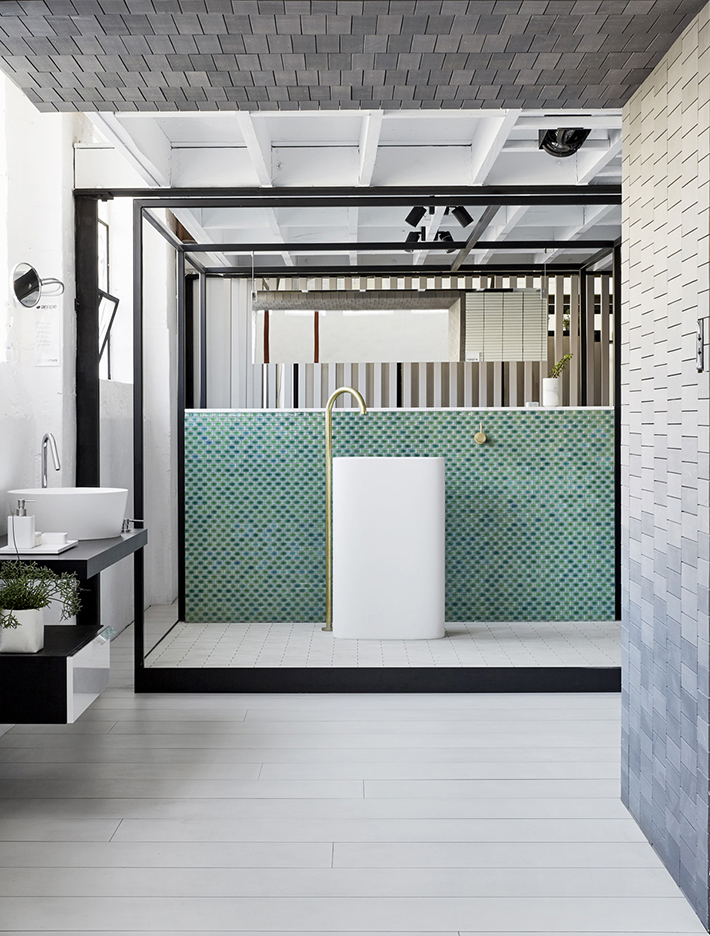 The result was the design of the 'display pods'. Every aspect of the pod setting was carefully curated to showcase the relationship between bathroom ware, stone and tiles in an elegant, refined setting. This allowed the beauty and character of each element to have a special moment and in some cases being exposed for the first time out of the dusty depths of the warehouse to bloom in new light.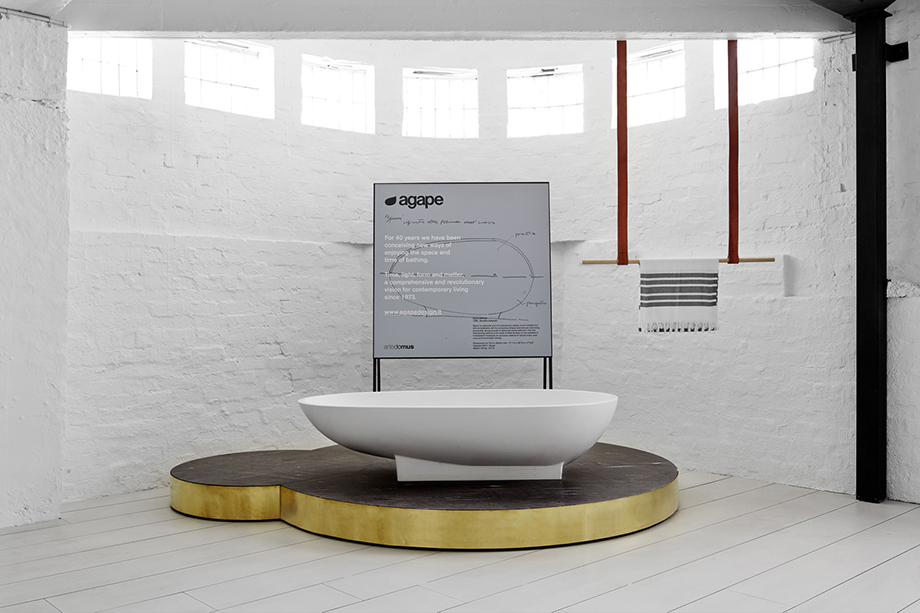 The creation of subtle graphic patterns and dramatic stone instillations in the showroom were designed to inspire, engage and simplify the process of selection not only for the trained designer but also for the home renovator selecting tiles, stone or bath ware. In contrast the back drop was about revealing and restoring the original brick walls and glass brick windows to their former glory and keeping a restrained balance of clean sleek lines of blackened steel and graffiti to toughen up the space.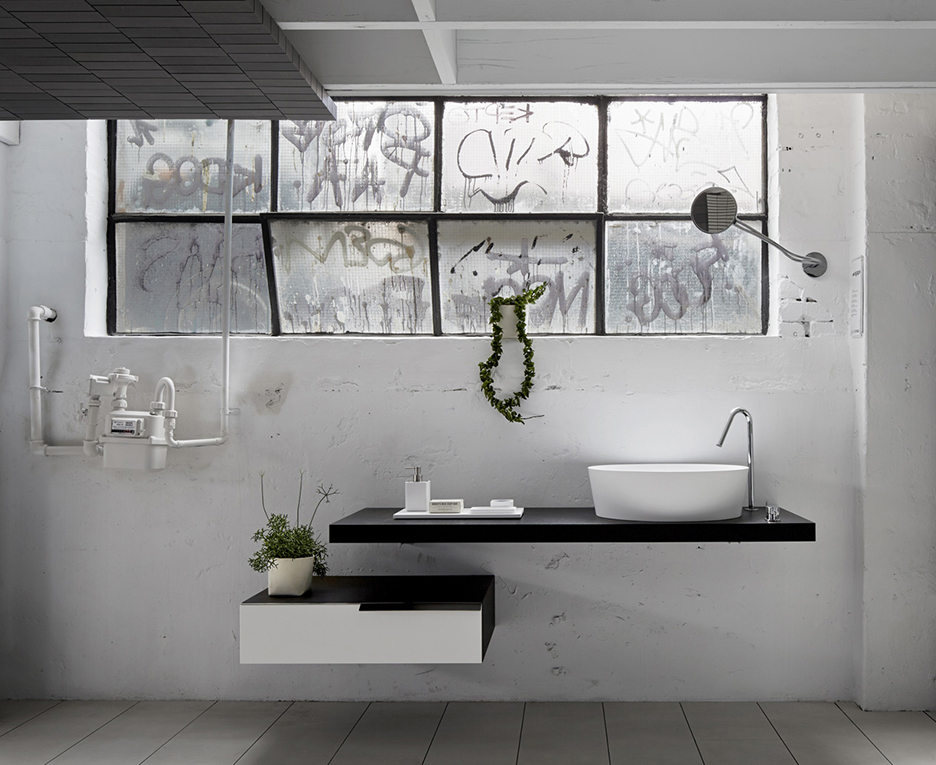 Once upon a time …. not so long ago Architects & Designers of Melbourne would flock to the Arte Domus showroom in search of that perfect tile or unique stone sample. The task of sample searching in the dusty workshop was overwhelming and quite an adventure.
The new sample library is now a light filled glass atrium sitting within the existing warehouse. This dedicated specification area with custom joinery, display shelving and layout area allows Architects, Designers and clients to specify, view and experience the textured and wonderful world of Arte Domus … Dust free !