Image render courtesy Zaha Hadid Architects and d'Leedon
Moving on from unfortunate publicity following recent building malfunctions, Zaha Hadid Architects has completed its first high-rise residential development, d'Leedon, in Singapore. The 78,043-square metre (840,049-square foot) project, designed by Zaha Hadid Architects in collaboration with local firm RSP Architects, is Singapore's largest residential development to date, and also one of Singapore's first Building Information Modelling (BIM) projects.
The d'Leedon luxury development comprises 1703 apartments spread across seven 36-storey towers, 12 strata semi-detached villas, eight retail spaces, and contains shared facilities including multiple spas, gyms, tennis courts and pools.
The 150-metre-high residential towers boast unobstructed views of the city and nearby parks like the Singapore Botanic Gardens and Bukit Timah Nature Reserve. A terraced landscape unfolds at ground level, maximising communal interaction via gardens and covered pavilions.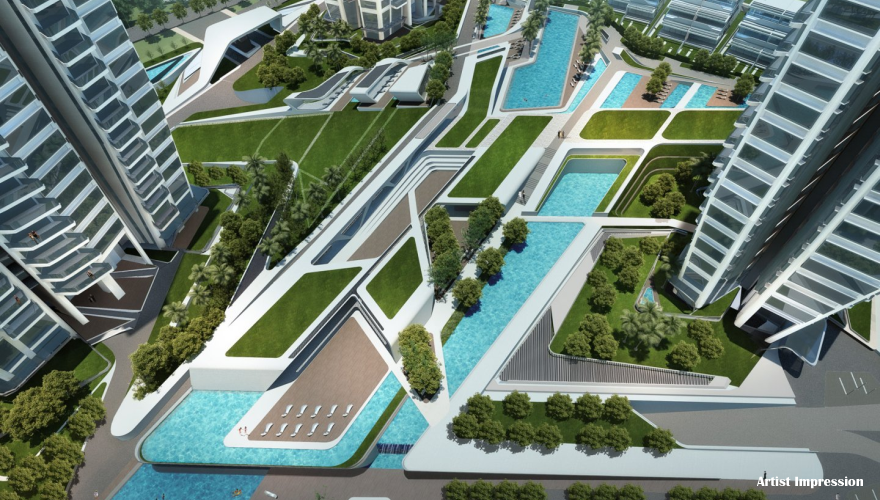 The landscaping masks slope differences as large as 15 metres, and is designed around themes such as scent, kinetics, mazes, chess and sculpture. Multiple landscape bands of pathways and plants inspired by components of mountain ecosystems like rock, forest, water, foothills and meadow, help to differentiate zones across the vast site.
The towers continue this natural design theme, with each structure forming a flower that can be further divided into 'petals' according to the number of units on each floor. These towering petals appear to grow seamlessly from sunken gardens on the ground floor, connecting with existing energy flow lines on the site.
Internal to the towers, structural columns were eliminated from the floor plan for maximum flexibility. To achieve this, the architects proposed to have structural walls located perpendicular to the building core. The tower petals were then wrapped by edge columns and tied back to the core.
Residents have started to move in to the d'Leedon development, which obtained its Temporary Occupation Permit (TOP) in October 2014.