Location: Lake Wanaka, New Zealand
Architect: RTA Studio
Review: Marissa Looby
Photography: Peter Reynolds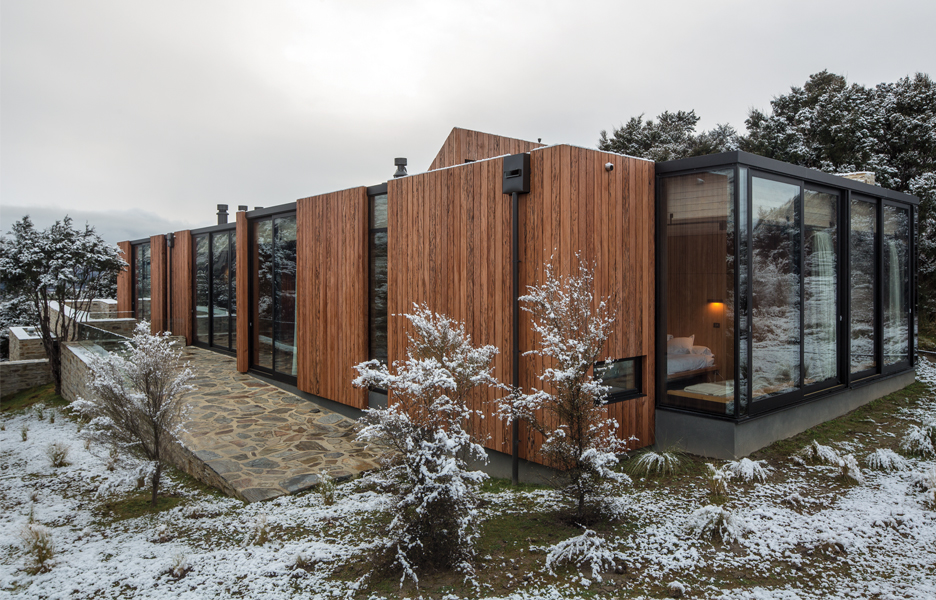 RTA Studio's Wanaka House is situated in the breathtaking setting of Lake Wanaka on New Zealand's South Island, nestled among 86 hectares of protected shoreline. The Mount Aspiring National Park World Heritage area provides a mountainous, snow-capped neighbouring context that could become an overwhelming backdrop to what is a modest and exquisitely detailed house; but the context, in fact, is actually the perfect foil as it off sets what could be mistakenly viewed as an extravagant undertaking.
The house is richly finished and resplendently located, with stunning views to the pastures and lake, yet it manages to remain humble in appearance. Neither house nor context dominates, even though they are somewhat competing. Further, the extensive restoration of the natural habitat, combined with sustainability indices and maintenance services, allow the house to become a brief but opulent pause in its surroundings.
Wanaka House is on a gated site, owned by the Emerald Bluff s trust established in 2007 and, since its inception, the site has undergone significant regeneration work, including the creation of a new wetlands and the replanting of native species to retain and restore the natural context. The site is subdivided into seven plots, where separate owners can purchase and build their house. More significantly, the Emerald Bluffs trust has imposed its own sustainability measures that must be strictly adhered to in order to build on the site. It is an honourable scoring system, whereby RTA's house scored 80 out of a maximum 99 points.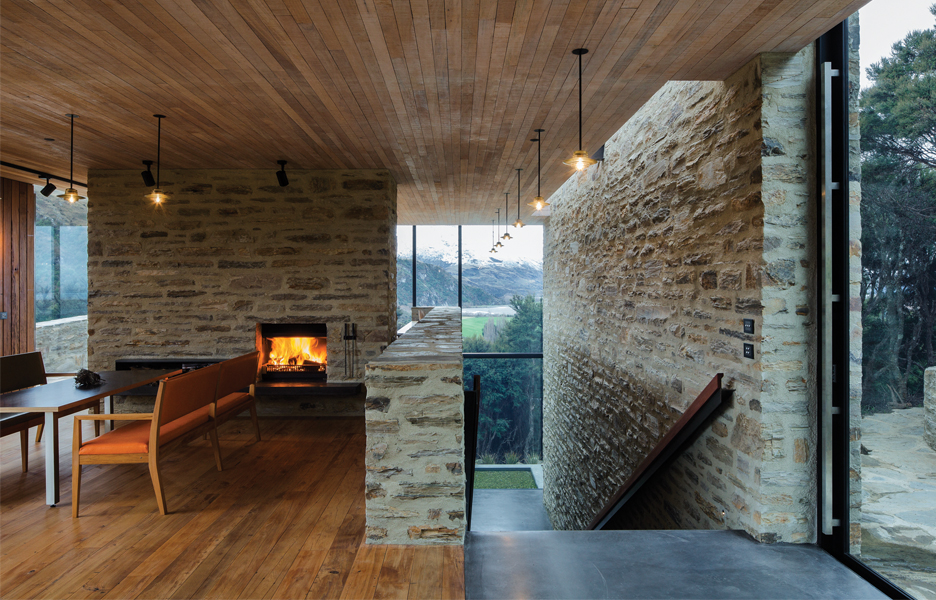 The house includes environmental measures such as low-e glass, high thermal mass to roof, floor and walls, low energy use lighting, high-efficiency heat pump heating, solar photovoltaic and water heating and wetback water heating. There is also on-site stormwater and sewage management and locally sourced water delivered to each site. Notably, also, the trust is not-for-profit and puts back into the land what it earns, helping to maintain the natural habitat of Lake Wanaka.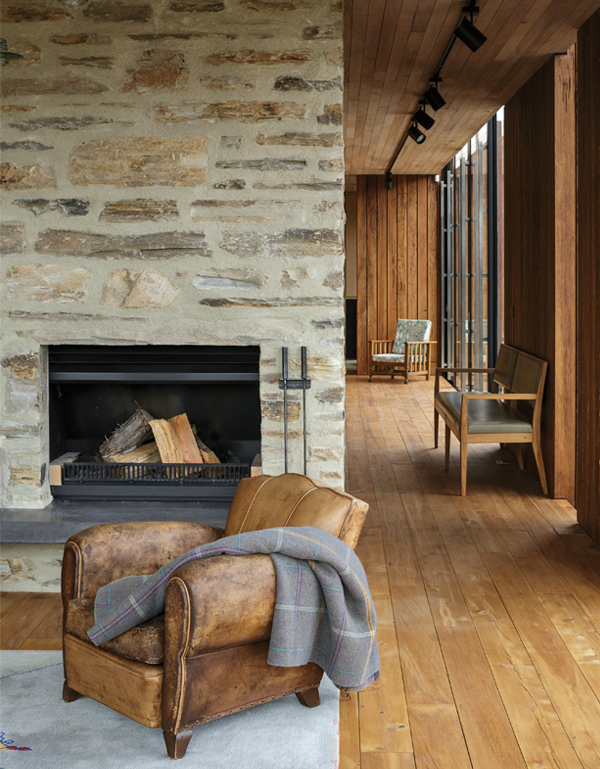 In the site's vicinity is a project that provided RTA Studio with global notoriety, the C3 House. The prototypical triple carbon-neutral courtyard house for a family of four was the recipient of the 2012 World Architecture Festival Awards, Residential Future Projects – House award. Similarly, Wanaka House demanded an equally arduous response to the local Resource Management Act. While the C3 House was unable to rise above the 4.5-metre height restriction, Wanaka House is a two-storey building on one of the highest sites in the complex, hidden within the trees upon approach. The entry along a stone and gravel pathway is off-axis, with the main entrance almost at odds with the sloping elevation of the long rectangular form.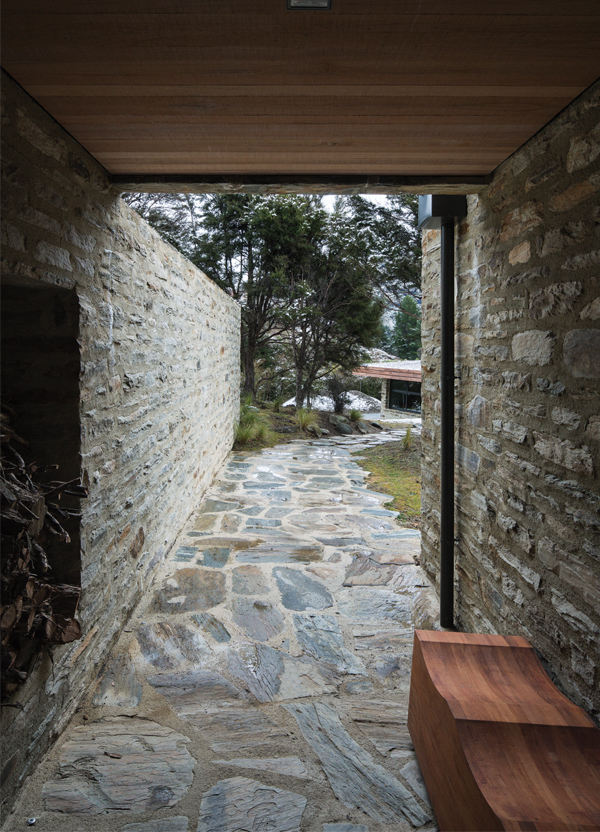 At the subterranean level there are service spaces, such as laundry and entry hallway, together with guest quarters, including separate living, kitchenette and bathroom. The entry staircase leads up to the main living, dining and kitchen space – a welcoming, family-oriented open plan arrangement, with open fi replaces fl anking either side of a stone partition, off ers both comfortable dining and lounge room. It is in the lounge room where the view is as impressive as the picturesque landscape, which seems to continue infinitely towards Lake Wanaka. The communal living spaces allow for a sense of privacy as the two main bedrooms are located at the building's rear, hidden from site along an access corridor, opening to spectacular views of Treble Cone ski area and Mount Roy.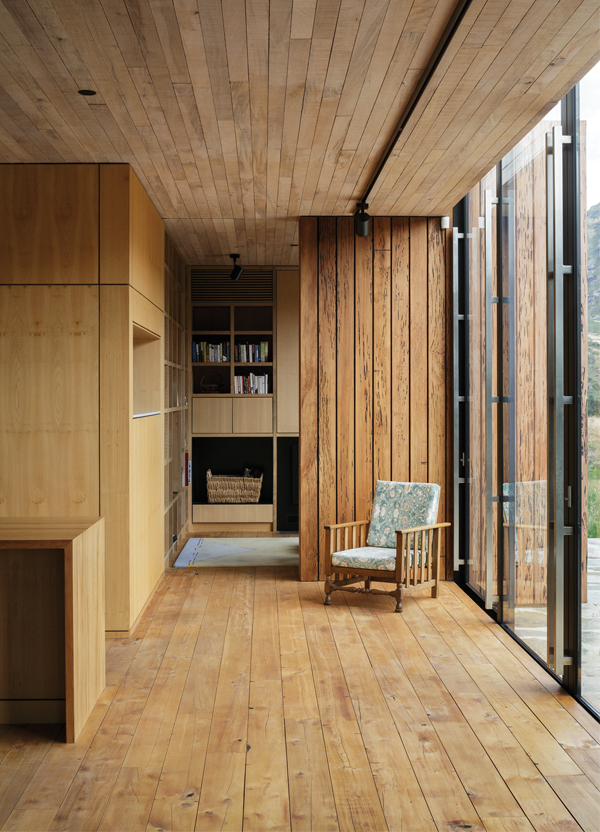 Wanaka House, with all its resplendent views, is complemented by its beautiful bespoke furniture and interior finishes, many of which are designed by Ed Cruikshank, a local furniture designer from neighbouring Arrowtown. Notably, the square dining table encourages communal dining and provides a central point in the main living space. The rich interior features are unlike typical contemporary homes as they are without plasterboard or any other such white material; instead adhering to a sustainable palette consisting of locally sourced schist and timber throughout for the floors, walls and ceiling. The house gives way to its landscape at the spa area overlooking Lake Wanaka. It is an appropriate moment for reflection, where the competition between the luxury of the house and the magnificence of its surrounds are unified, both feeding off each other.
Project details
SITE AREA: 2 hectares (with designated build platform)
FLOOR AREA: 350sqm
LOCATION: Lake Wanaka, New Zealand
COMPLETION: November 2013
ARCHITECT: RTA Studio
DESIGN DIRECTOR: Richard Naish
PROJECT ARCHITECT: Noor Keary, Martin King.