While drawn to architecture and design from childhood, Duncan Betts spent most of his twenties as an elite cricketer. The commonalities between sport and architecture are surprisingly more extensive than people may expect, he says.
Duncan Betts is currently a principal at Rothelowman Brisbane, but architecture has never been his only love, and the lessons he learned from his sporting background have informed his later career.
"My experience in cricket and working in teams has been one of the reasons why I've progressed quite quickly in my own career," he says. "The reason being that you soon work out that life's not about you. It's about others and I think the faster you work that out, the more successful you will be."
When it comes to Betts' two great passions, there have been distinct phases when one has taken prominence over the other. "Cricket was my first love, but even from an early age I was very passionate about housing, going to new houses, going to construction sites," he recalls.
Growing up in Queensland, he started playing his favourite sport at the age of six, graduating to captain of the state's primary schools teams and playing for young junior teams before university.
Afterwards, he joined the Windsor Cricket Club in England for a year in 2000 and then returned home to take up a scholarship at the Australian Institute of Sport in Adelaide, where his head coach was Rod Marsh and current stars like Mitchell Johnson and Shaun Marsh were also in attendance.
Betts, who describes himself as an "all or nothing" person, says that while he was pursuing his passion of being a professional cricketer, architecture was somewhat in the backseat. But as his interest in the discipline grew, the sporting focus began to wane.
"It was a very hard decision to stop playing," he says, "but I made a conscious decision at around 24 or 25 to focus full-time on architecture." Finishing his architecture degree at the University of Queensland, he started his career at BVN, "a fantastic firm to be working with," he says.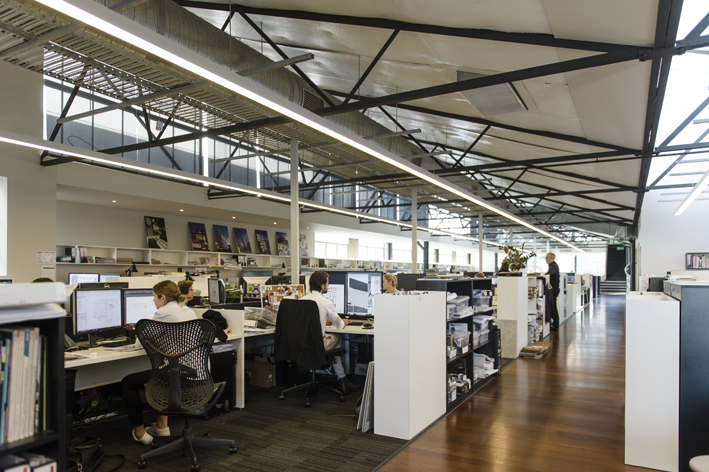 It was there he met his now business partner Jeff Brown and the pair began their small start-up in 2010 before merging with Rothelowman the following year and becoming the Brisbane arm of the practice.
Now Betts and Brown are the two principals overseeing an office of 40 people, while there are an additional 90 and 30 people in Melbourne and Sydney respectively. The Rothelowman practice was founded in 1991 by Shane Rothe and Kim Lowman, with managing principal Nigel Hobart joining just over a decade ago, when the practice numbered about 30 people. Experiencing such significant growth in a relatively short period has certainly brought challenges, says Betts.
"There were a few growing pains, but in a good way," he explains. "They were the volume of work and the complexity of the work that we were aspiring to." But the expansion to Brisbane coincided with a fortuitous upswing in the Brisbane market and the new arm of the business was able to leverage the experience of its colleagues.
"The reason the Brisbane office has been so successful over the last five to six years is that we've been able to harness the strength of the national business," says Betts. "And we've provided a local contextual response where we understand clients' needs, the town planning requirements and the environment, etc."
The Rothelowman business model results in the best of both worlds, believes Betts. "It's really well set up to a high level of equability," he says, "So that all states have the opportunity to contribute and provide value collectively, but also share the benefit collectively.
"What's great is that it's actually one business, not a franchise. We share in each other's successes and shortcomings," he says. "The fantastic part of having offices in three states is that it enables us to even out market fluctuations. With this model there's always a challenge, but I think that working across states is more of a strength than a weakness."
This means that, despite a recent Queensland downturn, his office hasn't had to shed any staff. A fluid approach means that the work can be shared around. When the Melbourne office saw a very busy period in mid-year, it was joined by three people from the Sydney office and one from Brisbane.
"We're always talking, we're cross-pollinating ideas and we're moving interstate," says Betts.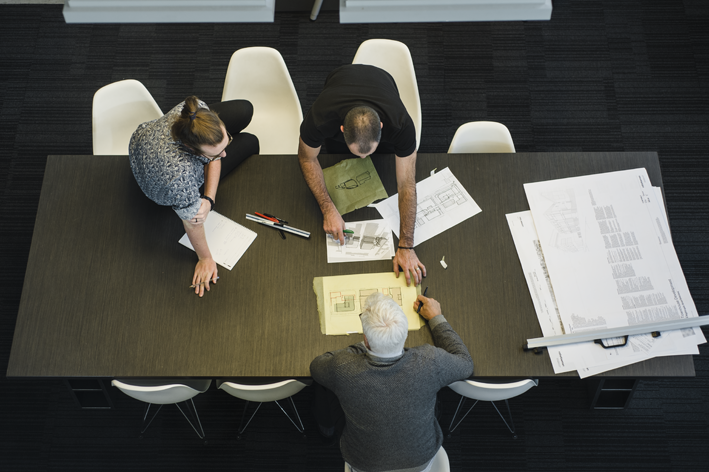 Taking the reins
One of the ideas he comes back to again and again is the importance of working as a team. Betts may hold a leadership position but he's not interested in pedestals or prestige. "When we reflect on the architectural heroes from the 1920s through to the late 20th century a lot of it's about the ego architect, or the star architect," he notes. "We're not really interested in that; we are about leaving the ego at the door, an ideas meritocracy.
So, it's about having thoughtful disagreement, thoughtful agreement on ideas, challenging each other's thinking in a constructive way." To get pointers on how to lead effectively, Betts, unsurprisingly, isn't afraid to look outside of the profession.
He cites US hedge fund manager Raymond Dalio as a particular role model. "Considered one of the most influential people by Time magazine, he fundamentally set up his hedge fund through managing collective thoughts, where there's an attempt to get objectivity in decision-making.
"In investment or business a lot of subjectivity and personal opinion comes through and I think the challenge is to push that aside at certain stages and look for objective truthfulness in what you do. Sometimes discussions get heated because everyone's got strong viewpoints, but I think the best outcomes come from a collective viewpoint, collective shared ideas, where they are distilled, tested and explored."
The way this translates to business operations at Rothelowman is a process they've put in place called a 'national design review', which is where the partners get together on a weekly basis for an hour and a half to consider the state of play.
"We discuss all the current projects in the office as quickly as we can, but we go state by state and we do a high level synopsis of where that project is at," explains Betts. "In that process we determine whether there needs to be an offline conversation with a certain group of people, or we involve another designer or another team to provide input and I think that's really helping the design evolution of the business."
Learning the ropes
While he completed his design studies at university, Betts is cognisant that he, like many other practice leaders wasn't well prepared for the architectural profession. "The business of architecture is not taught at university," he says.
"And that's a real challenge. What happens is a whole series of trial and error. If you're starting a business, for example, with a friend from uni, and you're young, you're going to be failing a lot. But that's a good thing. Being prepared to fail is good. I think in our education system we're not taught that it's OK to fail; it's all about trying to get the right answer. It's the same with architecture."
At Rothelowman, they've coined the phrase 'working ugly', which means they throw ideas together like scrap-booking, with rough models, to test a whole range of options and opportunities. Then they refine them.
"I don't think architecture is about a strike of brilliance that comes to someone's mind one day," says Betts. "I don't think that's how it evolves. Sometimes you get great ideas that pop in your head, but that comes through an evolution of studying, testing and making drawings. Testing is the really exciting part."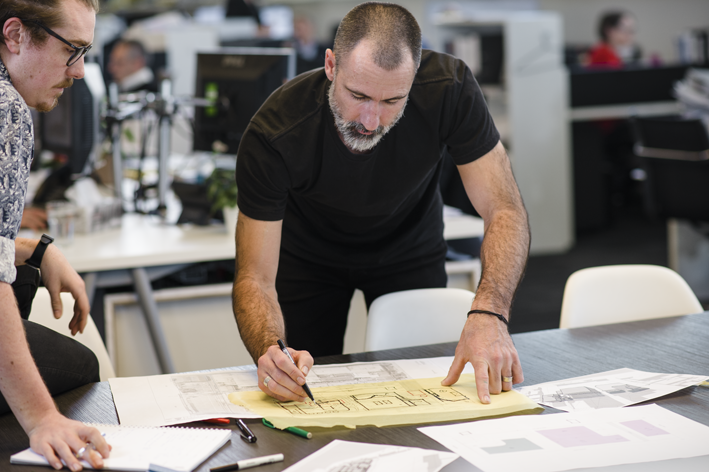 Duncan Betts on…
Early inspiration
I remember going to the construction site, playing around the dirt, the smell of cut timber and just moving around the construction site. I was always imagining what it might be. In the `80s, people tended to move around different sites, around the neighbourhood, to see what was going on. I really enjoyed that.
Art versus architecture
My expertise or interest at school was in art. I actually wanted to be an artist, a painter. And my parents advised me that it would be a safer, more stable business future to get into architecture. I'm not sure how much they knew about that at the time, but I'm very pleased that they did.
Succession plans
There's a shareholder succession plan. So the partners are succeeding the business through a share distribution down to senior partners, associates and future associates, so that there's a strong succession plan into the future.
Geographical specificity
We're not trying to do a Melbourne building in Brisbane. I think the key issue faced by a number of developers looking for architects to do work in different states is that sometimes they get foreign translations of strong architectural typologies, but they don't always quite mix.
Future growth
We're looking at other opportunities interstate and overseas at the moment. The future for Rothelowman is definitely one continual evolution that will happen organically; we're not forcing anything.
Photography by Samara Clifford
This article originally appeared in AR161 – available online and digitally through Zinio.