This article originally appeared in AR145 – available now through newsstands and digitally through Zinio.
Wulff Projects, Icon Co and Assemble
Location: Melbourne, Australia 
The future of multi-residential development is locally focused and socially sustainable.
It is moving away from the short-sighted investment and planning that has led to a proliferation of unresponsive and uninspired volume real estate – maximising tenants and thus profit per square metre.
Slowly, through the success of collective initiatives like The Commons and its upcoming sister project, Nightingale, the conversation is turning towards building quality in Melbourne.
With collective experience of successful high-density living gleaned from time spent in Europe, and an intimate knowledge of the area, 122 Roseneath Street presents a shift in the role of the architect as developer. The Assemble team currently works from the site that will, subject to approval, demonstrate how apartment living can foster an engaged community.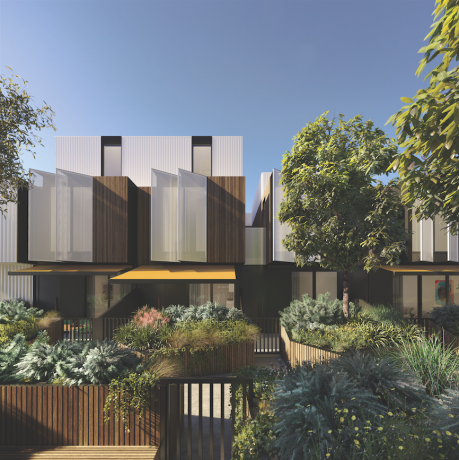 122 Roseneath Street is a collaborative project between Wulff Projects, Icon Co and Assemble. We share a belief in small footprint living. Living small is not just about size; it's a way of life that treads lightly on the planet and fosters community, helping our city grow more sustainably.
Nestled in a leafy pocket of Clifton Hill in Melbourne's inner north, the project is located on a large mixed-use site with northern frontage onto Roseneath Street. Flanked by a mix of commercial and residential buildings, the current site is home to a large warehouse and brutalist-style office building.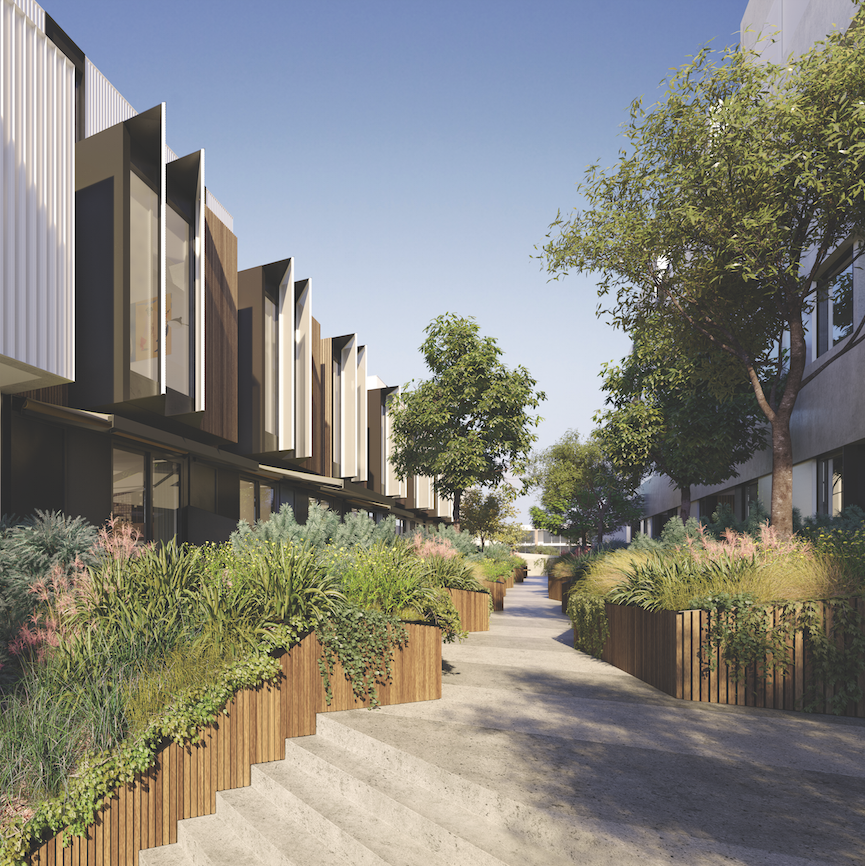 The proposed design consists of three main forms that run north–south along the site, with a single-storey podium providing a sensitive retail streetscape interface. The podium gives way to three-and four-storey townhouse buildings on both sides and a stepped six-storey apartment building in the centre. The highly articulated sculptural building recedes back into the site as it rises, resulting in highly recessive upper forms. Subtle references to the existing brutalist building and tactile material of the local area are carried through the design, while existing building elements have been retained in the podium.
The ground level interface includes retail and café tenancies, while the strategic placement of services and car park entry maximises the active frontage along Roseneath Street. Street level improvements further help to create a sensitive interface between retail and the pedestrian streetscape – these include the sculptural concrete balconies and generous setbacks at the ground floor, creating an open undercover pedestrian space. Two generous communal linear parks intercept the three forms. Through the use of native landscaping we hope to encourage visitors from the Merri Creek wildlife corridor.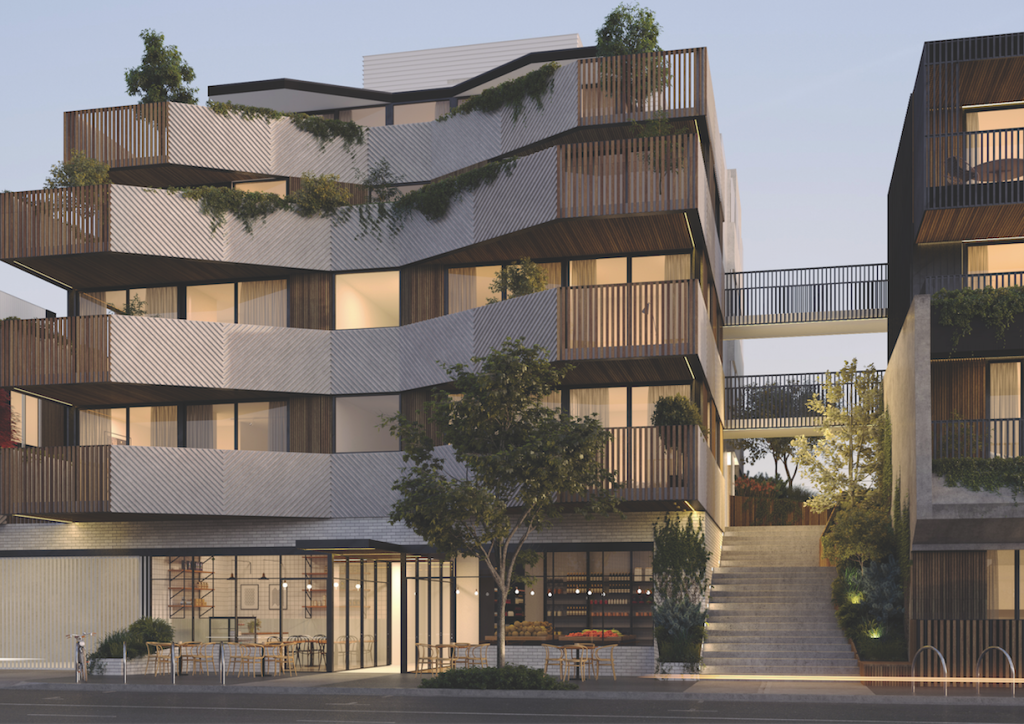 The proposed building is a highly site-responsive design, with a strong sustainability, quality and community focus. The design is driven by fundamental principles, including a strong emphasis on internal amenity, privacy, light and air access, equitable views lines and communal facilities. Diversity of apartment types offers future owners and occupiers a wider variety of lifestyle options, catering to diverse community needs. The diverse housing options include studio, one, two, and three-bedroom apartments, and two, three, and four-bedroom townhouses. With thoughtful integration of communal spaces, we've designed a place where collective culture can thrive, where neighbours are encouraged to interact in and through what is shared – all the while having a sense of ownership of personal space. Shared spaces include a communal room with adjoining north-facing terrace and a multipurpose workshop for all the messy jobs you don't want to do in your apartment or townhouse, such as fixing your bike, washing your dog or building a piece of furniture.
Creating a culture of living closer together relies on a human-centred design process. We believe the best ideas and most meaningful solutions come from understanding our community's needs, hopes and dreams for the future. This means engaging with prospective residents regularly, and early on, and adopting a consultative approach with neighbours and local councils. We met with local residents and the City of Yarra well before we submitted a town planning application for 122 Roseneath Street. The design has also been shaped according to feedback shared by potential residents throughout the design presentations, including the function of the communal spaces, car parking assignment, interior design options, bathroom and laundry configuration, pet-friendly owners' corporation rules and sustainability features, such as operable external shutters to control the amount of heat and glare from the sun and an embedded energy network powered by 100 percent renewable energy. We've also worked hard to provide meaningful choice in relation to the apartment and townhouse interiors, where residents are given the opportunity to choose the size, fitout and features of their home.
This article originally appeared in AR145 – available now through newsstands and digitally through Zinio.