Image above, The Ian Potter Children's Wild Play Garden Design by ASPECT Studios
The proposed Ian Potter Wild Play Garden will see renowned landscape architects ASPECT Studios work with Centennial Parklands to bring back 'wild play' for children and their carers. Situated within Sydney's most loved park, the Wild Play Garden will be designed to teach children a respect and understanding for the natural environment. Kids will be encouraged to climb trees, roll down hills, splash in the water and feel the mud between their fingers and toes.  ADR chats to ASPECT Studios about the project itself and the recent advantages in being a multidisciplinary landscape architecture firm in a climate that is embracing more and more the important contributions of this discipline. 

ADR How did The Ian Potter Children's Wild Play Garden Mud Pie Project come to your practice?
We were invited to provide a proposal to the Centennial and Moore Park Trust which included a preliminary concept and a speculative vision for the site. Our approach was to  keep the design to a simple palette of natural materials – a nature based and elemental approach.
What is your relationship with other stakeholders in the project and how do you ensure a smooth collaboration process?
Having worked on the recent Centennial Park Master plan ( with BVN Architects) we are acutely aware to the significance of the site and the sensitivity of the heritage landscape. Through the Master Plan process we have developed a strong working relationship with the Centennial Park and Moore Park Trust which have an exceptional maintenance and operations team who know every blade of grass and every tree. We are relying on their knowledge and expertise to achieve the  ambitions for The Wild Play Garden. There will also be a targeted community engagement process with children and the wider community of park users.
What are the key points of inspiration behind the envisioned design of the Centennial Parklands and what do you hope ASPECT Studios can bring to the project?
We have been inspired by some of the existing attributes of the site – particularly some spectacular fig trees, the surrounding parklands with its series of ponds, groves, and open lawn areas. We will bring our knowledge of how to provide immersive play experiences which provide the platform for children to explore, experiment, socialise and learn through play.
How does the design complement and incorporate the early education and their relationship to the natural environment?
It is well documented that children learn best when it is part of their process of playing. To grow into capable, resilient adults, children need to learn how to negotiate their way through the world, take manageable risks, learn to cooperate and assist others, understand the effects of their actions, develop an awareness of the world around them, and understand their physical abilities. All of these vital life skills will be gained by playing in The Ian Potter Wild Play Garden.
Are there any elements of the design you hope will really stand out and make a long lasting impact?
We are hoping to create an immersive environment – a magical garden full of hidden surprises and opportunities to interact closely with nature. Our desire is to create a place where young and old can play with natural elements such as mud, water, sticks, leaves, flowers, and pebbles in a series of unique spaces that offer varying degrees of physical challenge. This series of spaces will provide a diverse range of explorative and creative play opportunities, which are not commonly found in urban playgrounds.
The Wild Play Garden will be a place where children and their carers can spend hours playing and leave (reluctantly!) feeling like they have been in another world.
Can you give a little insight into the challenges and highlights of running a Landscape Architecture, Urban Design and Digital Media firm?
The highlights are that we get to work across varied scales of projects from strategic master plans through to bespoke playspaces. Because we create places which support public life, this means that our ultimate responsibility is to the communities that we are working with. This is a highlight for us as we see our work contributing to the betterment of society in tangible ways. The challenges, as with any growing design practice is maintaining design quality across all of our endeavours.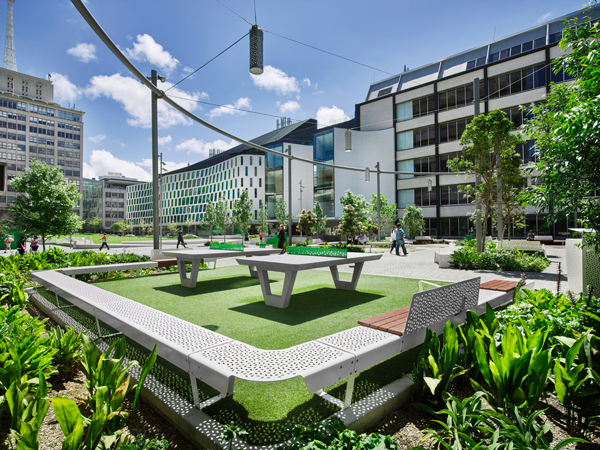 Where does your firm turn for inspiration, and which architects or landscape designers have had the biggest influence on your work?
We are very open to inspiration.  We are inspired by high density cities and the energy which comes from compact urban generation, and we are equally inspired by natural systems and the opportunity to re-introduce greenery into our cities.
Our influences are as varied as the projects we work on. We are passionate about design in all its forms – both as a process and as an outcome. As such there is not a single designer or Architect, more an approach to design that interests us.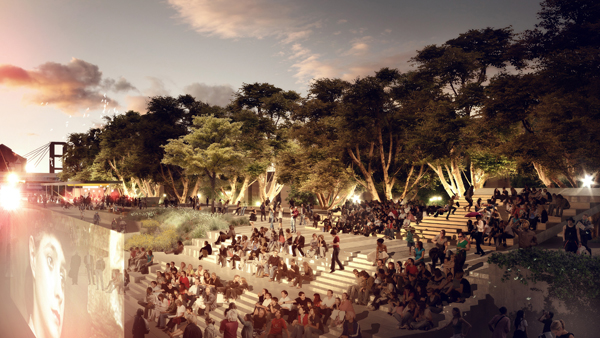 What excites or frustrates you about the current state of Australian landscape and design? 
Australian Landscape Architects have been producing exemplary work in recent times – and as a collective we are highly regarded by our international peers. Perhaps this is the benefit of strong economic times. As a result, we are gaining more recognition as a profession and it is more common to find Landscape Architects leading complex master planning and city-making projects. There is a strong focus on Urban regeneration and creating human centred cities which has provided exciting opportunities for Landscape Architects in particular who are designing new waterfronts, sustainable streets, urban parks and squares.
Aside from the many awards you have won for the practice, what has been the proudest achievement in the firm's career?
As a group of studios practicing in different locations, we have highlights, which are particular to each place. In general what sustains us as practice is the potential of each project to become a meaningful part of the city or landscape in which it sits. We are very humbled by seeing our projects loved, used, and owned by the communities for which they have been designed. This is an ongoing sense of pride.
What is a favourite project from ASPECT Studios' body of work and why?
Perhaps more than any other project we have designed, Darling Quarter in Sydney, simply because it has resonated so strongly with both locals and a wide international design audience. It was a highly collaborative process with a client open to taking risks, which ultimately created a new typology of public space for Sydney – that being a workplace set within a landscape of leisure and play. The ongoing place management, developed as part of the project, ensures that the precinct is always active, responsive, and evolving.
What is your favourite space in Melbourne or Sydney – is there a spot you wish you had designed?
In Sydney the landscape is the spectacle. It does not get much better than lounging under the canopy of a giant fig tree in the Botanic Gardens looking north over the harbour with the Sydney Opera House framing the view. In Melbourne it is the network of city spaces. The 9X9 block grid with its multitude of lanes and grain creates not one but many spaces of interest.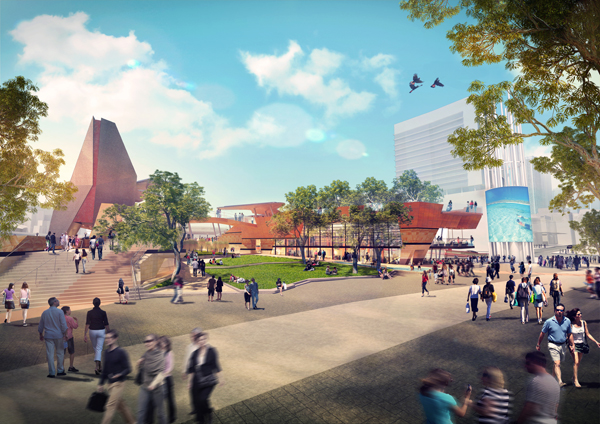 Other than The Ian Potter Children's Wild Play Garden what other exciting projects are you working on currently?
We have  a range of exciting projects around Australia – In Sydney – The Goods Line (under construction) in Sydney's south will transform heritage rail infrastructure into social infrastructure and reconnect a key part of the city; The Sydney light Rail which will have a transformative impact on the City as a whole. In Perth we are working on Yagan Square, a major public space as a part of Perth's city link project and in Adelaide Playford Town Park – a regionally significant community park in a highly multicultural growth area of Adelaide.
To donate to the Ian Potter Wild Play Garden visit: themudpieproject.org.au
For more about ASPECT Studios visit: aspect.net.au