Detailed design plans for the proposed upgrade of the Adelaide Festival Plaza have been revealed by the South Australian Government and are now open for public feedback.
Designed by ARM Architecture and landscape architects Taylor Cullity Lethlean, the plans cover 26,000 square metres of public space surrounding the Adelaide Festival Centre.
The redesign will alter how the Plaza is used and perceived, improving public experience as well as contributing to local economic growth.
The new square will sit at the heart of this, intended to be Adelaide's central meeting spot. Outdoor dining and retail facilities, along with leafy alcoves, a water feature, and free wi-fi access will make spending time in the area desirable.
The Art Space Plaza (formerly Dustan Plaza) is also set to be a prime spot for visitors to congregate – the garden is set to be flanked by cafés and will host various activities.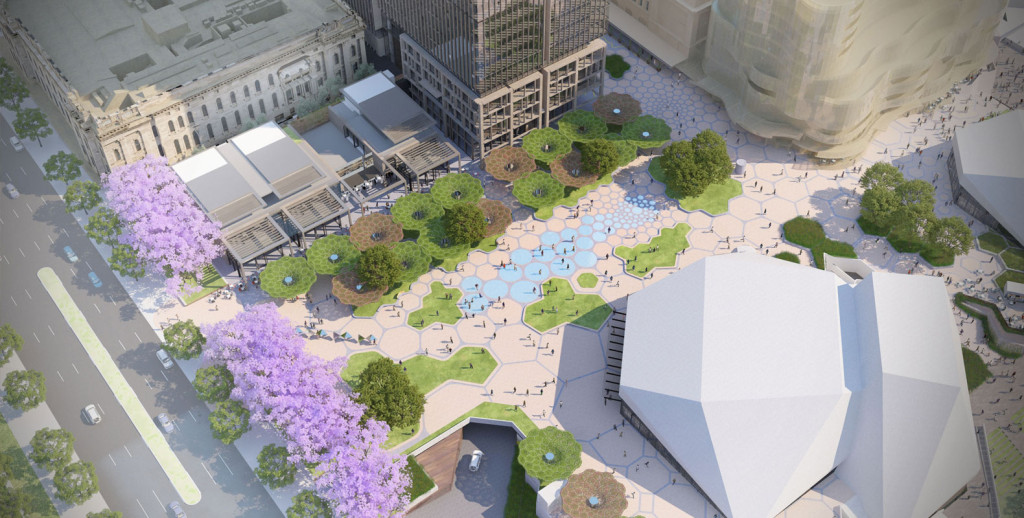 Pathways along the northern face of the Adelaide Festival Centre, near the promenade, are to be improved and made wider, while the area will also play host to a Hollywood Boulevard-style "Walk of Fame," complete with set-in stars which celebrate performers.
Pedestrian access is a major consideration within the updated designs. In addition to the northern face pathways, a new overpass will be constructed to allow foot traffic between the Riverbank Footbridge and a new Adelaide Railway Station entry.
Meanwhile, primary pedestrian avenue Station Road is also set for a revamp. Landscaping, trees, and seating installations are aimed at promoting a safer and more active area for the public and will link the city to the Plaza. An arcade, complete with retail areas, will join the station to the promenade.
The state government has put $180 million toward the upgrade, and an additional $430 million has been contributed by the Walker Corporation.
The plans can be viewed and written feedback submitted here. The resulting strategy for the Plaza is due in May.