MondoClad was the product of choice for building contractor CJ Duncan when it replaced the combustible cladding at Pyrmont's Wharf Apartments in Sydney.
CJ Duncan is a building contractor specialising in remedial and insurance façade solutions, fitouts and refurbishments. In April 2021 it was awarded the contract to replace the combustible cladding at Sydney Wharf Apartments, 56-56a Pirrama Road, Pyrmont, working with project manager RHM Consultants.  
The building had been issued with a fire order by the City of Sydney Council, says CJ Duncan's head of Pre-construction, Josh Black. "This is happening all over the place, so it's not unusual," he explains. "It sounds a bit scary, but when combustible cladding was banned [in August 2018] the Council started issuing fire orders on buildings that were known to have the newly banned combustible cladding."
The entire six-storey building needed to be overhauled. "Literally every façade was affected," says Black. "There is an unusual rooftop arrangement with terraces built into the rooftops for the penthouse apartments. They were littered with it, and it was in the awnings, the balconies. You name it, it was extensive."
All up, the project required in the realms of 4000 square metres of new cladding. But its proximity to the waterfront meant that choosing the best option for the replacement was vital. "You need a high-quality product because it is obviously quite a harsh environment, being so close to saltwater and sea spray," says Black.
"HVG Facades' MondoClad uses a superior alloy to its competitors. It's a 5000 series aluminium alloy that is higher quality and, as a result, can withstand the elements."
A bonus was the opportunity to colour match. "It was a unique colour on the building and HVG Facades was able to provide an identical match," says Black. "Part of the fire order is that you can't change anything, so having to match the colour is very important."
If this hadn't been possible, the contractor would have had to lodge a DA (development application), which would then lead to "a whole world of hurt" according to Black.
Project execution
With MondoClad selected, the recladding was an incremental process. Hampered by bad weather and COVID lockdowns, the project took longer than expected, as it was not simply a case of stripping off all the original cladding and then starting from scratch. "You have to take the combustible cladding off before getting the MondoClad on, but you can't leave the building exposed for long periods of time, because you'll get water ingress and damage," explains Black.
"So, we just strip whatever we believe we can replace within the time and keep our eye on the weather like a hawk."
Black says he has seen "pretty abhorrent" practices in the past where cladding has been affixed with adhesive or, even, double-sided tape. "We've been to projects where we've seen panels just fall off the building," he says.
Fortunately, standards have changed and now all the individual panels are mechanically fixed with screws.
To reduce wastage, the crew used a LiDAR (light detection and radar) survey, which gives a three-dimensional image of the building. "Then we looked at the existing panel sizes and used what's called a 'nesting program' that speaks to the 3D CAD (computer aided design) drawings that we create. It effectively uses artificial intelligence to optimally match the sheet sizes to the build panel sizes," explains Black.
In a similar vein, Black has nothing but praise for HVG Facades' commitment to waste reduction via its recycling program, EnviroSmart, which not only removes and recycles aluminium composite panels, but is also partnered with Carbon Positive Australia to donate and plant trees on behalf of every qualified project using the program.
"The combustible cladding is made up of aluminium and a polyethylene core and it's this plastic core that is the combustible element," says Black. "They pull the aluminium skin off the core, recycle the polyethylene into safe products and recycle the aluminium."
It's a great improvement in the process, he adds. "When we first started doing this work – and we were one of the first builders to do combustible cladding work – it just all went into a skip bin, which was hard to watch."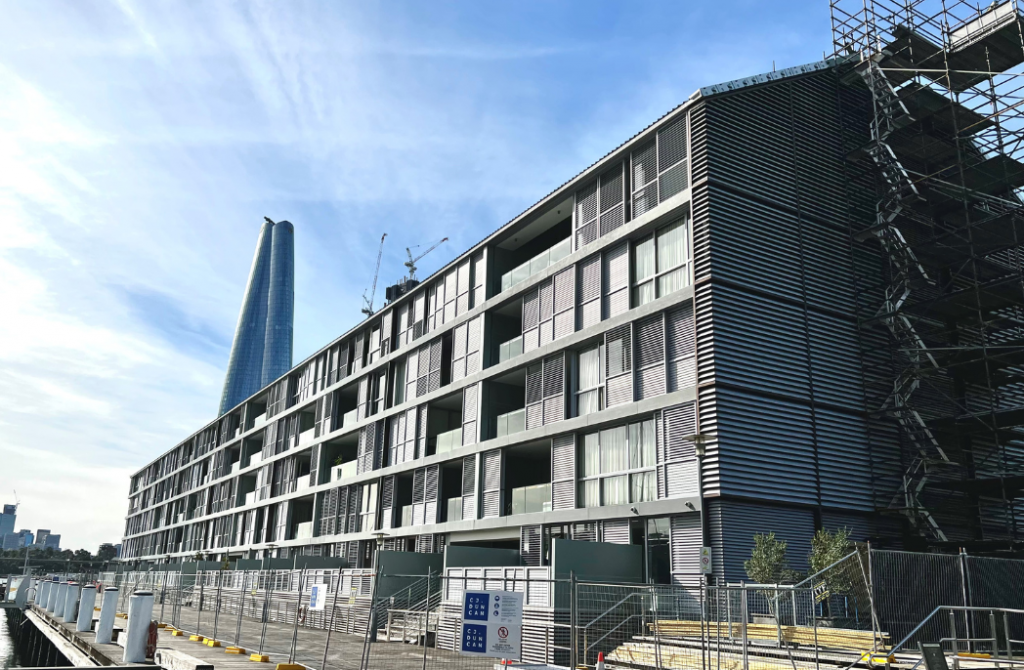 Competitive
Combustible cladding replacement has only been happening for around four years, but Black says MondoClad has swiftly become CJ Duncan's go-to product. "We use it predominantly," he says. "It's the vast majority of the cladding that we use in our projects.
"Certainly, it's cost competitive. Obviously we wouldn't be buying it if it were expensive."
But it's the combination of a high-quality product with HVG Facades' excellent customer service that seals the deal, he says.
"Their service is fantastic; the team is great. We can call them up, and one of their technical specialists will be on-site – in some instances the next day – colour matching, telling us what colours we need, what stock availability they've got and what the lead times are if they don't have stock availability. They really go above and beyond."
You may also like:
FPA releases new register of fire protection practitioners
Lacrosse fire ruling sends shudders through building industry consultants and governments