Above: The Esplanade developments, render courtesy Turner Studio.
"We can expect – especially in the inner-city rings and around the burgeoning suburban satellite hubs – new hybrid, multi-use developments with towers supported by permeable podiums that are integrated with the public realm."
– Niche Media and Gorman/Birrell's Architecture and Design Forecast
As Australia's cities swell, suburban pockets are coming into focus as particular regions similarly expand with citizens and workers alike. Sydney's Hills Shire, for example, is home to 9.24% of people who are working in Greater Western Sydney. The Hills' general population is also on a steady rise, currently estimated at 186,477 and expected to grow to 248,889 by 2031.
Property developer Capital Corporation is endeavouring to address the growth of the region's working population with two mixed-use apartment towers planned for the foreshore of Norwest Lake of Baulkham Hills, to be completed in 2019.
Capital Corporation's managing director Steve Grant told Domain that the Esplanade Norwest Lake towers "responds to the needs of the area's 25,000 workers, many of whom want to live close to their employment."
Including a pool, gym, bbqs, a putting green, and rooftop garden complete with a cinema, the Esplanade provides housing as well as offering additional amenities, supporting a growing trend towards multi-use residential buildings that encompass the surrounding public realm while allowing residents to conduct most of their daily activities, including exercising, eating, and shopping, within the walls of their own building.
Increasingly, "there is a blurring of the lines between public and private space and where people live, work and relax within a single, easily navigated precinct," the Forecast notes.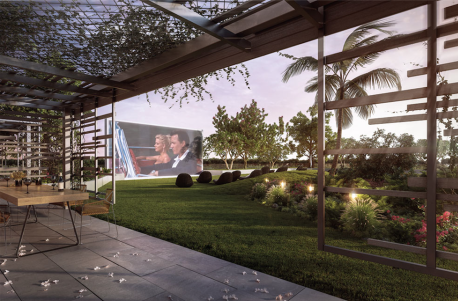 The Esplanade provides this precinct, facilitating the cross-over of public and private space through its ground-floor restaurants and stores, integrating the building into the community and the wider urban landscape and engaging the public within its walls. Further, incorporating exercise and social facilities such as a cinema allow residents to escape the confines of their apartment for recreational time, while still remaining within their building.
Sydney's East Village Marketplace is a mixed-use apartment complex of a similar fashion, which provides retail space, hospitality, a gym, medical and education facilities alongside apartments. Koichi Takada is the architect of the Marketplace as well as another mixed-use development, the Clarence Street Tower. "You may be living in a city urban situation, but you have access to a pool… So you can escape within your development – there is a library, play area, cinema, music room, theatre auditorium… Apartments are getting much smaller to keep them affordable, but you have these places where you can retreat, places that make a sanctuary," he told the Forecast.
The emergence of suburban expansion through mixed-use development is a growing concept already evidenced across the country in Melbourne's Docklands and Box Hill, as well as Greater Springfield in Queensland. With further growth of mixed-use towers, only the best will stand out, and establishing a building with sought-after amenities and inclusion of the public is a strong method to do so.
To find out more on the Forecast, visit future.australiandesignreview.com