Home to Mirvac and Ernst & Young's (EY) new Sydney headquarters, and named EY Centre, the office building was constructed to embrace industry-leading design, technology and sustainability features.
So what does it take to be part of the new breed of smart buildings in Australia?
Standing at 37 storeys, the tower offers a net lettable area of approximately 39,200 square metres of premium grade office space, with a closed cavity façade featuring timber blinds that give the building a distinctive appearance.
According to Mirvac, plans to activate the ground floor plane and surrounding laneways with diverse, food and beverage outlets, public art and leisure spaces will deliver a vibrant lifestyle destination for workers and the wider Sydney community.
The building's design, from architecture practice Francis-Jones Morehen Thorp (FJMT), features golden curves that enhance the views of Sydney Harbour and contribute a sculptural form to the city skyline.
Set to be one of Australia's most environmentally advanced and sustainable developments, a six-star green star – design office v3 certified rating, a six-star as-built rating, and a five-star NABERS (National Australian Built Environment Rating System) rating are being targeted. Mirvac's headquarters will also become one of Australia's first WELL-certified offices.
According to Mirvac, use of leading technology and working principles has created a building that accommodates workspaces highly responsive to its workforce.
The building supports environmentally sustainable commuter options with 257 bicycle spaces for tenants and 54 visitor bicycle parking spaces. Five retail tenancies on the ground floor provide an array of food options, as well as public art, leisure and event spaces, creating a social meeting place for workers or the wider Sydney community.
Not only has Mirvac strived to enhance the day-to-day activities of the building's inhabitants, but also the area of Sydney in which the building is situated, as Mirvac managing director Susan Lloyd-Hurwitz explains.
"As Circular Quay re-establishes itself as Sydney's premium destination for commerce, entertainment, travel and culture, 200 George Street with its activated laneways and public art and heritage displays, is ideally placed to make a significant contribution to the reinvigoration of the wider Circular Quay precinct," she says.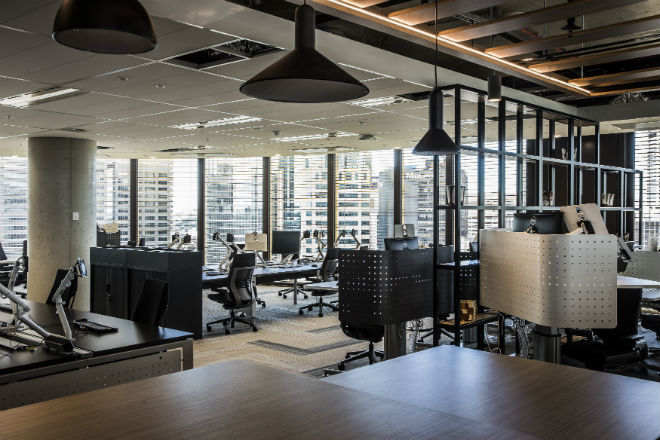 Technology and innovation
The EY Centre features technologies that monitor air quality, power and water usage, enabling adjustment according to the needs of the building and its occupants.
The building's technology enables it to respond to its external environment. For example, the closed cavity façade (CCF), used in conjunction with a timber blind system, enhances comfort by improving the transparency of the glass and increasing the connection with the outside, while controlling light and heat and reducing glare and energy use.
This is the first time a CCF system has been used in Australia and the first time timber blinds have been incorporated into a CCF system anywhere in the world, according to Mirvac.
Interactive display screens and a 'smart tenancy' app are available for visitors to the building, and allow them to access real-time information about the building.
"The app for Mirvac's headquarters can also be used for onboarding and showing employees and guests how to work within the building in real time. It gathers information from over 100 beacons and sensors throughout the space and provides live information on usage and availability of facilities, including workspaces at Mirvac's headquarters," according to a Mirvac case study.
Additionally, the app provides visitors with credible, transparent and timely information on sustainability performance, guides tenancy tours and links to view live data on how the building is performing.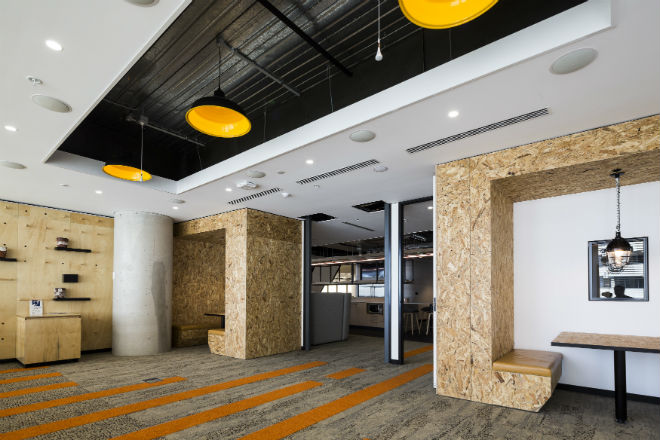 Transforming how Mirvac works
For Mirvac's headquarters, which cover 6780 square metres across six floors, the company's vision was to "create a bespoke workspace that supports the diverse and specific needs of the Mirvac workforce while actively promoting collaboration and flexible working, all underpinned by a diversity and inclusion program."
To achieve this, Mirvac ran an extensive consultation and observation process to better understand the wants and needs of the team, with the research guiding the design and fitout.
"Flexible floor plates across the six levels connect teams horizontally and vertically and points of activity around the staircases encourage interaction and improve the flow of people throughout the space," the case study adds.
"Presentation spaces located on the edges of the staircases heightens the sense of activity throughout. Mirvac has adopted its own form of activity-based working, which supports greater agility in the workplaces."
An interesting element of the fitout is the use of an urban planning model to organise three key office areas:
Town Hall: This is a communal space, including a café, located in the middle of all six floors for employees to meet and interact.
Main Street: A thoroughfare connecting all of the neighbourhoods, Main Street is where all personal allocations are located, including storage and lockers. Mirvac anticipates a great deal of activity will take place along the Main Street, which leads into the Town Hall, promoting workplace interaction and mobility.
Neighbourhoods: These are workspaces, meetings rooms and offices configured around the Main Street, including sit-to-stand and drafting height desks, traditional workstations, quiet spaces, synergy points and collaboration pods.
Developer: Mirvac Projects Pty Ltd
Principal contractor: Mirvac Construction Pty Ltd
Architect: Francis-Jones Morehen Thorp (FJMT)
This article by Ben Creagh originally featured on the Facility Management website.