The following article is co-authored and contributed by Monash academics Dr Gene Bawden and Dr Matthew Bird. Photography by Christine Francis.
The Abstract was designed by Jasmine Rachim, Eliza Monti, Ellen Hodson, Amanda Blazey and Emma Loo, in collaboration with Sabio Evans (Costumes), Deanne Butterworth (Choreography), Gene Bawden (Typography), Matthew Bird (Studiobird).  
 The Abstract is both an exhibition and a reading room for academic journals in the MADA Gallery at Monash University, Art Design and Architecture. As an exhibition it exposes the intersection of traditional and non-traditional realms of creative research and explores the possibilities inherent in collaboration, experimentation and blended disciplinary practice. The space bleeds the intimate with the public, the historical with the contemporary and the ordered with the random. As a reading room it draws on the interior idioms of public libraries to reinvent an environment for solitary and collective literary engagement. The creative interplay between interior architecture and typography builds a new spatial language that extends an awareness of the sources of research, and avenues to publish research. It is an ambition space, intent on exciting the publishing ambitions of MADA's research community.
'Abstract' as an adjective is a loaded term. 'Abstract art',  'abstract concepts' and 'abstract thought' all denote ideas that are detached from pragmatic, concrete realities. As such they are open to interpretation and divisive because of it. 'Abstract' is a challenge, a provocation and it demands response. As Director of the National Gallery of Victoria in 1939, James Stewart McDonald declared that all modern European art and abstraction was "the product of degenerates and perverts… by refusing to pollute our gallery with this filth we shall render a service to Art".[1] But, 'abstract' is a forward process; the sort of reckless intelligence that incites change and new approaches to ways of being, thinking and creating.  The National Gallery now holds a significant collection of abstract works that would have enraged McDonald and his conservative circle of pre-war cultural cognoscenti. 'Abstract' confronts stagnation and exhorts brave and constructive change. So too, does creative academic research.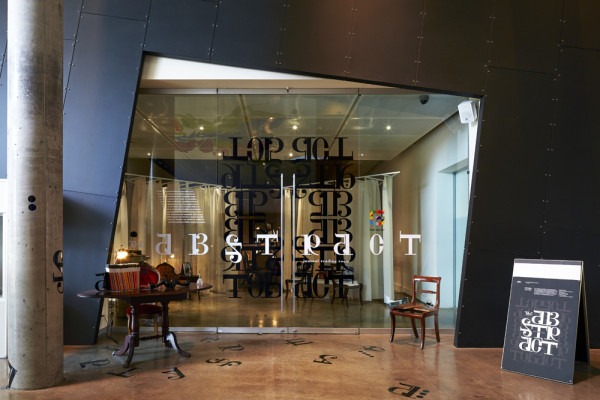 As a noun 'the abstract' is a summary. It is the précis text before a body of writing that provides a synopsis of ideas in order to induce further reading. It draws the reader in by appealing to their curiosity and their desire for knowledge. It can hint at confirming one's own ideas or provide a glimpse at inventive ways of interrogating new ones. It can provoke intelligent argument or build a sound collection of interlaced, thematic ideas.
As an exhibition The Abstract is the summation of both adjective and noun. It is an immersive, experiential room intent on drawing its audience into a new way of reading both text and space. Its physical presence incites curiosity, and in so doing ignites the first steps towards understanding what research is in creative disciplines. Curiosity must be a driving force behind all our research: a desire to build new knowledge through creative engagement; to provide answers and, importantly, pose new questions.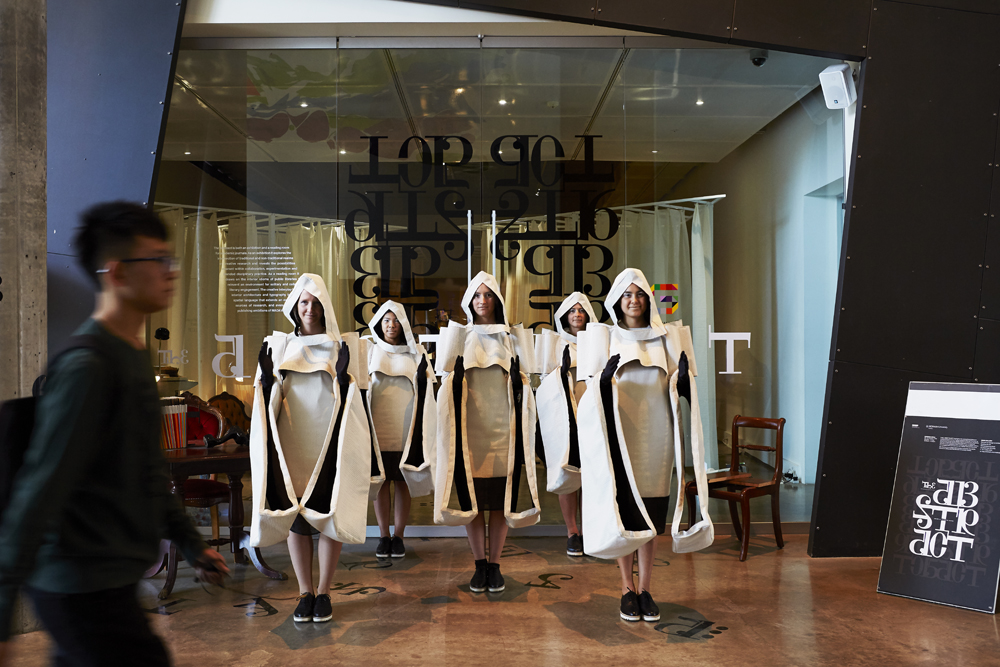 The Abstract is a receptacle of research. Its form is a body of research in itself; the culmination of a creative interrogation of space, history, comfort, reading, legibility, tradition and invention undertaken by students and staff at Monash Art Design and Architecture (MADA). It is also the temporary home for a body of journals held by Monash University Library that are bound in a flexible net of traditional and non-traditional outputs; theoretical rigor and creative play. The Abstract asks its audience to dwell among questions: What is new? What is tradition? What is the reimagined blend of both? And, most importantly, how do established and emerging researchers contribute to and absorb the immensity that is 'research' in creative practice and theory?
The Abstract draws its influence from the established traditions of libraries. Public libraries are both the repository for new ideas and the archive of those that have spurned the new. They are the spaces that democratize knowledge by extending their collections to everyone, not just a privileged few. The State Library of Victoria is an important reference point. Beyond the imposing nineteenth-century edifice of the Swanston Street facade are the decades of collective knowledge that help generate new ways of thinking in the twenty-first century. Established in 1854 by Sir Redmond Barry and Charles Joseph LaTrobe the building was their allegorical vision that would guide the people of Melbourne towards the acknowledged goals of nineteenth-century civilization. These city dignitaries were intent that the building and its contents elevate their raw colonial settlement to an aspirational metropolis, governed by cultural literacy and civic pride. Within its walls people of all walks of life could come together in a common goal: to seek self-improvement via the simple act of reading. But reading itself was controversial. Many of Barry and LaTrobe's contemporaries bemoaned the rise of literacy in the nineteenth century. It blurred the lines of established social ordering. Anyone from servant to shop attendant could claim an ability once only in possession of the rich. Alfred Austin was a London barrister, poet, and eventually Poet Laureate to Queen Victoria, but despite his literary credentials he vehemently apposed reading and the disruption it brought upon the stability of English society.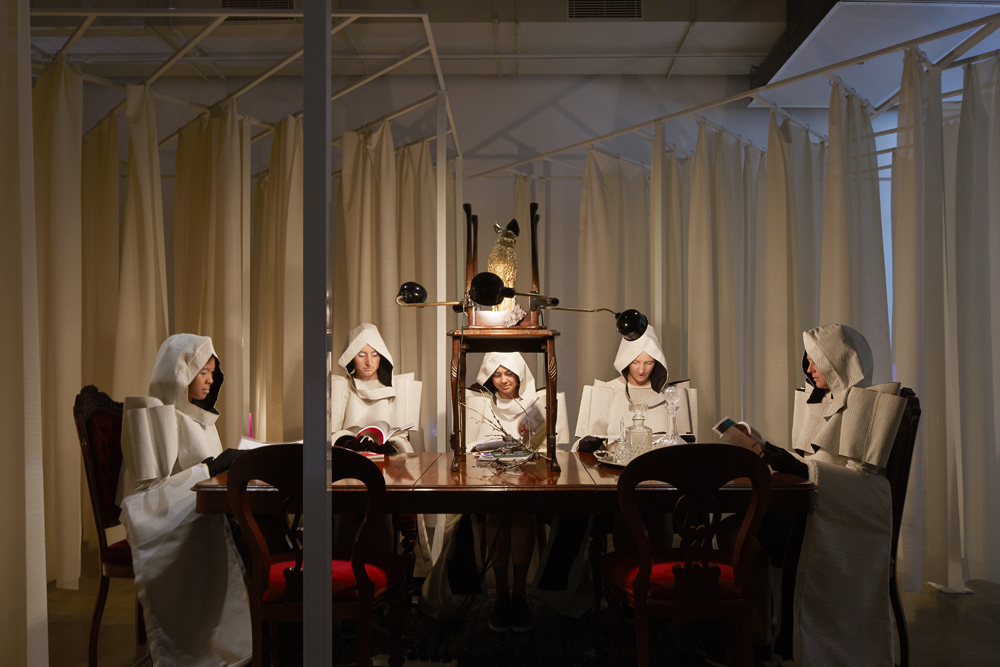 Reading has become a downright vice—a vulgar detrimental habit like dram drinking… it is a softening, demoralising, relaxing practice which, if persisted in, will end by enfeebling the minds of men and women, making flabby the fibre of their bodies and undermining the vigor of nation.[2]
But, much like James Stuart McDonald's suspicion of abstract art 50 years later, Austin's conservative fear of the literate masses could not halt the popularity of reading, or its inevitable impact on society and culture. Reading rooms, whether formally acknowledged as such or not, emerged throughout Western urban environments. They appeared as libraries of course, but also train stations and carriages; parks and cafes; and in private homes as drawing rooms and bedrooms. A reading room could be any space that permitted a comfortable escape from the drudgery of ordinariness.
The Abstract reading room is also an escape from the ordinary. Drawing on the traditions of nineteenth-century library interiors it fuses together an array of decadent period furniture, industrial production and reimagined textiles. Claw feet, serpentine legs, crystal glass and carved ornament are blended with a steel framework, textured plastic 'curtains', the paper of journals and the technology of iPads. The space is an unorthodox configuration of contradiction and questions: tradition and non-tradition; invention and homage; the familiar and the extraordinary; order and disruption; performer and audience. They all come together in a space that insists the visitor become engaged with it to activate its energy. The space is not a benign receptacle for 'things' but a glorious artefact in its own right.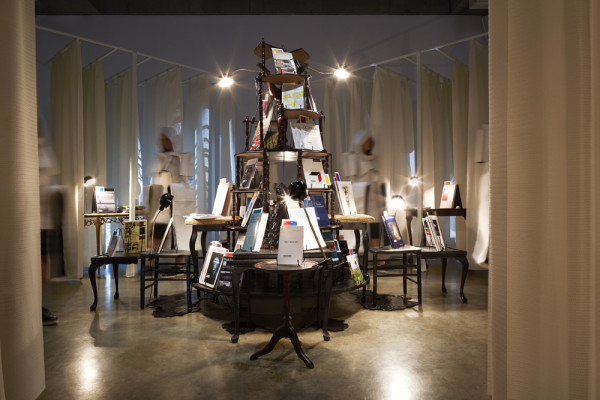 Walter Benjamin described the bourgeois interior of his youth as a space that disguises self. "It puts on, like an alluring creature, the costume of moods."[3] Through the use of lighting, sound and projection, The Abstract can also alter its costume. The flexible plastic curtains—an abstract reference to the journals' paper pages and the Victorian predilection for a profusion of drapery—can be drawn, retracted or reshaped daily to create large public rooms or intimate private spaces. They can be activated by the visitor themselves or the attendees within the space. The latter are both a service to the room and its ultimate controllers. They regulate the lighting and projections, the levels of sound, and the intensity of the projections. They provide a space with a life-force that shifts it from a single visit novelty to a room that exudes a new experience each time it is revisited. The energy of the space invites reentry. The featured content around which all this is built—a collection of relevant journals—provides the reason to do so.
Words are an intrinsic component to The Abstract. They must be. Words are, after all, integral to the journals showcased within the room and are a key component to research practice. As such the design engages typography as a fundamental part of the space, and treats it with as much importance as the furnishings, surfaces and structures. It avoids simply 'tagging' the space with a title, but engages letterforms as an ornamental spatial contribution, and become part of the room's challenge to reinvent conventional systems of place. The space does not use expected materials nor does it does it suggest familiar processes or ways of thinking and reading. The typography must reflect this too.
"Letters are signs for sound. They are not pictures or representations… they are, more or less, abstract forms"[4], wrote Eric Gill in his seminal 1931 text An Essay on Typography. While Gill is correct in his suggestion that letterforms are largely 'abstract forms', they do, however, impose meaning through how they are rendered. A typeface, and its arrangement, is capable of communicating a richer context beyond just a phonetic representation of words. Within The Abstract numbers are as important as words. They represent the Field of Research (FoR) codes to which MADA researchers contribute their work: 1201 (Architecture), 1203 (Design Practice and Management), 1901 (Art Theory and Criticism), and 1905 (Visual Arts and Crafts).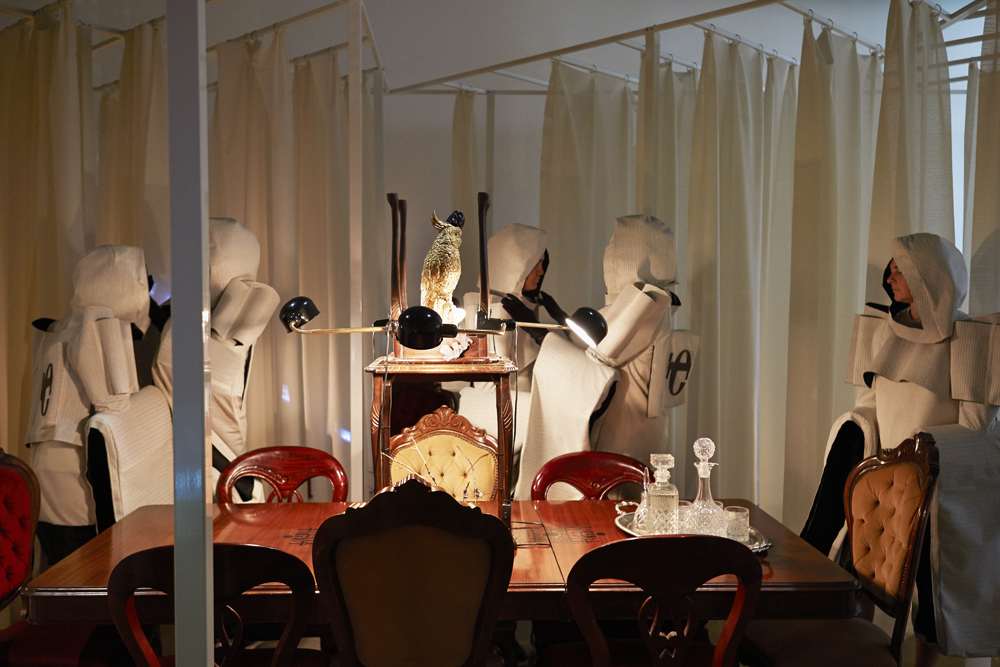 In The Abstract the exquisitely crafted forms of Bodoni numbers—and only those from the Faculty's principle FoR codes— have been overlaid, reflected and inverted to create 'new' letterforms to render the exhibition's title. Like the process of research itself, the letters build on existing work; they reinterpret and challenge it to present a new, inventive outcome.
The typeface is a digital rendering of the letterforms of the Italian typographer and printer Giambattista Bodoni (1740—1813). His letterforms, distinguished by their flat, unbracketed serifs and the dramatic contrast between the thick and thin strokes, were a leading contribution to the 'Modern' period of typographic design in the late eighteenth century. Bodoni sought to infuse beauty, drama and character into precise mechanically-set text. He worked to create the perfect letterform to signal a new era in typography that drew on design and technology not the characteristics of the scribe's pen. It is the perfect typeface to reference the qualities of The Abstract. It was developed through intensive trialling and creative application and, like all good research, it possesses an enviable longevity because of it.
The Abstract represents a collaboration between designers from interior and graphic disciplines; the Monash Library, the MADA Research Office, students and lecturing staff. The outcome is a culmination of known processes challenged by new ways of thinking about space and communication. It brings together the skills and methodologies of two continually intersecting design disciplines with a power and potency unachievable without the collaborative dialogue between them. And, like all meaningful research, the outcome is focused on the benefits to others; to expose a new audience to the breadth of academic journals to which they can aspire to, draw from and publish with.
---