LAVA's interconnected design for an eco-kindergarten in Vinh, Vietnam encourages curiosity and playful interactions with nature.
Working with Module K and Viet Decor, LAVA's eco-kindergarten is an unfurling of three semi-circular buildings over three levels. This typology of three and circular motifs generates a series of interconnected indoor and outdoor spaces with buildings connected by Y-shaped footbridges.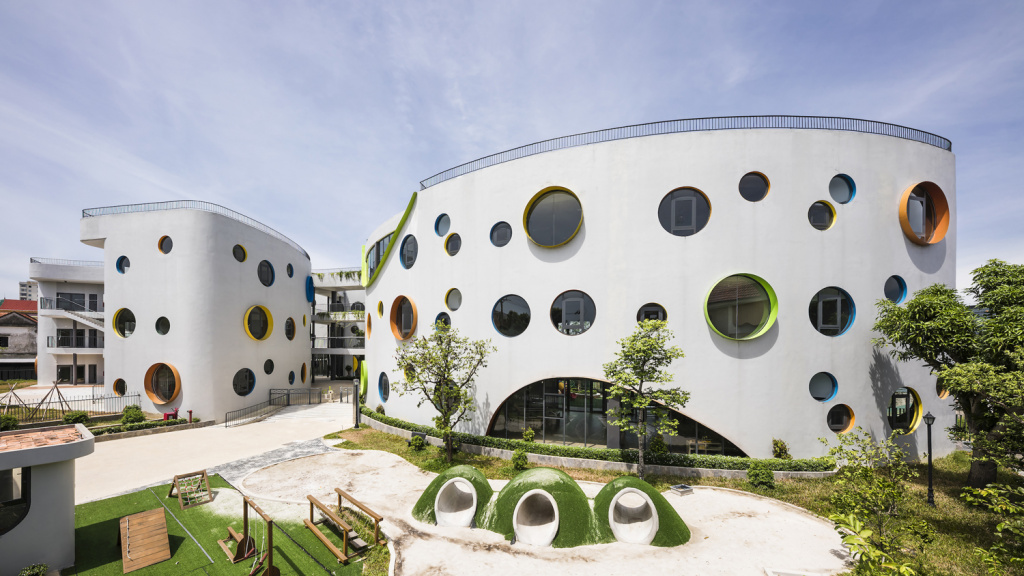 The circular element carries through to the windows that are round cutouts framed in primary colours and vary in height and size for accessibility for different age groups.
"The design language – organic shapes, simple architectural lines, primary colours, different facades/windows coded by age – is all about growth. It's child-friendly without being childish," says director of LAVA's Asia Pacific office Chris Bosse.

"This vision is realised through a design language based on nature and its structural geometries that inspires playful exploration of the world."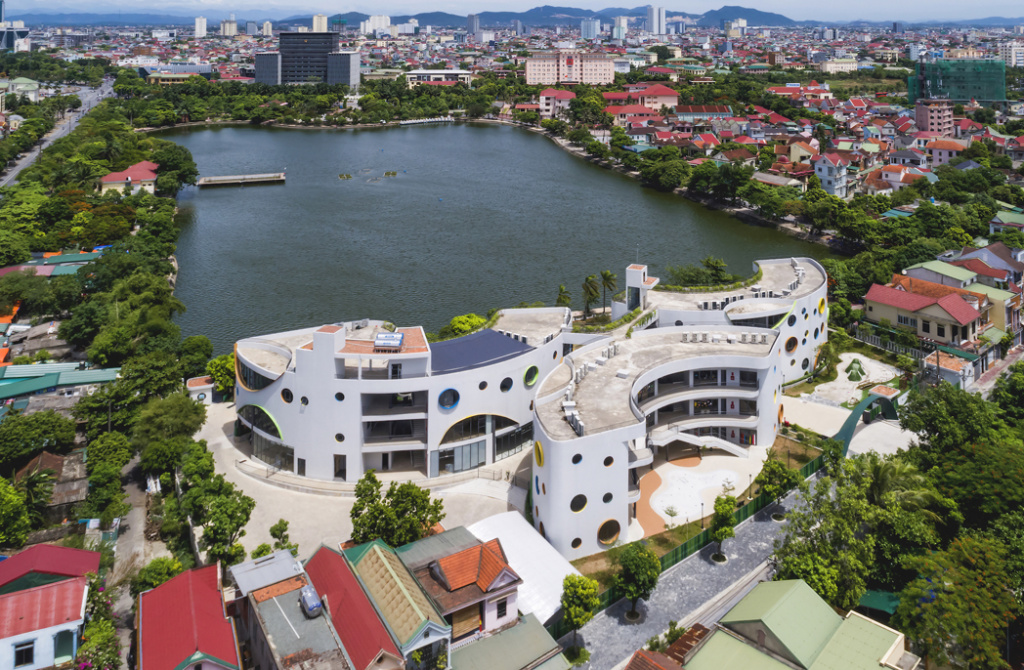 The three buildings are scaled to the context of the kindergarten's urban landscape. The curved theme and configuration of three connects the spaces to nature on every path: The forest in between the buildings, gardens on every level and views of the nearby Goon Lake.
Feng Shui was the architectural concept for the outdoor spaces, with each of the five elements evoked in the spaces. Earth is represented by the sandpits and earth mounds, fire by the kitchen, metal by the playground equipment, wood by the plants, trees and mini golf spaces and water by the water features interspersed throughout.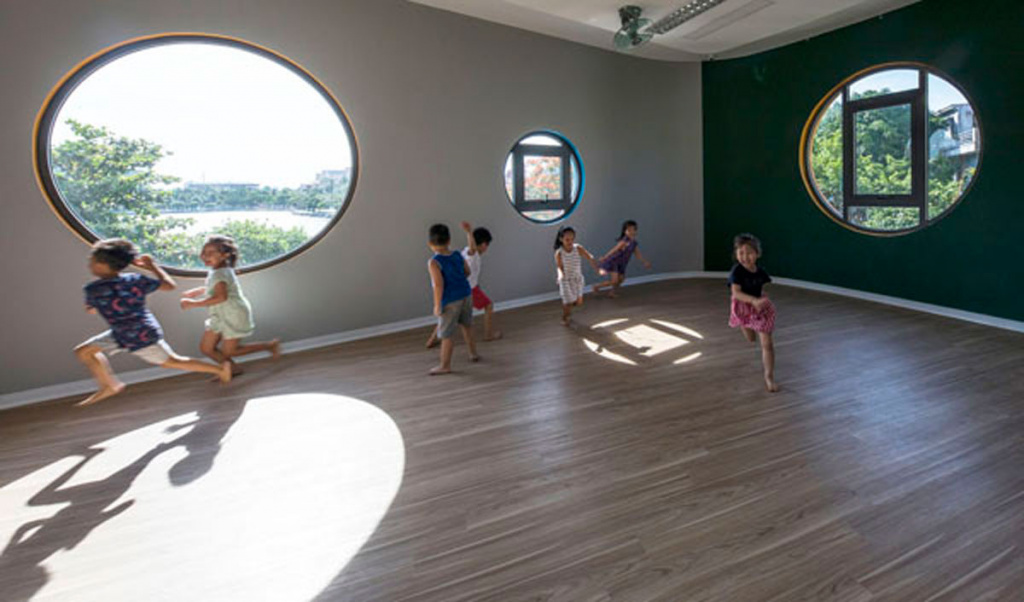 LAVA's design process began with discussions about the nature of early-learning architecture and what a space that balanced play and teaching would look like.
"An education project for the future generation challenges us to question the ways we teach and learn, says Bosse.
"Rather than a sterile box with a teacher in front and kids in rows listening, we created a learning environment where discovery, curiosity, interaction with nature and activity-based learning are encouraged to promote children's holistic development."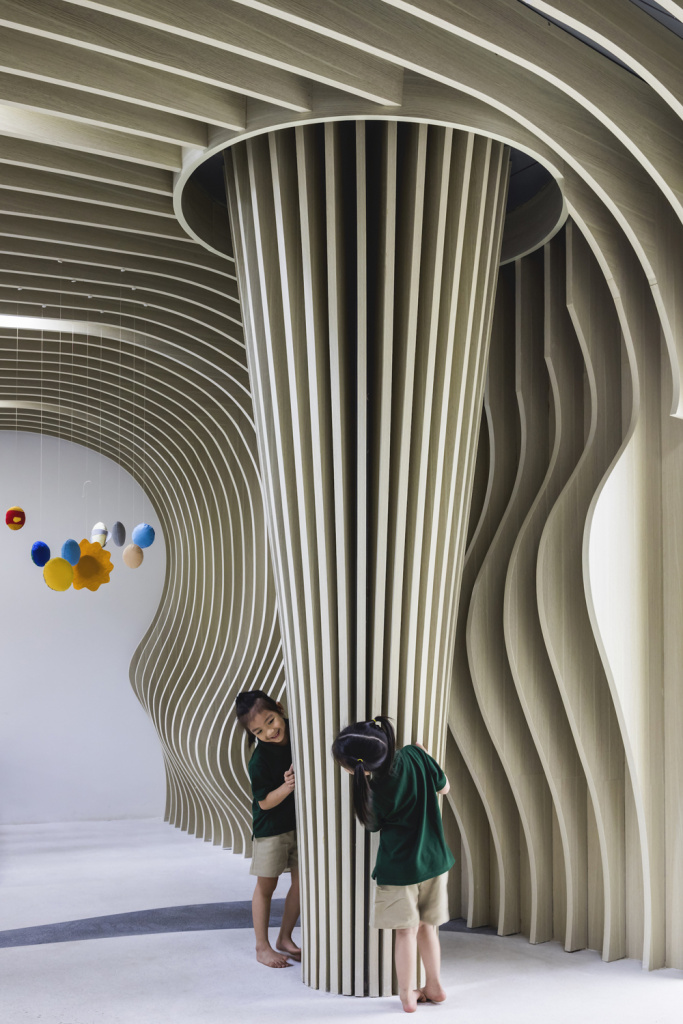 For the eco-kindergarten's 750 children, LAVA hopes that the space will encourage a valuing of aesthetics and good design that they will carry with them for life.
Bosse adds: "Experiencing modern design from an early age leaves an unforgettable impact, creating spatial awareness whilst nurturing the foundations of creativity."
Founded in 2007, cross-continental architecture studio Laboratory for Visionary Architecture (LAVA) marries future technologies with naturally occurring structural typologies and patterns to build smart, efficient and environmentally conscious designs.
The director at LAVA's Sydney-based studio, Chris Bosse, spoke at the 2019 Business of Architecture and Design conference in Sydney about future industry disruptors and managing a team across continents.
Photography by Hiroyuki Oki.